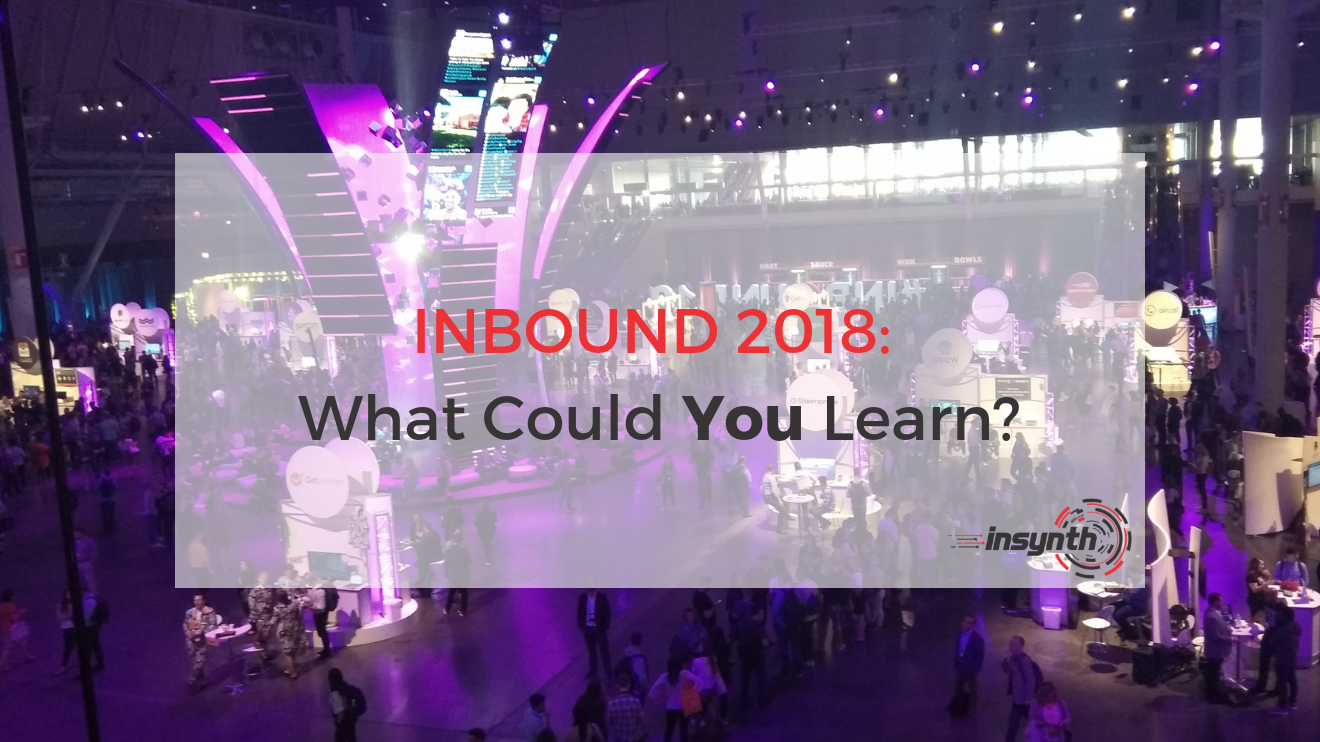 As 3 of over 24,000 attendees from just one of 110 countries involved, Insynth travelled to the USA for the 2018 INBOUND conference: three days of keynote and breakout sessions, brimming with learning, inspiration and connection.
Hosted by HubSpot, the Inbound sessions covered everything from content tricks, to SEO techniques, to the neuroscience of engagement.
We're ready to offer the secrets uncovered at the conference for our clients.
Below, you'll find links to our live-blogs of sessions that will help you to meet your marketing goals.
Each category of Inbound sessions brings a wealth of new, inspirational tips that are designed to help your building products company grow better.
We'll start with a few of our favourite influential quotes of the week.
'Create content that deserves to rank' - Adam Piotrowski

'Create journeys fuelled by an undercurrent of emotional value' - Karin Krisher

'World-changing stories are stories people already know' - Bridgit Antoinette Jones

'Customers are people first and buyers second' - Patrika Alis Cheston

'The hard part isn't coming up with ideas. It's picking the best ones' - Brittany Berger
Content Marketing
Conquering Consistency: Tools & Tactics to Become A Prolific Blogger, Podcaster & Broadcaster
Content Remixing - How To Succeed At Content Marketing Without Creating Anything New
Contagious Content: 7 Key Steps To Creating Content That Move The Sales And Marketing Needle
How To Get Started With Conversion Rate Optimisation on Your Website
Effective Storytelling For Content
Reading Visuals To Write (Right) Stories
Powerful Storytelling Techniques That Influence Action
The Unrelenting Value of Narrative Elements - Tying Stories to Your Inbound Approach
How You Can Elevate Your Business Using Compelling Storytelling
How To Think Like A Journalist And Create Better Brand Stories
SEO Tactics
Moz + Hubspot = SEO Mastery at the Pace of Google
Is The Keyword Dead? The New Role Of Intent In SEO And Content Marketing Success
Google Snippets and SEO - How a Tiny Piece of Content Is Radicalising The SEO Game
Secrets To Search Dominance Revealed
Video Content & Curation
Video Curation In 20 Minutes For The Aspiring Content Marketer
How To Create Relevant Videos (That Your Customers Won't Skip) With Native Content
Marketing Your Brand
Not So Sexy Marketing - Building Creative Campaigns For Complex Or Cliche Products
Lessons Learned In Viral Marketing
The Science Of Marketing
The Science Of Selling With Humour
The Neuroscience Of Engagement
Hacking Inbound Sales - Building a High-Velocity Lead Generation Machine
Outreach
How To Get Media Famous (Without Even Trying)
HubSpot
Keynote Sessions
Scott Harrison, CEO of Charity: Water
Shonda Rhimes, Writer of Greys Anatomy
Brian Halligan and Dharmesh Shah, CEO and Founder of HubSpot
Beth Comstock, Vice Chair of GE
If you'd like advice on how to implement the tips, tricks and techniques discussed in these sessions, sign up to speak to a marketing expert today.
About Insynth
Insynth Marketing is a leading UK construction marketing consultancy based in Shifnal in the West Midlands. Insynth employ the latest inbound marketing techniques such as construction inbound marketing, to help building product manufacturers grow their businesses by aggressively driving sales lead generation activity.
As the only HubSpot certified agency to major on construction marketing, we bring together construction marketing strategy, digital strategy, website design, SEO, content marketing, email marketing, sales automation, marketing automation and HubSpot CRM implementation to produce successful campaigns and great results for our clients.