90% of customers say that video helps them make buying decision and 65% say that seeing video makes them more likely to buy.
Here's how you can make brand videos with next to no cost to increase your sales in under 20 minutes, maybe under 10, and just possibly, under 5.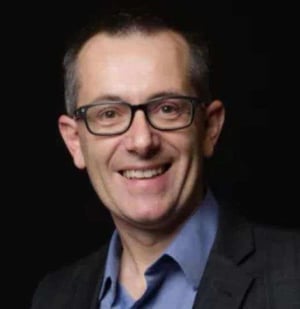 John Gregory is the president of Opencity Inc, a business mentoring agency.
John's session at the 2018 Inbound conference focuses on recording, editing and publishing video content in under twenty minutes.
John covers three video interview questions that work every time and outlines the tools and workflow needed to create cost-effective, authentic videos.
Ask 3 Questions
In your videos, you can ask 3 short questions to provide insight. Vary how long the answers should be based on whether you'd like a video of around 20 seconds, or around a minute.
Who are you?
Where are you?
Why is this important?
Smartphone Video Tips
Always film in landscape orientation. The web is made for landscape videos and isn't optimised for portrait.
Never put the subject in the middle of the screen. Use the rule of thirds and put the subject in one third of the screen.
Start recording a few seconds before the action starts so that your video is easy to trim when editing.
Create videos that are relevant to each stage of the buyer's journey.
Avoid using transitions as these can be distracting. If you have to use a transition, the most professional is the fade out to black.
Sharing Your Videos
Saving your videos to the highest quality makes them difficult for you to upload and difficult for users to load as the files are so big.
Usually, 720p is the ideal resolution when downloading your videos.
Upload your videos to your website, blog and social media channels. Don't forget to add descriptions and tags.
How Insynth Could Create Video Content For You
Video is just part of the extensive content marketing strategy that Insynth can implement for you. Take a look at our content marketing services and choose the options that are best for your building products brand. We'll create a content strategy that's just right for you.
Read More


■

Beth Comstock Keynote
■

The Neuroscience of Engagement
■

The Future of Marketing
About Insynth
Insynth Marketing is a leading UK construction marketing consultancy based in Shifnal in the West Midlands. Insynth employ the latest inbound marketing techniques such as construction inbound marketing, to help building product manufacturers grow their businesses by aggressively driving sales lead generation activity.
As the only HubSpot certified agency to major on construction marketing, we bring together construction marketing strategy, digital strategy, website design, SEO, content marketing, email marketing, sales automation, marketing automation and HubSpot CRM implementation to produce successful campaigns and great results for our clients.