How do you create content that sticks in your audience's minds?
How do you leave your readers with questions?
How can you tell compelling stories?
These are the questions that Nadya Khoja answers in her 2018 Inbound Conference session. With her answers, you too can create viral content.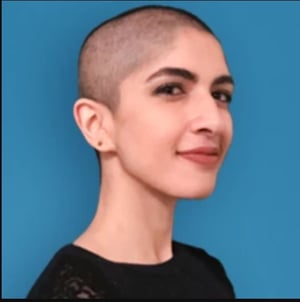 Nadya Khoja is the head of marketing at Venngage Infographics, where she specialises in digital media for the Wordpress plugin.
Nadya's session at the 2018 Inbound conference is all about where to start with large-scale creative campaigns when creating content.
She covers what makes people share content and the stable attributes that you can apply to every campaign.
Before creating content, you need a clear idea of the problems that your audience is facing. These problems will help you to identify the topics that you need to write about.
The most effective route to viral content is by providing new answers to existing questions.
Challenge The Status Quo
If your content is an echo of everyone else's content, no-one will read it.
Instead, create content that offers new angles and perspectives to spark new conversations.
Most stories are told from a conventional point of view. Think about how you can make your story stand out. This doesn't just have to come down to structure. Think about integrating some original infographics to enhance your story and break up your text.
Another technique is to mix two stories into a mash-up. This is particularly effective when you combine a personal story with a trending story that is widely recognised and will attract viewers. You can use this technique to bring exposure to your brand stories.
Associate your company with bigger news.
Include A Reason To Share
Ask yourself, why would my readers share this? Will it help them to express themselves?
If it doesn't, it's time to rethink the message that your content conveys.
This comes down to one thing: emotion.
When people care, they will will respond to others that do too.
Find out how Insynth can create content designed for traffic and conversion to maximise your customer basis.
Read More


■

Live @ #INBOUND18: Problem-Centric Selling
■

Live @ #INBOUND18: A Keynote Session with Brian Halligan & Dharmesh Shah
■

Live @ #INBOUND18: A Keynote Session with Scott Harrison
About Insynth
Insynth Marketing is a leading UK construction marketing consultancy based in Shifnal in the West Midlands. Insynth employ the latest inbound marketing techniques such as construction inbound marketing, to help building product manufacturers grow their businesses by aggressively driving sales lead generation activity.
As the only HubSpot certified agency to major on construction marketing, we bring together construction marketing strategy, digital strategy, website design, SEO, content marketing, email marketing, sales automation, marketing automation and HubSpot CRM implementation to produce successful campaigns and great results for our clients.