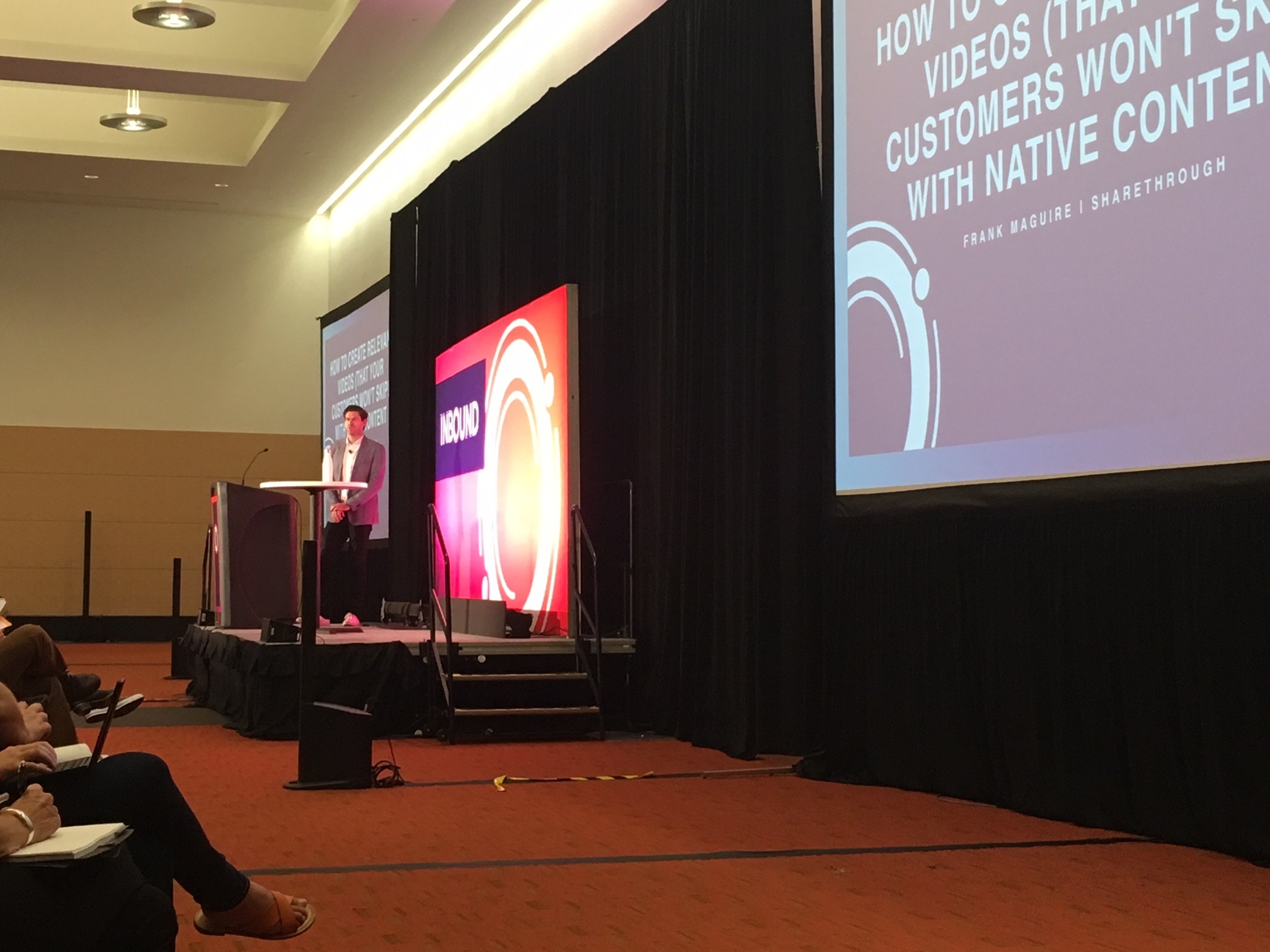 Hosted by Frank Maguire at Inbound 2018, Head Of Marketing Development for Sharethrough, How To Create Videos was all about the importance of video in a world where it is becoming one of the most consumed medias out there. The insights gained today will be being applied to Insynth's marketing strategy moving forward!
Frank Maguire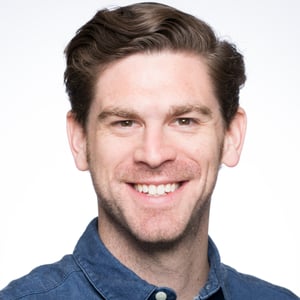 Frank is the Head of Marketing Development for Sharethrough, travelling the country to meet with brands to advise them on their content marketing and advertising strategies. In 2014 he won the iMedia Rising Star Award and is this year hosting his first talk at Inbound.
What Is The Research Saying?
The research on how people are consuming content states that people are more likely to switch off the TV or walk away from a computer screen while an advert your can't skip plays.
90% of people skip pre-roll ads according to ORC International. People don't want to be interupted in their browsing. This is so extensive that skipping a pre-roll video ad has become a cultural punch line; used in internet humour across the world.
The experience of being online is one that people don't want to be interrupted. All age groups now multi-task when in front of a screen and it is becoming harder to keep the viewers attention with your video.
For marketers, this means that video risks being ignored and alienating your target marketing. You have to adapt to the modern consumer.
Research in video advertising is finding that the need to shift to the needs of this modern consumer profile is affecting all marketers, not just ones from certain industries.
Despite this, 74% of video budgets are still spent on interrupter videos such as pre-roll adverts.
Best Practices
Phones are an extension of ourselves now. 46% of people surveyed said that they would rather lose a finger than their phone! Because of this making your videos mobile friendly is key. If a video such as a pre-roll ad comes up on a phone screen it is more likely to be skipped because people feel a part of them has been interrupted.
Frank Maguire's talk took the audience through some of the best practices when it comes to producing video that won't be skipped.
Silence Is Golden
People are generally watching video with the sound off, unless they are at home. This is because we are now likely to be carrying a smart device with us that allows us to consume content on the move.
Silent auto-play is part of this. If the sound automatically plays then people are more likely to click away then if it is silent and the viewer has an option on weather or not to play it with the sound.
Optimising for silent viewing is a key best practice!
Seven Seconds For Success
75% of recall of video content is from the first seven seconds of a video.
You have seven seconds to capture their attention and put across your message in a memorable way if you don't want your video to be skipped or forgotten once people have moved on.
Including the headline in those early seconds increased the memorability and the likelihood of people sticking with your video content and watching to the end.
For company news videos this is key: 6 out of 10 people admit that they get their news from the headline of a video or article rather than watching or reading the full piece.
Knowing this behaviour helps to guide your video production to optimise to get people to stay and watch and remember is an effective way to have video success.
Context Words
Context words are words that feature in video headlines that reduce the risk of people skipping the video. These words such as "history of" or "You won't believe" or even "Secrets of" are the most effective words to include in your videos to get viewers to stay and engage.
ShareThrough have produced a headline analysis tool to tell you how likely you are succeed with the headline of your video. You can find it here.
Conclusion
Video is growing but people are also becoming more fussy about the way that they consume it.
By optimising your video content you can capture the attention of your viewers and make your message more memorable.
Keeping people interested beyond the seven second period of optimal content is an effective way of getting your brand to stick in your mind. Combining this with a strong headline and an a fully optimised soundtrack you can succeed at video production.
About Insynth
Insynth Marketing is a leading UK construction marketing consultancy based in Shifnal in the West Midlands. Insynth employ the latest inbound marketing techniques such as construction inbound marketing, to help building product manufacturers grow their businesses by aggressively driving sales lead generation activity.
As the only HubSpot certified agency to major on construction marketing, we bring together construction marketing strategy, digital strategy, website design, SEO, content marketing, email marketing, sales automation, marketing automation and HubSpot CRM implementation to produce successful campaigns and great results for our clients.