'The hard part isn't coming up with ideas. It's picking the best ones' - Brittany Berger
Quality isn't about the number of blog posts that you publish. It's about the number of qualified leads that you can generate from compelling content.
Here's how you can remix and re-purpose content strategically to generate leads without constantly running on the hamster wheel of content creation.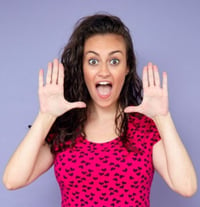 Brittany Berger is a self-employed content strategist and writer for B2B start-ups.
Brittany's session at the 2018 Inbound conference is all about creating consistent content and re-purposing your material to save time and costs.
Minimalist Content Marketing
The more time you spend writing content, the less time you have to focus on getting more results out of your existing content.
Here are three top tips to fill gaps in your old content, consistently generate leads and eliminate the struggle of constant content creation:
Focus on using your content, not just creating it.
Create only as much content as you need.
Find new ways to get results from your existing content.
Content Remixing
Just like music producers who remix old songs to inject new life into them, you can put a fresh spin on your content to get more leads out of it.
Remixing your content might look like:
Updating old blog posts
Creating email sequences
Breaking into social posts
Turning blog posts into videos
The 4-Step Content Remix Process
Identify your goals and priorities to ensure your re-purposed content is in line with these.
Complete a content audit and note which pieces are driving results.
Find your best remix opportunities, usually pieces that still have potential for further research.
Work remixing into your marketing calendar for campaigns.
Finishing Off
Treat your re-purposed content as new pieces of content. Share it on social media and talk about the changes that you have made.
All your old content can work for you again.
Discover how Insynth can maximise the benefits of your content marketing strategy with winning content marketing techniques.

Read More


■

Live @ #INBOUND18: Funny To Money - The Science of Selling with Humour
■

Live @ #INBOUND18:

How a Tiny Piece of Content Is Radicalising the SEO Game
■

Live @ #INBOUND18: Hacking Inbound Sales
About Insynth
Insynth Marketing is a leading UK construction marketing consultancy based in Shifnal in the West Midlands. Insynth employ the latest inbound marketing techniques such as construction inbound marketing, to help building product manufacturers grow their businesses by aggressively driving sales lead generation activity.
As the only HubSpot certified agency to major on construction marketing, we bring together construction marketing strategy, digital strategy, website design, SEO, content marketing, email marketing, sales automation, marketing automation and HubSpot CRM implementation to produce successful campaigns and great results for our clients.