With the rise of voice search and evolving Google algorithms, many are beginning to question whether keywords are still important in the modern world.
Since one piece of content can rank for a range of keywords, the focus is on quality, not quantity. The focus should no longer be on keywords, but on key topics.
Here's how you can keep your keyword research and SEO strategies alive in the context of modern search.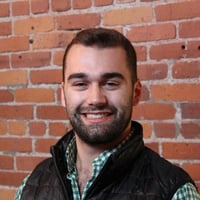 Hosted by Everett Ackerman, Is The Keyword Dead? is a session on how search engine analytics and formatting capabilities are becoming increasingly sophisticated and how keywords can be managed for ultimate success.
The aim of the session is to show the Inbound 2018 audience how you can execute a stronger SEO strategy using keywords in the right way for both your company and your clients. Everett is a researcher of effective cross-channel SEO strategies for New Breed inbound marketing agency.
History Of SEO
Previously, Google has crawled content for individual keywords. Now, Google crawls content for its overall meaning. Your keywords need to be integrated with the context that searchers are looking for.
This means that you need to rank for more than just keywords. You want to rank for the answers that your searchers are looking for.
To do this, determine the goal of your searcher and create relevant content to build trust. You'll need to align your content with the buyer's journey and constantly audit to allow for optimisation.
Topic Cluster Strategy
To improve your SEO game, arrange all your content into topic clusters. This is all about providing helpful, relevant content.
Topic clusters consist of
A pillar page: a lengthy piece of content at the core of your topic
Topic clusters: shorter pieces of content that specifically address individual sub-topics
Hyperlinks: links that draw all topic clusters back to the pillar page and between each other
A contents page: a table of contents with clickable links through to each section of content
Use your topic cluster strategy to map all your content out in an easy-to-read format and identify any content gaps.
How Do Keywords Fit Into Your Topic Cluster Strategy?
Your topic clusters need to integrate
Head terms: must-have terms that your business is associated with
Latest semantic index (LSI) terms: keyword synonyms and potential sub-topics
An example is
Head term: sales techniques
LSI terms: sales skills and techniques; sales and marketing techniques; selling methods
When you mix LSI terms with your head terms, Google will recognise that your content is focused around a broader theme and you will rank more widely across search engine results.
This also reduces the risk of keyword stuffing and allows you to rank for a wider range of keywords. Remember, people search for ideas and items using a variety of search terms. Language presents us with so many options.
To Conclude
Use your buyer personas to map your content clearly in topic clusters.
Ensure that your content meets the needs of searcher intent and is tailored to a specific stage in the buyer's journey.
If you diversify your content for the best format and regularly audit from an SEO perspective, you can consistently keep your content up to date to meet the tests of search engine algorithms.
Find out how Insynth can supercharge your SEO strategy, generating website traffic to spark lead generation opportunities.
Read More


■

Live @ #INBOUND18: A Keynote With Beth Comstock
■

Live @ #INBOUND18: Video Curation In 20 Minutes
■

Live @ #INBOUND18: Hubspot Product Announcements
About Insynth
Insynth Marketing is a leading UK construction marketing consultancy based in Shifnal in the West Midlands. Insynth employ the latest inbound marketing techniques such as construction inbound marketing, to help building product manufacturers grow their businesses by aggressively driving sales lead generation activity.
As the only HubSpot certified agency to major on construction marketing, we bring together construction marketing strategy, digital strategy, website design, SEO, content marketing, email marketing, sales automation, marketing automation and HubSpot CRM implementation to produce successful campaigns and great results for our clients.