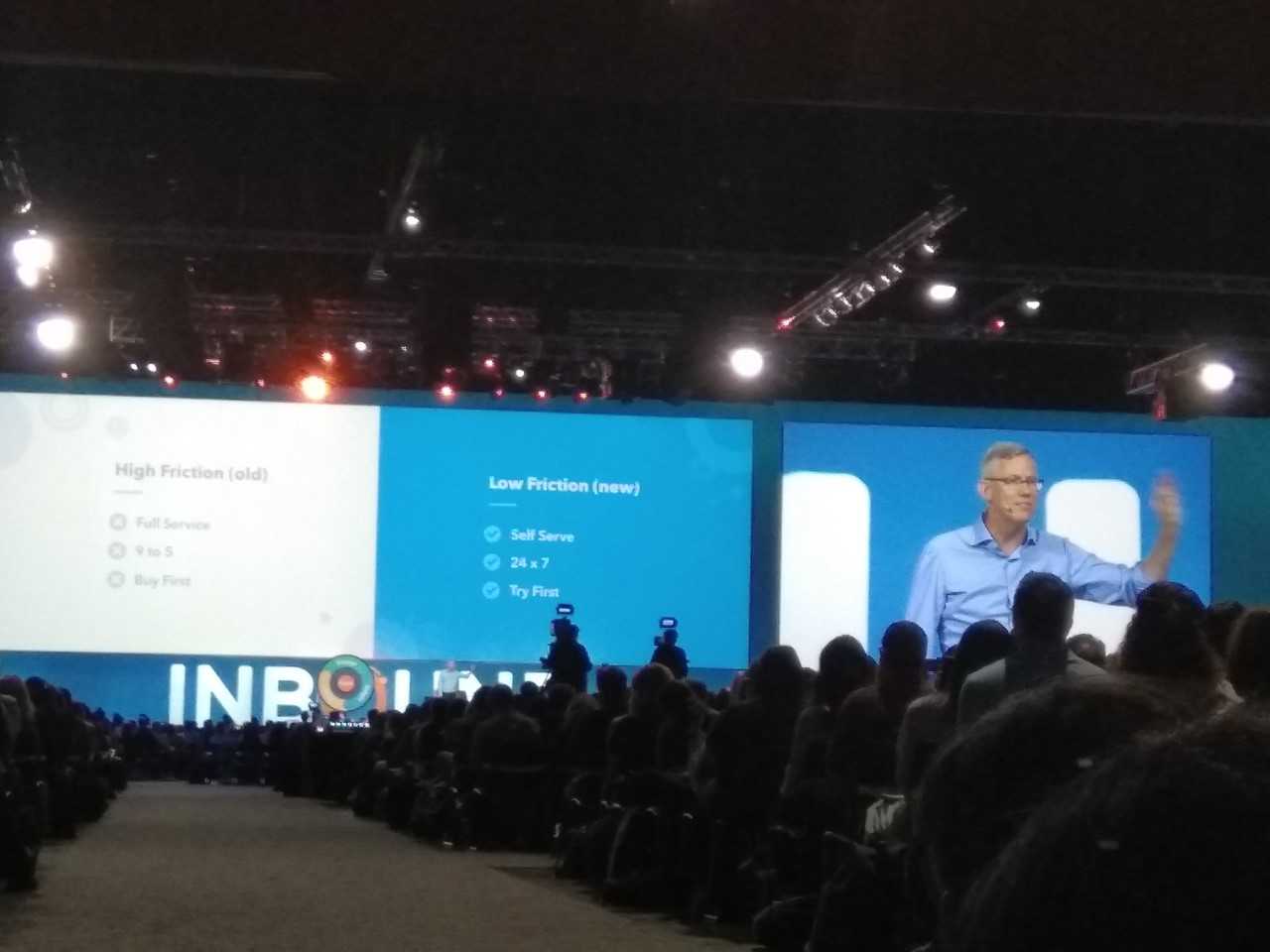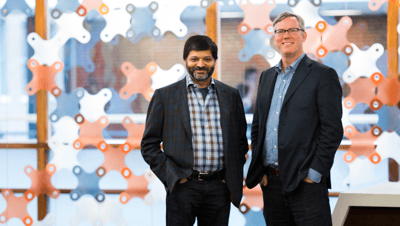 Opening this afternoon's keynote at Inbound 2018, HubSpot's Brian Halligan kicked off with a discussion about applying a flywheel to your business for accelerated growth.
HubSpot's flywheel moves from an attract phase, into an engage phase, into a delight phase in order to convert website traffic into free users, then into customers, and finally into promoters.
Here's how you can use a flywheel to fast-track sales success for your company.
3 Flywheel Growth Tips
Tip #1) Apply a force to your fly wheel. You need force for growth. This is particularly important during the engage stage. You'll need to produce a variety of helpful content to engage your prospects and steer them towards converting into leads.
Tip #2) Lower the friction of your flywheel so that it can spin freely, metaphorically speaking.
Reducing friction is all about offering value to your customers, whether that means that customers can try before they buy, or that you're available to offer advice at any time of day. This is the easiest it's ever been with technology that improves IT efficiency.
Rather than focusing on having a better product than your competitors, focus on offering the best customer experience on the market. It's not about what you sell; it's about how you sell it.
Tip #3) Build your flywheel using important skills to enhance the experiences that your customers have. This way, you can keep investing in marketing, sales, and most importantly, in customers. Focus not only on closing your customers, but also in delighting them.
Brian concluded with the key-takeaway in one simple sentence:
'The quicker you take the friction out of your flywheel, the quicker your business will grow.'
Dharmesh Shah
"We all want to grow better. But how do we grow better?"
The opening statement from Dharmesh Shah begins his talk about how HubSpot is focusing on the mantra of growing better. Not just for themeselves but for their customers.
This is something that HubSpot want all businesses to be focused; growing better.
Dharmesh states that vision doesn't matter unless you act on it. Having a vision for your company; seeing it grow is great but until you act on making that vision a reality it doesn't matter.
It takes a lot of hard work to grow a company, to action a vision and hit your ambitions but if you want to see your vision coming to life then you need to work for it.
Dharmesh talks about how the culture of a company is critical to the success of a business. Having researched the impact of a successful company culture, Dharmesh found patterns and made observations and turned that into HubSpot's culture code.
The culture code is all about understanding what people want from a company and how to solve for the customer. He concluded that the best solution is to always put the customer first and be customer centred.
If you aren't customer focused the flywheel that Brain created won't be a success. It only works if your company is all about the customer before themselves.
HubSpot are customer first focused. The aim is to improve the customer experience otherwise the company isn't going to succeed in line with the culture code.
Dharmesh uses Starbucks as an example. They don't just sell coffee: they sell an experience of having a place to relax.
For HubSpot's message of Grow Better this is key. The HubSpot experience is the experience of growing better. By having this in mind in your company you can sell your customers an experience alongside your product. That is how you succeed.
But what do they want from that experience?
Following a study on the customer experience, Dharmesh found that customers want you to earn their attention, not steal it through interruption based marketing. You have to give them something in exchange for them spending time giving your their attention.
You also have to solve for the customer's success, not yours. And if you make a mistake then own up to it; the customers are more likely to trust you if you admit to the mistake first hand rather than get caught out covering it up.
The research that was carried out said that if a company doesn't have pricing information on their website then the flywheel can't work. Not having pricing information is friction in the flywheel. You shouldn't be making customers negotiate on price either; pricing should be programmatic.
Dharmesh found that if you make cancelling agreements with your company easier for your customer then they are far more likely to buy from you. If customers feel like they have options then they are more likely to commit.
"Customer love is the most powerful force you can apply to your flywheel."
About Insynth
Insynth Marketing is a leading UK construction marketing consultancy based in Shifnal in the West Midlands. Insynth employ the latest inbound marketing techniques such as construction inbound marketing, to help building product manufacturers grow their businesses by aggressively driving sales lead generation activity.
As the only HubSpot certified agency to major on construction marketing, we bring together construction marketing strategy, digital strategy, website design, SEO, content marketing, email marketing, sales automation, marketing automation and HubSpot CRM implementation to produce successful campaigns and great results for our clients.
Book Your Free Consultation Today