When planning the growth of your building product business, there is always one question at the back of your head that might be keeping you awake at night:
"Am I doing enough to guarantee the success of my company?"
For some building product manufacturers, this question comes with an even more pressing sense of urgency and, most often than not, with a fair share of frustration:
"Why am I not seeing results?"
Increasing the visibility of your construction brand and improving the reach of your content can be achieved through different techniques and strategies.
Each construction marketing service is designed to answer specific questions and reach defined goals that can bring you the success your building product company is looking for.
In this post, we guide you through different construction marketing services you should consider if these questions keep popping up in your head. We have listed these services in a specific order that should help you identify the gaps in your current marketing efforts. If you see only some of these services reflected in your strategy, think about how you might benefit from adopting new growth tactics.
#1 Specialised Construction Marketing Strategy Consultancy
Whilst some people still believe that construction has not yet caught up with the digital-first world, following carefully designed inbound marketing strategies has proven to be essential for the success of several of our clients.
As the only Construction Inbound Marketing consultancy in the UK, we understand how important it is for your building product business to be considered as leaders within their sector. With years of proven success implementing the 10 construction marketing services mentioned in this blog, we've seen first-hand the importance of a turnkey marketing plan strategy from day one.
Planning your marketing strategy with the right support can help you allocate your resources more wisely and achieve a predictable flow of leads.
#2 Industry-focused Lead Generation and Management
Lead generation is only useful when you are attracting the right leads. If you find yourself getting leads that are not a good fit for your product, chances are you might not be targeting the right people or marketing on the right platforms.
A lead generation method commonly overlooked is joining online product listing websites or construction lead databases such as NBS, SpecifiedBy or Barbour ABI. Since these platforms are regularly accessed by architects and specifiers, you can increase your brand awareness and improve your visibility, reaching an audience that otherwise might not have heard from you. You can also implement lead managing software like Project Prospecta to filter through those leads and ensure they are the right fit.
Who is project Prospecta?
#3 Automation & Lead Nurturing
With a solid flow of leads, a mistake any building product brand needs to avoid is losing them! As leads start accumulating, you need to ask yourself whether you have the right tools to successfully follow those leads.
It is essential to have an adequate data management platform that will allow you to not only collect the information of each of our leads but to start a conversation that will nurture the relationship they have with your building product brand. CRM platforms like HubSpot offer the possibility of automating both lead generation and nurturing processes, as well as many other construction marketing services, helping your business grow while alleviating the pain of repetitive task!
Marketing automation can increase the efficiency of your entire department. As less time is spent on basic tasks, automation allows your employees to focus on more important projects. For example, instead of having to manually post on social media every day, marketing automation software can automate that process. Allowing your team to focus on creative work, such as your next campaign to boost sales.
#4 Reporting and Production of Technical Documents
Once you acquire a consistent flow of data, it is essential to be able to make sense of that data. Adding a dynamic reporting engine to your strategy can be quite the game-changer, allowing you to get deeper insights into your marketing efforts and providing you with knowledge key when it comes to motivate your team or pitch a new marketing idea to the senior team of your company.
It is essential to identify the right metrics for your construction product business and to track them consistently throughout every content piece and campaign you plan to launch. How often you track those metrics will depend on the metric itself. For instance, within our Predictable Growth Programme, we produce reports monthly, aim to adjust our content weekly and create resources daily.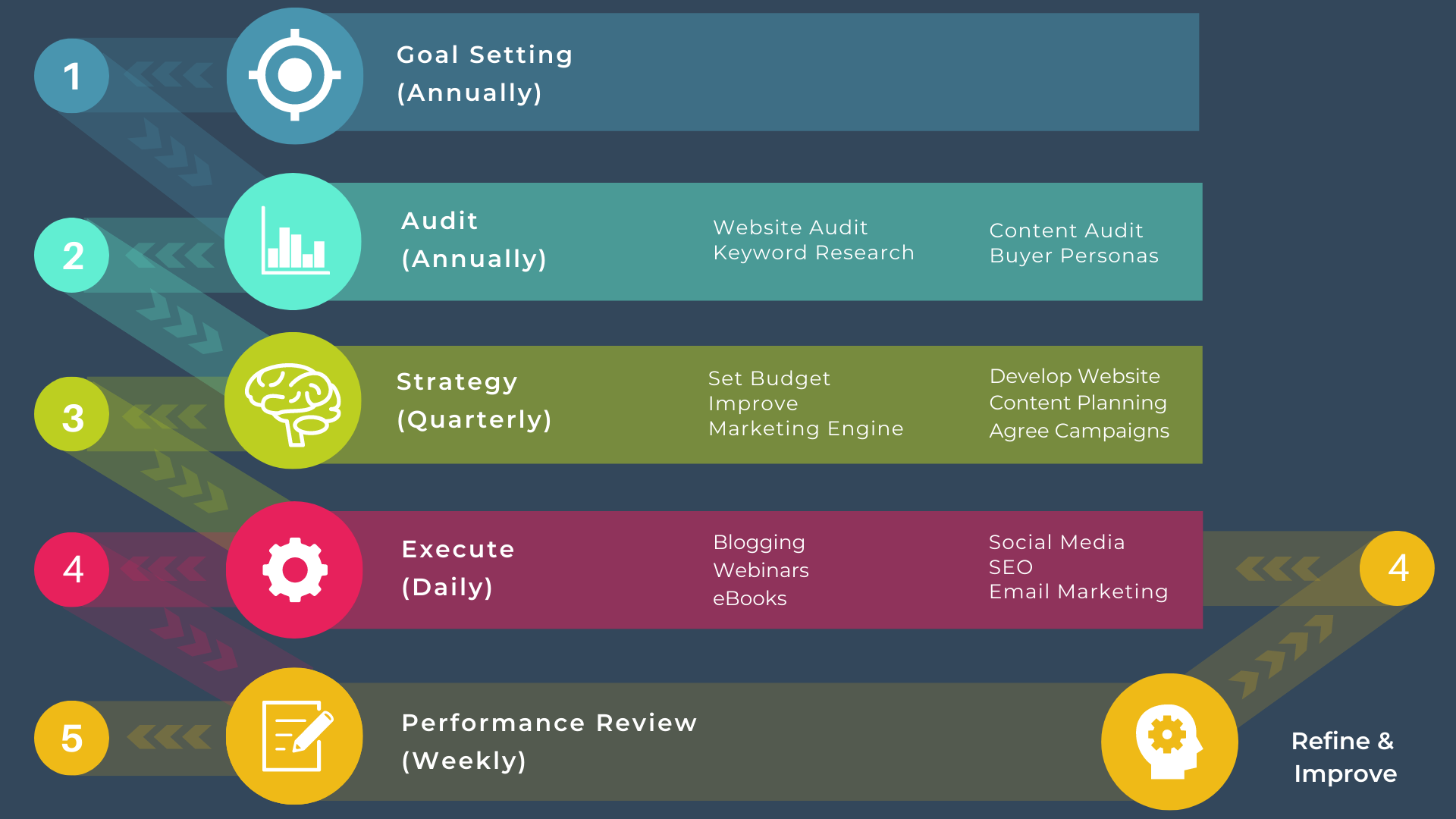 As HubSpot partners, we see the value in the capacity to build detailed attribution, website traffic and performance reports that the platform offers, all within one of the most robust CRM available. Microsoft Clarity and Databox are two other dashboard-based reporting tools that we have used in several of our case studies with remarkable results.
#5 Website Optimisation & SEO
Due to the complexity unfairly attributed to the term, some construction marketers tend to think that SEO remains out of their league but, unsurprisingly, SEO is one of the most effective digital marketing strategies. And your competitors know this.
If you want to position your building product brand, developing an effective SEO campaign is a construction marketing service that you must keep in mind.
Optimising your online presence, however, could not be further from a one-off task. SEO evolves every single day, and your strategy needs to be able to track that dynamism and should focus on increasing the visibility of your content and generating backlinks.
We also recommend an SEO audit at least every six months to see what might be holding you back from positioning your site.
#6 Creation of Continuing Professional Development Resources
A recent market research conducted to identify the behaviour patterns of architects, contractors and specifiers found that they prefer building product manufacturers that are able to communicate their construction products' technical capabilities clearly.
But keep in mind that their main aim might not be to be sold to, but to gain context regarding a particular building product or construction solution.
Visualising the journey specifiers take can vastly increase your chances of implemented the right content strategies which will get you specified, take our Specifier Journey below for example: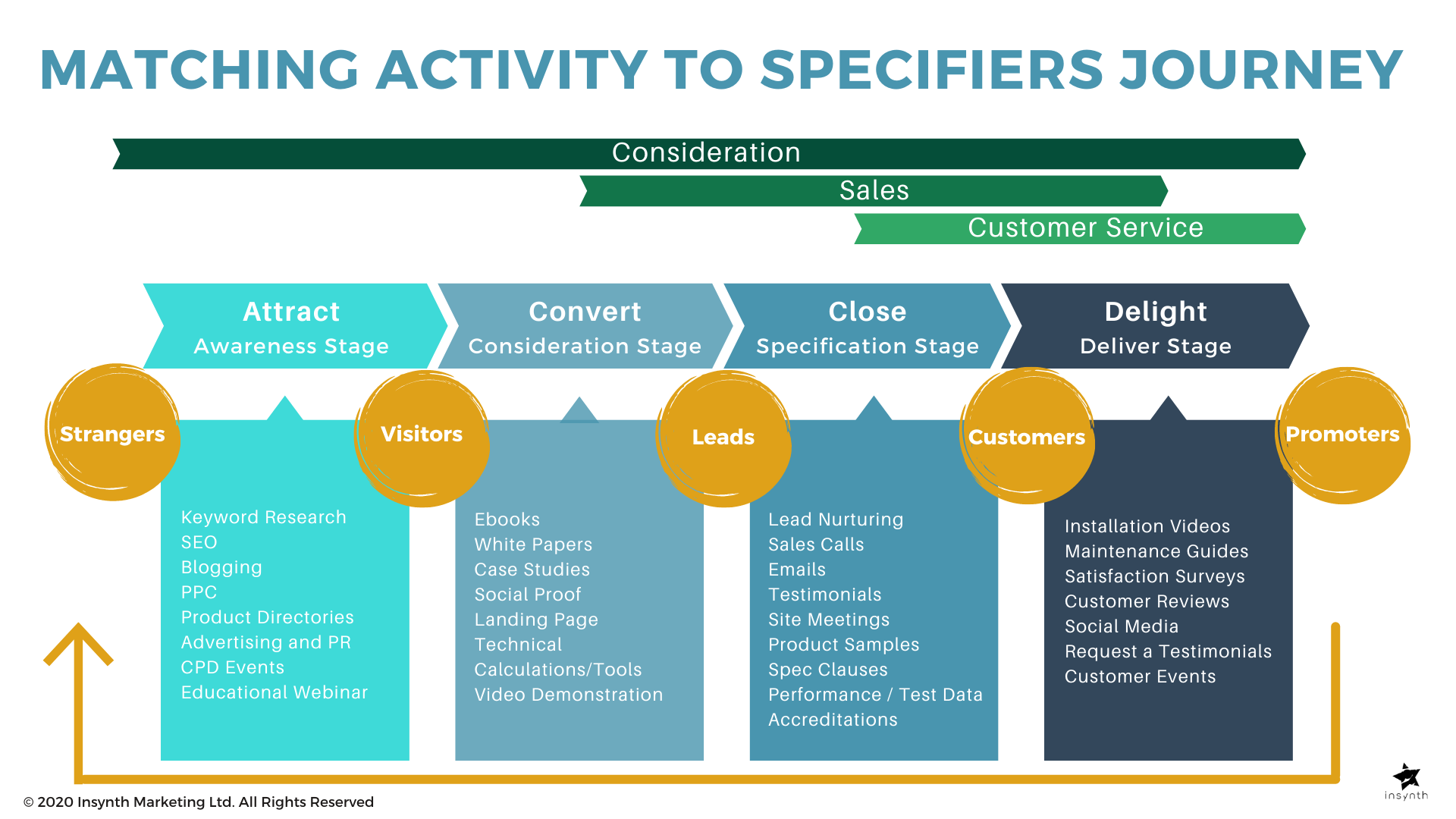 Creating resources for Continuing Professional Development (CPDs) can be a great way to achieve this clarity. Alternatively, you could digitalise CPDs that you have already produced and offer them as webinars, a content format that we have identified as crucial for any marketing strategies delivered in 2021.
#7 Account-Based Marketing (ABM) Campaigns
Counterintuitive for some, narrowing down and marketing to key accounts has been reported to be one of the best construction marketing services when trying to engage specific architectural firms or large contracting companies. Using account-based marketing campaigns can not only increase your brand's awareness, but also help you build stronger relations with companies that might consider your construction services or building products in the future.
For an ABM campaign to be successful, we must focus our effort on identifying the accounts we aim to market for. Not targeting the right accounts or failing to personalise enough your campaign can jeopardise your marketing efforts, keeping you from having those essential one-to-one conversations.
#8 Blogging & Social Media Planning
As we mentioned above, architects, contractors and specifiers prioritise widening their knowledge over your building product and your construction solutions before they decide whether they connect with you or not. The easiest way to keep that information accessible is by blogging and updating your social media channels consistently.
Consistency, however, cannot come at the expense of the quality of the content we are offering. Content creation is only effective when combined with carefully researched keywords, optimised communication channels and bullet-proof copywriting. Your audience is not looking for any content, but for thought provoking and educational conversations that resonate with them.
#9 Email Marketing Campaigns
A carefully designed lead generation strategy will give you the right leads and a solidly structured data management platform will ensure you are aware of the right time to engage with them. There is only one element you need to convert that lead into a deal: you also need the right message.
Click here to access our free guide on construction email marketing.
With an expected return on investment (ROI) 40:1 ratio, email marketing is one of the most cost-effective and sophisticated methods of communication and should be an essential factor of your construction marketing strategy. A crucial detail is choosing the email type that will resonate the most with your audience and that will help you achieve the goal of your campaign.
#10 Paid Media Strategy Design
Content-based marketing is, without doubt, a powerful lead generating tool. But results tend to come in the long run. Paid media strategies or Pay Per Click (PPC) campaigns are popular construction marketing services when looking for fast lead generation at a low cost per acquisition rate and high return on investment. A quick fix, however, is not always a long-term fix.
PPCs are particularly beneficial when conducted together with a solid marketing strategy that will result in sustainable revenue solutions and a predictable flow of leads. In the same way, PPCs need to be framed within a carefully designed marketing campaign that will define the conversation that we will start or the content that we will offer once those leads are generated.
#Extra: Consider a Specialist Agency
The key for these services to make a difference and help you achieve the growth you are looking for is specialisation. Marketing services are only as good as the understanding you have of the challenges that your audience is facing and looking to overcome. A construction marketing agency can grant you the knowledge you need to ensure that the right message gets to the right people at the right time.
Applying undefined and general marketing fixes can not only set you back, but also jeopardize your efforts to see your business grow. "Am I doing enough to guarantee the success of my company?", you may ask yourself. What if it is not about doing enough, but doing it right?
About Insynth
At Insynth we deliver a predictable flow of leads, customers, and specifications for building product brands through our inbound marketing approach, proven to reach a technically demanding audience.
We use the latest marketing techniques such as construction inbound marketing, to equip building product companies to grow sustainability in this era of digital transformation.
As the only HubSpot certified agency to major in construction marketing. We have a proven formula of bringing a variety of functionalities together including CRM Implementation, Web Design, Sales Automation, SEO, and Email Marketing to achieve your ultimate aim: Growing your business and gaining new specifiers and customers.
Book A Free Consultation Today