A Better Way To Grow
Is Inbound Marketing Right For Your Building Products Brand?
Construction inbound marketing is the strategic process of developing educational, informative and useful content, via your website, blogs and social media, to attract specifiers, contractors and other construction decision makers to your website and business.
Rather than using traditional marketing communications, which are costly, disruptive and generic, construction inbound marketing uses tactics which are personalised, buyer specific and available for the customer when they are searching for that product or solution.
The outcome is a regular stream of informed, purchase ready prospects who respect your authority and trust you to provide the product or service that they need.
Important note: Construction Inbound Marketing is a very successful revenue driven and sales orientated strategy. Properly implemented it is likely to significantly increase sales leads and workload for your sales force. Do not attempt if you do not want to increase your sales, or are unwilling to increase/adapt your sales resource.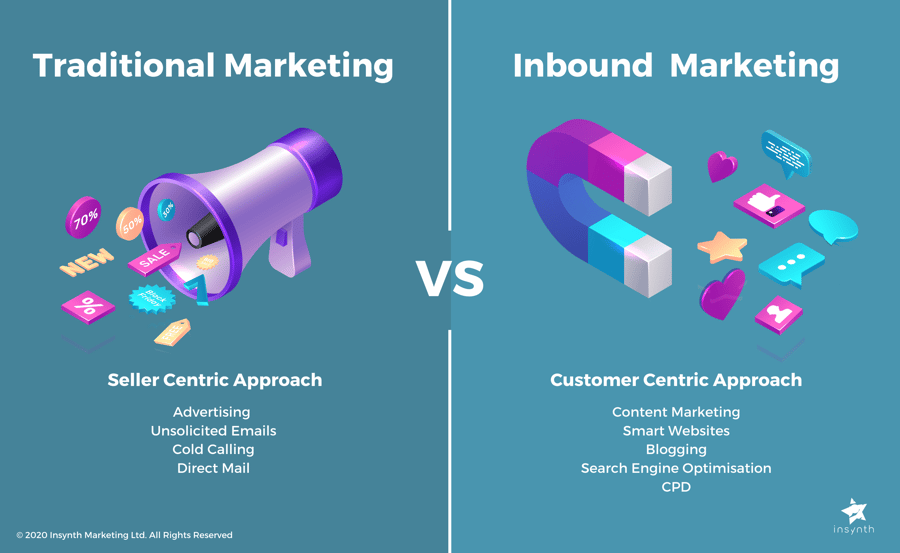 The times they are a changin'
As Bob Dylan sang, "If your time to you is worth saving, Then you better start swimmin' or you'll sink like a stone, For the times they are a-changin' "
The way that people buy and specify today has changed. Now your potential specifiers and customers will seek solutions to their problems on the internet and social media, and reach out and engage with the businesses that they best trust to help overcome their challenge. Research suggests that over 80% of the buying process is now conducted online.
Long gone are the days of trade advertising and receiving hundreds of literature requests, which you deliver via the post or your sales force. This is why your sales team find it so hard to get appointments now. Why would you use your valuable time seeing a sales rep when you can get all the information you need from either your website or one of your competitors.
If your sales and marketing strategy don't align with the behaviour of your customers and prospects when they are searching for information on products like your, then they will find it on a competitors website and quite likely specify them.
As Bob said - "you better start swimmin' or you'll sink like a stone"
The Specifier's Journey
Consider the process and actions taken by your typical Architect or Consultant when they are given a design challenge. Like most people they will go straight to the Internet, and Google a question, in fact 98.8% of them do.
Typically there are 4 stages in the Specifiers journey;
Awareness: The specifier identifies a need or challenge and identifies that your business may be able to help

Consideration: The specifier evaluates your solution meets their need, along with due consideration of all the alternative solutions identified in the awareness stage.

Specification:

Following a thorough technical evaluation, the specifier selects the solution that they feel best meets the project needs, and specifies the solution into the project design.

Delivery:

Once the specification is secured, pricing enquiries will start to arrive and the specification may get challenged in an attempt to cut costs. Once this assault is repelled, the order will arrive and you can get on with delivering the product and providing the contractor with installation guidance and technical support. The specifier will often still be involved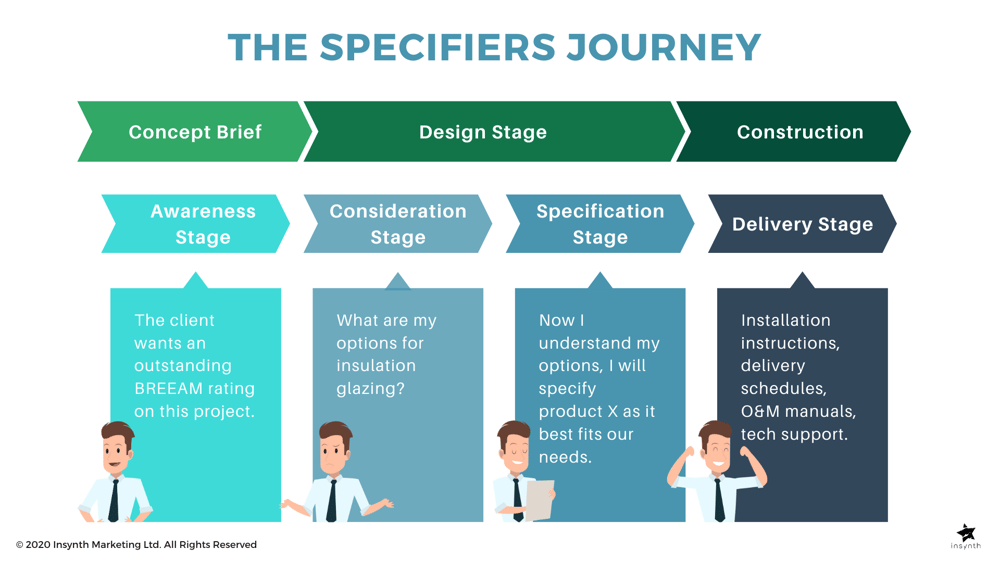 Translating The Specifiers Journey into Sales & Marketing Activity
Now that we can understand the stages that the typical specifier will go through in making researching and deciding which products to specify on their project, it is vital that we can overlay that process with the appropriate sales and marketing activity to aid the specifier with the right type of information at the right time.

It is important to note that many of these tactics use a 'one-to-one', highly personalised approach. A higher number of well-considered "touches" is needed to shepherd the prospect through the process if you want them to specify your product. Current thinking suggests that anywhere from 7 - 14 "touches" are required to move a marketing lead through to a sales-ready lead.

The days of mass marketing with broad, blunt messages and expecting the sales team to do the nuanced communications is over. As we mentioned before, specifiers can be anything up to 80-90% through their journey before they reach out to sales.

When it comes to communications, the 'heavy lifting' now sits firmly with marketing rather than sales.

Timing has a huge factor too. Establish key project milestones as early as you can, to ensure that your messages are not too early or late in the decision making process. How frustrating is it when you call a prospect, only to be told they ordered your competitors product a week ago?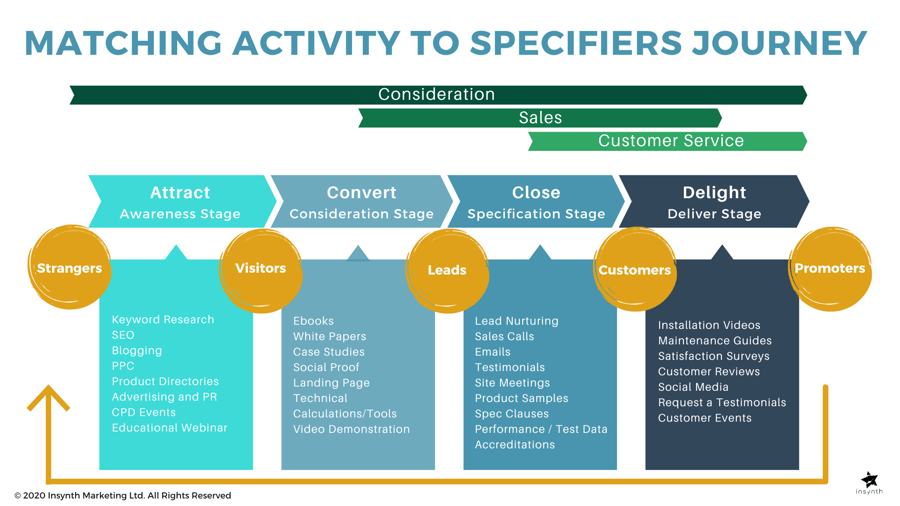 Building Trust & Making Specification Easy
It is estimated that a typical commercial building can require upwards of 5,000 products to construct it. Think of it, 5,000 products to research and specify. When specifiers say they are too busy to see you, they really mean it.
It's no wonder that specifiers stick with solutions that they have used before. That solution provider has earned the trust of the specifier and it is easy to stick with what they know and it cuts risk out of the process. Great if you are the incumbent brand, not so good if you want to break in.
This is why so often there is an almighty bun fight when the price gets weaponised to break the specification. Here is a 2 step approach to change this.
1. Build Trust and Credibility
The answer is to elevate your company and brand as experts in your sector. Producing intelligent, insightful, educational and helpful content that specifiers can consume to improve their understanding of issues and challenges that affect them.
This could be in a blog post, a webinar, a video, an ebook a CPD presentation or a white paper. Anything that can be accessed on-demand, when the consumer has either the time or the need for such knowledge. Promotion of your content will help it reach your desired audience and once consumed you will creep into their subconscious.
The idea here is to produce regular content in various mediums. This will build your authority and reputation. You will be perceived as trusted advisors in your field, experts and the go-to guys. In a very methodical fashion, you will build your specification base and shift the balance of power in your sector.
2. Be Easy to Specify
Once the awareness and credibility of your brand and solution are there, you need to ensure that your product is easy to download.
All information needs to be available on-demand, preferably including cost information. The type of information required can include:
Specification clauses

2D & 3D CAD drawings - in a variety of formats

BIM Models

Test and performance data

Technical literature & Data sheets

Design calculation tools

Installation information

Delivery info

Pricing data, and more
Manufacturers websites are the most popular source of information for building specifiers, so make sure all of the above is available for your potential specifier to download. It needs to be easy to find and ungated (no forms!). If they don't find the info that they need, then they will go to your competitors.
Providing a great user experience for your new specifier is critical to success. We are all spoilt by Amazon, Apple and a plethora of other consumer brands. Your specifiers will expect a similar experience from you too.
Want To Find Out How To Create A Predictable Lead Engine?