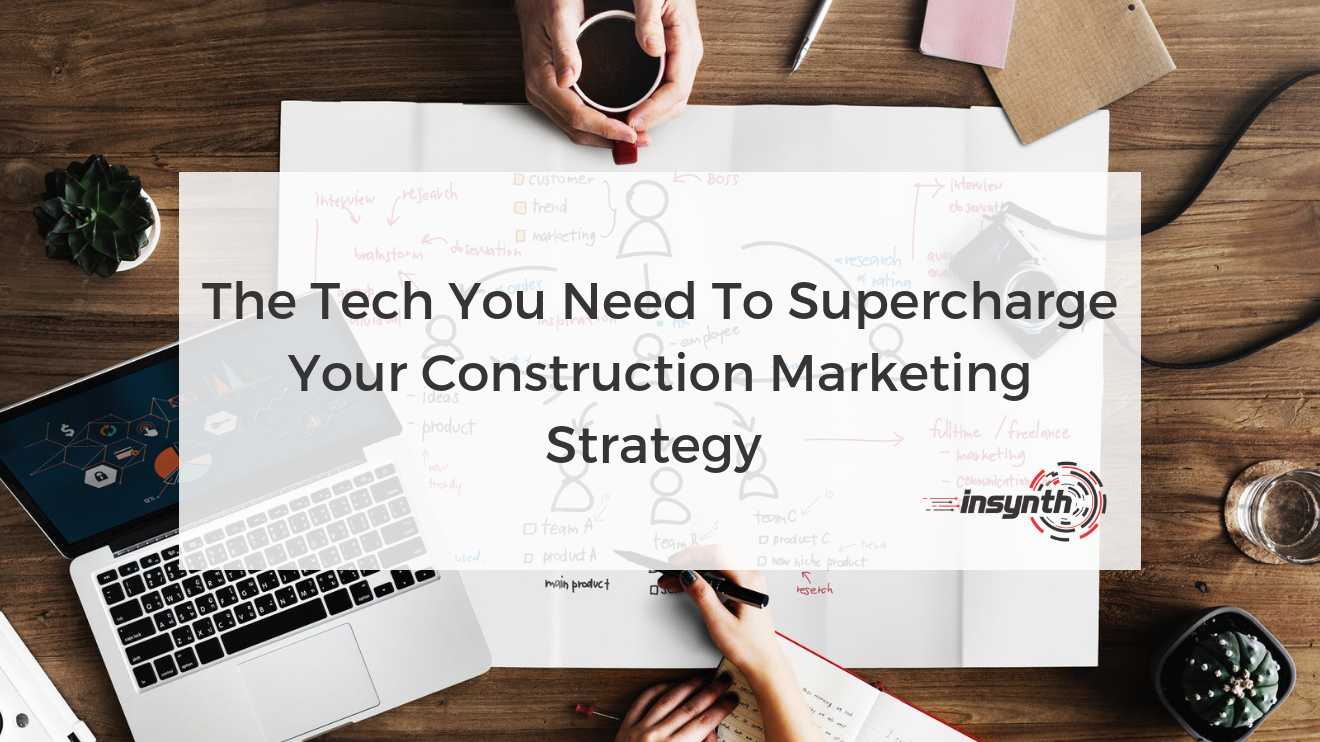 With digital and smart technologies changing that we live our lives, the construction industry is set to experience some swift changes in order to adapt to the way that buyers are now researching and making purchase decisions.
To keep up with the trends set to sweep the building products industry, your construction marketing strategy should encompass several key elements that are changing the way that prospects are converted into customers.
Read on to find out more...
Artificial Intelligence


Artificial intelligence is no longer the stuff of science fiction novels; it's becoming an integral part of our everyday lives.
Intuitive personal devices such as Amazon's Alexa and Google Home are becoming more informed about the way we live and are using that information to make our lives easier with their increasingly sophisticated capabilities.
It's unsurprising, therefore, that businesses are now looking to integrate A.I into their everyday processes to improve the customer experience and drive growth.
So far, the construction industry has fallen behind in terms of its adoption of digital technology trends such as artificial intelligence.
Workflows
A workflow automates business processes by understanding the actions that visitors take on your site, such as completing a price enquiry form, and turns it into an actionable task to be carried out such as an automatic email being generated to acknowledge them, or an instruction to contact the lead being sent to a member of the sales team.
Workflows using artificial intelligence are more heavily automated and smarter at understanding which actions to take based on user behaviour on the site.
They automate otherwise time-consuming tasks that would have been completed manually and taken much longer. By speeding up processes for businesses, there is a greater likelihood that prospects will convert into customers.
Chat Bots


Chatbots are simulations designed to hold human-like conversations on your website in the place of a real person. They can facilitate enquires and aid pre-purchase decisions by offering help and advice to a customer when it suits them; even when your business has closed its doors for the day.
By 2020, it's estimated that 85% of customer interactions on a website will be handled by a chatbot.
With the artificial intelligence used in smart chatbots, your bot can answer the most commonly asked questions by understanding enquiries entered by visitors.
When visitors return, chatbots can recall the specifications from previous purchases and speed up the process of them buying again using this data.
Chatbots can answer queries faster than the average human enquiry. While a chatbot can answer a query in between two-three minutes, the average time for a business to give a human response is 42 hours, with 23% of companies never following leads up at all and missing out on potential sales.
The slower you respond to a customer, the less likely they are to convert. With chatbots doing the work for you, you can increase your chances of turning a prospect into a customer. A response time of less than five minutes can improve your conversion rates by as much as 50%!
Video Marketing
The power of online video cannot be underestimated. In the last two years, video's popularity has grown exponentially, claiming over 69% of all internet traffic. By 2020, this is set to grow to over 80%.
This is largely thanks to video sites such as YouTube, which acts as both a streaming site and search engine. In 2018, it was both the biggest video sharing site, with over 3 Billion hours of content being viewed every month and the second biggest general search engine behind Google.
In business, videos popularity is also growing. HubSpot report that 59% of executives prefer to consume content in the form of a video over a blog post or webpage.
Using video as part of your construction marketing strategy allows you to put a face to the name of your company. Interactions with businesses can sometimes feel impersonal, with teams hiding behind the brand.
A video introducing yourself, explaining what you're about or demonstrating your products gets across the human side of your company, making it easier for visitors to connect with you.
You can incorporate video into your construction marketing campaigns in several ways, including:
Product tutorials
Introductions to your company culture
FAQs
"Thank you for buying with us"
You can read more about video content marketing ideas for construction here!
Video And Customer Prospecting
The capabilities of video go beyond showcasing your company and your products online; it's also an effective way to prospect potential customers!
During the process of lead nurturing, sending an email might not always be enough. If your email contains a personalised video, however, you could see your conversion rates shooting up.
Video experts, Vidyard, write that a personalised video in 5 times more successful in terms of open rate and subsequent responsiveness than a text-based email.
If a prospect feels that you've taken the time to process content specifically for them, they are more inclined to stop and pay attention to what you want to tell them.
To enhance your chances of your video email being opened and the content viewed, why not hold up a whiteboard sign with a greeting and the receivers name on it and set it as the thumbnail? Using tactics like this can increase your customer conversion rates by as much as 400%.
Conclusion
With the rise digital in the building products market, your construction marketing strategy should include considerations for technological developments if you want to succeed and grow.
Artificial intelligence is becoming prevalent in businesses as it's integrated into workflows, chatbots. It helps to streamline the customer's interactions with your company, give them a more positive experience and make them more likely to convert and return in the future.
With video becoming one of the most popular forms of content on the internet, including it in your construction marketing strategy is a must. You can answer questions, say thank you to customers for buying with you, introduce your company and much more!
Taking it one step further with a personalised video, sent via email, can drive your conversion rates up by as much as 400%. Making customers feel valued with personalised content will show them you're invested in helping them and they'll be more likely to respond and convert.
Would you like to find out more about building a strong strategy to help you grow better? Click on the CTA below to speak to a construction marketing expert today!
About Insynth
Insynth Marketing is a leading UK construction marketing consultancy based in Shifnal in the West Midlands. Insynth employ the latest inbound marketing techniques such as construction inbound marketing, to help building product manufacturers grow their businesses by aggressively driving sales lead generation activity.
As the only HubSpot certified agency to major on construction marketing, we bring together construction marketing strategy, digital strategy, website design, SEO, content marketing, email marketing, sales automation, marketing automation and HubSpot CRM implementation to produce successful campaigns and great results for our clients.