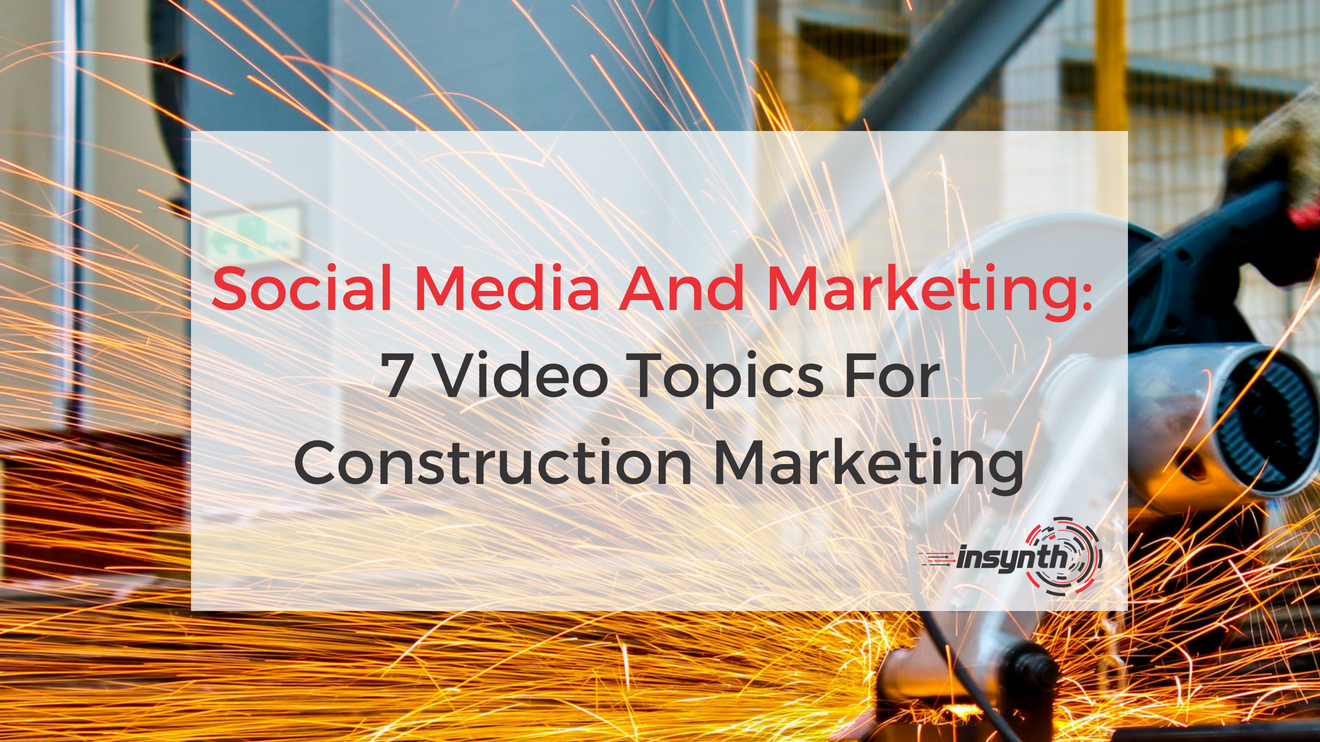 Using video will increase your reach and engagement.
It is the preferable way of viewing content for 59% of executives according to HubSpot, making it a content format that cannot be ignored.
With video content you can educate potential clients and drive them to become leads and customers.
Read on to find out which topics will be the most beneficial for your construction strategy.
Download The Definitive Guide To Social Media Marketing
Customer Testimonials
Customers trust other customers. Reviews and testimonials help them to gain trust in your company. They account for 51% of the preferred video content produced by companies for customer consumption.
Getting a video interview from a satisfied customer is a great way to create a sense of trust between your potential prospects and your company. This will be a huge driver for traffic and lead generation.
Customers showing how satisfied they are with your products and services makes them an authority figure to those unfamiliar with your company. People are naturally more trusting of authority figures; they find reassurance in their words; showing satisfaction towards your products will be hugely beneficial your prospects looking for assurance that you will meet their needs.
These videos can also take the form of case studies that can feature on your website. They will show the quality of the work that your company have done and create an opportunity for input from customers discussing how satisfied they are.
Having the customer state what they required and how you helped them achieve that goal will give the potential prospects more confidence in your company before they reach out to you.
Case studies are high value content for construction marketers because future clients can see the full scale of a project that you have been involved in, as well as gaining reassurance from customer testimonials embedded in that video.
Case studies can include footage taken before and after a project has taken place, this will create a tangible visual image for viewers to get behind when researching your company and building products. You could even include a statement from the customer about what their needs were before the work took place which will feed into their testimonial of how satisfied they are with your company.
These videos don't have to focus on customers who have only worked with you once. Viewpoint have used their Customer Success Stories section on their website to show why clients are making long term commitments to their company.
Videos such as this can reinforce that sense of trust that customers like to have before they reach out to a company. It makes them feel that they are entering into a trustworthy partnership with you and could potentially result in longer term business between you.
CPD Videos
Certain professions in the construction industry, such as chartered architects, have to complete Continual Professional Development training in order to demonstrate that they are up to date with the latest practices and technologies.
The required amount of training is between thirty-five to forty hours every year. This allows industry professionals to stay up to date with the ever-changing industry and demonstrate to their customers that they are experts in their field.
CPD videos are a huge benefit to a company because they are quick and easy way of consuming content that is relevant to their industry. It will also be beneficial to their training and therefore meet the criteria of being educational for consumers.
CPD videos are all about showing that you are competent in your field. Accessing construction videos for the purpose of CPD is a great way to demonstrate your knowledge in a way that will reflect in your continued accreditation with in the field.
Accessing construction related CPD videos such as the ones produced on RIBACPD.com come with a certificate at the end of viewing them. This removes some of the lost time that comes from submitting paperwork in order to provide evidence of your participation in CPD training.
Installations
This is a great way to engage your audience. Showing audiences how your building products work will give them a higher level of confidence in you and your business.
According to AdWeek, 81% of buyers conduct extensive research online before they reach out to a company. This is due to a growing sense of anxiety about making decisions around high-value products; customers need to feel assured that the company and product are up to the desired standard.
Conducting a building products demonstration shows knowledge and expertise around your field and will increase the likelihood of customers wanting to engage with your company.
It's important to make sure that your titles tell them exactly what you're going to demonstrate. 81% of viewers leave videos in the first ten seconds if they are not engaged. Match up with your titles to prevent this.
For example, Xcel Products produce regular video footage of how effective their products are in short product overview videos that are available on their main website.
Video demonstrations of building products are statistically more memorable than text or static image equivalents. 80% of people recall video content they've viewed in the last 30 days according to Forbes. This is important when encouraging people to regularly engage with your company.
As well as this, Forbes also report that 90% of people say that video content influences their decision making around products.
Building product demonstrations could include unboxing of new equipment that your firm has introduced or working demonstrations on how the tool is used.
If you provide a product such as radiator guards or any equipment that requires installation; demonstration videos could also include installation explanations; guiding the customer through the process of how to install their product safely and efficiently.
Demonstrations like this will create a sense of trust in you from the prospect. Trust-signals, such as showing you are genuine and well-versed in your subject, will be a huge encouragement when customers are thinking of reaching out to your company.
Factory Tour
Factory tours are a highly popular way of communicating with others though channels such as YouTube.
You could incorporate them into your everyday content alongside your text-based blog. Remember to find a balance.
Vlogs, such as factory tours, are great for giving your customers a face to put with your brand name. Customers like to feel that they already know you before they reach out; a video blog can be the key to creating that sense of knowing which will encourage them to go on to become a lead and customer.
Personal touch is a highly valued quality in content creation. Customers are losing faith in corporate content that does not make a personal connection with them. Vlogs that are rooted in introducing yourself to the client and them to your company is brilliant way to personally get across to them why your company is the best solution to their problems.
If you have blog posts that are already available for prospects to access, why not repurpose them for a new audience in video format? This is a great way to refresh content and will bring a wider range of potential customers to your site.
Like all video content; the key to a successful blog is preparation. If you are repurposing a blog for video content, it is important to create a script and storyboard before you start. Human's don't speak in the same way that they read; reading out your blog post won't sound natural to the viewer and may even put them off.
Create a script for vlogs to avoid this problem. Your words will come across in a much more human manner and maintain that personal touch that you are trying to get across to your viewers.
You could give customers insights into your company through your vlogs, such as factory tours to show the production process of your products. Audiences in the construction industry like to see how things are made; this is brilliant way to engage them.
An example of a successful factory tour video is Komatsu UK's Assembly Line video. Since being published, the video has received almost 300,000 views and have been 'liked' over 1000 times.
Health and Safety
Health and safety is a part of everybody's life, no matter what their profession. But in the construction industry, where large machinery and building equipment is part of everyday working life, it is paramount.
In the UK construction industry in 2017, there were over 64,000 injuries to construction workers and 30 deaths according to the Health and Safety Executive. 21% of these were a result of handling equipment.
Health and safety incidents can be catastrophic for construction businesses and employees. It can lead to investigations, site closures, job losses and life changing injuries.
Producing videos on health and safety on site and when using equipment could have life-saving implications for employees working in the construction industry. They are an invaluable asset to your company.
Visual demonstrations of how to store, use and maintain a building product will reduce the risk of injury and increase the safety of the environment for everybody involved with your construction projects, including your customers.
Health and safety videos don't just have to be about building products or equipment. You can also produce relevant videos for the use of machinery used by your company, such as if you use cranes or diggers.
This can reduce the risk of injury while also educating customers and employees on how to safely use this equipment correctly and how to ensure that safety is kept up to standard when working around it.
Al-Vac UK use video in their Construction page online to show how their vacuum lifting equipment is safely operated.
Posting these videos onto social media and onto your main company website will demonstrate to customers that your company cares about maintaining health and safety standard in order to protect yourself, your employees and them from harm when working with you and your building products or equipment.
If your company sells building products, having video content available to them to see how to safely operate it will make them feel assured that they are able to get assistance with their product even after the end of a sales process.
A Day In The Life
These videos can act as a behind-the-scenes look at the average day for your company.
You can include content such as introductions to yourself and members of the sales team that customers are likely to deal with. This relates to the need to know a company before reaching out them; customers will value the effort being put in to show them how your company works.
You can include these videos as part of your vlog. This creates a sense of variation in the content that you are producing and will show customers that your company is passionate about being open and honest with them at all times. This is a great trust signal to send to the customer.
A Day In The Life video can also work as a stand-alone piece. This style of video can be placed onto your main website on pages about you and your company goals. This will be a great way to introduce yourself but also to humanise your company image to customers in the early stages of the buyer's journey who are researching your company and its potential to help them solve their problems.
Including videos on landing pages increases conversion by up to 80%.
For construction companies, A Day In The Life video could include a site or factory tour. This could include showing where you are based or the areas that your company is primarily working in. For customers looking for solutions that are regional to where they are this is highly valuable information that could be a big influencer on their decision making.
Showing customers how your company works on a day to day basis while also including facts about the services or the building products that you provide is a great way to show your knowledge to the customer while also giving them insight to your brand.
These videos can be great if your company is recruiting. It will show potential future employees what to expect should they apply and be successful. Encouraging people to take an interest in your company through this style video will generate interest and encourage people passionate about your company to apply and be involved in working alongside you.
Apprenticeship company Balfour Beatty have used Day In The Life video's to interview their apprentices working in construction to encourage others to sign up. Click here to see an example of this.
Big Reveals
Do you have something exciting to share with your customers? Maybe you've worked on a large-scale building project? Has your company won an award?
Share this with your customers!
Live video is great for announcements and big reveals. You connect your company directly with the event and customer as the moment is unfolding. It's less predictable but with the right amount of preparation, it can work wonders for your content marketing efforts.
Platforms such as Twitter and Facebook have ways of sharing live video directly with an audience built in. Twitter also runs a platform called Periscope specifically intended for live video.
YouTube also allows creators to broadcast live content. It's the worlds second largest search engine; broadcasting there gives you the potential to reach an audience that views 1 billion hours of content every day.
Big reveals are about celebrating your achievements. In the construction industry, in can demonstrate to the customer that your company are leaders in the field and that you take pride in your work.
Because video plays such a large role in the decision-making process, sharing important moments with your customers will help them to feel part of the process that has lead to this achievement. Particularly if your company has won an award.
This can influence previous customers to return to your site and to engage with your company again while also encouraging new customers to interact with you.
67% of companies using video said it has made a difference to their marketing strategy. Placing videos on landing pages that have high levels of traffic show customers that you care about the image that you create. Big Reveal videos will help to drive that success because they will demonstrate to the customer that your company is growing and succeeding within the construction industry.
Conclusion
A video is a brilliant tool for construction marketing. It can be used for a huge variety of content that allows your building products company to promote itself in a hugely popular format that is growing in popularity across the internet.

Incorporating video into your construction marketing strategy will open up huge potential for your company. It is an extremely popular method of content consumption and will be an invaluable asset to your marketing plans.
How Insynth Can Help You
Insynth's social media service is designed to provide you with complete control over your brand image and messaging across social media platforms. We will work with you to tailor a personalised social media presence, advising you in terms of:
Social consultancy: developing your personalised social media strategy based on your marketing goals.
Managing your brand: securing engaging usernames and profiles that match your campaigns to highlight your brand image.
Social tone and nature: finding the right voice and style for your brand's social media presence.
Social media monitoring: Highlighting customers' positive feedback across your social media channels and involving you in conversations.
Social PPC: Implementing social ads to develop your social media presence.
Social PR: Networking on social media platforms to expand your range of contacts, prospects and clients.
Creative Discussion: Creating fast, reactive updates to spark conversations and visibility online.
Reporting and Analytics: Analysing data to review the effectiveness of your social media strategy and activity on each platform, to inform future activities.
Cross Channel Promotion: Ensuring that your messages reach audiences across all social media and marketing channels to expand your reach.
About Insynth
Insynth Marketing is a leading UK construction marketing consultancy based in Shifnal in the West Midlands. Insynth employ the latest inbound marketing techniques such as construction inbound marketing, to help building product manufacturers grow their businesses by aggressively driving sales lead generation activity.
As the only HubSpot certified agency to major on construction marketing, we bring together construction marketing strategy, digital strategy, website design, SEO, content marketing, email marketing, sales automation, marketing automation and HubSpot CRM implementation to produce successful campaigns and great results for our clients.
Book Your Free Consultation Today