For owners, MD's, CEO's, sales teams and marketing depts of building products businesses, learning how to grow your business better in the digital age is essential for 2021.
Within this, transforming your business through content marketing is guaranteed to help your brand stand out against your competitors. It will generate incredible ROI for your company, generating leads and improving rankings on Google.
The type of content you should go for will depend a lot on what kind of specifiers or engineers you are targeting. Ideally, you should use a few different content formats that perform best with your customer.
In this blog, we will explore 10 content marketing essentials for 2021 that will propel your building product business to the top of the construction space.
#1 Infographics
An infographic is a form of visual content that is visually engaging and easy to understand. This makes infographics a more memorable form of content. Data suggests that if a relevant image is paired with that same information, people retained 65% of the information three days later.
Great design also saves your user's time. Infographics highlight the crucial messages allowing them to find information faster. Even better, research has shown that there is a 70% increase in reading comprehension when using colour in visuals, compared to just black and white.
In 2021, why not put some key technical information about your building products into a stunning infographic that will deliver clear information to your ideal specifiers, aiding them in their decision process and also showcasing your strong brand identity?
#2 Whitepapers
Whitepapers are in-depth reports that help give your specifiers a clearer picture of various important industry matters. This could include construction regulations, legislation compliance, or sustainability issues.
It is a great format for building product companies to display authority and build your brand name while also delivering useful information to your ideal buyers.
#3 Email Learning Series
Another great tool for engaging architects and contractors in 2021 is to create an email learning series on any topic relevant to your building product.
Email is a potent and direct tool for communicating with your customers and prospects and by providing a series for learning, similar to a CPD, you can educate them while also providing information on your product.
This content format helps build brand awareness and engagement in a more personal way while also aligning your brand with an expert reputation, in your space.
#4 Online Digital CPD
Due to coronavirus restrictions, moving your CPD online, or creating one from scratch, is a great way to continue delivering important and helpful information to your target prospect that develops your relationships, establishes thought leadership, and perhaps even leads to sales.
Using a platform like Teachable is a great way to deliver an effective and easy to use digital CPD as it hosts your CPD video clips and allows people to enrol themselves and work through them.
A digital CPD allows you to automate the process while also being able to monitor sign-ups so you can keep the conversation going, increasing your chances of specification.
#5 Video Content
Video content is highly engaging and entertaining and will be in demand in 2021.
Adopting a video marketing strategy could start with short-form videos that are informative and explain your building product's origin, technical information, and applications. This will help build brand awareness and engage prospects across a range of digital channels such as social media and email.
#6 Webinars
Webinars are a powerful tool for building product companies to display your expertise and boost sales.
Hosting a live webinar or live CPD presentation means you can engage one-on-one with prospects and build that relationship with them. It also allows you to answer questions about your product giving you a chance to sell face to face, and this will matter more than ever in 2021.
#7 Blogs
Blogs are one of the key pillars of any content marketing strategy. They ensure your website has fresh content that is optimised for SEO and uploaded consistently to improve your rankings.
Blogs are a must-have for building product businesses. The way consultants and architects research a topic or product is by searching on the internet. Your blog and product pages need to provide them with the answers they are looking for before they move off onto a competitor's!
#8 LinkedIn Stories
Newly launched at the end of 2020, LinkedIn Stories are an adoption of the popular stories feature found across social media. Stories are a format where video clips or images can be posted which disappear after 24 hours.
Making use of this functionality allows you to advertise your business in an interactive and immersive way, whilst also being more personal with your social media following. Moreover, making use of this functionality guarantees you more eyes on your brand as LinkedIn host these at the top of the newsfeed.
In 2021, LinkedIn Stories will be a great option for getting in front of your prospects and uniquely promoting your brand and products.
#9 Guest Posts
In 2021, posting guest blogs on industry and partner sites are a great way for your building product business to increase exposure. You will get in front of a fresh audience whilst also improving your own website's blog's SEO if you include appropriate backlinks.
Guest posting will also increase your brand's authority on your blog topic, improving your reputation in the construction industry and building relationships with prospects you might never have had the opportunity to get in front of before.

#10 Social Media
Sharing content on social media is important to promote the things your business is getting up to, such as new product launches, recently uploaded blogs, and content offerings such as eBooks and CPDs.
Building your social media followers across all mediums will mean you can reach out to prospects on the social channel where they spend the most time. You can also use social media as a hub for loyal brand supporters and existing customers to promote your brand and keep in contact.
Bonus Tip: Repurpose Your Content
Whatever content marketing strategy you go for in 2021, remember to use your content to the best of its ability by repurposing pieces to different channels and formats.
Using your long-form content pieces in their most effective way you can recycle the key information to appeal to new readers. For example turn a blog into an infographic, video, or social media post. Inversely, you could turn a series of blogs or educational emails into an eBook or whitepaper.
You could even repurpose your CPD presentations into LinkedIn slideshows or even stories.
Take a look at this image to explore even more content types you could integrate into your content marketing strategy for 2021.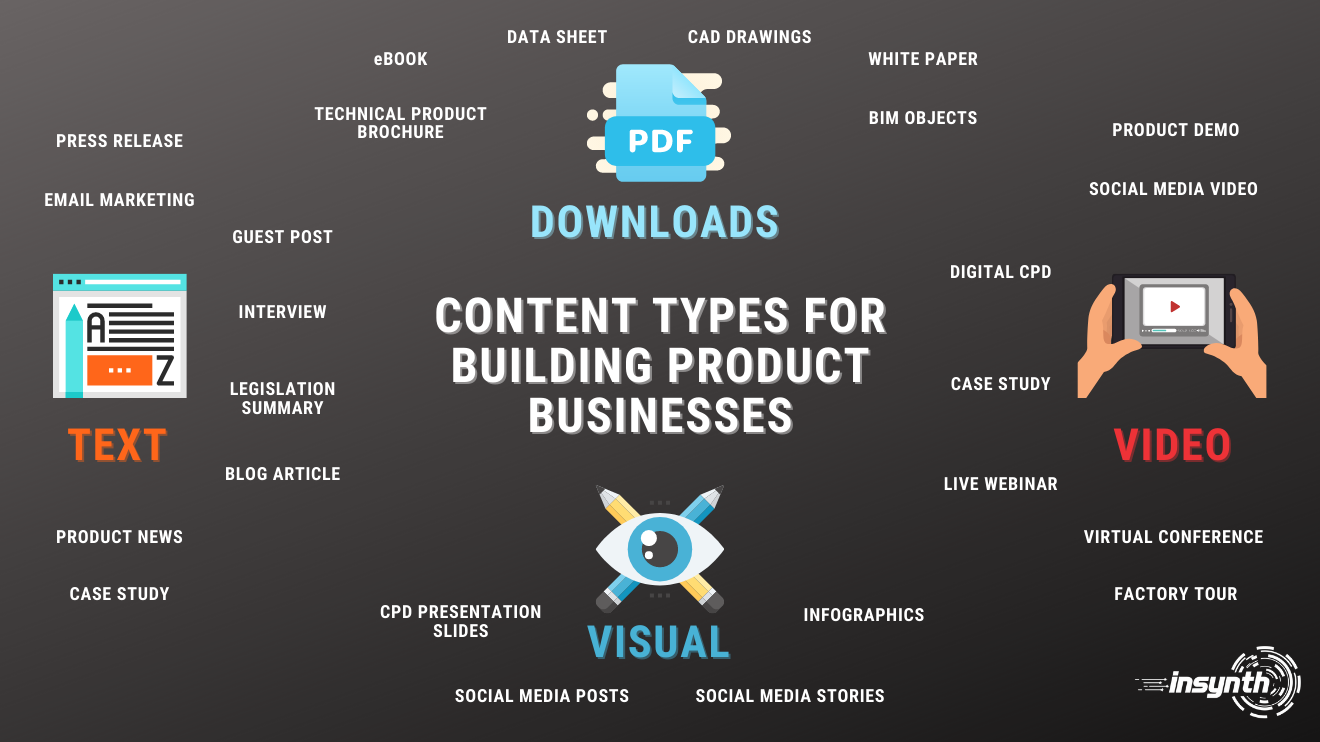 C
onclusion
The old marketing proverb that "Content is King" is still true. Specifiers' and architects' decision making is driven by the information they consume on the internet.
With the pandemic and the digital transformation of the construction industry developing a content marketing strategy that will enable your business to thrive is key for 2021.
At Insynth we are here to guide and support your transition to a digital-first sales and marketing approach so you can engage more prospects and stand out against competitors.
Explore our other 2021 blogs to learn more.
About Insynth
At Insynth we deliver a predictable flow of leads, customers, and specifications for building product brands through our inbound marketing approach, proven to reach a technically demanding audience.
We use the latest marketing techniques such as construction inbound marketing, to equip building product companies to grow sustainability in this era of digital transformation.
As the only HubSpot certified agency to major in construction marketing. We have a proven formula of bringing a variety of functionalities together including CRM Implementation, Web Design, Sales Automation, SEO, and Email Marketing to achieve your ultimate aim: Growing your business and gaining new specifiers and customers.