In the world of digital marketing, email is one of the oldest marketing channels, with the first email being sent way back in 1971. Since its primitive beginnings, email has evolved, with worldwide usage set to reach 3 billion by 2020.
This powerful tool shows no sign of slowing down, and with over 43 thousand architects and 2 million contractors currently in the UK, this guide will ensure that you're leveraging every opportunity within your email marketing efforts.
We all know that sending an email is much more complicated than drafting a message and hitting 'send'. A healthy, clean contact database is at the heart of any successful email marketing strategy, so we'll give you tips and tricks to obtain (and retain) your contacts, allowing you to deliver the right message at the right time.
#1 Getting The Right Email Automation Software For Your Construction Company
Your job will be much more challenging if you don't have effective software in place. Having access to a tool that's reasonably priced and easy to use will allow you to use a range of features to engage prospects and increase sales.
With an expected return on investment (ROI) 40:1 ratio, email marketing is one of the most cost-effective and sophisticated methods of communication and should be an essential factor of your construction marketing strategy. A crucial detail is choosing the email type that will resonate the most with your audience and that will help you achieve the goal of your campaign
What Is Email Automation Software?
Email automation is the ability to send time or action-triggered emails to your subscribers. Whether your intent is to nurture leads or automate blog updates, automation makes email marketing more efficient, personalised and relevant.
Choosing The Best Email Marketing Software
This decision will depend on your budget, contact list size and individual requirements, so do your research and make the best decision for you and your team.
As HubSpot partners, we recommend HubSpot's features as they cover so much more than just email. It aligns your sales and marketing, allowing you to access features all in one place. However, there are a variety of resources out there to cater for your needs and budget. Active Campaign, Constant Contact and Sendinblue are some of the most popular.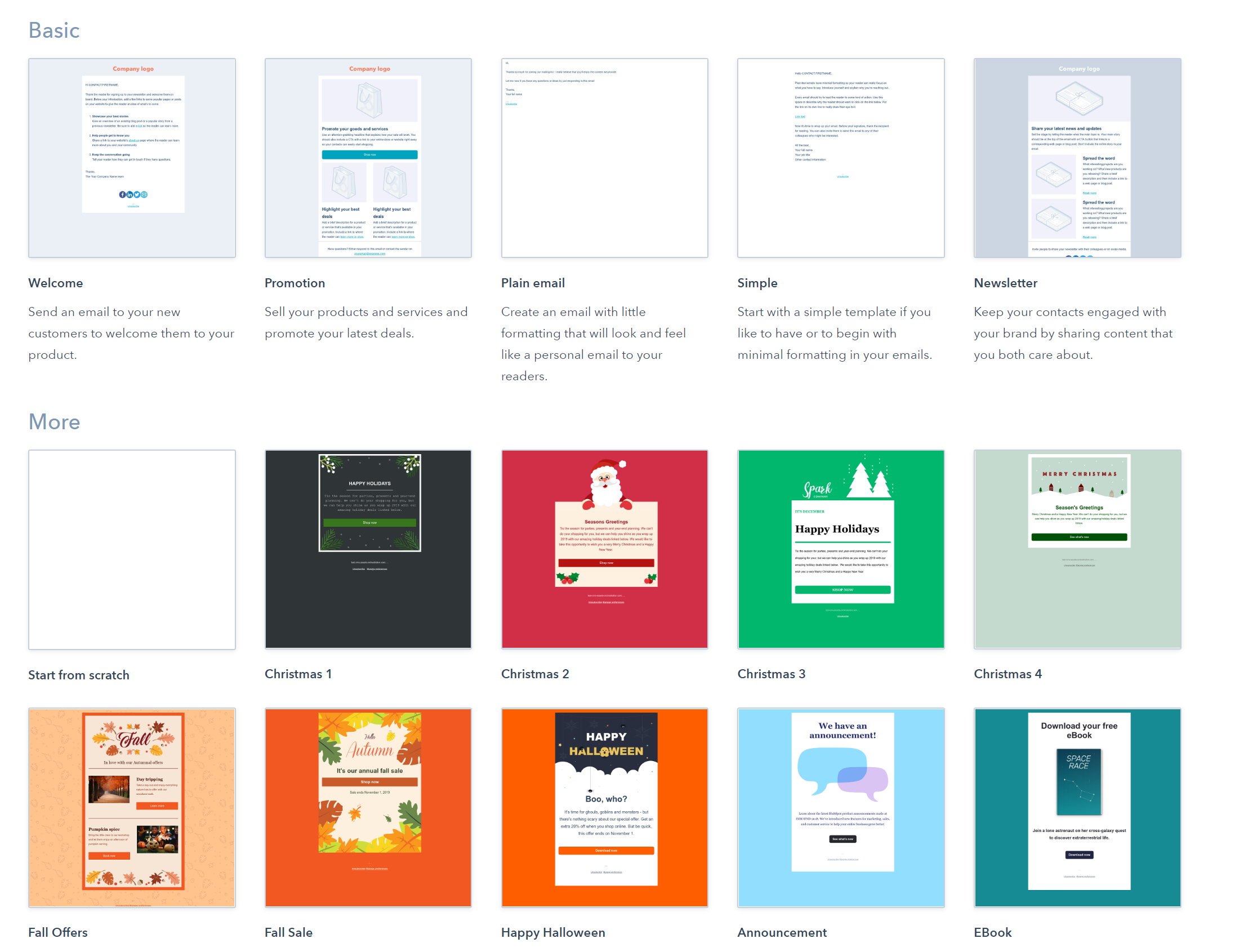 HubSpot's Email Templates
#2 Growing Your Construction Company's Email List
When it comes to email marketing, a strong contact database is your most valuable asset in ensuring that your messages reach out to the right people at the right time.
The health of your contact list will vary from business to business, but there's always a need to continually grow your list. This way, you're giving yourself optimum opportunities to engage with people that you wouldn't otherwise have crossed paths with.
So, armed with your preferred email automation software, it's now time to start developing your list of contacts. Capturing email addresses isn't easy, but we've got a few tips and tricks to help you obtain a strong database that will keep growing over time.
Tip 1:
A Free Opt-In Offer/Access To Gated Content
If a visitor to your site is presented with the option of downloading a free eBook or whitepaper, you're much more likely to capture an email address.
These freebies aren't just limited to eBooks and whitepapers, however. Why not give away a free sample of your product in exchange for an email address?
The secret here is ensuring that your website has access to attractive and engaging content that your audience will get value from.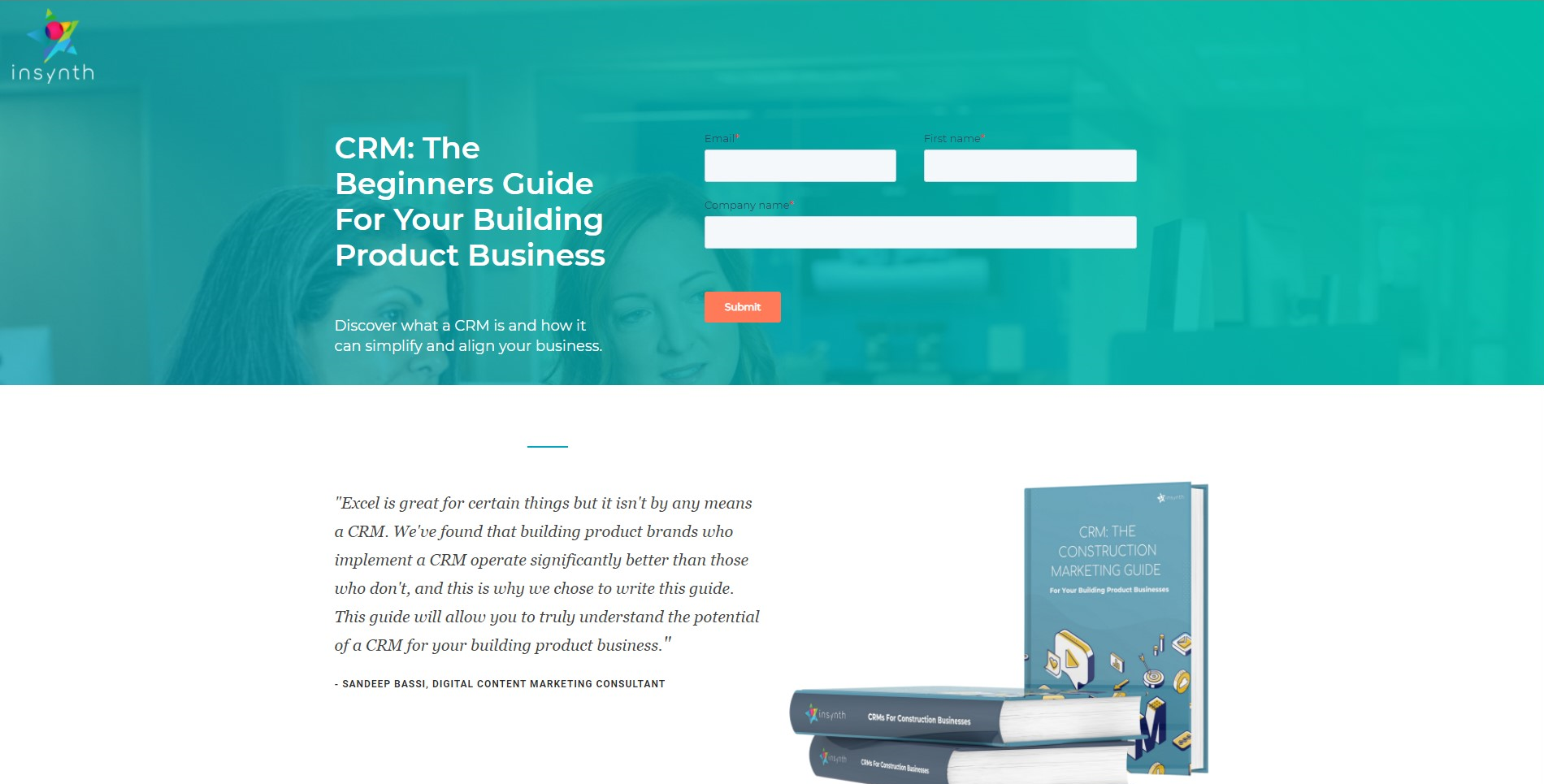 Tip 2: Make It Easy For Prospects To Subscribe To Your List
Many building products websites hide their 'subscribe' boxes right down at the bottom of their homepage. Place multiple opportunities for people to give you their email address throughout the page.
At this stage, you'll want to pay close attention to your most visited pages and make sure you place email 'sign up' forms on those pages.
Tip 3: Trade Shows
Each year, many venues play host to trade shows across the building products and construction arena.
Do you include trade shows in your construction marketing budget?
Of course, your trade show success depends on many factors. We recommend that you treat your next exhibition as a part of your content marketing strategy, rather than following the traditional product, graphic, sweets in a bowl format. When you invest your time and resources effectively, you can increase your reach and engagement at a trade show. So, take full advantage of these networking opportunities and capture as many email addresses as possible.
[2021 UPDATE] Last October, we decided to gather data from the exhibitors and visitors at UK Construction Week to find out how effective their marketing is, what they'll be investing in, come 2022, and how valuable physical trade show events like UKCW will be for their revenue engine going forward. Read more about our findings here.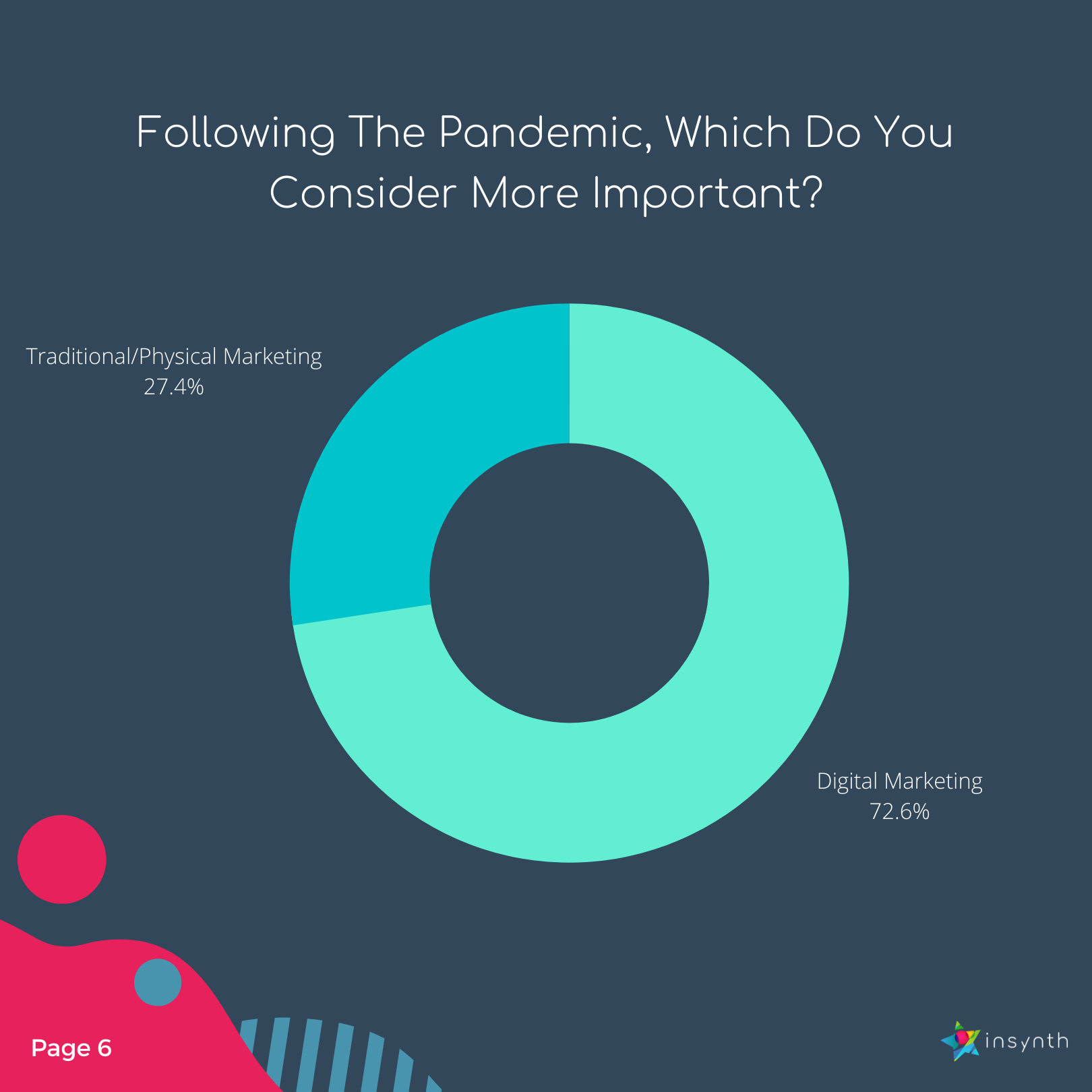 Tip 4: Get Social
There are so many networking opportunities across social media. LinkedIn has a range of filtering tools that allow you to find and connect with your target audience. However, there are many platforms out there, and new ones are being introduced all the time. Identifying and using the channels where your ideal customers research, collaborate and hang out is key to a successful social media strategy.
According to the Sprout Social Index, 57% of consumers will follow a brand to learn about new services. Up to 47% will continue to engage with a brand after they have followed it on social media, with 89% making a purchase. We will explore how email and social media can work in conjunction to boost your email marketing for construction further on in this post.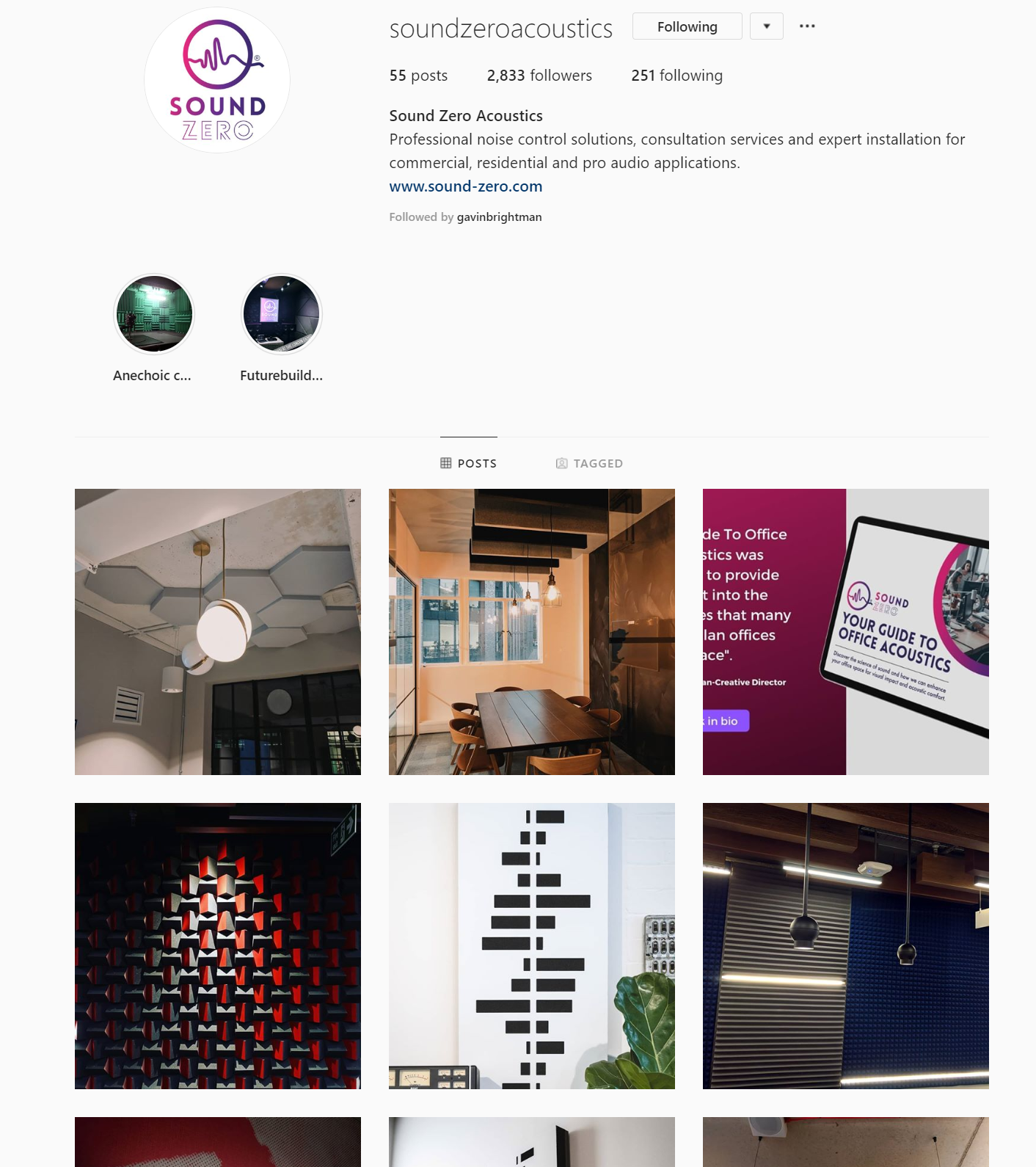 Insynth client, Sound Zero's Instagram feed.
#3 Different Kinds Of Email For Your Construction Company
Variety is the spice of life, and if you want your construction marketing campaign to produce results, it's a good idea to understand the different kinds of emails you could (and should) be sending.
Plain-Text & HTML Emails
Both have their qualities. Both have their drawbacks.
HTML emails are more visually appealing. Of course, you want to create something that catches the reader's attention. If you're launching a new product, for example, you'll most likely want to include a range of images.
However, if an HTML isn't coded properly and there are broken tags, it'll end up in the spam folder, meaning you won't be able to send any emails to that address in the future. With plain-text emails, there's a much lower risk of something 'breaking', like a link or pictures. Plain-text emails are more readable and have a higher delivery rate.
According to HubSpot, HTML emails had lower click-through rates with the inclusion of just one image. HubSpot even go on to recommend that you should use plain-text emails over HTML since they're more likely to be delivered.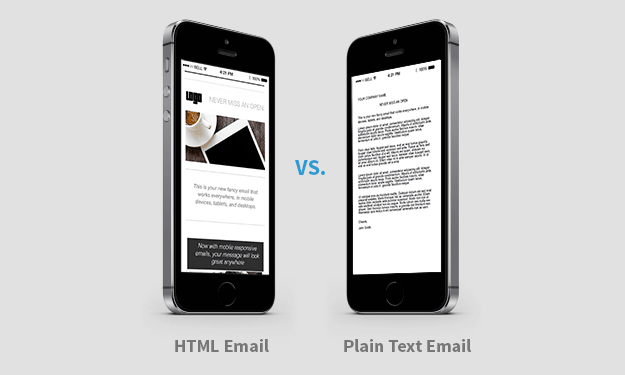 Source
Newsletters
This is an email that you send regularly, say monthly or weekly, for example. You'll send them to segments of your contacts which helps you to build relationships with your leads and customers. Typically, newsletters tend to be summaries of recent content you created.
Of course, weekly updates will only work if you have a regular content strategy in place. If this isn't possible, send out a monthly newsletter instead.
If you're trying to generate leads and traffic to your website, maintain relationships, better qualify leads and close more deals, then a newsletter is a great option for your building products brand.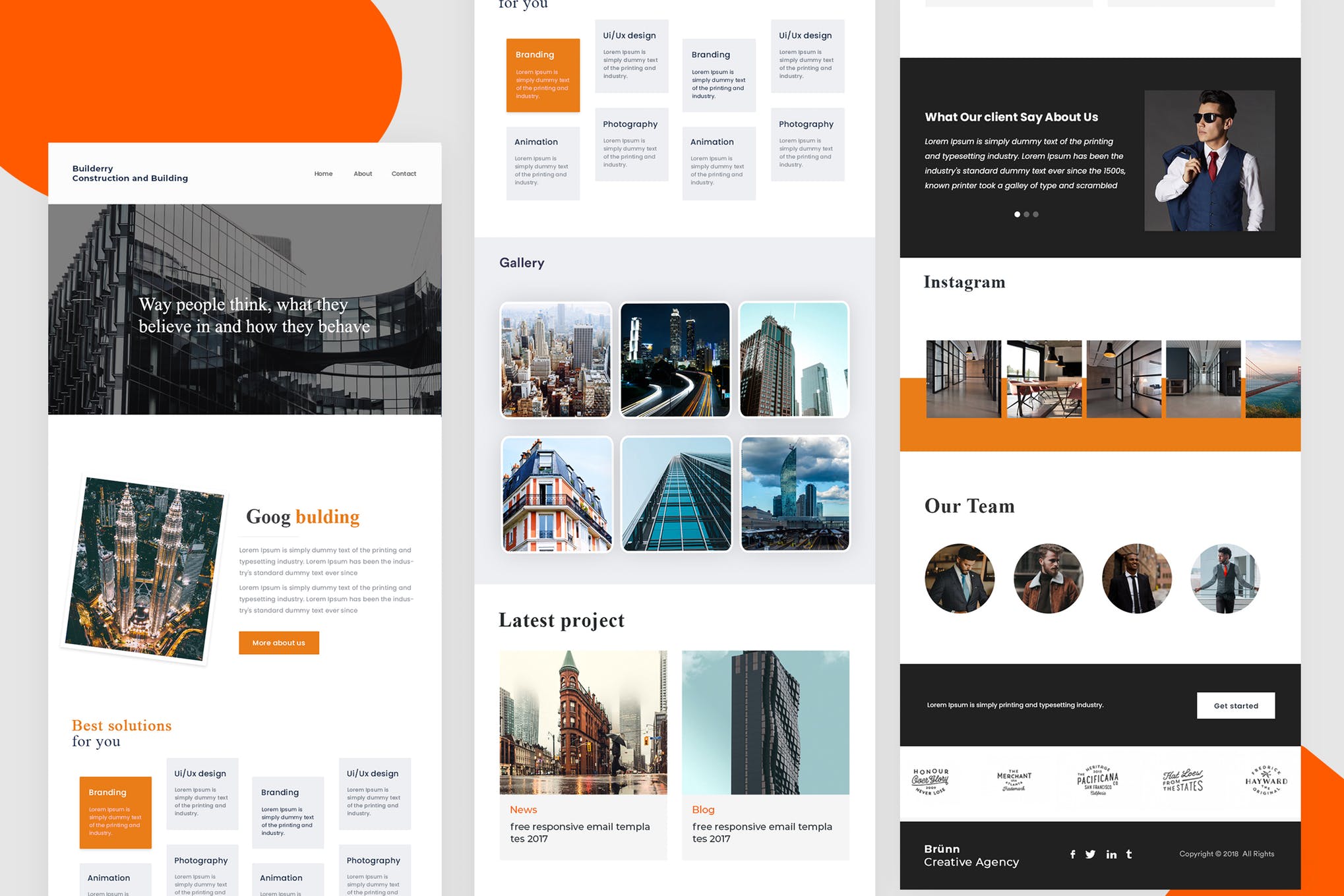 Lead Nurturing Emails
Lead nurturing emails are typically a series of emails that are sent over a period of days or weeks. They're aimed at moving leads through the sales funnel, converting them into customers. This is achieved through an automated series of helpful content. In INBOUND2021, Mike K. Tatum from Momentive, explained that you should carefully tailor the content of the emails you include on your workflows.
These emails provide you with the perfect chance to offer a great experience to the leads that have interacted with your company and might be considering purchasing your product or services. To measure the quality of your email strategy, Mike pointed out a mistake most marketers make: prioritising open rates over click rates!
Open rates can be vanity metrics, metrics that are, as Mike explained, fluffy and positive but that, nevertheless, do not tell anything about whether the recipient actually read the email, or they just opened it when cleaning their inbox. An engaged audience is an audience that you get value from, and, for that, they need to resonate with what you are offering to them.
You should also modify the content of the email to better respond to the interests of your audience. You can read more about Mike's cyclical lead nurturing strategy here.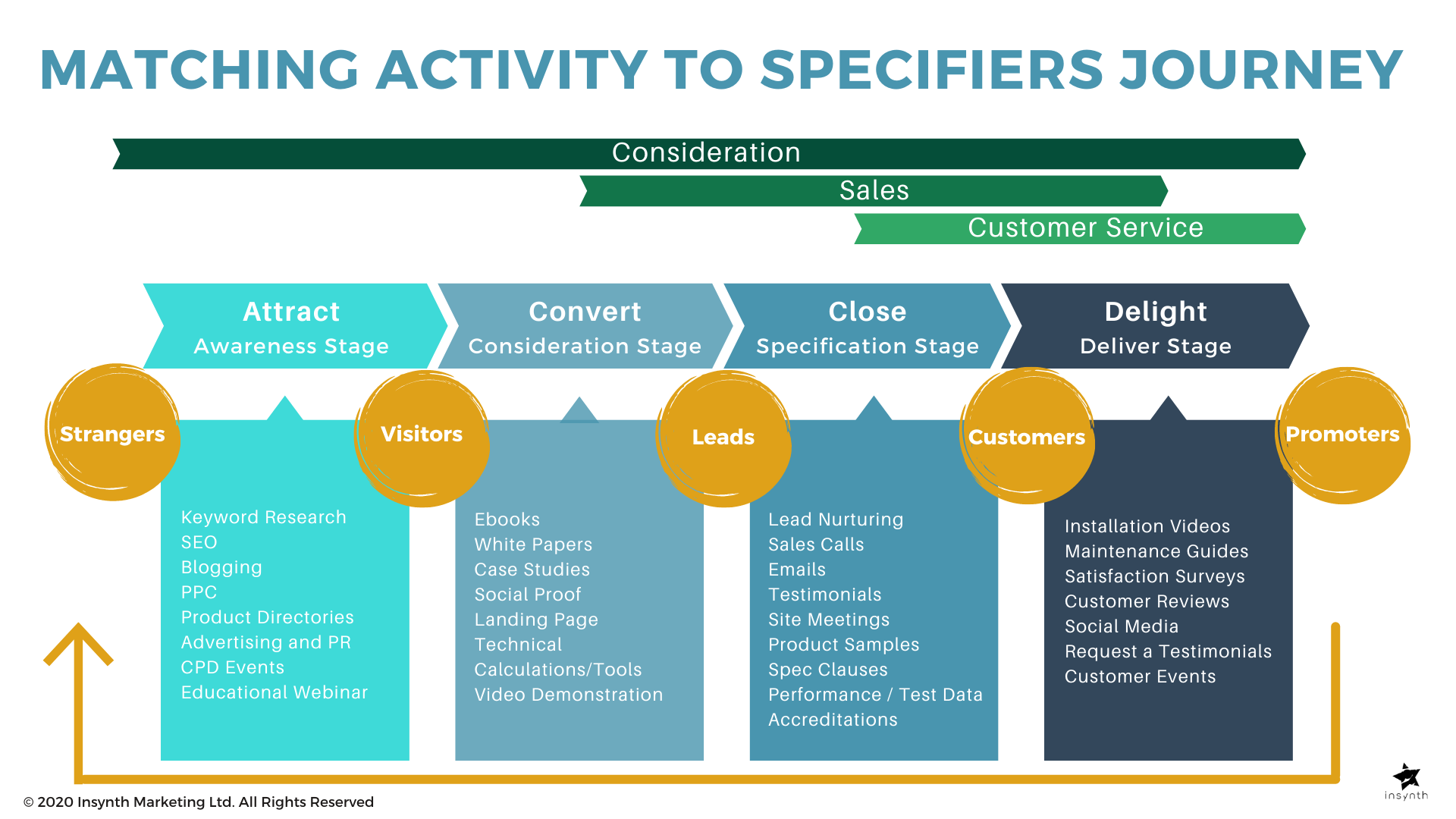 Transactional Emails
Many building products websites have an online store. If this is the case for you, you'll likely be sending transactional emails like receipts and confirmations. Since you already have the reader's attention, it might be a good idea to share personalised content or product recommendations that the user may also be interested in based on their purchasing habits.
Transactional emails can also come in the form of welcome emails, confirmation emails and follow-up emails. All of these can be automatically triggered when a user completes a desired action.
Welcome Emails
This is one of the first impressions that your brand makes, so make it a friendly 'hello', which will encourage your audience to interact with your product or service.
The best welcome emails are informative, clear and actionable.
Confirmation Emails
As the name suggests, these emails are triggered when a lead has completed a certain action, for example, placing an order, subscribing to a newsletter or registering to an event.
We recommend that you make your confirmation emails short and sweet, and always include a CTA. A CTA will allow you to upsell your products, encourage prospects to join you on social media or offer a discount. Subtlety is key here; don't overdo it.
Follow-up Emails
These emails are sent in response to actions of subscribers. Follow-up emails are important because they could potentially increase conversion, build trusting relationships and filter audiences.
There are different types of follow-up email that are all fairly self-explanatory in their names. Below, I'll show you a list that I found on close.com. To explore each definition in detail, follow the link.
Cold sales follow-up
Warm sales follow-up
Product sale follow-up
Promotional outreach follow-up
Product Update Email
Sending architects and specifiers product updates is a great way to keep them engaged with your brand. Keep in mind, however, that these should be kept simple and straightforward.
The most successful product updates are those that are sent out on a monthly basis to keep your audience up to date with the latest features and functionalities.
Remember to focus on the benefits of your product and consider using an eye-catching visual. It's less about the words and more about the clicks here. You don't need to go into too many technicalities; rather, tease your customer with short descriptions that will entice them to click on your CTA.
#4 Creating Newsletters For Your Building Products Company
If you're new to email marketing within your business or just feel like your strategy needs a revamp, a monthly newsletter is a great way to start. Newsletters are one of the best ways to stay on top of your architects, contractors and specifiers' minds.
To get you off to the best start, we've outlined some tips and hacks to make sure that your newsletters are relevant and read-worthy.
Tip #1: A Powerful Subject Line
Think of subject lines as the email equivalent of a smart suit: it's all about making a good first impression. Without a solid subject line, no one will open your email. Aim to make them compelling enough to encourage your audience to click through to the email.
A compelling subject line firstly requires you to understand your audience. The cleaner your contacts list, the easier it'll be to segment. This will allow you to personalise your subject line based on the recipient.
For example,
"Architects: your most important remodelling step"
By directly addressing the person you're sending the newsletter to, you're making the recipient feel as though the message is tailored to them.
Tip #2: Optimise Your Email For Different Devices
It's no surprise that mobile usage is continuing to grow, with software becoming more and more sophisticated.
Each month, we complete a monthly report for all our clients. In it, we identify the viewing habits of their audience, and quite often, most of the content is viewed on a mobile device or tablet.
When you consider the day-to-day routine of an architect or specifier, a lot of their time is spent away from the office with their involvement in different projects. It stands to reason, therefore, that they're most likely to be using phones or iPads to access information.
So, make sure your email looks equally as eye-catching on a desktop as it does on a mobile device.
Tip #3: A/B Testing
A/B testing is an effective strategy across all platforms, but particularly in email. Nowadays, everything is measured on data and facts and the more you can prove ROI, the better.
Send out the same type of email, tweaking a key feature, e.g. plain text vs HTML.
You might be surprised at the results you obtain.
Tip #4: Email Frequency And Timing
Sending emails too often can result in unsubscribes but sending emails too infrequently can result in your subscribers overlooking them.
It can be difficult to establish a happy medium here. These are all things that an A/B test can help to uncover. Patience and perseverance is key.
#5 When Is The Best Time To Send An Email?
Research suggests that the highest click-to-open rates are at 10 AM and 1 PM. Surprisingly they saw a spike at 6 PM. This is a reflection of when most people begin or end their day and have the most time to check their emails.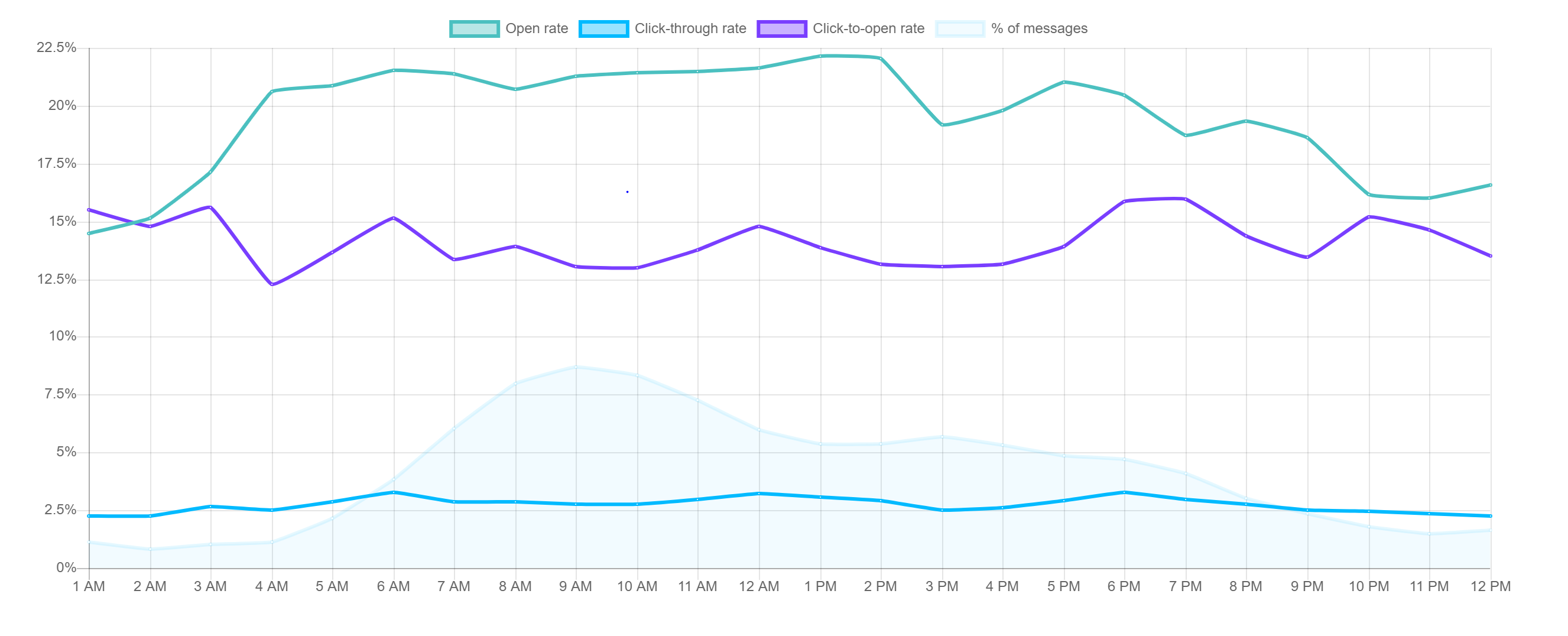 This has come as no surprise. However, it's important to note that this research doesn't look at construction and building products discretely.
Exploring this further, appears that the best day to send emails in your industry was a Sunday, with the highest OR, CTR and CTOR being on this day. However, the figures are only marginal. The data collected shows that these rates were fairly consistent over the course of the week. If you'd like more information on this, read the full article here.
[2021 UPDATE] In their State of Email Marketing, Litmus found out that, when looking at those statistics per region, some differences were evident. In the UK, about 7.1% of all opens happen at 9AM, while another spike can be seen after 4PM, when the working day is coming to an end.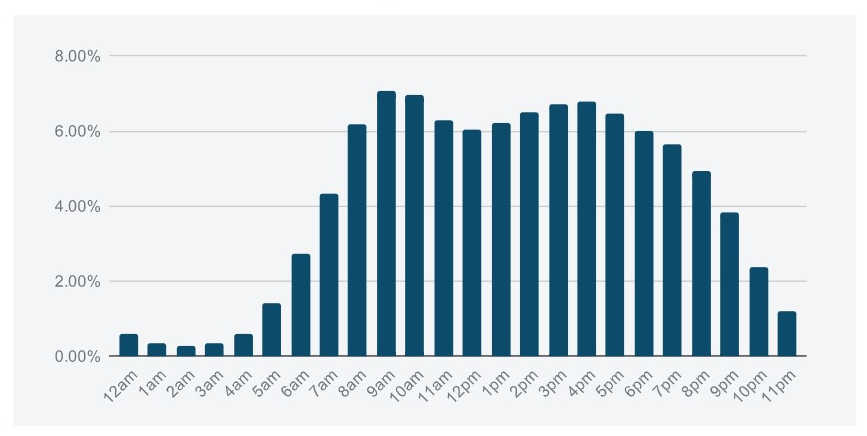 #6 Measuring Your Email Marketing Efforts For Your Construction Company
As with every element of construction marketing strategy, the need to measure your efforts is crucial. Using analytics allows insight into your status quo, which helps set expectations and goals, as well as justifying ROI.

There are several metrics that you can measure as part of your email marketing strategy.
1. Click-through Rate (CTR)
CTR is normally expressed as a percentage. It represents the ratio of people who clicked on one or more of your links to the total number of people who opened your email.
CTR is great because it gives you instant insight as to how engaging your content is.
Here's how you measure CTR:
[(# of users who clicked a link) ÷ (# of email opens)] x 100
2. Conversion Rate
A reader follows a link in your email: this is a conversion. Similar to CTR, it's represented as a percentage.
So if the goal is to get readers to download your free e-book (in exchange for their email address), and 20 readers out of 100 fill out the form, your conversion rate would be 20%.
Here's how you measure conversion rate:
(# of people who took a desired action) ÷ (# of emails opened)
3. Bounce Rate
If an email cannot be delivered, this is known as a bounce and can be distinguished as 'hard' or 'soft', depending on the circumstances.
A hard bounce is when an email has been returned to the sender because the recipient's address is invalid. This could occur because the domain name doesn't exist, or the recipient is unknown. It's a common problem with purchased lists.
A soft bounce typically indicates a temporary delivery issue. It means that the email address was valid, and the email message reached the recipient's mail server. However, there are some common reasons why it could have bounced back:
The recipient's mailbox was full
The server was down
The message was too large for the recipient's inbox
Depending on your chosen email system, they may continue to attempt to send the messages for a period of time until the message is delivered.

4. List Growth Rate
Keeping on top of this metric is crucial as your marketing database will naturally degrade each year. This is common as people switch jobs, abandon old email addresses and unsubscribe.
Here's how you measure list growth rate:
([ (# of new subscribers) – (# of unsubscribers + email/spam complaints)] ÷ Total # of email addresses on your list]) x 100
5. ROI (Return On Investment)
Firstly, you'll need to calculate how much you spend on your email marketing. The most obvious expense is your email service provider. You also need to consider other expenses, like time spent on email marketing.
With that in mind, you'll need to calculate the total amount of time each member of the team spends directly on email marketing and convert it into an hourly rate.
To find out how much money your company has made through email marketing, you can integrate with Google Analytics to track how many purchases have been made from a single email.
6. A/B Testing
In an A/B test, you can set up two variations of the one campaign and send them to a small percentage of your recipients. For example, you could send one HTML email and one plain text email and gauge which emails were most successful in terms of click-through rate, conversion rate, etc.
When it comes to A/B testing, you should be measuring just one variable, for example, open rates. If you're coming up against low open rates, it could be that your subject lines need improving. An A/B test would be an effective way to test your approach to subject lines.
Conclusion
This post has given you a complete overview of email marketing for your construction company. We hope that these tricks and hacks will encourage you to reach out to more people, adjusting your message to reach the right people at the right time.
As experts in construction marketing, Insynth can help you to deliver those messages and analyse the metrics to prove ROI.
If you'd like to talk more about how Insynth can get your email marketing campaign off to an effective start, get in touch today.
About Insynth
At Insynth we deliver a predictable flow of leads, customers, and specifications for building product brands through our inbound marketing approach, proven to reach a technically demanding audience.
We use the latest marketing techniques such as construction inbound marketing, to equip building product companies to grow sustainability in this era of digital transformation.
As the only HubSpot certified agency to major in construction marketing. We have a proven formula of bringing a variety of functionalities together including CRM Implementation, Web Design, Sales Automation, SEO, and Email Marketing to achieve your ultimate aim: Growing your business and gaining new specifiers and customers.