Social media is essential for the building product industry as the products can be a big investment.
It gives prospects another platform to get a feel for your company and an opportunity for companies to show why they're the experts in their field.
It can be a challenge to create content that's right for social media, read on to find out how.
Download The Definitive Guide To Social Media Marketing
What Content Is Right For Social Media?
Social media can be a really competitive space dependent on your specific industry. Posting the right content is essential to be seen as the expert leader in your sector.
Many companies are guilty of being company-centric rather than customer-centric. Instead of thinking about the content you already have as a company that you can share, think about what content your prospects and customers would find useful and informative.
Below is a list of content that would be ideal to share on social media:
Current projects/jobs (behind the scenes)
Blogs addressing pain points and questions.
Informative e-books or guides
Specification information
Reviews and testimonials
Informative videos of products
Its important not to sell on social media, but rather inform and educate the reader how your product is a solution to their problem.
How To Create Content For Social Media
The content you create for social media should be informative and genuinely useful to your customers.
You shouldn't be creating content for the sake of it but to solve a problem or pain point your potential customers have – this will be different for each sector/product.
For example blogging, creating guides, E-Books and specification sheets are all types of good content marketing. Some people have this information but its hidden away to deep into the website for anybody to ever find it.
Social media gives you the opportunity to share it and give it attention. Websites can be limited to what you can include on the main page and many companies find it too much hassle to get the web company to change things around.
That's why social media is a great platform for sharing your content on. It can also be a great place to get inspiration for content ideas by observing behaviour and conversations happening in your specific space.
The content you create for social should be genuinely useful and informative information that your sales team would use to inform.
One thing you shouldn't try and do on social media is sell. Sales talk makes people switch off and disengage with your brand.
Instead by approaching it with the inbound methodology you become helpful by educating people about your solution. Then when people are ready to engage with you they will in their own time.
Blogging can be the easiest way to address prospects pain points head on. Marcus Sheridan transformed his business through a simple method of literally answering his customers questions. 'They Ask, You Answer' gives you the structure to create informative and helpful content.
Case studies is another type of content to share on social. This is again something that should be on your website but will most probably be too lengthy for a social media post. By including pictures and a quote you can give people the option to read more on your website with a link.
Reuse Social Media Posts To Increase Chances Of It Being Seen
When it comes to creating content for social media, a lot of people believe you have to create new content every single time and you can't reuse a post from before.
Although it's great if you have the resources to create so much social media content, don't be afraid to reuse it too.
Not only does it make life easier for yourself but it also increases the chance of that post actually being seen.
Think about it, if you create and share a post and it only gets 5 likes, then why not reuse it?
The people that have already seen it will probably scan over it or take in the message again. You can then increase your chance of that post being seen by other people that weren't on social at the right time to catch it the first time.
Below is an illustration of the lifetime of posts on different social media platforms. On Twitter for example, posts have a very short lifetime so sharing them on there more often will only increase your chances of being noticed.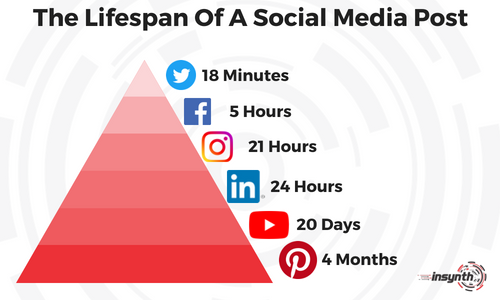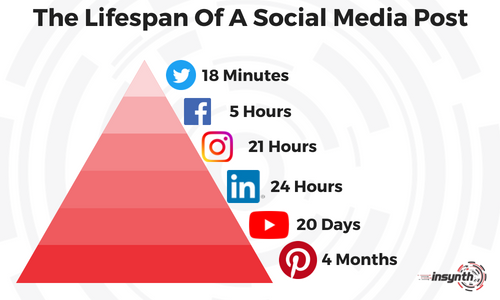 Another thing to think about is the gap you leave, for example if you post on Monday and share that same tweet on Wednesday then people visiting your page will think you just post the same content.
However if you have 30 different posts and rotate them you are less likely to scare people away. When prospects and customers check out social media channels they may have a quick scroll to see what you've been posting about but they most probably won't go that far back to see you've repeated some posts.
Not that it's a crime to do so, but by having lots of different informative content being published you are telling the prospect that you're active.
There are some posts that shouldn't be shared if they are time sensitive and only relevant to current discussions. A blog welcoming someone new to the team for example shouldn't be shared continuously as it only needs to be posted once.
Conclusion
Its common for companies to create social media accounts and forget about them. Being present on platforms is not enough to make an impact. Like most things you have to be consistent and engage with people.
Promoting on social media is also important to understanding your customers needs, this doesn't mean you necessarily have to pay for ads, but push content that would nurture your leads in the buyers journey.
About Insynth
Insynth Marketing is a leading UK construction marketing agency based in Shifnal in the West Midlands.
They use the latest inbound marketing techniques such as construction inbound marketing, to support building product companies to grow their business by proactively driving sales lead generation activity.
As the only HubSpot certified agency to major on construction marketing, we bring together construction marketing strategy, digital strategy, website design, SEO, content marketing, email marketing, sales automation, marketing automation and HubSpot CRM implementation to produce successful campaigns and great results for our clients.
Book Your Free Consultation Today