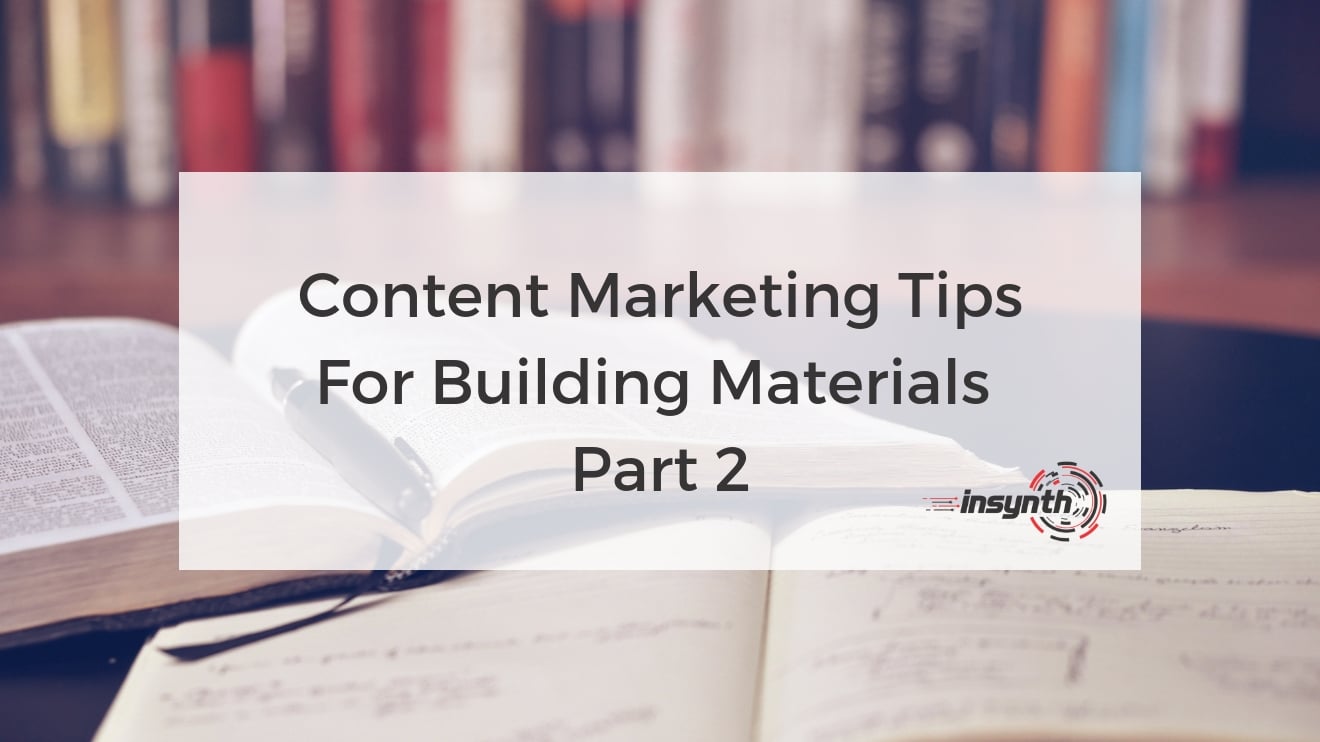 Part one discovered the importance of strong storytelling, communication and how a good online presence is imperative for the building materials sector.
Content Marketing Tips Continued
Part two focuses the importance of SEO, old content, relationships, reviews and analytics.
Content marketing consists of a variety of methods to ensure you're attracting prospective clients, combining these tips should represent your company as the thought leader in your specific sector.
6. SEO
Optimising your website for not only search engines, but for readers too is essential.
This is so Google receives signals that you are the market leader in your sector. SEO is a continuous way of creating content for online platforms.
The key to successful SEO is ensuring you are answering questions that your ideal customers are asking in relation to your solutions. This is the most effective way people will find your website, rather than ranking highly for very specific technical terminology that only few understand.
Identifying who your buyer personas are will help with the direction you take with your SEO strategy.
7. Build Relationships With Related Businesses
Word of mouth is still one of the most powerful marketing techniques used. This gives you the opportunity to ensure people are talking about you.
You could partner with a company that is similar but not in direct competition with yourselves, you would then recommend each other to your customers when your services were required.
This recommendation generates trust with your customers as although you may not be able to provide the solution to their problem now, you're able to recommend the right company that can.
Portraying yourself as a trustworthy company that can provide expert advice and knowledge within your sector.
Prospects will remember this level of customer service and either talk about how helpful you've been, therefore generating positive word of mouth, or return in the future as a customer.
8. Prove It
You shouldn't expect a prospect to specify your product or buy from you if you have no proof that you're a good fit. Positive reviews and case studies from past customers prove you are and represent your companies values.
Case studies create credibility for your business, giving readers a 'sneak-peak' into what they would expect should they choose to buy your product or service.
9. Historical Optimisation
Sometimes creating new content takes over, but one of the most effective ways of executing content marketing is optimising old information such as blogs, e-books and web pages.
A staggering 76% of monthly blog views are from old posts. This problem has occurred due to the supply of content increasing, but demand remaining static.
This gives you the opportunity to revisit content created years ago and ensure it's optimised for Google. It's likely that some of your old content hasn't been edited for years, meaning it may not be keyword rich or even have an effective up to date CTA.
Whilst you revisit these pages, ensure images are still appropriate and high quality. You may need to update design aspects and layouts to align your old posts to your newer blogs.
It's also likely that since the older posts were published, you've created additional resources which could be more beneficial to the reader.
10. Analyse
Google analytics will become your go to tool to discover if what you're doing is working. There are a number of other tools you can use to track results, including how visitors move around on your website. This insight gives you the opportunity to improve the experience you provide website visitors.
Do more of what works, and listen to the numbers. Analytics can show the channels your buyer personas are using, when they are using them and how often they engage with you.
This data is key when continuously creating marketing campaigns.
Conclusion
These tips are the starting point for successfully executing content marketing in your building products company.
When creating content focus on the quality rather than quantity, ensuring your end goal is to educate the reader so you are seen as the thought leader in your specific sector.
Part one saw the importance of how you represent yourself on the internet within your industry, across a variety of platforms and how your message is communicated to your audience.
If you need advice with any aspect of creating content for your building products company, Insynth are more than happy to help you. Get in touch today and speak to one of our construction marketing experts.
About Insynth
Insynth Marketing is a leading UK construction marketing agency based in Shifnal in the West Midlands.
They use the latest inbound marketing techniques such as construction inbound marketing, to support building product companies to grow their business by proactively driving sales lead generation activity.
As the only HubSpot certified agency to major on construction marketing, we bring together construction marketing strategy, digital strategy, website design, SEO, content marketing, email marketing, sales automation, marketing automation and HubSpot CRM implementation to produce successful campaigns and great results for our clients.