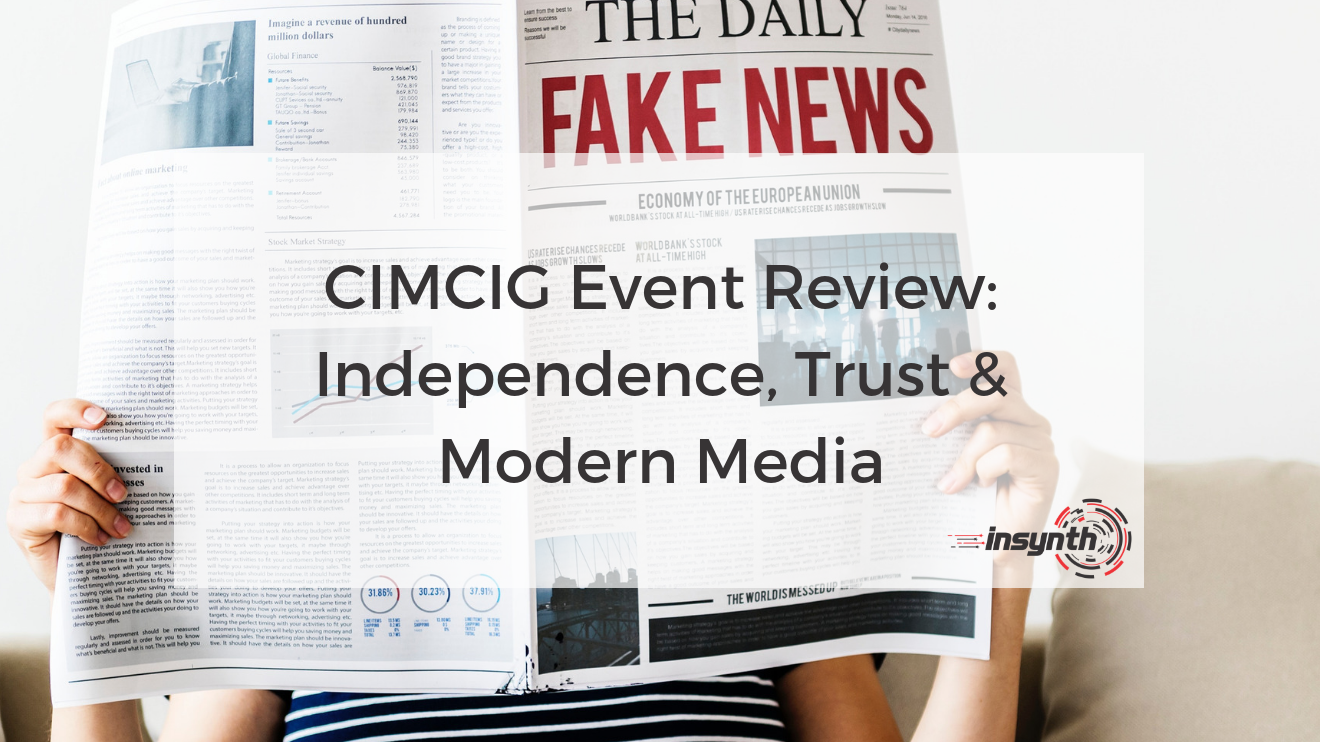 Billed as a 'Question Time' style debate, the CIMCIG evening focused on the role that traditional UK construction media plays in an age of social and content marketing, and which, if any, media can you trust.
What did we learn? Which media channel is right for your audience? What will publishing look like in 10 years' time? Who can be trusted in the age of 'fake news'?
What the experts had to say
A diverse panel was chaired by Anna Hearn of Ridgemont PR and consisted of:
So, two from the 'traditional' side and two from 'tech'.
Surprisingly, rather than fierce debate, there was genuine consensus amongst the panel on many questions and topics.
Accepting that the way media is consumed has changed, all parties believe that the printed form still offers genuine value.
The quest for excellence is critical to the survival of the printed medium. Becoming best of breed in your specialist space is crucial as audiences become more sophisticated – even tribal.
When it comes to trust, it's clear that people listen and take heed of experts. Becoming an authority is the first step.
Jonathan Stock commented that recent research shows that trust in quality journalists is increasing, probably as a response to fake news. Their values, independence and duty to provide balance and perspective is a counterweight to the extremes seen online.
Jonathan believes that brands that have built trust with their audience over decades are in the best position to inform, question and comment.
Anthony Slumber's perspective is that really understanding your audience is key. Understand the subjects that they're passionate about: help them and talk to them about this.
The riches are in the niches, and real commercial value can be gained from specialisation. Obviously, the bigger the audience, the bigger the opportunity, but competition comes with that too.
Martin Hitchcock advocates focusing on key themes and campaigns, such as fire safety, which Inside Housing championed years before the Grenfell Tower tragedy. Their authority on this subject enabled them to report from a more insightful and credible perspective on the disaster, elevating their voice above the broader media.
Lee Wilcox advises consistency. There's no point in flitting from one standpoint to another, trying to keep pace with the zeitgeist, or be on-trend. Being consistent with your perspective and opinions is key to trust. Your audience won't appreciate being surprised and will lose faith if your opinion changes with the wind.
The changing habits of the 'reader'
The days of the printed media holding the monopoly over dissemination of information and opinion in the construction sector are long gone.
Readers are consuming many forms of media at different times of the day, scanning social media while commuting, browsing the web while researching at work and maybe reading a quality magazine at home.
Anthony commented that the only solution is to satisfy as many, if not all types of medium user. Understanding your audience's habits is vital to getting your brand seen by your prospective customers and specifiers.
The challenge is meeting this demand for quality content when marketing budgets are under increasing pressure. The solution has to be a re-evaluation of the roles and responsibilities that sales and marketing have in lead generation, customer acquisition and client engagement.
With the way that products are researched, specified and purchases changing, the business models that our businesses adopt have to change too.
Marketing must now play a much more prominent role and take responsibility for filling the sales funnel for sales to close.
What about the future?
One question that didn't get discussed was: what does the future hold?
What will the media look like in 10 years' time? It's possible that the market leader in 10 years' time has yet to be launched and will be delivered on a platform that is still in development.
It's often said that change will never be as slow in the future as it is today, and that appears just as true to construction as it does to media.
From listening to the panel, it's clear that strategically, they're all paying close attention to consumption habits and planning for changes to their business models.
It's likely that there will be a polarisation of the media; quality will continue to focus on raising the bar, knowing that a more specialist audience will be loyal and probably prepared to pay more as the perceived value increases.
A subscription model is most likely to win out in this area, just like with The Times, The Economist and Harvard Business Review.
At the opposite end, there is likely to be a race to the bottom, with mass social media brands fighting for fleeting attention of digital natives, who will become more important as decision-makers over the next 10 years.
This is a business model built around advertising and getting as many eyeballs on a post or video and generating click-throughs.
The middle ground is likely to become a very uncomfortable space, out of which will come new business models or a graveyard of failed titles.
The other change is likely to become self-publishing, with brands and individual experts becoming increasingly prominent in their niches. The opportunity for collaboration is interesting, with genuine potential for clusters of subject matter experts publishing together around themes to widen their reach and build their reputation.
Jonathan Stock discussed the aim to engage with readers in a deeper fashion, identifying their needs and delivering content in a personalised manner, digitally of course. This one-to-one approach, or goal, aligns with the broader opportunity that technology provides, especially AI, to improve customer experience, develop brand loyalty and gain competitive advantage in your own marketplace.
Conclusion
Like every aspect of our industry, the construction media is wrestling with digital transformation. For some it will be painfully disruptive, for others it will be a golden opportunity to seize.
One thing is for certain, in 5 years' time the landscape will have shifted, there will be winners and losers.
Delivery of our news and opinions will adapt as readers tastes in consumption and delivery change, and this will be at pace.
One thing will be sure, as readers, we will still be wondering who can we trust?
About Insynth
Insynth Marketing is a leading UK construction marketing consultancy based in Shifnal in the West Midlands. Insynth employ the latest inbound marketing techniques such as construction inbound marketing, to help building product manufacturers grow their businesses by aggressively driving sales lead generation activity.
As the only HubSpot certified agency to major on construction marketing, we bring together construction marketing strategy, digital strategy, website design, SEO, content marketing, email marketing, sales automation, marketing automation and HubSpot CRM implementation to produce successful campaigns and great results for our clients.