As the way that building professionals research products and services changes, it is only right to consider the relevance of brand building in your construction marketing strategy.
So, why do why brands exist, what is their role in the decision-making process and what will be their future value as they come under increased pressure from search, artificial intelligence (AI) and digital marketing?
What Is The Purpose Of A Brand?
Brands provide trust signals to consumers and specifiers about quality, performance and service. A well-recognised and respected brand will bypass many checks and balances that are made psychologically in the decision-making process.
The long-held, and promoted belief is that brand building is an investment that secures stronger demand and often healthier margins. For many businesses, building a strong brand has been the winning formula to success.
In the mind of many business owners and marketing professionals, owning a valued and trusted brand that is well known is the be all and end all of marketing. It will drive traffic to their website on its own and secure specification and orders. The brand will provide reassurance to site visitors that their business can be relied upon to deliver the solution their potential customers are seeking.
How Is Online Search Affecting Brands?
In our recent website reviews, we've found many well-known building product brands derive the vast majority of their website traffic from brand related search, rather than product or solution-based keywords.
When we've researched the keywords that are driving their sector, these brand centric businesses have poor organic rankings even though traffic estimates for the high-volume keywords are very strong.
In one audit, an SME building product manufacturer, with a turnover of around £15m, was receiving over 5,000 website visitors per month, and it was estimated that over 85% of their traffic derived from branded keywords, i.e. a search containing their brand name.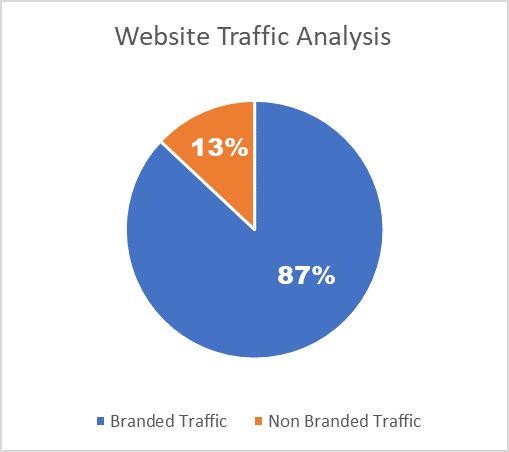 For a brand manager, this is evidence that their brand building activity is working. Their Brand recognition is high and translating into search for their business rather than their competitors.
Any query relating to their brand ranked them as #1 in the search results. Everyone was happy. Imagine lots of warmly slapped backs and high 5's!
Brand Is Creating False Idols
We looked at their competitors and found that their search was also heavily brand dependent. From the estimated traffic, we could gauge share of the market too.
Then we explored the keyword traffic in the sector for the product manufacturer in question and found that for their main product range there were over 90,000 searches every month. Now the kicker – they were on page 2 of Google, fighting it out for a share of about 2% of traffic with their other brand-centric competitors.
Page 1 of Google, where 98% of click-throughs originate from, was dominated by savvy businesses who were aligning their content with the queries and keywords that their target audience was using.
By focusing almost entirely on brand building, they were missing out on over 95% of search traffic.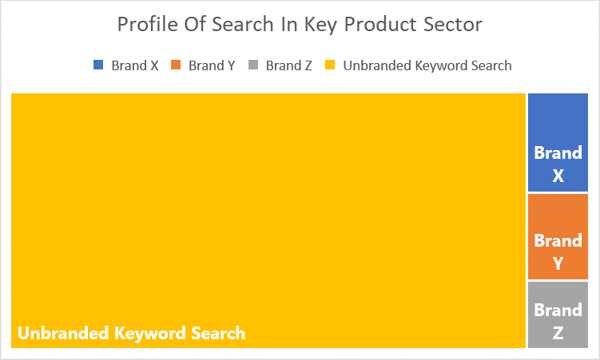 When we discussed our findings and revealed the businesses who were ranking well in the space, they were quickly identified as disruptive newcomers who were annoyingly taking market share.
I would argue that these disruptive upstarts will soon be the market leaders, adapting to the shift in specification and purchasing habits, while the old guard of brand leaders fall by the wayside, suffering death by a thousand cuts. And as for the brand managers, it's probably time to reinvent themselves before they're spending more time with their families.
So, Where Should You Go From Here?
If you're starting out, then it would be sensible to build up the content first that drives traffic to your site and ensure that your branding and delivery is well constructed to enable your brand to develop and become more recognised.
As you start to become successful, and budgets allow, more traditional branding building activity can be financed to enable you to get the best of both worlds – a strong brand and prime organic rankings on search engines.
This way you get a healthy share of traffic and still convey great trust signals. We would argue that this is a sensible short to medium term strategy.
If you already have a well-recognised and respected brand, then it's time to re-evaluate your strategy and implement a content marketing strategy to sort out your organic rankings across the board.
In the longer term, as AI develops, there is a school of thought that other signals will drive automated decision making. Primarily, reviews, performance, compliance and price. Traditional value-based decision making will become rarer, removing emotion and psychology from the mix.
What you probably need to do right now is get a thorough audit of your search traffic and competitive positioning.
Armed with this information, you can begin to construct strategies to win at search, protect your market share and adapt to the changing digital landscape.
How Can Insynth Help?
Just click the banner below for a FREE consultation where we will review your traffic profile, identify how exposed you are to branded search and identify the keywords that could boost your sales.
We'll also discuss the strategies you will need to employ to win in the digital age.
About Insynth

Insynth Marketing is a leading UK construction marketing consultancy based in Shifnal in the West Midlands. Insynth employ the latest inbound marketing techniques such as construction inbound marketing, to help building product manufacturers grow their businesses by aggressively driving sales lead generation activity.

As the only HubSpot certified agency to major on construction marketing, we bring together construction marketing strategy, digital strategy, website design, SEO, content marketing, email marketing, sales automation, marketing automation and HubSpot CRM implementation to produce successful campaigns and great results for our clients.

Book Your Free Consultation Today