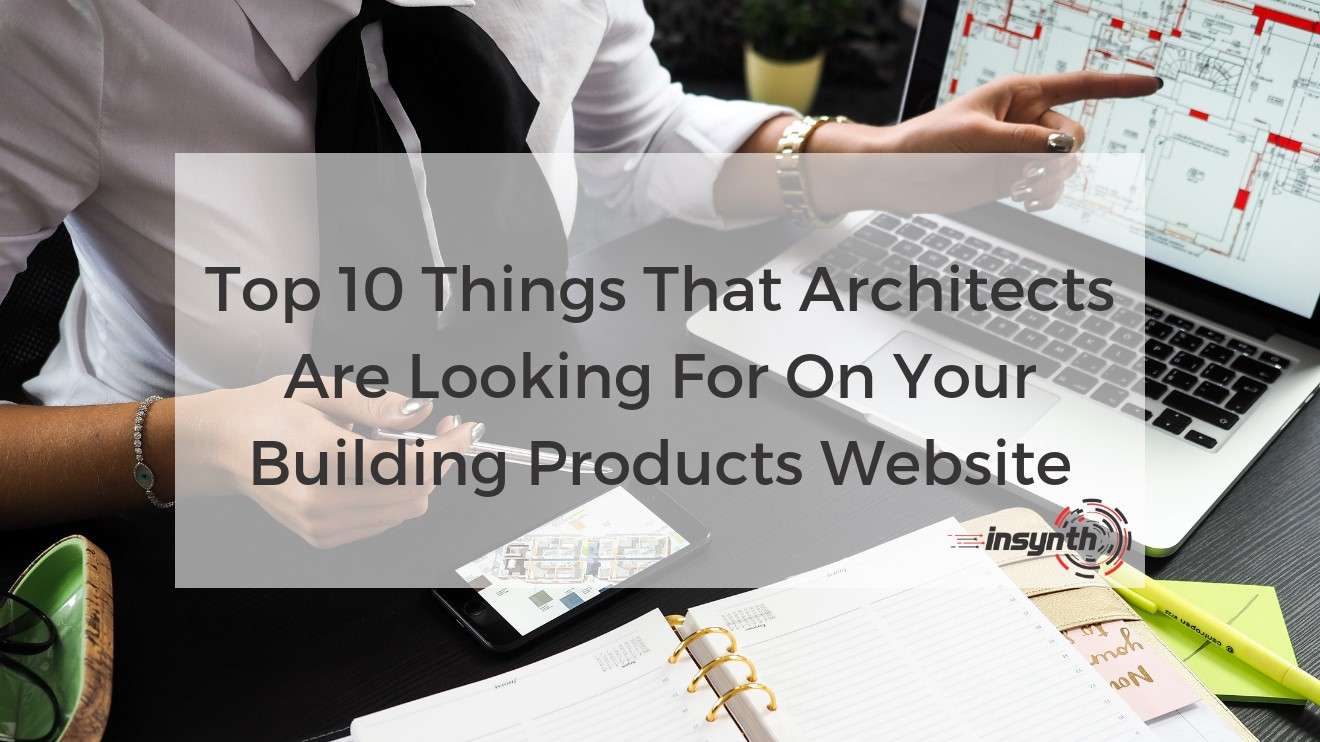 As construction marketers, Insynth often work with building product manufacturers whose aim is for their products to be specified by architects, consultants and engineers.
But, all too often, building product manufactures aren't sure what architects are looking for.
They tend to ask us the same question:
'What content should be included on our website to appeal to architects?'
Insynth have conducted research with architects to establish exactly what they are looking for on a building product manufacturer's website.
Contrary to common misconception, your website design doesn't need to be a glossy marketing brochure. Architects are looking for clear, concise information that gets straight to the point.
Architects are looking for information and inspiration.
Here are the 10 main things that architects are looking for when they land on your building products website.
10 Things Architects Want From Your Building Product Website
Up-to-date product information
Your building products website is an architect's primary source of information when they're researching how you can meet their needs.
Use this to your advantage and update your website to keep architects posted with any product developments that might just solve their problems.
Quite simply, architects need to know what building products you sell and the problems that they solve.
Remove old products from your site
There's nothing worse for an architect than finding the building product that they need on your website, only to discover that you no longer sell this product.
They know that your website is outdated and wonder what else hasn't been updated.
What if they find another of your building products for a future project? They won't trust your company enough to contact you again. Ruthless, but true.
Technical drawings
Technical drawings are an architect's speciality. Help them to understand why your building products are more beneficial than products on the market through detailed, professional drawings that offer a clear representation of the ways that your building products work.
Include a plethora of technical drawings, from BIM models to CAD drawings, created using a variety of file formats, even going back to older versions of packages (not everyone is using the latest release of CAD).
Architects are always on the lookout for informative, succinct detail that is clearly supported by high-quality diagrams.
Clear pricing information
Cost is core to an architect's project plan. When you don't include pricing details in your product listings, architects have no way of knowing whether your construction products are right for the scale of their project.
Make your pricing clear and detail any minimum orders that could affect whether your product meets the architect's product specifications.
At the very least offer budget costs.
Direct contact details.
Architects want to communicate with you directly. If you provide contact details for knowledgeable representatives, an architect is far more likely to contact you than if you have an anonymous sign up form with a 48-hour response time period.
Ensure that you also include contact details for technical support.
Architects need contact details that will allow them instant communication so that they can access the answers they're looking for.
It's quicker to Google a competitor than it is to leave a message on your sign-up form.
Downloadable data sheets
Architects want to examine your data sheets in detail to know whether your building products are right for their project. They won't stick around on your building products website if they can't access this information.
When you provide a choice of download options, an architect will find it easier to work with your materials and be more likely to specify your building products company.
User friendliness tip: Compress your files to an easily downloadable size to save architects time and file space.
Construction certifications
Architects are looking for assurance that the your products are fit for purpose and comply with the necessary regulations.
List certifications in the product descriptions for all associated building products to prove your authority and reputation in the industry. Update these as necessary and remove any certifications that have expired.
The more certifications you have, the better. Use your certifications as proof of the quality of your building products.
Easily accessible detail
Architects are looking for building product descriptions that include complete measurements and options for all available finishes, including colour.
They need easily accessible information that tells them exactly how your product can be used, so ensure all building product details are clearly listed on your website. The more information you provide, the more likely architects are to trust you and specify your building products.
Easy access isn't all about the content that you include. Architects often search on mobile devices while working onsite. You need a mobile-responsive website that's optimised to load quickly for easy access.
High-resolution photographs.
People are highly visual. We want to see what's on offer. Engage specifiers with clear, appealing images that showcase the benefits of your building products.
When architects see quality images, they'll see a quality building products brand and be inclined to research your products in more detail.
The phrase, 'an image says a thousand words' is true. Without strong imagery, architects won't be able to visualise your building products and their functionality.
Don't cut corners with low budget camera phone images – invest in professional photography.
Clear manufacturing location and lead times
Your location will affect lead times for architects across the UK. They need to know how long it will take to ship your parts, whether in the UK or internationally, and the necessary time periods for instalment.
This information will allow architects to plan your building products into their project and check this will be possible in their given timeframe.
Your Turn To Be Specified
Want the most informative, inspiring and useful website in your field?
Insynth will carry out a free website audit to draw up a construction website strategy that will attract architects, engineers and consultants to your building products company.
Your website will be optimised for the use of architects and any other specifiers relevant to your industry. Insynth will ensure that your website offers the best user experience for architects looking to specify building products.
Talk to us to find out how Insynth can help you get your building products specified.
About Insynth
Insynth Marketing is a leading UK construction marketing consultancy based in Shifnal in the West Midlands. Insynth employ the latest inbound marketing techniques such as construction inbound marketing, to help building product manufacturers grow their businesses by aggressively driving sales lead generation activity.
As the only HubSpot certified agency to major on construction marketing, we bring together construction marketing strategy, digital strategy, website design, SEO, content marketing, email marketing, sales automation, marketing automation and HubSpot CRM implementation to produce successful campaigns and great results for our clients.
Book Your Free Consultation Today