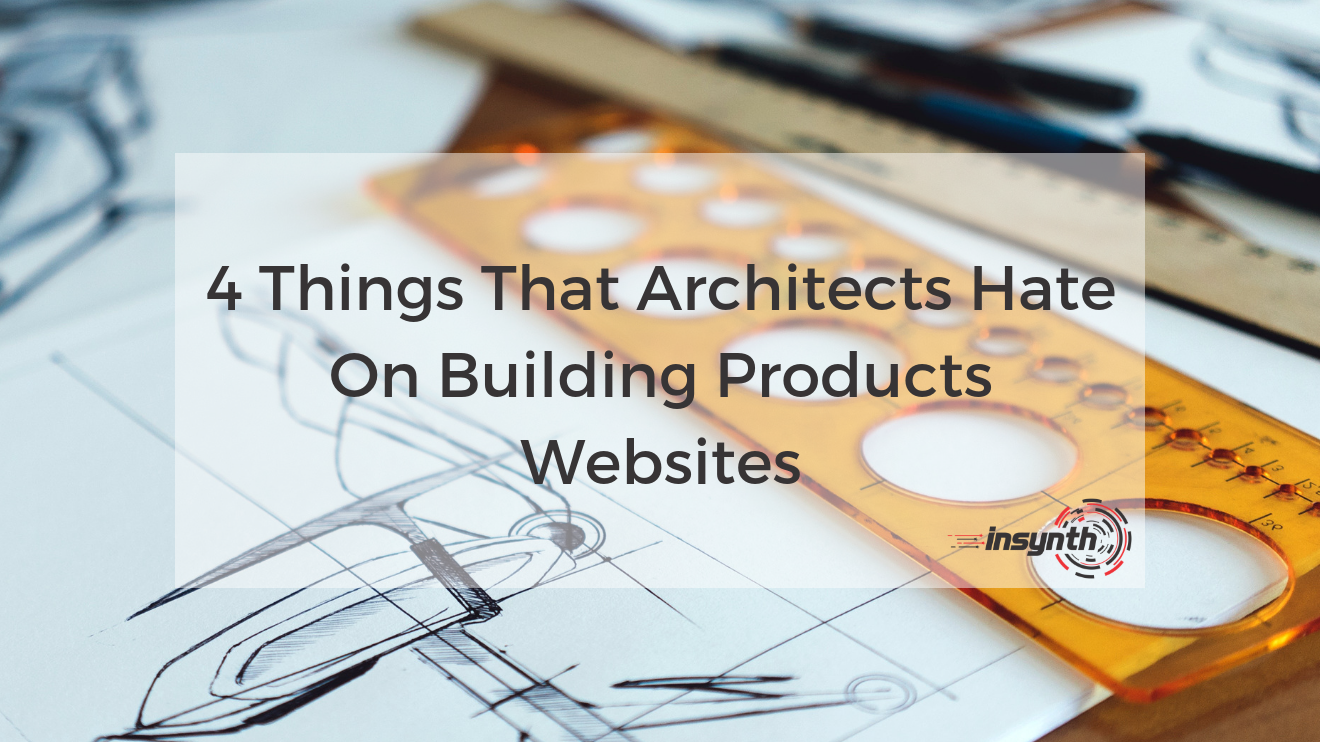 So, you're a building products manufacturer with a website that clearly displays all your construction products, but you're just not getting specified by architects, and you're wondering why.
Is it possible that you're guilty of the four pet hates of architects?
It's time to find out.
Four Things That Architects Don't Want To See
Out of date information
It's vital that you constantly update your building product listings so that architects have a clear view of what's available to them.
If your listings are no longer relevant or no longer aligned with your current offers, you can't expect architects to trust your company and specify your building products.
Gated Content
Only use gated content sparingly. If an architect has to sign up for information, they may well try elsewhere. Architects are looking for easily accessible content that sells the benefits of your construction products over anyone else's.
Filling out forms to access your content is extra hassle that they're unlikely to sacrifice time for. We recommend including a sign-up form for high-level content, but any content that should aid a sale or specification should be easily accessible.
Missing information
Picture this: An architect likes the look of your building product. In fact, it has the potential to offer the ideal solution for the architect's project. They just need to check the product specifications on your website. But, it turns out that some of these haven't been included in the product description.
The architect has no way of knowing whether your building product is right after all.
The architect could find your contact information and get in touch to clarify the details. Or they could Google your competitor. The latter takes a fraction of the time.
Contact attempts when they're not interested in your building products – right now
Architects find the construction products that are right for their projects through their own research. They don't want sales pitches from a building product manufacturer who they've already declined for one of the above reasons.
While it can be helpful to offer insights in a consultative fashion, no-one likes being told that they're wrong. Architects will get back to you when they have a project that could be aligned with your construction products.
Perhaps you can associate one or two of these mistakes with your building products website.
You can resolve these issues with our list of construction marketing website design tips based on our research into exactly what architects are looking for.
You can read about our findings here.
Building Product Website Design Optimisation
Insynth know how to optimise your building products website design to ensure that you get specified next time. And your website doesn't just have to be tailored for architects. Insynth can adapt your website design strategy for engineers, consultants, or whoever it is that you need to pique the interest of.
To find out how Insynth can build you a website, or modify your existing website, to make you the number one choice for architect specifications, sign up to speak to a web and marketing expert.
About Insynth
Insynth Marketing is a leading UK construction marketing consultancy based in Shifnal in the West Midlands. Insynth employ the latest inbound marketing techniques such as construction inbound marketing, to help building product manufacturers grow their businesses by aggressively driving sales lead generation activity.
As the only HubSpot certified agency to major on construction marketing, we bring together construction marketing strategy, digital strategy, website design, SEO, content marketing, email marketing, sales automation, marketing automation and HubSpot CRM implementation to produce successful campaigns and great results for our clients.