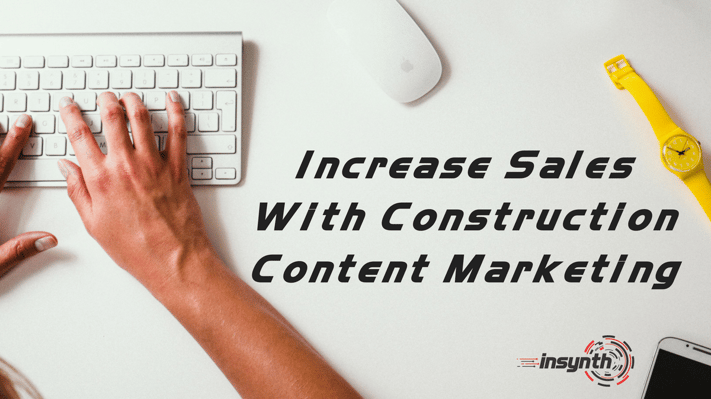 How would it improve your sales figures if your website was actually an extremely useful and enjoyable experience for your customers and specifiers? What if your content made people want to not only specify and buy your product, but actually come back to your site time after time?
A well designed and executed Content Marketing strategy can deliver increased traffic, improved search ranking and more sales leads, specifications and orders from your website. But it can't do any of that if you're not sure what it actually is or how to do it.
What is a Content Marketing Strategy?
The term Content Marketing has been buzzing around in the Building Products industry in the last couple of years, there is even a category for it now at the Construction Marketing Awards. so, before we discuss how to implement it in your business, let's define it.
Simply, it means writing your website content in a way that helps you reach your wider business objectives while helping your ideal customers become more knowledgeable and overcome their challenges and problems in relation to your product sector or field of expertise.
Is your goal to grow sales? Increase market share? Build awareness of your latest product or technology? Break into a new market? Great. Content Strategy can help with all of those.
Your company's content strategy will be a combination of several important factors: what you want your website to do, who is coming and who you want to come to your site, who your competitors are, where you rank in your industry, how you want your brand to be perceived and lots of other nitty-gritty details.
How to Start Content Marketing
Creating an effective content marketing strategy for construction products is a complex process and needs to be properly planned and resourced. Here are a few pointers on how to get started.
1. Understand Your
A
udience
If you don't understand who your ideal customers are, what their interests are and their challenges, then you cannot produce content that they are going to find interesting and useful. Before you start, draw up Buyer Personas and interview your existing customers to understand what sort of information they will find of help.
Your Buyer Personas need to be regularly reviewed and updated to ensure that your content is still relevant to them.
2. Audit Your Existing Content
Now you know what sort of content your ideal customer would find useful, it's time to check your existing content to see how well that fits those needs.
Collate everything that you have, online, hard copy, sales aids, etc and assess it.
Some will be obsolete, some will need a refresh and others will fit well with minor modification.
Once you know what you have, carry out a gap analysis to see what sort of information is missing. These gaps should form the basis of your content production plan.
3. Don't Just Write About Your Product
Building product companies typically use their websites as a digital brochure for their products. The website is filled with product photographs and technical specs, but nothing of substance for users to take in and think about.
Bring website users into your world, share the challenges that you have helped other architects, consultants and contractors overcome. Use case studies to get visitors excited about the finished project, of course written from the perspective of the problem your client faced that you were best qualified to resolve.
You need to start building specifiers' trust before you ask them to consider specifying or purchasing from you. Get them feeling comfortable with your brand.
If a visitor comes to your site and they are faced with a product choice when they don't know the first thing about it, they are not likely to select it.
Take a good look at your site. View it objectively and dispassionately from a first time visitors perspective. What is it saying?
4. Why Technical Experts May Be The Wrong Writers
Writing engaging content is far more than knowing your onions.
Whether your company has designated engineers and product experts, or the real experts are the employees who have been there from the start, the content that your experts write is unlikely to properly engage your average website visitor.
Your in-house team really need to be involved in producing content, but you can't include what they write as they would write it.
Your in-house team should kick off of writing. Then their writing should be passed on to an experienced web copywriter who can turn their technical expertise into content that your average user will be able to easily understand.
If your website copy was written by the person who knows the very most about the product, chances are it's may be too complicated and not written in a way that will keep a user's interest.
If your website copy was written by the person who knows the very most about the product, chances are it's not written in a way that will keep a user's interest.
5. Turbo Charge Your Blog
If you are going to commit to content marketing, then you need to be publishing regular blog posts.
Sporadic articles will not work in terms of creating a loyal subscriber base or in boosting your keyword rankings and social media profile.
At an absolute minimum you should be posting weekly.
To really see the benefits of regular blogging, you should be aiming for 3 or more posts per week, with weekly email broadcasts to your subscriber base.
At this level, with well written and optimised blog posts, you can expect to see significant improvements in organic rankings and the associated traffic increase within a few weeks.
By following this approach, clients have seen enquiry levels increase within the first fortnight of commencing their blog publishing programme.
This Is Just The Start
Content Marketing for Building Products and Construction Marketing is a highly effective and low cost approach to driving brand awareness, website traffic and sales lead generation.
It is a significant undertaking though and external support can help you take good content marketing and make it great. From research and planning through to production and promotion, the investment in a construction marketing expert team can be money very well spent in keeping up the velocity of blog production and ensuring that technical jobs such as copywriting and SEO are carried out properly.
Insynth Marketing specialise in Construction Inbound Marketing, and Content Marketing is a key element of their service. To see how Content Marketing can help to grow your business and drive your sales growth, get in touch today.