HubSpot is the only CRM designed following the principles of inbound marketing. This philosophy approaches the customer as an invaluable asset around which your construction brand should evolve and grow. HubSpot represents a change of paradigm in marketing and sales processes, including the specification process! Are you making sure you are keeping up with this transformation?
Can Inbound Marketing be Applied to the Construction Industry?
Inbound is, by definition, a customer-centric marketing approach. However, because of the B2C nature of this concept, construction companies have felt excluded from the inbound conversation, not feeling like inbound marketing could relate to the industry. But that is quickly changing! B2B companies are starting to show B2C practices, making it essential to prioritise the audience we aim to attract.
Within the construction industry, against what it has been commonly thought, buyer personas are clearly defined by their different roles, including architects, specifiers, contractors, and designers. Not all specifiers look for the same. Just as inbound says, it is essential to understand their core challenges when designing first establishing that conversation with them.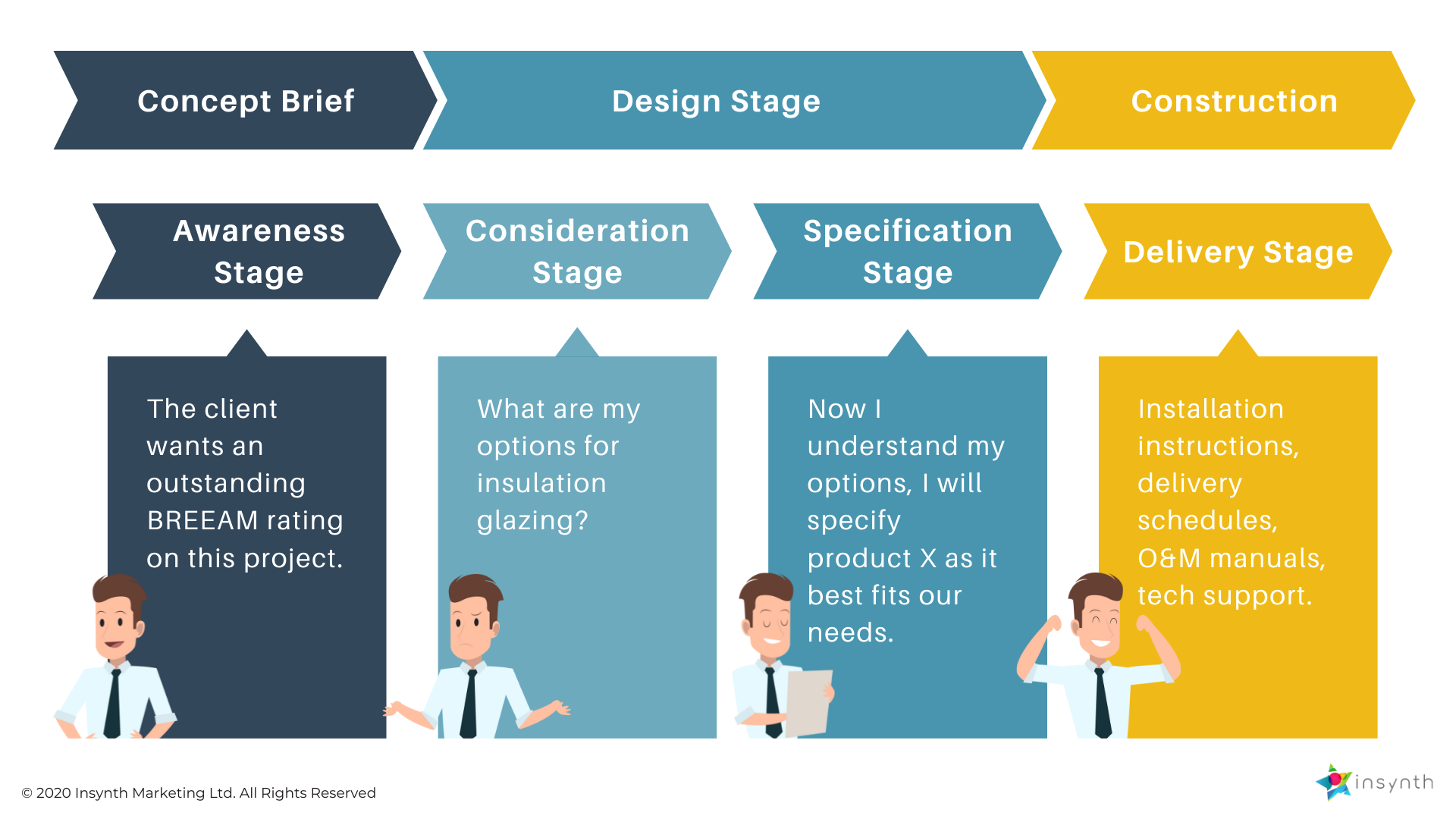 In our research, we have identified that construction professionals go through four particular stages when considering a product for specification:
#1 Awareness Stage
During this stage, construction professionals face a challenge that they need a solution for. You can be their solution and, to help them consider your brand, you will need to produce intelligent, insightful, educational, and helpful content that specifiers can consume and that will position yourself as an expert within the sector. In addition, consistent content will build your authority and reputation.
#2 Consideration Stage
As your brand enters the radar of construction professionals, it is essential to ensure that *any* information that they might need for the specification is available to them within 1-2 clicks on your website. Having to reach out to get this information can be a deal-breaker for specifiers and, likely, will go to one of your competitors looking for more readily available data.
#3 Specification Stage
If they have downloaded the content they need for specification, something that you should track through your website, it is vital that you do not wait for them to start the conversation. Instead, approach them with additional information regarding your brand or a successful testimonial that shows how your product was beneficial in a previous project.
#4 Delivery Stage
Once the specification is guaranteed, the conversation will shift towards more practical issues, such as the cost. Pricing and additional expenses need to be clearly stated and available for the architect or specifier to fully know the financial impact your brand might have on the project. Support them through the installation and value their feedback; they will be customers for life!
What Can HubSpot Do For Your Construction Business?
A question that is always in the back of the minds of construction professionals is whether they are doing enough to guarantee the success of their brand. And, if they feel they are investing each second of their day into making sure their brand is supported, an even more urgent question pops up: why am I not seeing results? The key to those questions could be in the tools you have available!
#1 Become the First One to be Found
Did you know that over 70% of the people searching for information on Google would not go past the first 3 search results? Needless to say, going to Page 2! It has become more critical than ever to be present in every channel and medium while keeping a healthy position in SERPs.
#2 Become the Best Authority with Thought-Leading Content
Search engines like Google will evaluate your authority within a specific area based on the content you have produced on a related topic. That content should understand what your prospects are looking for in your brand, positioning yourself as an educational referent and trusted advisor. HubSpot will allow you to gather that information so that you can offer leads with highly tailored content.
#3 Become the Easiest to Reach out to With Lead Capturing
98% of specifiers were exclusively using online search engines to conduct their product research in 2019, and that percentage is likely to have gone up! Details like keeping an active presence on social media, installing a live chat on your website, setting up a meeting link, all tools available on HubSpot, can make a huge difference, encouraging prospects to choose you over other competitors.
#4 Become the Most Caring with Lead Nurturing
Only 1 lead out of every 4 is sales-ready when they start the conversation with you. Traditionally, leads that were not quite ready were left in the background, waiting for them to make their minds up. That is not the case anymore! Through nurturing techniques, HubSpot allows you to slowly engage and add value to those leads, getting them closer to conversion.
#5 Become the Hardest Competition with Automation
One of the worst mistakes a company can make after they have invested their efforts in building a predictable flow of leads is losing them. As that flow starts increasing your stats, automation platforms like HubSpot can ensure you have the necessary tools to successfully follow up with them. Automating your lead generation processes is essential.
10 HubSpot Features the Construction Industry Needs
The construction industry is going digital; there is no way around it! When asked directly, 81% of construction leaders agreed to adopt digital tools before the end of 2021. Among the outcomes they were looking for when implementing digital tools into their day-to-day life, 55% wanted more access to real-time information, and 70% believed faster data could help their performance.
#1 A Customisable CRM and List Segmentation
Probably the main goal of companies implementing HubSpot is acquiring a CRM that actually works! A CRM can help you collect and curate data while recording every interaction your prospects have with your brand. In fact, businesses that have invested in management software have seen their productivity increase by up to 15%.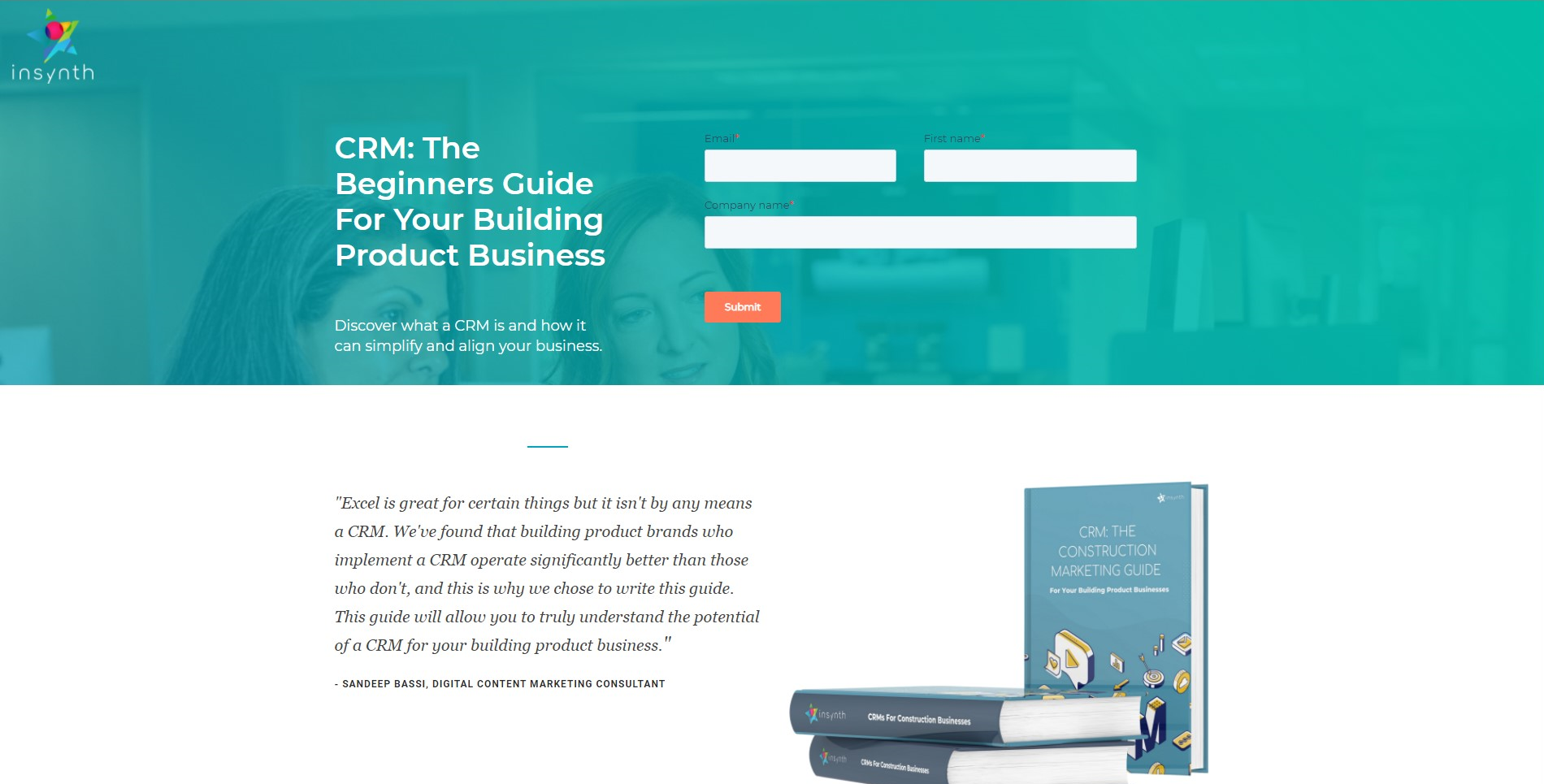 #2 Lead Capturing Tools: Forms, CTAs, and Landing Pages
With HubSpot, introducing that data manually into your CRM is something to be left in the past! Instead, you can use various tools available within the platform to get your prospects to submit their information. HubSpot helps you create, with an intuitive drag-and-drop editor, catchy pages and CTAs that will attract leads and encourage them to start a conversation with your brand.
#3 A Website Based in Growth-Driven CMS
The growth-driven web design (GDD) approach is an intelligent and progressive design methodology that continuously optimises your site following real-time data-based analytics. Keeping tabs on the behaviour of your visitors, the CMS will suggest improvements that align with your user data. Designs completed through GDD are characterised for being uncluttered, intuitive and clean, whilst providing an agile online experience.
#4 Social Media Planner, Multiple Platform Management
According to the Sprout Social Index, 57% of consumers will follow a brand to learn about new services. Up to 47% will continue to engage with a brand after they have followed it on social media, with 89% making a purchase. HubSpot offers users a planning calendar in which they can schedule all their posts, guaranteeing their cohesion and alignment to your goals and strategy.
#5 Deal Recording, Quotes
In the Construction Front Line Survey above mentioned, 62% of the interviewed leaders considered that capturing forms and digitalising physical quotes would make the sales process more efficient. HubSpot allows you to record your deals and classify them in pipelines and stages and create and send sales quotes through which you can collect signatures and payments.
#6 Automated Workflows and Sales Sequences
HubSpot's platform was designed with a particular goal, delivering the right message, to the right person, at the right time, and that shouldn't entirely depend on your team. To facilitate this process, HubSpot is one of the main platforms offering automation, either through workflows or sequences. As less time is spent on basic tasks, automation allows you to focus on more important projects!
#7 Conversational Intelligence, Call Recording, and Live Chat
Your customers' voices should always be listened to, regardless of the channel they are communicating through. Using conversational intelligence tools in their calls, live chat, and chatbots, HubSpot automatically takes notes and provides deeper insights into your calls. You will also be able to trigger workflows based on tracked terms mentioned on the calls that HubSpot will pick up!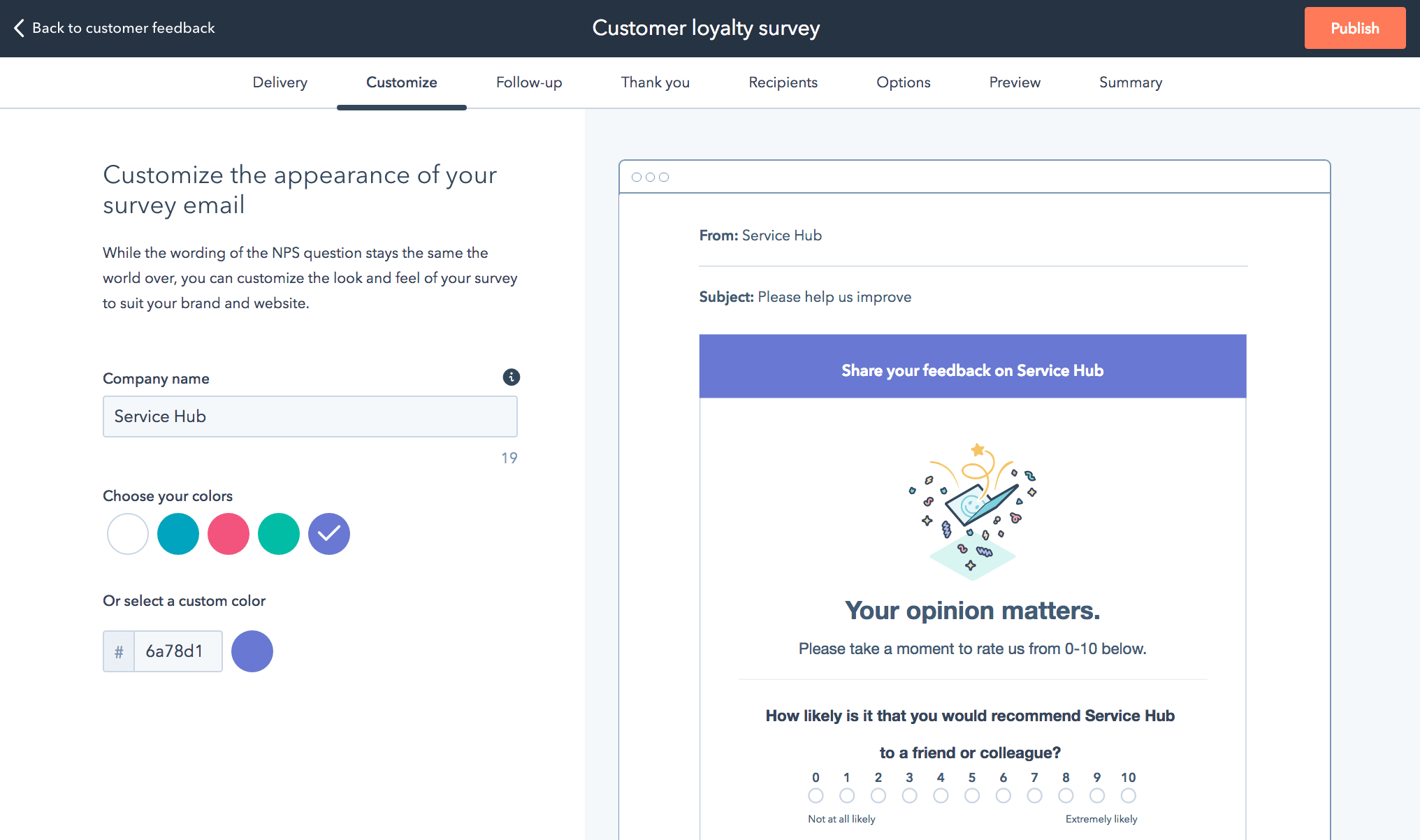 #8 NPS, CSAT, and Feedback Surveys
HubSpot has, since very recently, enabled the feature of building CES, CSAT, and NPS feedback surveys from scratch. This step toward personalisation allows HubSpot users to send surveys adapted to the buyer's journey their customers have gone through. With 89% choosing to do business with a competitor after a bad customer experience, knowing your customer's feedback is now crucial!
#9 Reporting, Tracking, and Analytics
Gathering data is a powerful way of gaining control over your database but, what do we exactly do with that data? Adding a dynamic reporting engine to your strategy can be quite the game-changer, allowing you to get deeper insights into your marketing efforts. HubSpot will leverage data from your marketing, sales, and service processes to give you an accurate picture of your efforts.
#10 Blogging and On-Page SEO Recommendations
With over 40% of the revenue of building companies coming from purely organic traffic, having a website that maintains a robust search ranking is key! It is essential to consistently review and improve your SEO. With HubSpot, you will be able to not only blog, giving you a higher chance of making it into SERPs, but also to optimise your on-page SEO through tailored recommendations.
#BONUS Email Marketing, Marketing Events
Last, but not least, HubSpot has, among other email features, a powerful newsletter-like tool that allows you to schedule emails and analyse the response of your audience. With an expected return on investment (ROI) 40:1 ratio, email marketing is one of the most cost-effective and sophisticated methods of communication.
HubSpot Is More than A CRM
According to Kim Orlesky, CEO of KO Advantage, in her INBOUND2021 session, 77% of organisation plans to invest more in sales intelligence tools, with 40% of them willing to spend significantly more on CRM tools, sales intelligence, and engagement tools. In contrast, 66% of businesses have felt not fully supported when implementing those solutions. With HubSpot, you are fully covered!
#1 HubSpot Support
All users with a paid Hub will have 24/7 HubSpot support available for them! While, at the moment, they are only able to offer phone support in English, the services of chat, call-back, and email support are availably in a myriad of languages, including English, French, German, Japanese, Portuguese, and Spanish. Depending on the medium, they can answer in less than 5 minutes!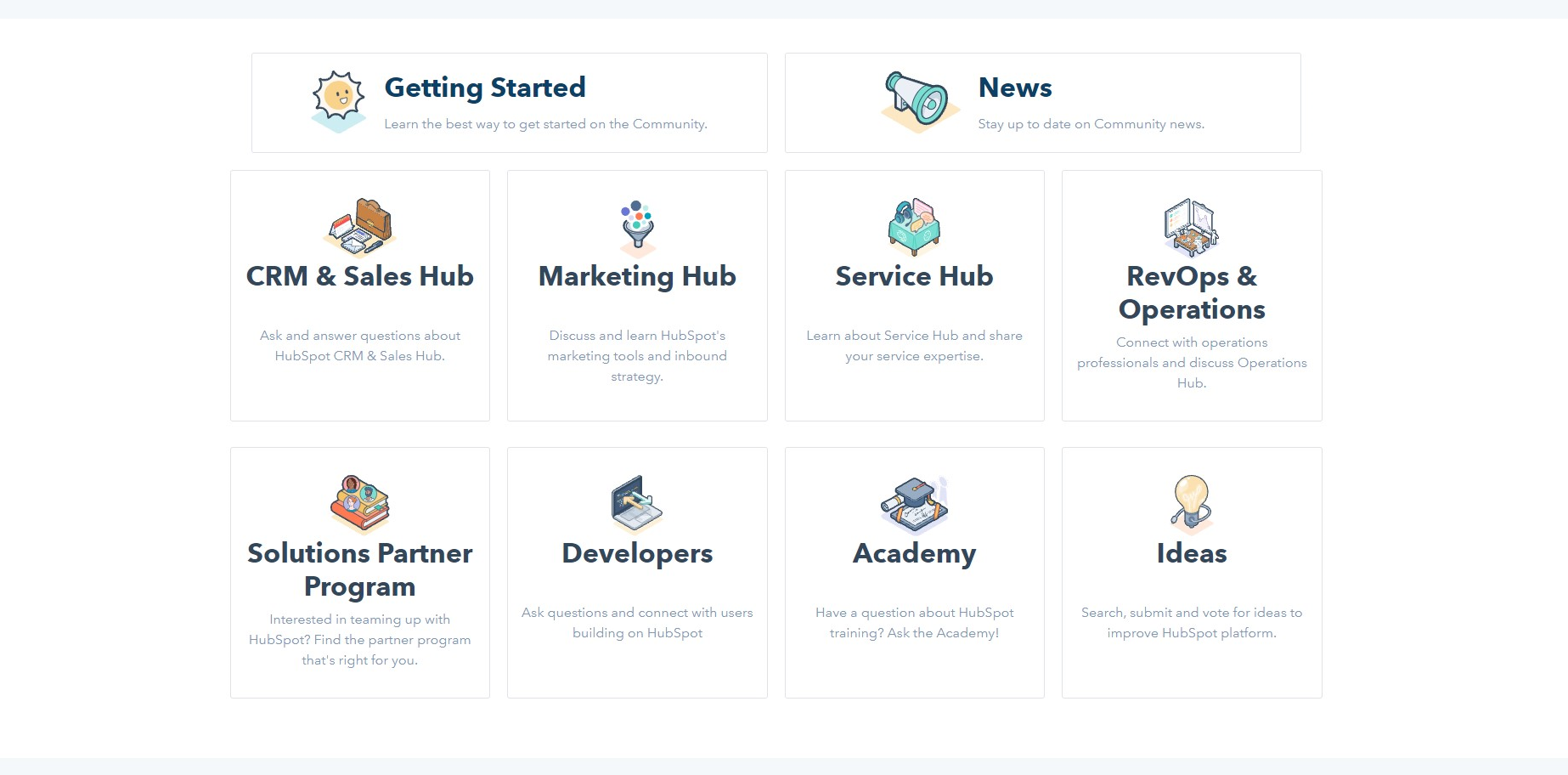 #2 HubSpot Community
Aware that the role of digital marketers, salespeople, and service assistants can be quite lonely, HubSpot has been determined to build a community to provide HubSpot customers with a channel in which to ask questions, find answers, and engage with professionals from all around the world. HubSpot Community is accessible for all HubSpot users, even those using HubSpot's free features!
#3 HubSpot Academy
HubSpot's commitment to education has led them to be one of the world's leaders in free online training for inbound marketing, sales, and customer service professionals. Whilst most of their courses are open to both HubSpot users and non-users, being a HubSpot user will give you access to more in-depth courses that can help you expand your understanding of all things marketing.
#4 HubSpot User Groups
The HubSpot User Group (HUG) program is a project led by HubSpot that attempts to establish an international user group. In the HUBs, you will be able to connect and learn, as well as attend webinars. HUGs are free and open for anyone, HubSpot users or not, and are hosted by experienced HubSpot Solutions Partners (like us!) together with professors of the HubSpot Academy.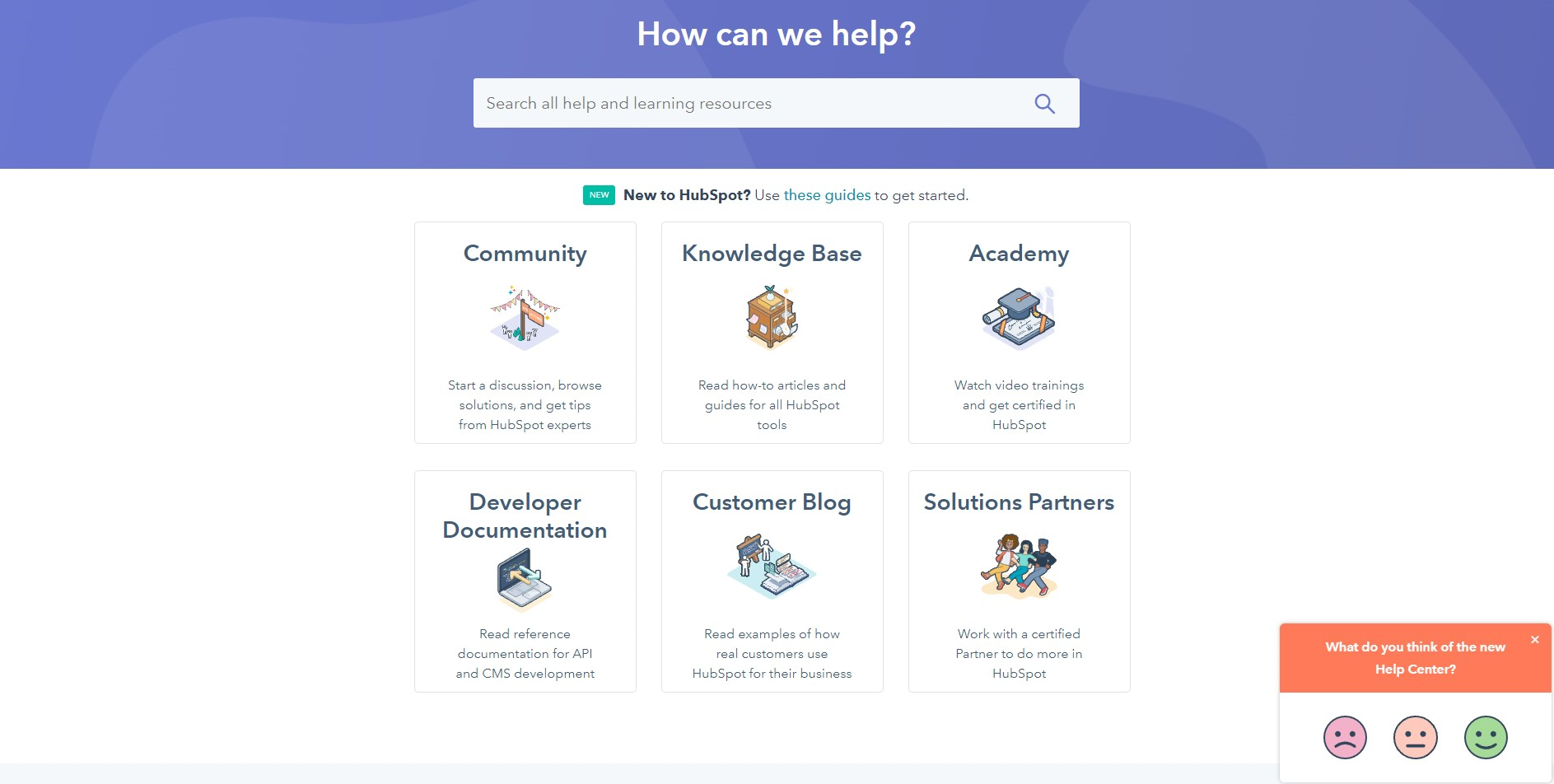 #5 HubSpot Knowledge Base
Following their own advice of making the information people need as available as possible, HubSpot has available a knowledge base or, simply, an article library with any how-to you could think of regarding HubSpot. With their knowledge base, HubSpot has as their main goal to facilitate your access to FAQs, so they can spend less time answering common doubts, and more time helping you succeed.
About Insynth
At Insynth we deliver a predictable flow of leads, customers, and specifications for building product brands through our inbound marketing approach, proven to reach a technically demanding audience.
We use the latest marketing techniques such as construction inbound marketing, to equip building product companies to grow sustainability in this era of digital transformation.
As the only HubSpot certified agency to major in construction marketing. We have a proven formula of bringing a variety of functionalities together including CRM Implementation, Web Design, Sales Automation, SEO, and Email Marketing to achieve your ultimate aim: Growing your business and gaining new specifiers and customers.