Live From #INBOUND2021
Giving an unbeatable start to this year's event, Insynth's team is ready to narrate you live this 3-day revolutionary gathering of world leading software experts!
Kim Orlesky has continuously been named as one of the top sales leaders to follow, with LinkedIn considering her their most influential sales authority! She has also been awarded prizes including Startup Canada's Woman Entrepreneur of the Year and Success Magazine's Most Inspirational Blogger. She is the author of the book Sell More. Faster. and is currently immersed on the writing of her fourth book, Virtual Selling Best Practices.
But books are not the only place where we can find Kim's advice! She is also the Founder and CEO of KO Advantage, the first and only subscription-based sales university. She has also founded the service Sales Unicorn, a virtual platform where talented sales professionals are given the chance to match with. For her contribution to INBOUND2021, she led the virtual presentation "30 Virtual Selling Trends in 30 Minutes".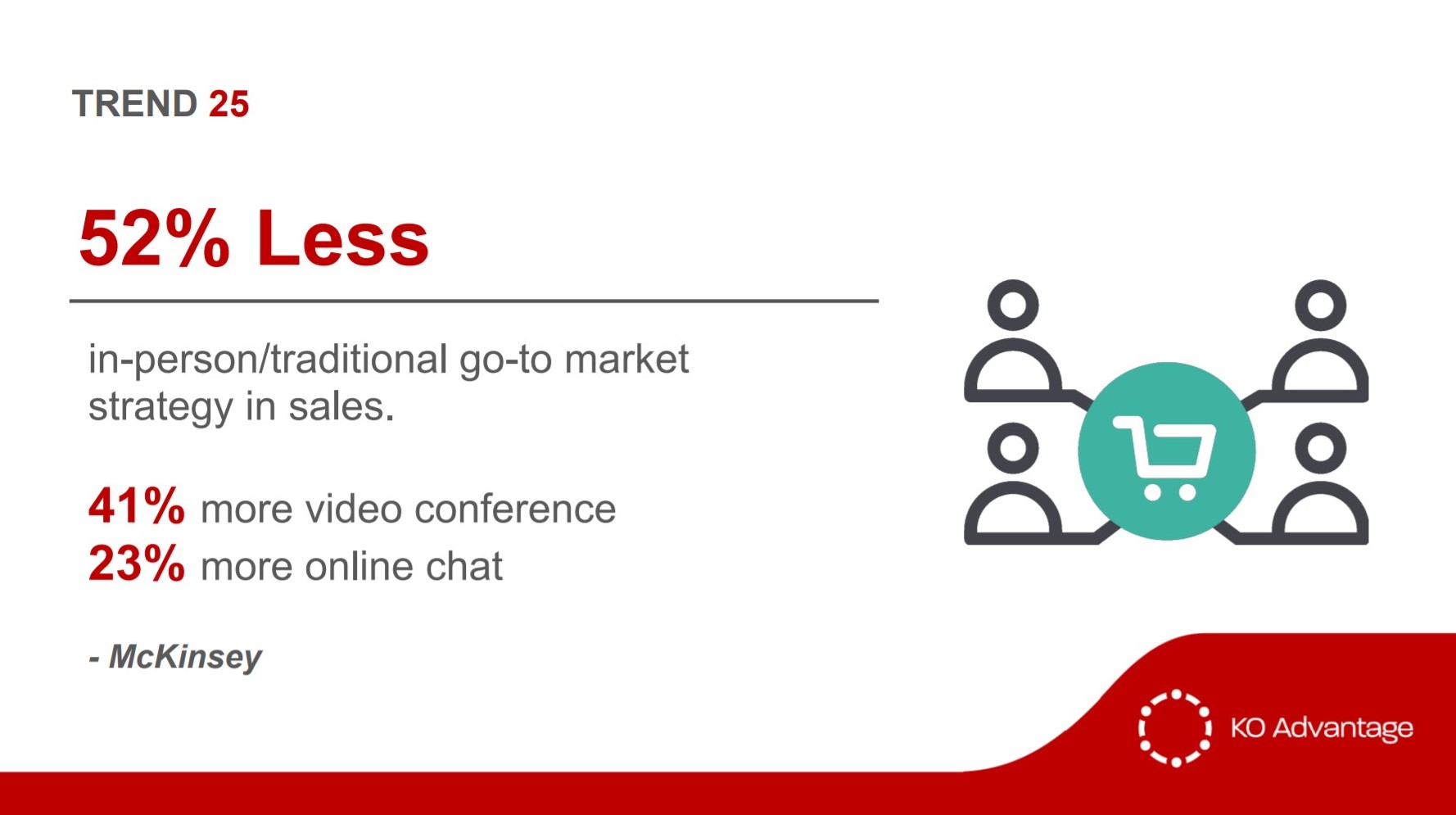 Sales Processes Are Moving Online
Kim stance regarding the future of sales was clear! Recent trends in communicating and selling high-value transactions point for sales to become entirely online in a few years. With 70% of the market's sales interactions being already online, 59% of organisations are getting ready for a virtual future, with some of them quickly investing in their ability to self-serve. In fact, Kim revealed that 48% of sellers have closed deals of over 500K in the last months without actually interacting with the client!
And, how are clients feeling about sales processes moving almost in their entirety online? They prefer it! Up to a third of customers prefer self-served and remote human engagement over face-to-face interactions. 30% of B2B technology buyers, for example, already make their initial purchases through exclusively online channels. Our own research has ratified these metrics consistently. IDG's Digital Business Survey estimated that 89% of businesses will be shifting towards a digital-first strategy with the aim to better meet customer requirements.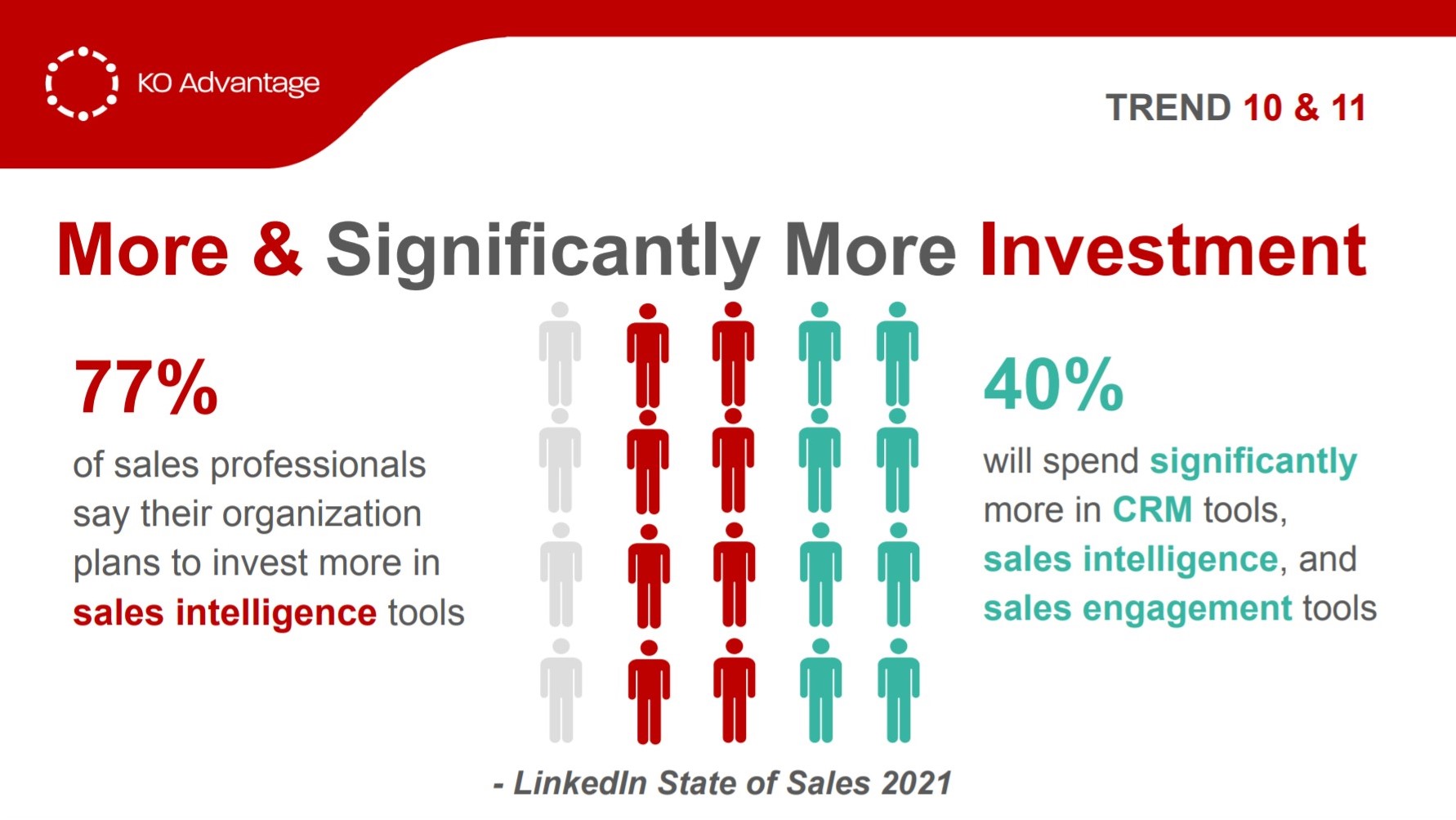 Investing on Technology to Improve their Sales Performance
According to Kim, 77% of sales professionals say their organisation plans to invest more in sales intelligence tools, with 40% of them willing to spend significantly more in CRM tools, sales intelligence, and sales engagement tools. This trend goes together with 81% of the construction leaders interviewed for the Construction Front Line Survey planning on hurrying their digital adoption.
A common mistake, however, is investing in technology for technology's sake! Technology should always be preceded by research and testing, making sure that your processes are efficient even when they are manual and that the technology tools that you are choosing for your company align with your customer's journey and your company's strategy. Digitalising your marketing efforts is now always easy, with 66% of businesses not feeling fully supported when deciding the solutions that could better endorse their KPIs.
Borrowing a quote from Bill Gates, Kim said:
"The first rule of any technology used in a business is that automation applied to an efficient operation will magnify the efficiency. The second is that automation applied to an inefficient operation will magnify the inefficiency"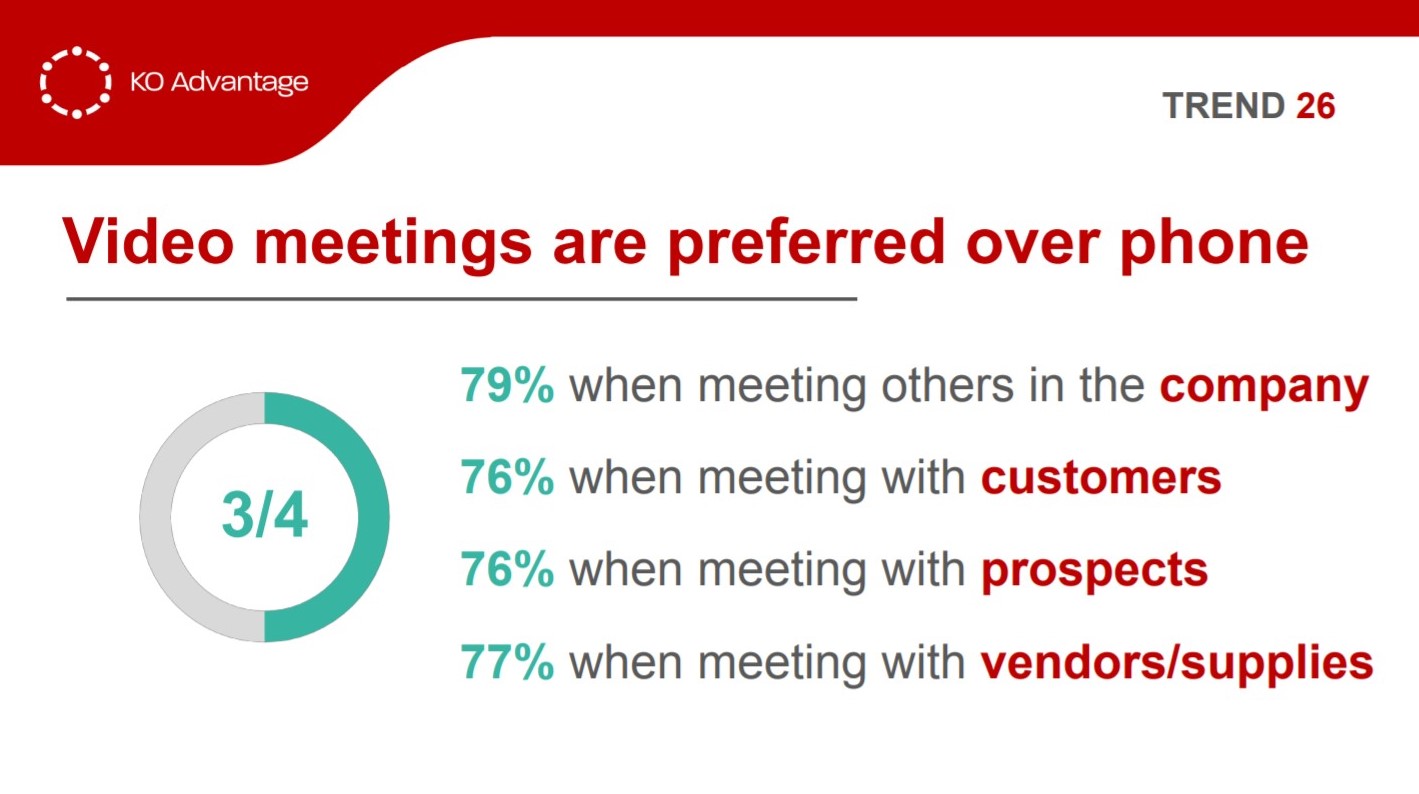 Traditional Sales Strategies Need to Go
65% of organisations claim that they are customer-centric, that they always put their buyers first. Contrarily, only 23% customers feel that their interests are being considered when making a purchase. Kim went over the different traditional sales tactics that have long been deal-killers for customers. While they might be interested in a purchase, people do not necessarily like being sold to!
With a list of the sales strategies that most strongly put off clients, Kim highlighted delivering misleading information about the product or the price, not providing accurate enough customers service, not showing an in-depth knowledge on the product that they are promoting and, ultimately, cold calling or emailing repeatedly.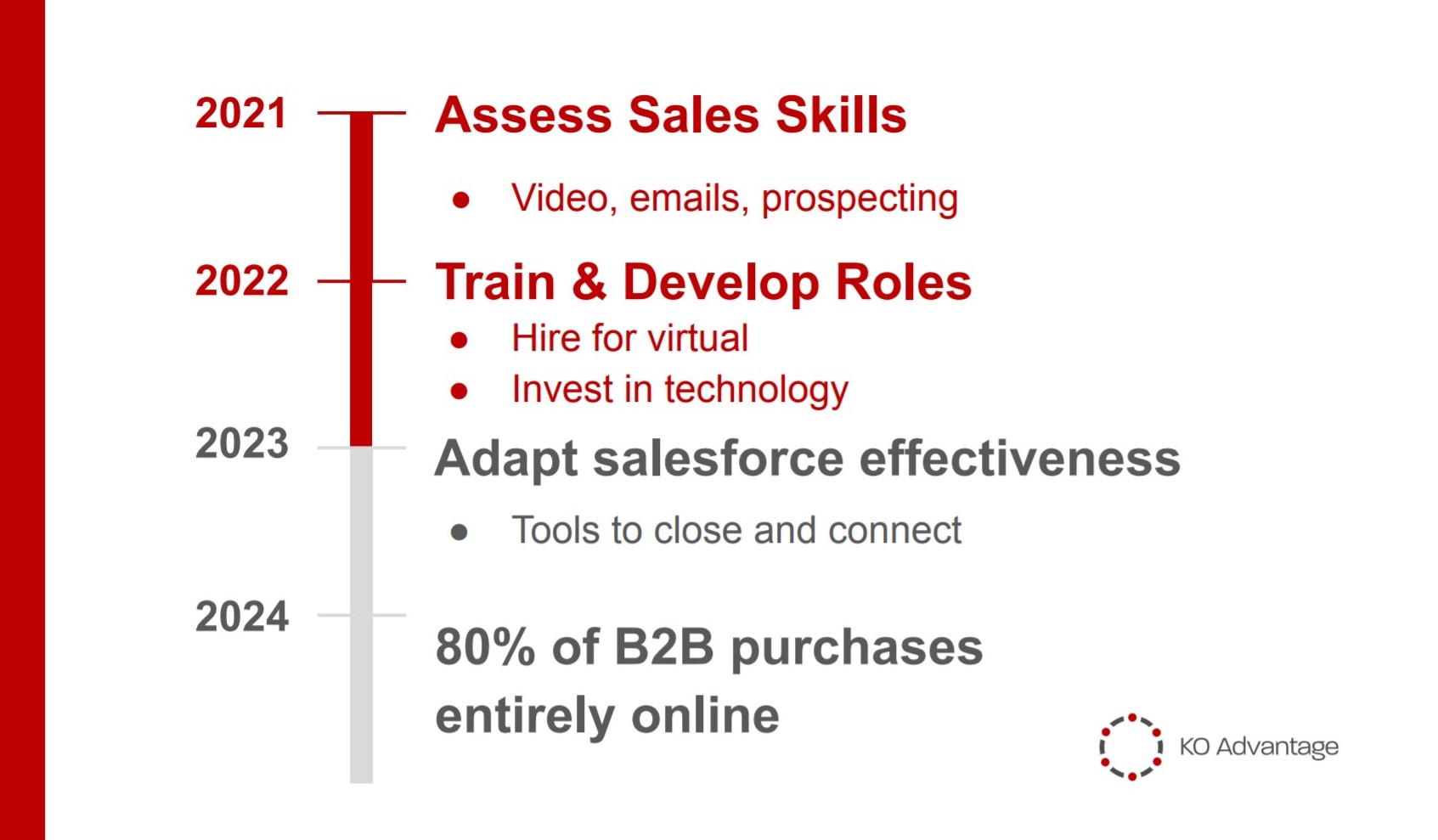 A New Sales Methodology
Following a change of paradigm in the way the industry understands sales, companies are no longer looking at individual quotas. They key to virtual sales is in customer satisfaction metrics and customer retention rates! For 40% of companies, customer satisfaction is now a much stronger priority, which is prompting businesses to put strategies in place to boost that number.
89% of companies are likely to change their methodology in the future, with 11,25% are choosing to change their methodology in the next 3 months! This shift in methodology focuses on moving away from in-person traditional sales strategies and creating solid foundations for an industry that is becoming virtual. In fact, CSOs expect 58% of the sales force will remain virtual by the end of 2021.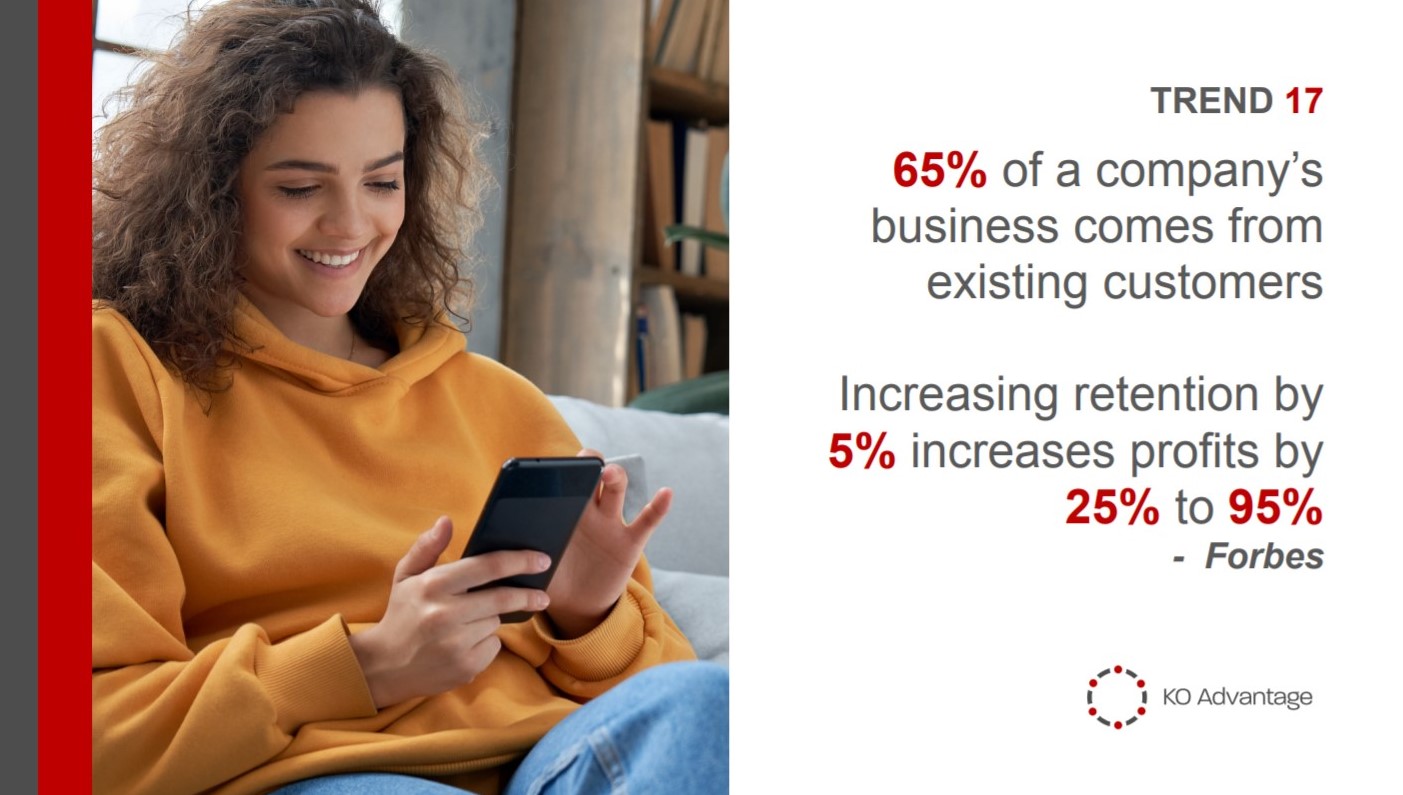 Does Your Strategy Put Your Customer First?
Kim explained that a sales strategy that is not customer-centric is, simply, not a good sales strategy. Customers thrive for informed and educated decisions and would like to feel heard and taken into account throughout their buyer's journey. As they interact with a company, they are expecting to find a fully available team that will allow them to connect through a myriad of channels. According to the Sprout Social Index, 57% of consumers will follow a brand to learn about new products or services while 47% will follow to stay up to date on company news. Consumers will continue to engage with a brand after they have followed it on social media, with 91% feeling drawn to visit their website, 89% making a purchase, and 85% feel encouraged to recommend the brand.
When looking at the different elements of a company that can give customers the impression that they do not really care about them, Kim underlined lack of right skill set among the sales team and an excessive emphasis on short-term revenue goals. Adapting the tools your team has to the new requirements of the industry has become essential for the success and growth of your company.
About Insynth
At Insynth we deliver a predictable flow of leads, customers, and specifications for building product brands through our inbound marketing approach, proven to reach a technically demanding audience.
We use the latest marketing techniques such as construction inbound marketing, to equip building product companies to grow sustainability in this era of digital transformation.
As the only HubSpot certified agency to major in construction marketing. We have a proven formula of bringing a variety of functionalities together including CRM Implementation, Web Design, Sales Automation, SEO, and Email Marketing to achieve your ultimate aim: Growing your business and gaining new specifiers and customers.