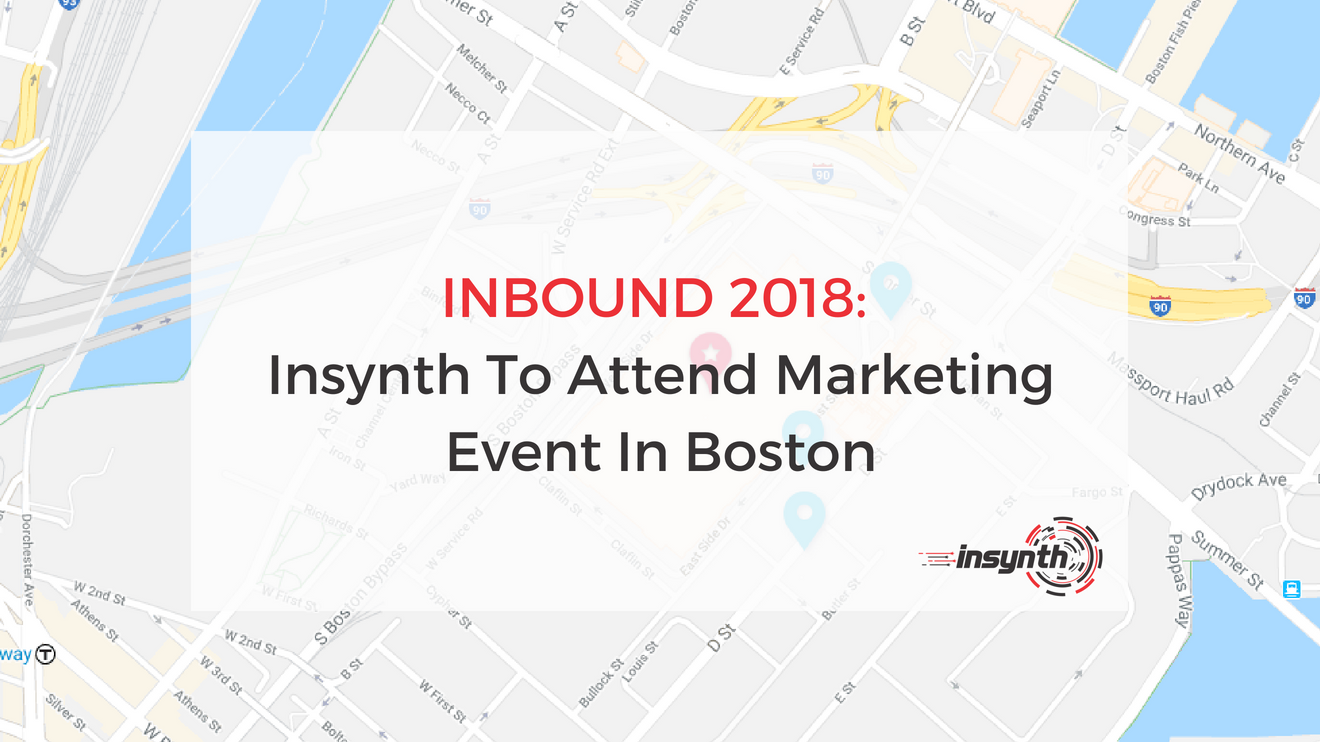 Every September, Boston Massachusetts becomes the staging area for one of the largest sales and marketing events centred on inbound marketing.
Inbound is about bringing together experts in content and inbound marketing from all over the world and getting them to share their knowledge and expertise with the thousands of attendees to this growing annual event.
Next week, Insynth will be attending alongside the 22,000 others set to land at Inbound. They will be attending talks with sales and marketing experts and learning more about the latest in the world of Inbound.
Keep reading to find out more about Insynth's upcoming Inbound adventure…
What Is Inbound?
Inbound is a sales and marketing event that takes place in Boston MA every year. The conference unities sales, marketing and customer success professionals together to share with attendees the latest in inbound marketing developments and techniques.
Over the course of the three-day event, speakers from all over the world will host talks around their area of expertise, sharing their insights with attendees.
The event is intended to spread the idea of inbound marketing's three core principles; being human, helpful and holistic.
Now in its sixth year, Inbound is expecting over twenty thousand visitors to the 2018 event and will feature speakers such as Marcus Sheridan, Cleo Wade and Mo Gawdat.
Insynth At Inbound
This year, the Insynth team will be setting off to Boston to attend Inbound and learn all about the upcoming developments to this amazing method of marketing which we can then share with our clients.
Working to experience as much of what Inbound has to offer as possible, Insynth has specially selected a range of talks and events across the conference to learn as much as they can for the benefit of their content marketing for construction efforts.
Insynth will be working across the conference throughout the week to gain as many insights into marketing, SEO, content creation and much more and sharing this learning with each other to bring the techniques learning to the construction marketing industry.
Insynth will be posting daily blogs throughout the week, sharing the amazing experiences that they have had on each day of the conference.
Speakers that Insynth will be seeing include:
Shonda Rhimes: author and screenwriter for hit series Grey's Anatomy starring Patrick Dempsey
Rand Fishkin who is a world leading authority on SEO and co-founder of Moz.
Chimamanda Ngozi Adichie: best-selling author of Purple Hibiscus and award-winning novel Half A Yellow Sun.
These are just three of the many that the Insynth team will be learning from throughout the week at Inbound.
Insynth will also be learning from content marketing leaders HubSpot at their partner day, taking place early in the week of Inbound.
Attending Inbound is a great opportunity for Insynth as we work to ensure that they are bringing the latest in content and inbound marketing to our clients and ensure that we are bringing the latest to learning to construction marketing every time.
Conclusion
Inbound is all about spreading the human, helpful, holistic message of inbound marketing across the globe through a series of talks and speeches from industry leaders in sale and marketing from around the world.
Attending the event means that Insynth will be able to bring new insights to our clients that are two to three years ahead of current trends in the UK construction industry.
About Insynth
Insynth Marketing is a leading UK construction marketing consultancy based in Shifnal in the West Midlands. Insynth employ the latest inbound marketing techniques such as construction inbound marketing, to help building product manufacturers grow their businesses by aggressively driving sales lead generation activity.
As the only HubSpot certified agency to major on construction marketing, we bring together construction marketing strategy, digital strategy, website design, SEO, content marketing, email marketing, sales automation, marketing automation and HubSpot CRM implementation to produce successful campaigns and great results for our clients.