So you're a building product business looking for the best sites to list your business and highlight your products? Fortunately, in 2022, there are several great product directories and listing sites to ensure you can be found by the right people, continue reading to see our top picks.
The construction market is becoming increasingly competitive every year, so it can be hard to stand out from the crowd. Specifiers, such as architects and engineers will use product directories to find the right solutions for their project's needs.
Why Do I Need To List My Business In Product Directories?
A product directory listing, if done well, can not only help you to attract new customers but also increase your brand awareness, strengthen your SEO and may even generate business.
Business listings and directories are not new; they have been around for over a century. Long have businesses depended on listings to help potential customers find their services.
We all remember the big yellow book our parents kept under the coffee table. These days, however, listings can offer much more than just your businesses address, slogan and contact information.
In this new digital age, listings and directories that directly link to your site can offer crucial 'backlinks'. What's a backlink? It is simply a direct link to your businesses website, which when done by a site that has a high domain rating (Google's way of measuring the digital scope of a website), can help increase your SEO and increase your visibility on search engines.
If you want a better look at how the top building directories could improve your SEO, take a look at our Top Picks: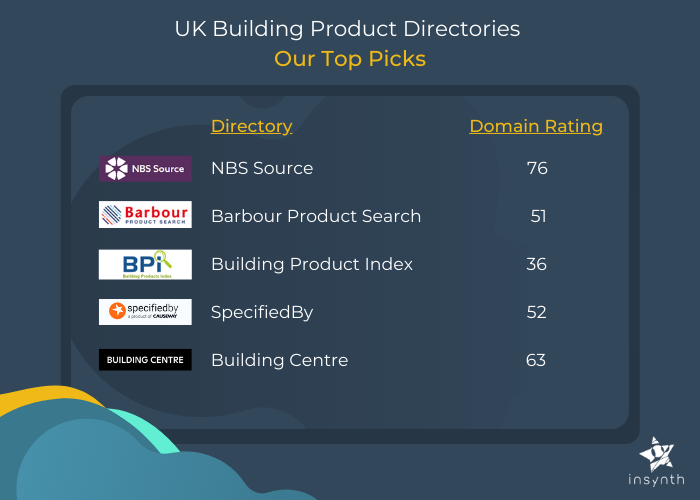 These domain ratings are taken directly from Ahrefs and are correct as of December 2021. It's worth noting that Domain is ranked on a scale of 1-100.
The Best Building Product Directories In 2022
Here is a list of the most widely used directories by specifiers:
Aside from being curated purely for the design, supply and distribution of the construction market - these directories separate themselves from standard business listings in the way that they organise their databases.
With over 3 million site visits per year, the combined power of these directories is phenomenal and being listed in just a handful of them will strengthen your number of leads and SEO.
The quality and quantity of their product data ensure they are the go-to sites for specifiers looking to access:
A comprehensive database of product information
Indexed and categorised business data
Complex search capabilities
Accessible content such as BIM files, brochures and tech sheets and CADs.
Visit our Resources page, where you can find more useful tools to help promote your building product brand.
Conclusion
This really just scrapes the surface of the product directory and business listings world. There are so many great places to list your building product business, but these are just a few we would recommend to get yourself started.
Remember, these listings can help your business in more than just one way. Whilst being a key way of promoting your building products, listings can also help drive your SEO and Domain Authority for Google rankings.
About Insynth
At Insynth we deliver a predictable flow of leads, customers, and specifications for building product brands through our inbound marketing approach, proven to reach a technically demanding audience.
We use the latest marketing techniques such as construction inbound marketing, to equip building product companies to grow sustainability in this era of digital transformation.
As the only HubSpot certified agency to major in construction marketing. We have a proven formula of bringing a variety of functionalities together including CRM Implementation, Web Design, Sales Automation, SEO, and Email Marketing to achieve your ultimate aim: Growing your business and gaining new specifiers and customers.