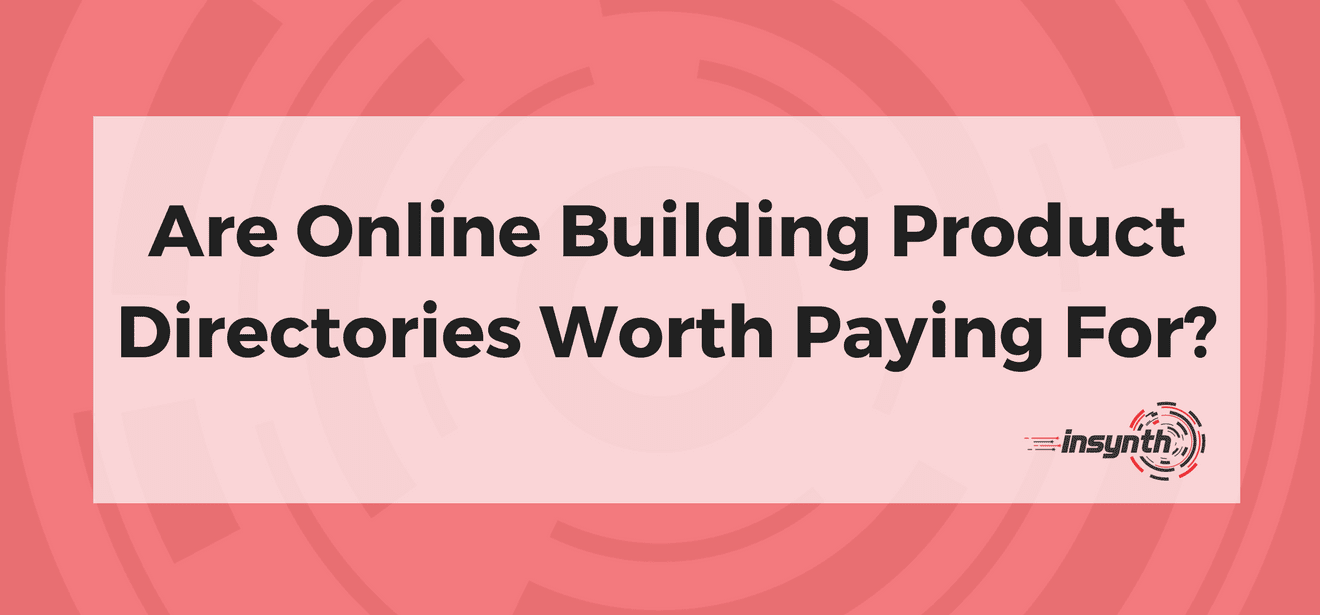 With marketing budgets constantly under pressure, it can be difficult to know where to allocate your budget, especially where the return on investment (ROI) can be difficult to prove.
Online Building Product Directories and Trade Directories offer more than just a link to your business but can be tricky to measure, so what should you be thinking about when considering directories as part of your communications plan?
The Benefits of Online Building Product Directories
Online building product directories and trade directories have a huge competitor that cannot be ignored – Google. The worlds' colossus search engine will always be the primary choice for search, and with the preference of most specifiers to use building product manufacturers own websites to research product, your website should be optimised for search and delivering the right content for your audience.
If you manage a well-recognised building products brand, or have your content optimised for search, then most of your traffic should be coming to you directly.
If, on the other hand, your brand is less well known, or you have low levels of website traffic, directories can be a valuable source of leads, specifications and traffic.
The key benefits of directories are that they;
Provide good quality backlinks
Increase referral traffic to your website
Improve your brand recognition
Generate sales leads and specifications
Can broaden your marketing reach if they offer news distribution
Generating Good Quality Backlinks – For Free
Whether you have the budget or not for paid entries in building product directories, you definitely should be taking advantage of free listings.
As a minimum they will bring some referral traffic to your site, but they will also provide valuable and relevant backlinks, which will in turn improve your domain authority.
To explain, backlinks are the links from another website to yours. Every site has a Domain Authority rating (DA). The DA rating is an indication of how well respected that site is on the internet. So, sites like the BBC, Wall Street Journal and Times Newspaper will have a rank of 100, a small blog site may only have a rating below 10.
When a site links to your site, it is viewed as an endorsement of your site. The more links from high value DA sites will boost your site, which in turn boosts your ranking positions on Google and other search engines.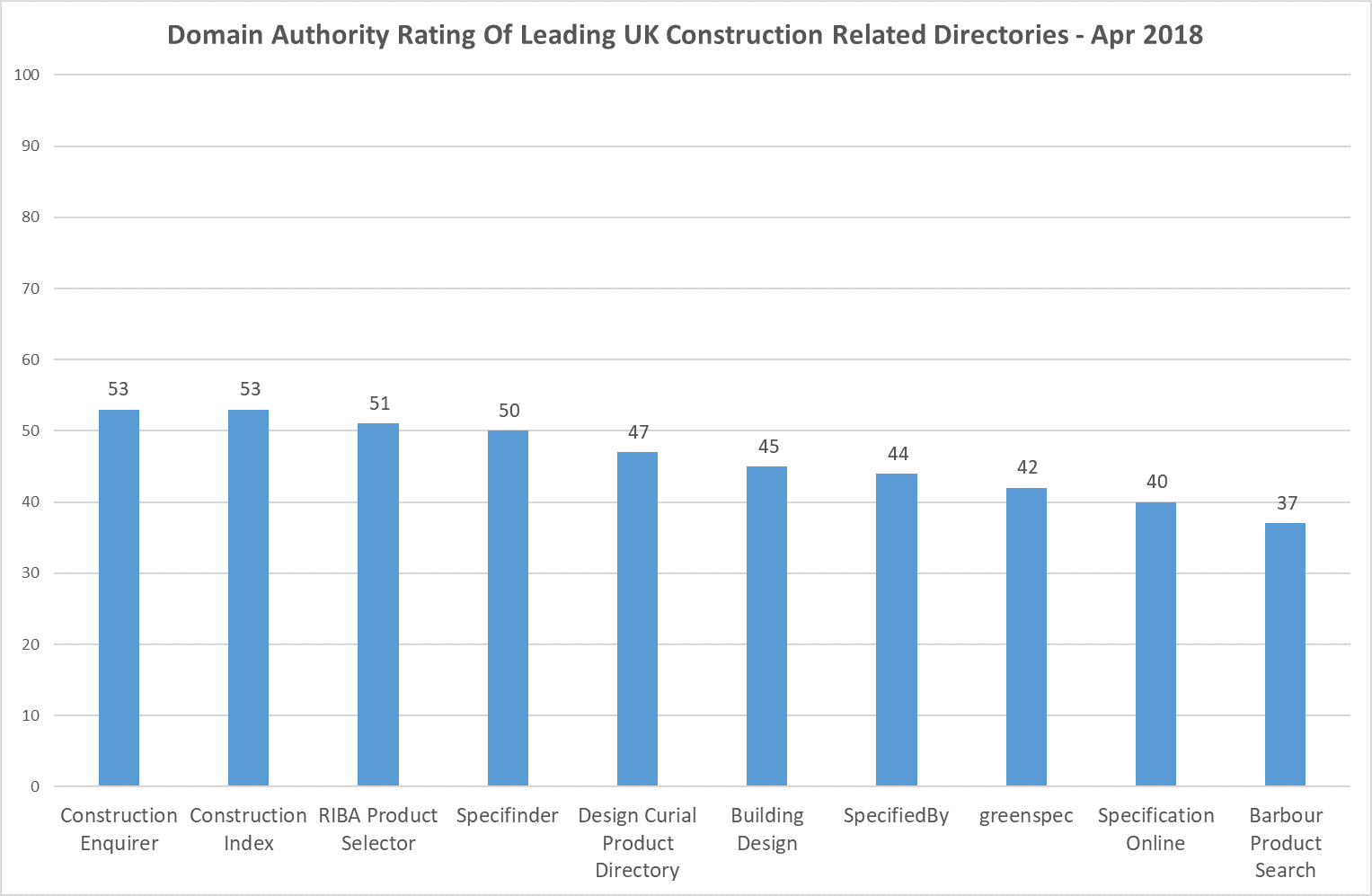 Getting all of the free backlinks that you can is an easy win to boost your own DA and improve your SEO performance.
Increasing Your Referral Traffic
With the backlinks in place, prospects who are interested in your solutions can easily click through to your website.
It's not uncommon to find high-performing directories ranking in your top 10 referral traffic list on Google analytics. The best directories will general hundreds, if not a few thousand visitors to your site every year.
To make the most of this traffic, it could be worth considering using specific landing pages on your site to welcome visitors from different directories, and make it very clear where to find additional content and resources on your site.
Too often, a product or service is listed on a directory and grabs the attention of the prospect. They follow the link to be delivered to a generic homepage, where they have to begin their search again. Frustrating.
Put the user experience of your visitor first and at least try to deliver them to the most appropriate page directly from the referring site.
Getting Specified & Generating Leads
Although some directories provide basic information and listings under broad product categories, other specialist product directories offer the specifier a one-stop shop for researching and specifying products.
Building product manufacturers can upload CAD drawings, BIM objects, case studies, standard specification clauses, news stories and more – almost like a microsite of your own website.
The 2017 Specifier Insights Report by SpecifiedBy found that 76% of specifiers use building product directories at some point in their research process and that 62% of specifiers use a combination of product directories on a regular basis.
With this breadth of use by specifiers, they are clearly a valuable tool for specifiers.
From a pure marketing perspective, you need to be present where your market is active. So, if specifiers like directories, then you should use them, or they will find and specify your competitors.
One concern about being able to deliver ROI when using building product directories is the disconnect with your audience as they are on a platform that you have little insight into, as far as analytics are concerned.
Some directories are now providing these analytics as part of their service, giving you greater visibility of views of your information and downloads of the data. They also provide details of the specifiers who have accessed your content, to enable you to join up the dots.
Working closely with directory publishers, you should be able to jointly develop ways of tracking the enquiries and sales generated from them.
At Insynth, we have developed tracking methods which allow our clients to really understand their ROI and develop tactics to increase their success in their promotional expenditure.
Improving Your Brand Recognition With Specifiers
Linking a logo and a powerful description to your directory listing can enhance brand recognition and convey your message clearly.
Specifiers will start to associate your business with the categories you are listed under. This familiarity will pay dividends when your brand is suggested on projects.
Too often, companies will not upload a logo or create a description, even when it is free, let alone when it is part of an enhanced listing.
If nothing else, make sure this visual element is included. Then craft a clear and impactful elevator pitch for your business, which encapsulates precisely your value proposition – not necessarily your product, but the problem that you are to go to experts in resolving.
Using News Listings To Promote Your Content
Another great benefit of building product directories is the ability to add your news and blog posts for free as part of your package.
If you produce regular content, then this free content promotion can pay for the listing package alone. Compare an average colour sep charge in a magazine of £100, or featuring in an email newsletter for £200-300?
If you produce 1 blog post per week, this is £5,000 worth of publicity.
Add to that the extended reach that is gained, the backlinks and the associated ranking benefits. Ant directory that offers free news inclusion is a bargain.
Summing Up
On the face of it, building product directories can seem like an expensive way to promote your brand, and difficult to measure.
However, by using different metrics such as backlinks and referral traffic, and integrating them properly into your marketing mix, directories and listings can be extremely valuable for generating leads and specifications.
Insynth are exploring building product directories in detail in our next Digital Media Grader report. We'll be exploring domain authority, reach and comparing the features and cost of over 20 directories.
To pre-register for your copy, visit our Resources page, where you can also obtain the latest Architectural Media Report.
About Insynth

Insynth Marketing is a leading UK construction marketing consultancy based in Shifnal in the West Midlands. Insynth employ the latest inbound marketing techniques to help building product manufacturers grow their businesses by aggressively driving sales lead generation activity.

As the only HubSpot certified agency to major on construction marketing, we bring together digital strategy, website design, SEO, content marketing, email marketing, sales automation, marketing automation and CRM implementation to produce successful campaigns and great results for our clients.