It might be holiday season but HubSpot does not stop (actually, they took a Global Week of Rest during the month of July, but that did not keep them from releasing some fantastic updates this month!). HubSpot wants to be the go-to CRM for all businesses and it is actively listening to their customers to take their feedback on board and improve some of their features.
If you have not read my blogs before, my name is Ainhoa, and I am Insynth's Inbound Marketing Specialist, or, in other words, their in-house HubSpot expert. Since last April, I have been gathering the platform's updates monthly to make sure that you are not missing anything from HubSpot. You can find a round-up of 2021 here! And you can also check the January, February, March, April, May and June updates.
Marketing Hub
#1 Collaboration Tools Are Now Available for Workflows
In November, HubSpot released their collaboration tools for all marketing users. These tools allow for different users to communicate within the same screen when editing the same asset. For agencies or marketing teams with several members, this was a fantastic opportunity to engage different people in the asset creation and design process. Because of the fantastic feedback this tool received, HubSpot is extending their collaboration tools to workflows!
Available to all Marketing Hub Professional and Enterprise users, you can now add comment threads directly into forms, campaigns, and workflows (and soon, emails!) before they are published so you can make sure your marketing assets are ready to go. You can drop a comment anywhere on the page and you would also be able to view it within the sidebar. You can choose if you want to show or hide the comment bubbles, so you can better focus.
#2 Distribute Social Accounts Between Teams
Quite a few of our clients have multi-brand portals, meaning that they manage several brands within the same HubSpot portal. This allows them to have all their data in the same place so they can better assess up-selling and cross-selling opportunities. This required HubSpot to enable granular partitioning within portals, making sure that every team gets access to only the elements of the portal that they need.
Until now, contacts and companies could be partitioned and distributed between teams. Furthering this capability, HubSpot now allows for social accounts to be assigned to different teams and users so only the team that needs access to a particular account has it. Assigning social accounts to teams and not single users also allows for collaboration and for a particular member of the team to pick up socials when the designed marketer is off.
Sales Hub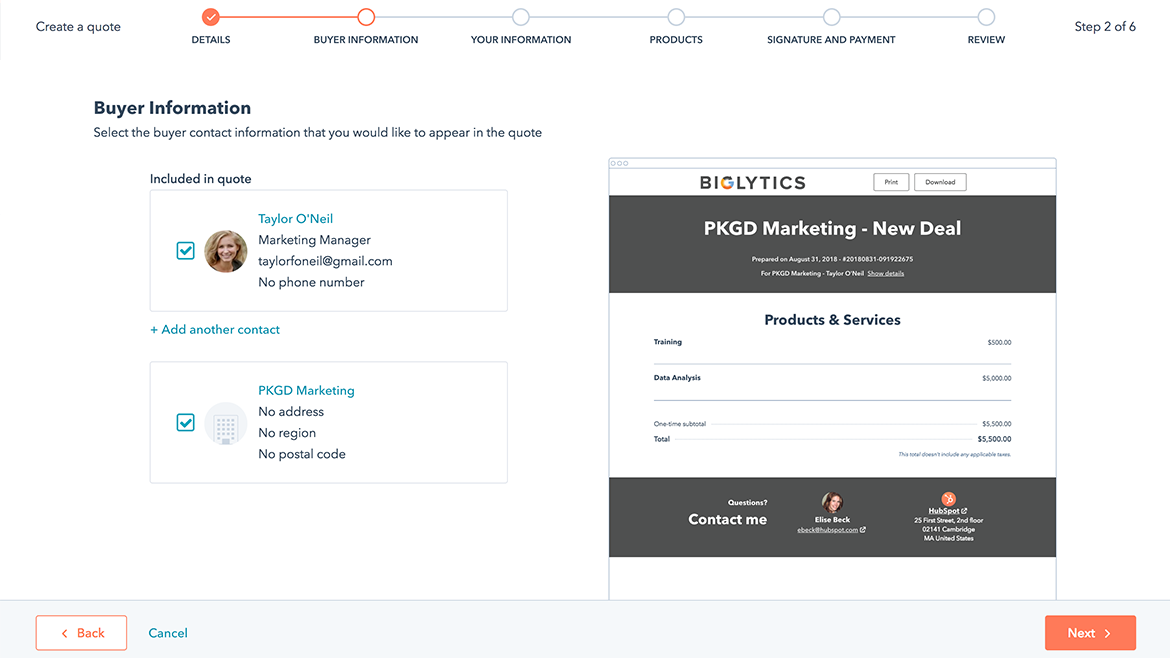 #1 New Quote Templates and A New HubSpot API for Quote Creation and Customisation
Being able to create quotes from HubSpot is a key capability that has made Sales Professional a popular subscription among our clients. It is quick, streamlined, and it leverages the data of your sales CRM, making sure you have all the information that you need to create and update your quotes. Until now, the customisation of these quotes was limited to the layout that HubSpot had by default, which did not necessarily work in some more bespoke sectors, like construction.
But that has just changed! With the help of a developers, you can now use HubSpot's CRM API to create and update HubSpot. Through this API, you will be able to also draft quotes, so you have them ready to be sent and associate any quote-level discounts, fees, or taxes, to a quote. This will allow you to have fully customised quotes! However, if you do not need customisation but rather good-looking quotes, HubSpot has just released two new quote templates.
#2 Fractional Quantities Are Now Applicable for Quotes
And, to help you make the most of the quotes features, HubSpot allows not for line items to be input in fractions! But… What a line items? In HubSpot, when a product has been associated to a deal, it becomes a line item. It is not a generic instance of a product, but a particular token that has a particular SKU, features, etc.
Until April, adding them into your portal and creating a product library was rather time consuming, since it had to be done manually. But that changed as HubSpot allowed for line items to be imported. This led to more people using this feature, which also brough insightful feedback that HubSpot took on board. From that, HubSpot has now allowed for line items to be quoted in fractions, so users can quote for 1.5 hours of a service, for instance.
Service Hub
#1 Better Management of Multiple Shared Inboxes
HubSpot is keen to making it more convenient to manage multiple brands within the same portal, acknowledging those companies that might have more than one team shared inbox to monitor. If you are not familiar with the Inbox feature within HubSpot, this is a tool that connects your team email addresses to a universal inbox that makes collaboration easy, effortless, and more efficient. No conversation will be left unanswered anymore!
Through this tool, teams will have complete transparency into every email interaction and never have to guess whether someone has followed up or how they responded, it will all be recorded in the CRM. Because multiple teams might be using this tool, HubSpot has enabled users now to customise the order and layout of the different inboxes so they can be rearranged and organised in a more accessible and comfortable way.
#2 Customise the Information Available on Your Shared Inbox
Continuing with the improvements to the Inbox tool, HubSpot has focused on the UX for viewing the inbox. All conversations are segmented in different inbox views. These views group conversations by assignee, channel, or filtered status. You can filter conversations into views to help your team prioritize and effectively manage customer communications in the inbox. For example, create a view of all of the conversations associated with high priority tickets…
HubSpot has also allowed users to have over 30 new default ticket and conversation properties and custom ticket properties available when creating new views of these inboxes. Some of the new default properties include (but are not limited to) SLA ticket properties, last contacted date, ticket pipeline, HubSpot team, and mentioned users. Custom Views in the Inbox are available for all customers with at least one Pro or Enterprise subscriptions.
Operations Hub
#1 You Can Now Merge Duplicate Contacts and Companies in Bulk
When we first heard about this update, all HubSpot users thought the very same… Finally! HubSpot has finally released the functionality that will allow users to bulk select and merge duplicate contact and company records from the duplicates management tool. If you are not familiar with HubSpot, among other features, this platform is fantastic for spotting duplicates and keeping your database as healthy as possible.
Duplicates often lead to miscommunication, inaccurate reporting, and misinformation within teams, so you want to avoid having any duplicates within your CRM. As mentioned, HubSpot spots them and recommends you merge any records that might be duplicated. Until now, however, you had to review them, one-by-one, making it a rather tedious process. In the Review step, after selecting a rule to determine the primary record for the merge, you can now merge all records in bulk!
#2 Automatically Delete Contacts that Fit a Particular Criterion
Furthering this effort to help users keep their CRMs more organised, HubSpot has also enabled for workflows to be use for automated contact deletion. This feature was not available until now due to the great responsibility that comes with automated contact deletion. Yet, with numerous users interested in this feature, HubSpot now allows for users to automate processes involving deletion of contacts that fit a particular criterion.
This can help keep your database healthy through, for example, automatically deleting all contacts that have been inactive for over a particular period of time. In fact, this will allow for companies to be compliant with specific GDPR laws. This, as mentioned, is a fantastic tool that can quickly become messy so feel free to check with a HubSpot Partner before you set up a workflow that triggers automated deletion processes!
CMS Hub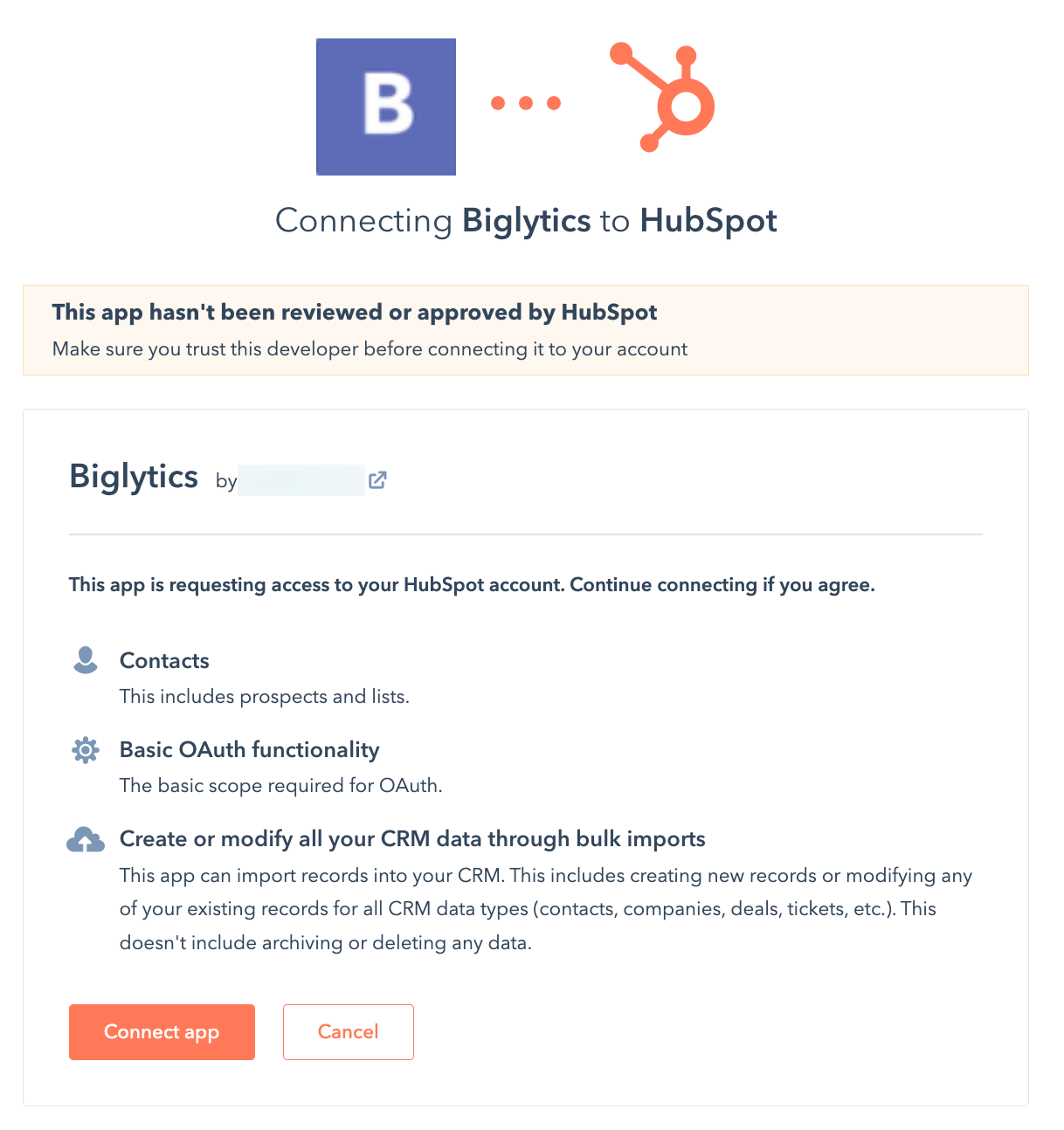 #1 Create your own App Within HubSpot
Did you know you can create an app within HubSpot? It is a tricky process, but nothing that a developer can do. Apps can be installed on customer accounts through an OAuth connection process. Once a user installs your app on their HubSpot account, you'll gain permission to make API calls to that account using an OAuth access token. Apps also enable you to develop using features like custom CRM cards, timeline events, and webhooks.
When developing an app, HubSpot has a number of tools to get your app or integration up and running. An integral part of any app is its settings, which, until now, were edited in an external page. But that has just changed! From now on, you can create customised setting pages for your apps within HubSpot and add control components to configure those settings. To create a settings page from scratch, click Start from scratch. You'll then be brought to the new app settings page builder.
#2 Bigger Websites For CMS Starter Users
With the recent launch of the CMS Hub Free, HubSpot has allowed businesses of any kind to build an impactful and effective website with no extra cost. This tier includes HubSpot's global CDN infrastructure, a free SSL certificate, 24/7 security monitoring, local web development tools, lead capturing features, reporting dashboards and a web-based live chatbot. The CMS Starter is designed to be used equally by developers and marketers.
For those that upgraded to CMS Starter, benefiting for £19/month of some of the more sophisticated features of the platform, HubSpot has raised the limit of website pages that a portal can have from 15 to 50 and, in addition, discontinued the practice of counting multi-language variations towards the page limit. This will allow for users to create bigger websites in different language variations without breaking the bank!
About Insynth
At Insynth we deliver a predictable flow of leads, customers, and specifications for building product brands through our inbound marketing approach, proven to reach a technically demanding audience.
We use the latest marketing techniques such as construction inbound marketing, to equip building product companies to grow sustainability in this era of digital transformation.
As the only HubSpot certified agency to major in construction marketing. We have a proven formula of bringing a variety of functionalities together including CRM Implementation, Web Design, Sales Automation, SEO, and Email Marketing to achieve your ultimate aim: Growing your business and gaining new specifiers and customers.