And, just like that… Q1 is gone! HubSpot has made us used to monthly updates, with new features coming out almost anytime but, with a new quarter, we can see exciting new updates coming to life! I can be difficult to keep up with HubSpot's news, particularly when they release announcements so often so, with that in mind, this blog will provide you with a summary of the most important HubSpot news during the month of April!
If you have not read my blogs before, my name is Ainhoa, and I am Insynth's Inbound Marketing Specialist, or, in other words, their in-house HubSpot expert. Since last April, I have been gathering the platform's updates monthly to make sure that you are not missing anything from HubSpot. You can find a round-up of 2021 here! And you can also check the January, February, and March updates.
Marketing Hub
#1 [BETA] Marketing Automation Available for Starter Users
Automation is one of the big features that come with most HubSpot Professional packages. It is a powerful tool, but users are not always convinced about giving that step. So users can now have a little taste of the powerful automating capabilities of the platform, HubSpot is allowing for some simple automation to be available for users of Marketing Starter. Until now, users in this tear could only automate follow-up after forms.
These simple workflows will allow users to automate small tasks and create short workflows that could give them better insights into the valuable role nurturing can have in their marketing strategy. Aware that Marketing Starter is £42/mo, this is a wonderful opportunity for smaller businesses to up their CRM game and allow for their marketing efforts to flourish. Can you tell automation is one of our favourite topics to speak about?
#2 Associating Forms with Marketing Campaigns is Now Possible
Campaigns is the feature that HubSpot offers for users to associate assets to a single marketing effort. In the past, landing pages, CTAs, email, etc. could be associated to a campaign, but not forms. Clicks, page-views, open-rates, etc. could be connected together, but submissions remained a loose end. That is not the case anymore, since HubSpot Forms can now be associated with Marketing Campaigns in HubSpot.
is includes forms embedded on HubSpot pages, and forms embedded on external websites, and other CMS, such as WordPress or Wix! This feature works just like any other asset inside Campaigns, you can associate your forms with campaigns within the form itself. This feature is available for all Marketing Hub Professional and Enterprise users and will allow users to learn about the full impact of their forms.
Sales Hub
#1 You can now get a HubSpot Phone Number!
Calling from HubSpot is one of our clients' favourite features. Calling prospects is an essential activity for sales representatives within the construction industry, and, as a result, recording said activity is a crucial part of their bookkeeping. Previously, HubSpot only offered the ability to place outbound calls, and, for that, you had to connect your personal phone. Inbound calls were not being recorded, and that led to some information not always being correctly updated…
Now you can connect with customers over a HubSpot number and centralize all conversation records in your HubSpot CRM. You reps do not need a work phone to carry out their tasks and confidently log their activities onto HubSpot, they can use HubSpot phone numbers to place outbound calls and receive inbound calls forwarded to your phone. This feature is only available for UK, US, and Canadian phone numbers.
#2 Last Activity Information Now Visible on Pipeline View
Another fantastic tool that is often the main attraction for those that are looking for a sales management platform is the sales pipeline. Managing the deals that you have open becomes much easier when you can clearly see your funnel. When enabled, the pipeline view on HubSpot is meant to be visible at a glance. The idea is that it does not hold all the information, but just the important fields that your reps would really need to know. You can customise those fields and add up to two!
To those fields available in the preview, HubSpot has just recently added the fields "Last Activity" to that view. As a result, sales reps can now see the last logged activity. Logged activity accounts for notes, calls, tracked sales emails, meetings, and tasks. In that way, you can make sure no leads are going cold and that you have full control over the activity level that your pipeline has. If you feel you are constantly following-up to keep it active, why not try some automation?
Service Hub
#1 Mobile Inbox with Custom View Available
Connecting their shared inbox to HubSpot is one of the first things that we do for our clients, making sure that all interactions that come through their sales@, info@, enquiry@ emails are being tracked and recorded accordingly. This is often a game-changer for our clients since these inboxes tend to be poorly monitored. No more leads fall through the cracks, everything is logged, acknowledged, and, if done well, even automated! It is the key ingredient for excellent customer service.
Sometimes, however, these inboxes can be too much. Custom views can help teams using inbox prioritise and segment the queries coming through their support channels. Views can be team-based or private, making sure you make the most of the feature available. With the inbox available on-the-go, service representatives are able to use it from their mobile, ensuring a fast response. Creating a bespoke inbox view is as easy as to select the action "Create a View" and filter the conversations!
#2 Optimised Service Analytics
Similar to the traffic analytics, HubSpot is optimising the kind of reporting available for service activity. With this feature, Service Professional or Enterprise users can create reports to track metrics such as post-support survey scores, average ticket response time, and overall support volume. You can filter these reports by date, by ticket group, by support pipeline, or by source type, taking into account whether they reached out through a form, chat, or email.
The Service Analytics tool includes quite a few reports, among which some of the most popular are the average time to close ticket, the chat wait time, or the support volume. This last report is particularly useful, since it allows service supervisors to see the total number of tickets by user in the selected time frame.
CMS Hub
#1 Set SEO Recommendations to Focus on a Particular Subdomain
Some HubSpot users might use the same portal to track the activity of different websites. Did you know that CMS Enterprise users can host multiple websites on the same portal? Yes, one CMS, multiple domains! But, with that degree of complexity, navigating all the reports and analytics can be slightly confusing. So, we that in mind, HubSpot has carried out some changes, particularly when it comes to SEO.
From now, if you have multiple domains linked to your portal, you will be able to set one as your default domain and, as a result, your SEO recommendations will focus on that particular domain. To remove a domain as the default, choose another subdomain as the default from the Actions dropdown. It is really that simple!
#2 Dark Mode available for HubSpot's Android App
Even if this update does not have to do just with the CMS Hub, it definitely has to do with HubSpot CX! Dark Mode is finally available for HubSpot's Android App, allowing you to use a darker colour palette on all screens and, thus, heling putting accessibility and inclusivity at the forefront of the CX. Truth is, dark modes have become incredibly popular on mobile and desktop apps in recent years, and more and more apps, and even websites, are allowing for these kind of changes.
In fact, Dark Mode has been reported to reduce eye strain, reduce exposure to blue light, and increase battery life. If you are interested in this feature but you used iOS devices, you can also ask your HubSpot CAM to opt you into the BETA that is currently being rolled out. Then, you download the HubSpot iOS App and follow the instructions on the link.
Operations Hub
#1 Field-Level Permissions Can Now Be Set Up
Using a CRM to store all your information is one of the best decisions you can make. Small teams see their bookeeping tasks reduced, allowing them to better focus on what really matters, larger teams are able to store more complex sets of information, which often lead to more careful data management. This complexity was somewhat lacking on HubSpot, and, for Enterprise users, this is changing. HubSpot is now allowing field-level permissions.
Super Admins can set properties to only be accessed by the right people. Admins can lock down the values of specific properties to certain reps, so everyone on your team can edit exactly what they should, minimising the risk of human error, and reducing distractions. For this, you will need to go into your Settings and into your Property menu. When selecting each property, you will be able to click "Assign Users and Teams" and select the users and teams who can edit values!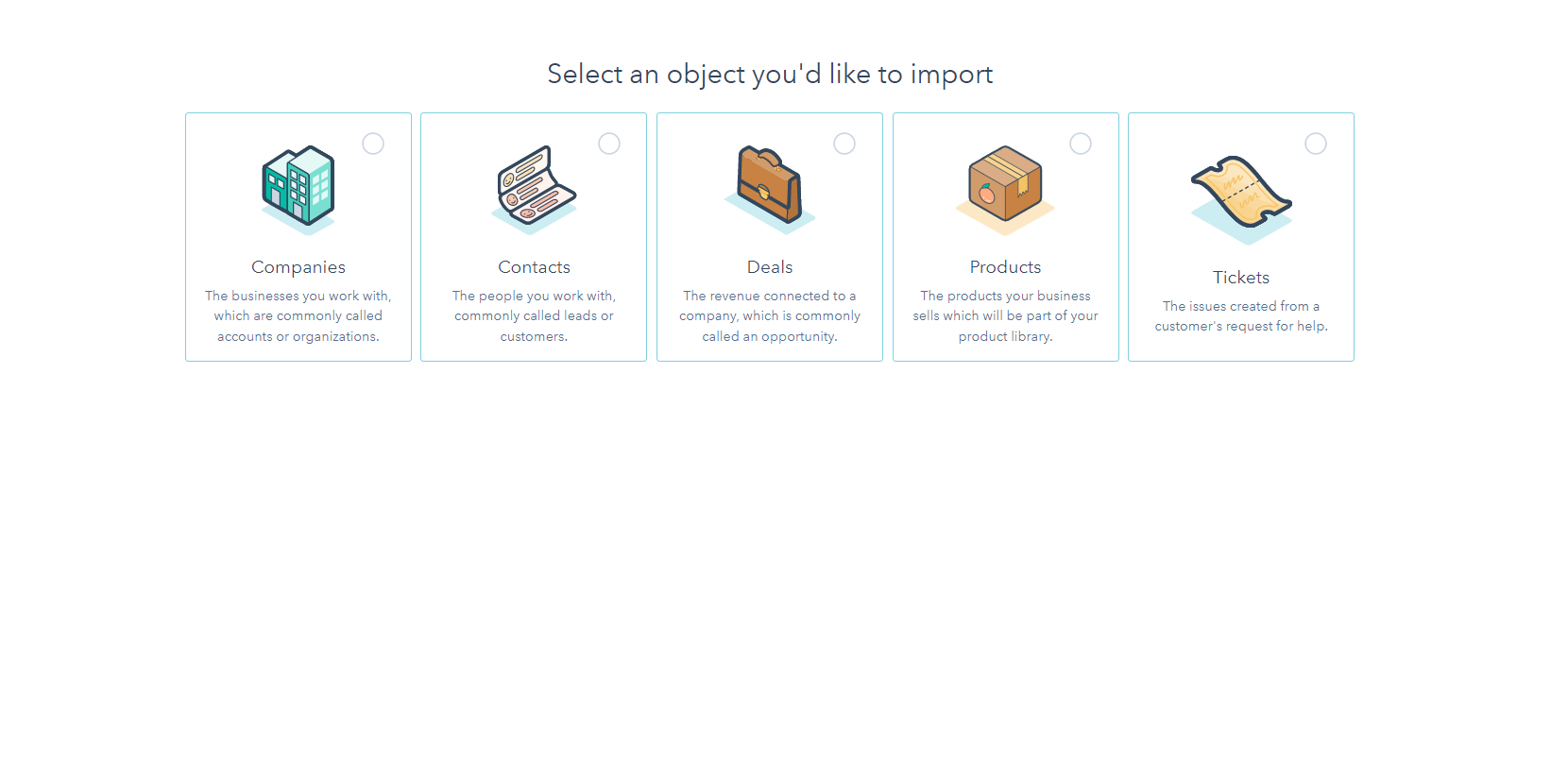 #2 Importing Line Items is Finally Here!
HubSpot users can now import line items along with deals using the import feature. Allowing users to import line items makes it easier for them to represent their full sales process in HubSpot. But… What a line items? In HubSpot, when a product has been associated to a deal, it becomes a line item. It is not a generic instance of a product, but a particular token that has a particular SKU, features, etc.
Until now, adding them into your portal and creating a product library was rather time consuming, since it had to be done manually. Aware of the inconvenience that this limitation was causing to big companies that wanted to migrate their product libraries into HubSpot, HubSpot has allowed for these products to be imported in the same way we import contacts, companies, or deals! It is really straightforward and will save users a lot of time in the future!
About Insynth
At Insynth we deliver a predictable flow of leads, customers, and specifications for building product brands through our inbound marketing approach, proven to reach a technically demanding audience.
We use the latest marketing techniques such as construction inbound marketing, to equip building product companies to grow sustainability in this era of digital transformation.
As the only HubSpot certified agency to major in construction marketing. We have a proven formula of bringing a variety of functionalities together including CRM Implementation, Web Design, Sales Automation, SEO, and Email Marketing to achieve your ultimate aim: Growing your business and gaining new specifiers and customers.