It might seem a simple statement: in order to provide true value to your customers, you need to understand their needs. And, for that, you need to segment them. Market segmentation is not an exact science, it will depend on your building product brand, your customers, and the goals you have set yourself.
Customer segmentation can help boost conversions, reach a wider audience, and communicate more effectively with customers! For that, it is essential that all teams within your company understand how your customers are segmented, members of those departments will be able to effectively target your customers through their activity.
Segmenting your database should count on the input of several departments. You should check in with your marketing, sales, and service teams (as often as you want!) to get their opinions on any necessary segmentation adjustments. You can, of course, also experiment with new ways of grouping your customers together!
If you are keen to look at, once and for all, making sense of your database, in this blog, we have summarised five of the most effective ways in which you can segment your database so you can better target them and get them to convert.
Let's get started!
#1 Segment By Buyer Persona
Defining your buyer persona will be a challenge that, if you have not done it yet, will test the understanding that you have of your building product company. And you should be looking for that struggle, even if you have already set the foundations of your ideal audience.
Neglecting the designation of the buyer personas of your brand is one of the most common mistakes businesses make and can compromise the fitness of the contacts you attract. The design of your buyer persona should start through buyer persona research that will refine your marketing efforts and will provide you with a realistic portrait of your audience. A good place to start is by creating a list of contacts that share a property that you consider relevant and booking interviews so they can show you how your building product brand looks from the other side.
Once you have identified your ideal buyer personas, creating lists will still be useful for targeted communication and tailoring the interactions you have with a specific group, so you speak with them in a personalised and attractive way.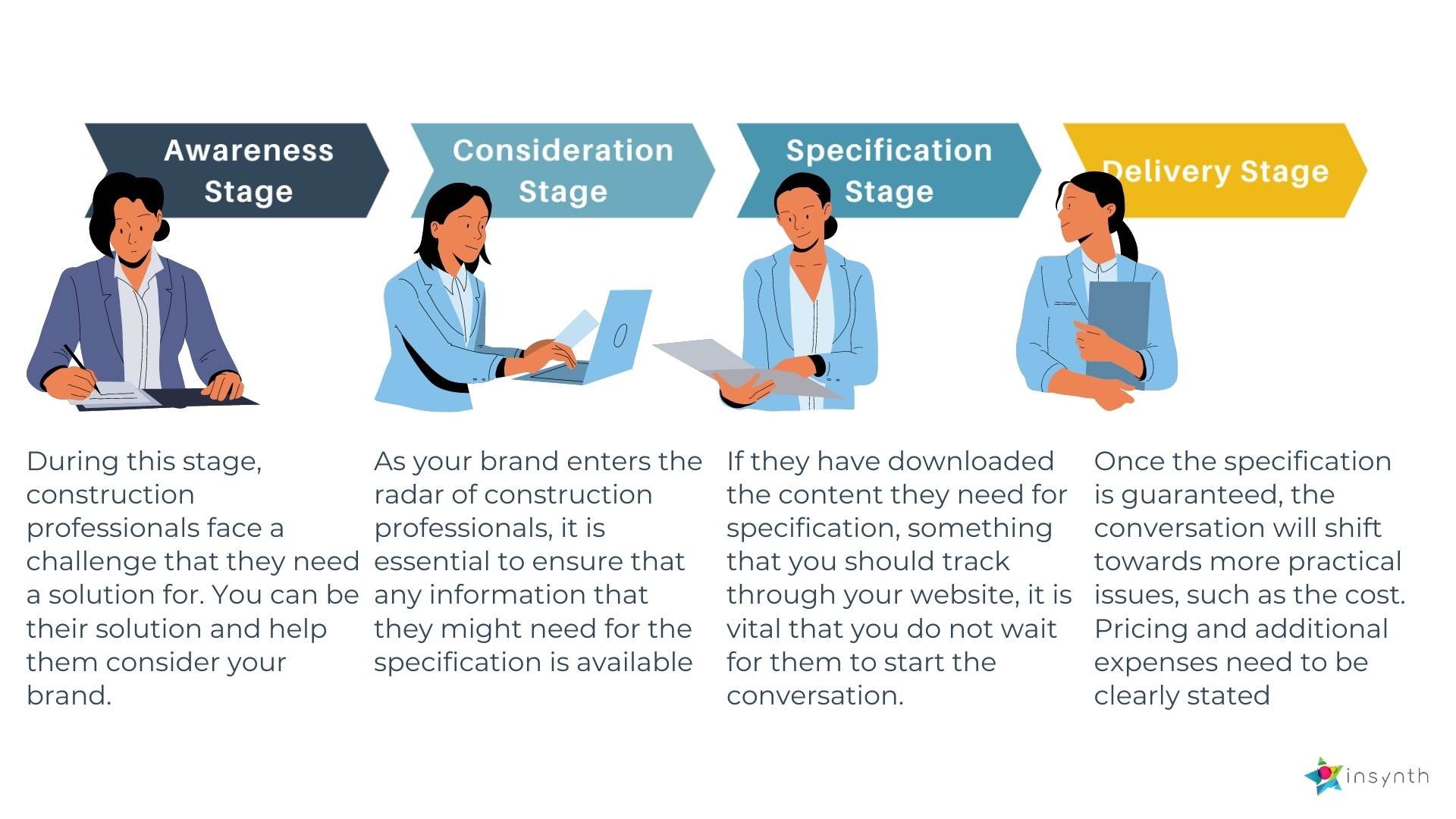 #2 Segment by lifecycle Stage
Once you know who to market for, it is important that you are providing them with the content they need, when they need it. From the moment your contacts discover your building product brand until they are ready to purchase a service, you need to nurture them.
HubSpot focuses, by default, on five categories that they call lifecycle stages and that they use to split the journey of their customers: subscribers, leads, marketing qualified leads, sales qualified leads and customers. You can define the stage of the lifecycle of your contacts as you please and classifying them consistently will give you a sense of how well your lead nurturing strategy is working for your building product brand.
In fact, one out of every two contacts on your database is, on average, not ready to make a purchase and, if you try to press them into it, you might have the opposite effect. For every category, you can create a list of contacts that will receive emails that will be tailored for the moment of their customer journey that they find themselves at.
#3 Segment By Ad Audience
You can also create audiences based on lists that you have previously created. When building an audience, it is important to think about the type of people you are intending to reach with a particular campaign or series of ads. If you already use Google Ads, HubSpot will allow you to sync your current audience and will become part of your CRM.
But the utility of creating audiences on HubSpot goes beyond showing your ads to the contacts on your CRM. You can create lookalike audiences through which you will be able to target ads to users who are similar to your existing contacts and companies. HubSpot uses Facebook and LinkedIn to find contacts and companies that resemble those of a list that you have previously created, and, for that reason, it is crucial that you have made sure the criterion of that list is meaningful.
Another reason to manage your ad audiences through HubSpot is that it will guarantee that you are GDPR compliant. Whenever a contact submits a GDPR-compliant delete, HubSpot not only will delete that contact from your list, but it will also send a request to delete that contact from any synced ad network.
#4 Segment By Interaction
Following what I mentioned in the first part of the post, you can create lists based on certain actions that your contacts are taking, like form submissions, page views or CTA clicks. And you should! This is because, when a contact interacts with your content, you should recognise that they went out of devoted action of their day to you.
That action can give you an incredible amount of information, from how ready the contact feels to purchase your service, to why they got in touch with you in the first place. Once you have that information, you can start nurturing that contact through targeted content and providing a conversation that will feel personalised and coherent to your contact.
For example, if a contact has viewed three pages regarding a service that your building product brand offers and they have downloaded one of your e-Books about the same topic, they will resonate more with a follow-up email that matches that content than if you had sent along a generic email. Creating free resources that your contact can learn from is key to attracting new customers.
#5 Segment By Email Deliverability
The list can also serve as a health check of the contacts hosted on your CRM while guaranteeing that the efforts of your building product brand are paying off. In Insynth Marketing, one of the first things we do when migrating our clients' databases to HubSpot's CRM is to test their email deliverability. Most often than not, our clients are surprised by the number of recipients that never get those emails.
But, before you get ahead of yourself, this is not your fault. Whilst you can take some precautions for your emails not to be identified as spam, email servers will have different spam filters that will make your emails bounce back.
In order to improve your email deliverability rate, lists allow you to identify and gather inactive subscribers that, despite having opted-in to receive your emails, have become less active. You can try and re-engage them through other channels like social media, or you can decide to remove them from your mailing lists altogether. Similarly, you will be able to weed out expired and invalid email addresses and make sure that your marketing efforts reach the right audience.
BONUS Segment By lack of Information
When I spoke about choosing the right properties to get the right answers, I explained that the information that we ask from our contacts needs to align with our marketing efforts. But what happens if you have just figured out or changed your marketing strategy and you realise that you have not been asking for a crucial piece of information? Lists can also help with that!
Address it with a negative approach: you can create a list with all the contacts in your CRM whose value for that specific property is unknown. You will be able to then target those contacts and send them a form or a CTA where they will be able to fill up that piece of information that you were missing. Depending on their answer, you will be able to classify your contacts more efficiently.
Let us say, for instance, that you were not asking for the construction sector that your contacts work in when you first interacted with them and, now that you would like to launch a campaign particularly devoted to a sector, you have no way of determining which contact gets what information. Now, you only need to get them on a list and ask them.
About Insynth
At Insynth we deliver a predictable flow of leads, customers, and specifications for building product brands through our inbound marketing approach, proven to reach a technically demanding audience.
We use the latest marketing techniques such as construction inbound marketing, to equip building product companies to grow sustainability in this era of digital transformation.
As the only HubSpot certified agency to major in construction marketing. We have a proven formula of bringing a variety of functionalities together including CRM Implementation, Web Design, Sales Automation, SEO, and Email Marketing to achieve your ultimate aim: Growing your business and gaining new specifiers and customers.