As more and more companies take on the inbound marketing approach as a way to generate more leads, the importance of having an effective lead nurturing strategy becomes apparent.
It's likely that if someone has enquired for your solution, they've also enquired at competitors of yours too. This gives people the option to explore different solutions and services available, especially if one can't deliver in time.
Following up these leads with the right content, in a timely manner and at the right time in the buyers journey is essential. Read on to find out 7 effective lead nurturing tactics you can implement.
1. Targeted Content
When it comes to nurturing your lead, the content you send them needs to be appropriate. Having your contacts organised by buyer personas can help match the correct content to the right contact.
For example, even differentiating your contacts by the sector they work in can refine your targeting. Let's say you provide radiator guards to schools, hospitals, care homes and prisons. The people looking for radiator guards for a prison will have different pain points to those specifying them for a school.
Having tailored content focusing on what to look out for when specifying heating in the specific spaces will resonate a lot more than a generic approach.
People turn to the web to get results quick, if finding what they're looking for on your website is too much effort or hard work, they'll go elsewhere.
2. Multi-channel Lead Nurturing Techniques
Typically, email drip campaigns are used to reach out and nurture leads. This can be highly effective and efficient when set up with automation.
However, you can do more than that to have key touchpoints with your contact, ensuring your business is at the forefront of their mind when considering their options.
Making sure you're connected on LinkedIn so they can see the company posts you share, paid re-targeting, dynamic website content and direct sales outreach can be used for lead nurturing.
3. Focus On Multiple TOUCH-POINTS
Following on from how you can have these touch points, we'll now take a look at what those touch points can include. Research suggests that on average, prospects receive 10 marketing touches from the time they become aware of your company till the time they convert into customers.
High-quality content is at the heart of these touchpoints to ensure they have an effect on the prospect. Content that addresses common questions and concerns head on whilst offering expert advise will help prospects progress through the buyer's journey.
This content can include:
eBooks
Guides
Demonstration videos
Behind the scenes videos
How the product's manufactured
How it's installed
Testimonials
Interactive calculators
And so much more!
4. Reply or Follow Up ASAP If not Instantly
If someone is actively reaching out to you, the last thing you should do is leave them to sit there for a week.
The first company to get to them is most likely going to get an order. The best response time for following up leads is within 10 minutes, with the rate of success decreasing the longer they are left.
We conducted our own research on this last year, reaching out to companies to see just how long it took them to acknowledge an enquiry.
A whopping 80% of companies didn't respond at all. 14% followed up on email, 4.5% followed up by calling and 1.5% followed up by phone and email.
With the automation that's available today, every single enquiry should have had at least an email response.
View the report – The State Of Building Product Digital Marketing
Making a timely, well-planned call to an inbound lead is far more effective than any cold calls. You have some initial information about them to do some quick research about their role and company before you reach out.
5. Personalise Your Emails
Although we've discussed alternative ways to reach your lead, email is the most popular for a few reasons. You can send them at any time, and they can be automated. There are several ways you can personalise emails to improve your lead nurturing strategy.
You can send triggered emails when a visitor downloads a guide, clicks a link in an email, visits a certain page or when they demonstrate high levels of engagement.
When you combining the power of marketing personalisation with behavioural triggers, you can deliver the right message, to the right people at the right time.
6. Use Lead Scoring
Lead scoring can be implemented into most marketing automation platforms by assigning numeric values to certain behaviours.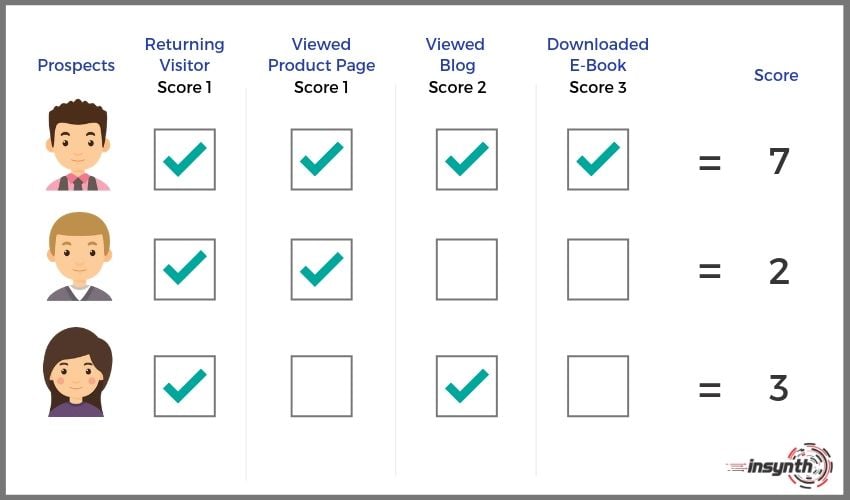 You will have to test which score works best before sales reach out to offer help, as you want to ensure you don't bug people too early and put them off.
This segmentation allows you to target people at the right time. As opposed to targeting all leads as soon as they submit a form as a sales lead.
68% of successful marketers cite lead scoring based on content and engagement as the most effective tactic for revenue contribution from lead nurturing.
7. Align your sales and marketing strategies
A huge part of nurturing your leads successfully is aligning your marketing and sales team, activities, and methods. Having workflows and triggers set up can help organise and structure who gets involved and when.
A sales and marketing service level agreement (SLA) can help the two teams hold each other accountable for converting leads and effectively nurturing them into paying customers.
Conclusion
Lead generation is key to ensure your business grows year on year. However, it's worth reviewing the processes you already have in place and where people are dropping off.
Do you get lots of enquiries but only a small amount ever turn into a sale? Then you might need to review the quality of leads you're getting and also how they're being nurtured after you've generated them.
Email marketing can play a big part in lead nurturing as it's versatile, it can be automated, personalised and can run in the background by itself at all times of the day.
To find out more about Email Marketing, take a look at our latest eBook launch below.
About Insynth
Insynth Marketing is a leading UK construction marketing agency based in Shifnal in the West Midlands.
They use the latest inbound marketing techniques such as construction inbound marketing, to support building product companies to grow their business by proactively driving sales lead generation activity.
As the only HubSpot certified agency to major on construction marketing, we bring together construction marketing strategy, digital strategy, website design, SEO, content marketing, email marketing, sales automation, marketing automation and HubSpot CRM implementation to produce successful campaigns and great results for our clients.