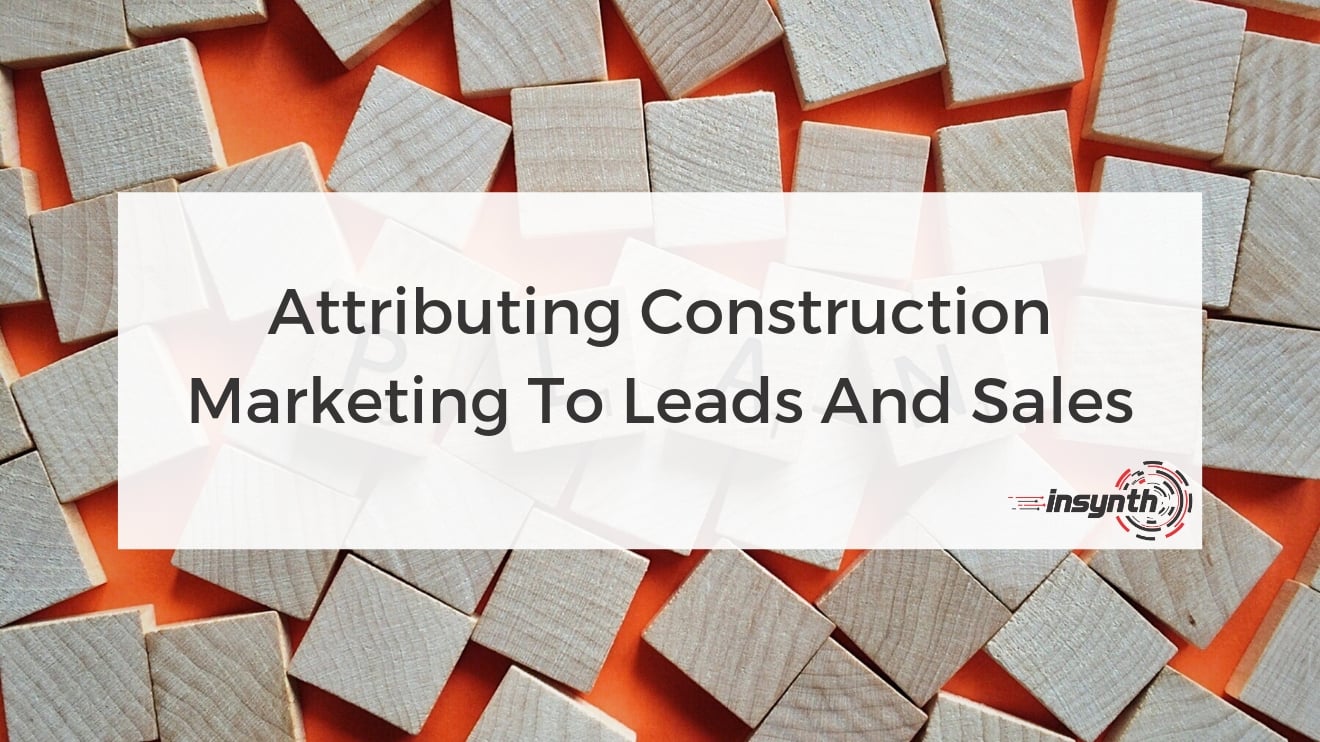 We want to help you get the data & facts to showcase the ROI of your construction marketing efforts. In this blog we talk about the problems marketers face and how they can be solved.
Next time it comes to asking for headcount or budget you'll have the data and facts to showcase marketing as a direct driver to revenue.
Building product companies are putting a lot of time and effort into their marketing strategies to support brand awareness, customer satisfaction and their sales team.
How can you be sure your campaign collateral, social media posts and blogs are making an impact with specifiers, architects and contractors and growing your business?
The Problems Marketers Face
In construction marketing, calculating something like your customer acquisition cost or how much revenue a specific marketing campaign has generated can be daunting for a number of reasons. Which makes it difficult to get credit for the work you've done, the budget for new initiatives and the data to show the ROI of marketing.
What happened to the lead?
Often marketers have little to no information on what happens when they pass a lead onto sales. Did they close, did it need more nurturing, was it a good lead?
How has my content attributed to the sale?
Out of the blue an architect has just emailed, and he wants to specify your lift. Perhaps he's seen you at a tradeshow? No, he's read your blog and has been on your website a dozen times. Later we'll discuss how you can track this metric for your building product brand.
Building Products have long sales cycles
Due to the nature of the building product industry, the time it takes from initial interest to a product being purchased could be months. Identifying which marketing campaign attributed to the sale can be difficult.
Tracking the ROI of Your Construction Marketing
I want to talk about lead source, this is the first channel through which your lead visited your website. Essentially, it's how they first found you.
This could be through them clicking a link on a Tweet, an email campaign or simply finding you through a Google Search.
For example:
If a specifier searches for 'automatic sliding doors for hospitals' via a Google search and later become a lead through converting on a form on your website. Your lead source would be "organic search".
If the same happened again however instead, the specifier clicks on one of your paid advertisements on the search engine results page. Your lead source would be "paid search".
If a prospect clicks a link on one of your email campaigns and becomes a lead. Your lead source would be "email marketing".
This time they've clicked on your Twitter post and later converted on your website. Your lead source would be "social media".
Perhaps you've ran an advert in a building magazine or have a stand at a tradeshow. You can set up a tracking URL or landing page for this.
Attributing Marketing Activities to Sales using Source Reporting
When you know how your leads first arrive on your website you can tailor your marketing and sales efforts accordingly.
You can invest in the channels that convert and deliver the best returns. Allowing you to be strategic with your marketing budget and maximising your return on investment.
You can attribute your marketing activities directly to leads and sales. Let's say you ran a campaign for a new product launch - a quieter air handling unit for schools. Your whitepapers, email campaigns and blogs can be attributed directly to the lead.
Next time senior management think about whether marketing is an expense or an investment, you'll have the data to prove the latter.
What Tools Do I Need?
For tracking something like the click-through rate on your email campaigns, many popular mail clients like Mailchimp provide will this feature.
Google Analytics will be able to give you insights into where your website traffic is coming from. If you want to create a campaign a product launch you can use something like Google Campaign Builder to set up tracking URLs.
You can get further source reporting insights using a CRM system. We use HubSpot which gives you a number of insights including:
Your prospects conversion path
All the pages they've visited on your site over the last 13 months
Where they originally came from e.g. social, email, organic search
The first page they visited e.g. pricing, blogs, news, product information, landing pages
What marketing campaign they are attributed to
This data will be automatically tagged on their profile and marketing can show how their efforts contributed to the sale.
Conclusion
With the technology on offer nowadays, we feel businesses have the opportunity to take a much more strategic approach to their marketing efforts. There are tools available that allow you to take a data driven approach to your marketing campaigns and show that marketing is an investment that drives sales.
The ability to showcase which campaign attributed to specific leads generated and sales made will help marketing managers get the budget, headcount and credit they deserve.
Having this data will also help business owners to make strategic decisions when it comes to where to invest on growing their business.
About Insynth
Insynth Marketing is a leading UK construction marketing agency based in Shifnal in the West Midlands.
They use the latest inbound marketing techniques such as construction inbound marketing, to support building product companies to grow their business by proactively driving sales lead generation activity.
As the only HubSpot certified agency to major on construction marketing, we bring together construction marketing strategy, digital strategy, website design, SEO, content marketing, email marketing, sales automation, marketing automation and HubSpot CRM implementation to produce successful campaigns and great results for our clients.