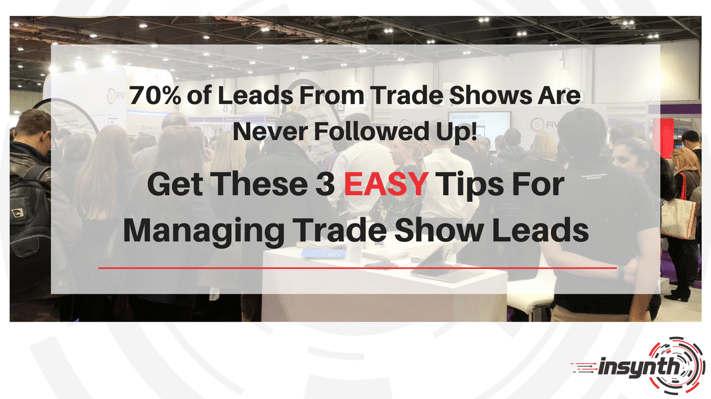 One of the main challenges you can face with trade shows is managing the leads that are generated from visitors to your stand. A successful show can generate hundreds of leads, all of which need to be followed up quickly.
So learn 3 SIMPLE tips to help you process them and identify the hottest leads.
Following Up Trade Show Leads Is A Big Problem
It is estimated that over 70% of leads from trade shows and exhibitions never get followed up. The majority of those that are pursued are not contacted for over two weeks after the show.
Within a few days of the expo finishing, your visitors have probably forgotten who you are, what you do and how they can use your solutions on their projects in the future.
So how should you follow up your visitors and convert them into sales leads?
The key to getting the most out of your trade shows and boosting your return on investment is to have a clear plan on how you'll manage the leads you generate and get everything ready well in advance.
Leaving it as an afterthought will mean that all that hard work and money is likely to be a wasted and you will struggle to justify trade show attendance in the future.
Here 3 steps you should take to maximise your chance to turn a trade show into a sales lead generator.
#1 - Prepare Your Communications In Advance
A common mistake that many people make is thinking about following up their leads after the show has finished. Ideally, you should have your follow-up emails ready before the show, with clear messages and customer personalisation tokens inserted into the mails.
This will allow you to follow all enquiries within minutes of the visitor registering on your stand.
Imagine receiving a personalised email thanking you for visiting stand moments after you have left what does that say to your potential customer about your responsiveness and customer service?
That swift response is likely to make a great first impression and build confidence that you are a good company to deal with.
Don't just write the initial thank you email; plan and write the whole sequence of lead nurturing correspondence, including allocating follow up phone calls to your sales team by using your marketing automation platform.
#2 - Design Landing Pages Specifically for The Show
With many trade shows you have the opportunity to hire a badge scanner. This makes scanning visitors details quick and easy. However, you need to ensure that this data is available to you instantly, and you don't have to wait several days to get hold of your visitor information.
If you are going to use a scanner, make sure you can automate the transfer this data into your marketing automation software, as it will slow you down if you can't.
A more effective method, which will reduce duplication of effort, could be to prepare dedicated landing pages on your website to capture visitors details possibly in exchange for relevant high-value content, entry into a prize draw or a free gift.
Give your sales team tablets, such as iPads to use on the stand with the landing pages preloaded.
The forms on these landing pages can then be instantly captured within your CRM system and workflow setup to commence the lead nurturing process with emails and follow-up phone calls setup for your sales team.
One recent example of this that I experienced, was a free sample of a promotional item given to me in exchange for entering my name, email address and company name onto a form on an iPad.
Within two minutes I'd received a thank you email, a sample price of the products I was interested in and a mocked-up image of the item with my company logo overlaid. Wow, my opinion of Flashbay went through the roof within seconds.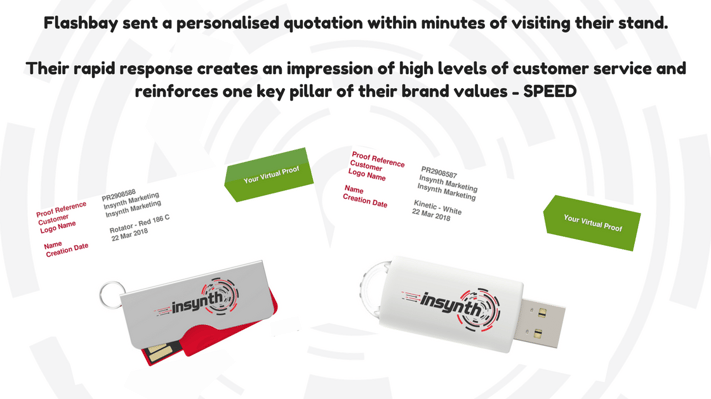 Yet, the majority of businesses who took my details at the same show have yet to make contact.
Guess what, I've forgotten their company names and will probably never reach out to them in future as the details of what they do becomes a dim and distant memory.
#3 - Setup Marketing Automation Workflows To Nurture Your Leads
A successful expo can easily overwhelm a sales team. Imagine several hundred leads all landing on your desk at once!
How do you sort the gems from the rest?
By using marketing automation techniques, leads can be automatically processed and sent follow up emails and additional content to establish which prospects are engaging with you now and are most likely to be ready to buy.
Once your predefined criteria has been met by your prospects, such as repeat website visits, downloading specific content, or making an enquiry, you can trigger a follow up call by phone by your sales team, knowing that your prospect has a higher probability of converting.
This drip feeds the leads to sales when they are sales ready and will push your conversion levels through the roof.
What Tools Do I Need To Do All This?
There's a number of sales and marketing automation platforms available in the marketing that can handle all or many of these tasks for you.
We believe that the best platform to use for SME's and companies starting out with inbound and content marketing is HubSpot. Recently named as the top marketing automation and CRM brand in Alignable Small Business Trust Index, HubSpot is quick to learn, highly intuitive and has world class support and educational content to get you up to speed.
Right now, Insynth is offering full implementation of the HubSpot Free suite (that's a sales and marketing automation platform + CRM system for free - forever!) for just £495. So, you can get up and running with HubSpot in days and try out loads of its functionality for a very small investment.
Click below to register your interest and get started with HubSpot and Inbound Marketing.
About Insynth

Insynth Marketing is a leading UK construction marketing consultancy based in Shifnal in the West Midlands. Insynth employ the latest inbound marketing techniques to help building product manufacturers grow their businesses by aggressively driving sales lead generation activity.

As the only HubSpot certified agency to major on construction marketing, we bring together digital strategy, website design, SEO, content marketing, email marketing, sales automation, marketing automation and CRM implementation to produce successful campaigns and great results for our clients.