If your building product business is struggling with:
Not meeting your sales KPIs

Suffering from low conversion rates

Or not having a

sales forecast that you can rely on
Then your business is probably struggling from poor sales and marketing alignment.
Research shows that highly aligned organisations achieve a 38% higher lead to sales conversion rate. Misaligned organisations, meanwhile, fail to follow up on 50% of marketing leads, and 79% never turn into sales.
Sales and marketing alignment generates transparency for your building product business' sales and marketing activities, including the entire buyer's journey, and where leads could be falling out of your funnel.
For businesses who are keen to get their sales and marketing teams on the same page, however, there is one key thing that they must implement to achieve success.
Any highly aligned business relies on integrated systems which brings clarity to the entire sales process, from learning about a potential opportunity to then being specified by that architect or contractor.
In this article, we will discuss the sort of integrated system your business will require if they are serious about sales and marketing alignment.
Why Do You Need an Integrated System for Sales
and
Marketing Alignment?
For alignment to work, you need people, processes and technology to work together and support one another in the pursuit of common goals.
At the very heart of sales and marketing alignment is data. Data on your customers, on your conversion rates, on your average sales, on your forecast pipeline. The systems that manage this data include your CRM (Customer Relationship Management), your CMS (Content Management System), and any Email Marketing or Marketing Automation platforms you utilise.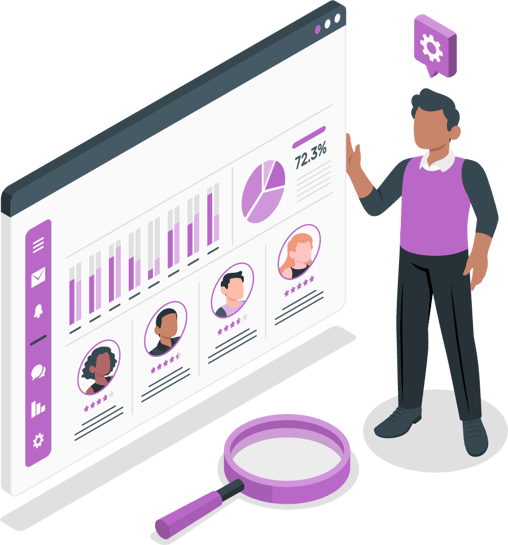 The first step on the road to sales and marketing alignment, therefore, is to perform an audit to fully understand the systems that you already have in place and how they are being used. This includes how your sales and marketing teams have been creating and using data within these systems.
Incorrect or inconsistent use of these systems is one of the biggest obstacles to successful alignment. Poor data quality, lead mismanagement, or differing understandings of terminology/data fields can also significantly impact the efficiency of your integrated system.
According to research, failure to align sales and marketing teams around the right processes and technologies cost B2B companies 10% or more of revenue per year due to decreased sales productivity and wasted marketing efforts.
Achieving a cohesive sales and marketing unit means using a standardised approach to the data in your CRM, failing to do so will derail the whole initiative of alignment and the benefits that can bring.
Achieving an Integrated System that Advances Sales and Marketing Alignment
Establishing a single view of the customer (a single source of truth) across both your sales and marketing teams will enable your business to effectively manage every lead throughout their entire lifecycle.
Integrating the systems that your business uses is a vital cornerstone of sales and marketing alignment and allows you to manage your contact data with that single view of the customer approach.
Many CRMs often incorporate easy interconnection, either through native or third-party integrations. This will enable you to manage your data, and how it will behave when it is synchronised between systems.
Conclusion
According to Marketo's study, alignment extracts 208% more value from marketing with 108% less friction.
Using an integrated system that puts both sales and marketing on the same page is critical to achieving alignment, especially when it comes to hand-offs of prospects between the two teams.
While sales and marketing alignment can be challenging, the results are well worthwhile. Aligned teams streamline the sales process from lead generation to conversion, allowing the company to increase revenue at a greater pace.
Want to learn more about sales and marketing alignment for your building products or construction business? Read our Complete Guide to Sales and Marketing Alignment here.
About Insynth
At Insynth we deliver a predictable flow of leads, customers, and specifications for building product brands through our inbound marketing approach, proven to reach a technically demanding audience.
We use the latest marketing techniques such as construction inbound marketing, to equip building product companies to grow sustainability in this era of digital transformation.
As the only HubSpot certified agency to major in construction marketing. We have a proven formula of bringing a variety of functionalities together including CRM Implementation, Web Design, Sales Automation, SEO, and Email Marketing to achieve your ultimate aim: Growing your business and gaining new specifiers and customers.