The 7 Pillars of Lead Generation is a comprehensive plan to provide your construction products business with a steady stream of new leads to grow your business and increase profitability.
Each pillar relies on the others to create a solid structure and, without giving each pillar sufficient attention, the entire structure could collapse. Use the 7 Pillars to build a robust lead generation mechanism to drive enquiries, and increase the number of contacts and connections your business has.
In this post, we will delve into each of the 7 Pillars of Lead Generation. The importance of each pillar will be explained. As well as actionable steps to actively improve your lead generation practices. Use the index at the top of the page to explore each pillar in more depth. But remember, for a truly stable lead generation system each pillar must be strengthened.
The 7 Pillars of Lead Generation
Pillar 1 – Lead Generation Strategy
Pillar 2 – Content Creation for Lead Generation
Pillar 2.5 – Content Distribution for Lead Generation
Pillar 3 – Using Marketing Channels to Generate Leads
Pillar 4 – The Systems and Skills of Lead Generation
Pillar 5 – Generating Leads from Sales and Marketing Alignment
Pillar 6 – Managing Lead Generation Data
Pillar 7 – Budgeting for Lead Generation to see an ROI
Pillar 1 – Strategy
What is a lead generation strategy?
Your strategy for generating leads is created in a similar way to when you established your business strategy. You first need to define 3 things:
Your Vision
Your Mission
Your Goals
Your vision is how your lead generation activity would look in a perfect world. Your mission is the actions you and your colleagues have to take to see this vision become a reality. For lead generation, this should include, the number of leads that are generated, where they're coming from and how qualified they are. Your goals are the individual steps that must be taken to complete your mission. Every goal you set must be a SMART goal.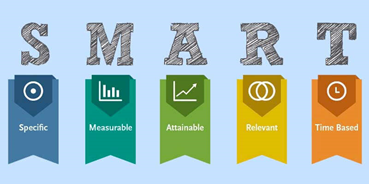 Buyer Personas
Once you've defined your vision, mission and goals, you should cast your thoughts to your potential customers. Who do you want to do business with and how will you attract them? Buyer Personas are semi-fictional representations of your customer base, they include demographics, behaviours and goals.
Buyer's Journey
Once these Buyer Personas have been created, you can map out their journey as a customer. This is the buyer's journey, and is made up of 3 stages; Awareness, Consideration and Decision.
The buyer's journey follows the process of a customer becoming aware of a problem they have, considering how they'll solve that problem and then deciding who'll provide them with the solution. Awareness and consideration often happen before a person has ever spoken to a representative of your company.
So you need to make sure your content marketing efforts are providing useful resources for your buyer personas across the buyer's journey.
Developing a strategy is one of the most important aspects of developing your lead generation campaign. It is your starting block for the entire process and guides you along the way.
Pillar 2 – Content
Content Marketing
This is the foundation of inbound marketing. It's the base of all your construction marketing campaigns. Your content should be valuable and helpful, by providing original information to your potential customers that make their jobs and lives easier.
Types of content you can produce includes:
Blog posts
Newsletters
Video
BIM Objects
Technical Drawings
Datasheets
Digital CPD
Product samples
eBooks
Whitepapers
Different Content for Different Audiences
Each buyer persona will be looking for different types of content, and they might also want to consume that content in several formats. Some may prefer a video on social media, and others will be looking for a downloadable eBook. Keep your content diverse, in terms of topics, formats and stages of the buyer's journey.
Pillar 2.5 – Content Distribution
Create an Echo Chamber
Once you've hit publish, don't think the job is done. Monitor the responses and data of your content and then act intelligently to inform the next thing you create. If your videos do well then create more, if your CPD is a success then consider creating another. Answer the questions and address the concerns your leads have and always create with them in mind.
Writing for Search Engine Optimisation
Search Engine Optimisation (SEO) is the process of editing your content, particularly blogs, so they appear higher on the results page. The aim is to be the top result for your selected keywords.
Keywords are the topics and phrases associated with your business that people are searching for. Researching keywords and then including them in your content, alongside links to other content also using the keywords is a great place to start.
Gated Content
Establish a 'give and get' relationship with your leads. Strategically choose content to place behind a form that requires your leads to fill out contact details in exchange for downloading the content, eBook's and checklists are great examples of where this can work.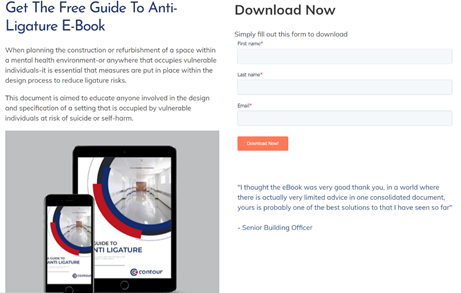 Here's an example of what an eBook download landing page could look like for a construction products business.
Don't gate everything as your priority is to be helpful to your prospects, so really take time to decide if a piece of content is worth it or not.
Content should be structured around properly researched keywords and a well-organised website. When it's appropriate to ask for information, gate content in return for in-depth educational resources to maximise lead generation capture.
Pillar 3 – Marketing Channels
Using Social Media
Focus on using the socials that your buyer personas are using. Be consistent with the amount you post, the tone of your posts and your branding. Repurpose your content across your channels and website but keep it relevant. Don't be too serious with posts and interact with your audience to build a relationship.
Using Pay-Per-Click
Use pay-per-click (PPC) to jump to the top of the search results page on highly competitive keywords. PPC adverts can also be created on social media platforms. Remember to create landing pages for your adverts that are specific to the advert to push your lead along the buyer's journey. Use clear language and present a gripping offer with a convincing call to action (CTA).
Email Marketing
59% of B2B marketers say email is their most effective channel in terms of revenue generation. Use this platform to distribute content of all stages of the buyer's journey directly to their inbox. Keep in regular contact with a weekly or monthly newsletter and create tailored campaigns with a specific purpose. Email automation can be used to do this in bulk. Personalisation tags help you talk directly to an individual and sequences can be set up to send them more content based on their actions.
Using a varied amount of marketing channels means you'll cover more ground. Monitor your website traffic and social media interactions to discover avenues for optimisation. Conversion rates are the most important metric to track to make the best use of marketing channels and determine your success.
Pillar 4 – Systems and Skills
Customer Relationship Management Systems
These systems help your business to build a clear picture of your clients, so you know how they're interacting with you. It can provide your team with quick solutions of how to contact clients, which marketing/sales endeavours are successful, and what the sales pipeline looks like. It's one central platform with a shared database that gives insights about clients that would otherwise be missed or can be picked up on by other team members.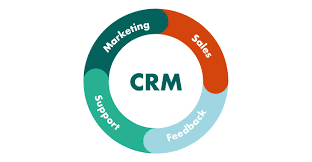 Defining a Lead
Recording and measuring your contacts helps you to see, on average, the point contacts are prepared to be converted. From this, you can create a definition of what a lead is and how qualified they are. HubSpot Research determined that 'over a third (34%) of respondents say prospecting and lead qualification is salespeople's biggest challenge'. While successfully using a CRM can make this process seamless as interactions and conversations can be tracked and analysed. Setting up a culture that values using a CRM should be a priority for management and business leaders. Staff should be given the skills to use them properly to get the most of one.
How to Capture Contact Details
Leverage helpful content such as:
CPD/webinar signups
eBooks
Guides
White papers
Free samples
Email incentive/signups
This way you can provide a relevant and useful content offer but get something in return, email addresses for your CRM which can be monitored and nurtured.
What to Capture
Aim to collect their name, email, company, role, location and any project they're working on so you have a clear picture of your leads and you can provide them with the most relevant content for them.
A CRM makes the process of monitoring and collecting information quicker. It can create a more customer-centred approach because you will get a deeper insight into their behaviours. Don't think that just because you're using software, it doesn't mean the process is any less personal. It's still you or your team writing the emails and connecting with the leads and customers.
Pillar 5 – Alignment
The Difference Between Marketing and Sales
Marketing operates typically within the first 2 stages of the buyer's journey, helping people identify the problems they're having and making them aware of solutions to those problems. Sales typically operate in the final stage of the buyer's journey, at the decision stage. Pushing customers towards your business as the one to provide them with a solution.
Why Align Them?
Departments that communicate, share ideas and findings, and work together can perform at their peak to provide prospects and customers with the best possible experience, whilst simultaneously increasing revenue. Businesses that the London Research's The State of Business to Business Lead Generation report categorises as 'leaders' 49% said marketing and sales are very joined-up, with shared leadership and shared KPIs; whilst from mainstream businesses, only 31% made the same claim. If goals, buyer personas, and lead definitions are shared then both departments can work together to attract and convert leads.
How to Align Them
Marketing must hand over the right quality and quantity of leads to sales, at the right time. Meanwhile, sales must act quickly to reach out to the leads and then feedback to marketing. Both departments need to know the outcome of every lead and why that lead converted or failed to convert. Sharing information creates a feedback loop to the benefit of both departments which snowballs to the customer and future customers.
A recent study found that "60% of respondents believed that misalignment between sales and marketing could damage financial performance." So can you afford to ignore aligning their practices, goals and communication?
Pillar 6 – Data
Why should you collect data?
30% of businesses in a recent study by London Research, said lead quality is the biggest problem they face. Collecting data on the interactions that potential and current customers have with your business, helps you to create a lead scoring system. Lead scoring is the idea of creating a points system to determine the level of interest someone has shown in being converted into a customer. Scoring your leads will consistently increase the quality of the leads being passed on to sales.
Data Hygiene
Data verification and validation is about checking that all the data you need to support your lead generation strategy is being recorded accurately. Focus on quality and completeness at the point of data capture, not just volume. Having lots of low quality or; good but incomplete date is a waste of time and effort. Just ask lead generation leaders, 67% of them prioritise clean data, compared to 49% of the total group polled.
How to Lead Score
Leads should be rewarded points for the personal information they submit to you and the interactions they have with your marketing materials. Those closely matching your buyer personas should immediately be given more points. Award more points for engaging with content that indicates they're further along the buyer's journey.
Lead scoring can be split into two categories; MQL's (marketing quality leads) and SQL's (sales quality leads). An MQL is someone who has shown interest but isn't at the decision stage yet. Use content such as blogs and eBooks to continue to nurture their interest. An SQL is someone who has achieved a high enough score that qualifies a salesperson to reach out to them.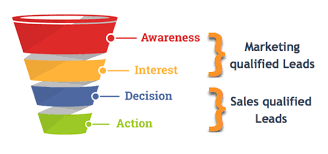 Up to date and engaged data boosts the efficiency of your lead generation practices. Keep clean data, upload it to a CRM and then lead score your prospects, and then you'll very quickly see some tangible results.
Pillar 7 – Budget and ROI
Managing your ROI
You can't just assume something is working because of a gut feeling. It has to be proven using data. Examples of metrics you can track to determine a good return on investment are:
Cost per lead
Leads per month
Conversion rates
These types of metrics move away from vanity metrics, such as the number of followers or page views. Which look good on paper but don't help you to determine actual successes, such as closing deals and converting leads into customers. Tracking and understanding your ROI allows you to increase your budgets with confidence. Even if you have a small budget, understanding ROI is vital to ensuring lead generation isn't underfunded.
Using Strategic Partnerships
We often believe we can get by without external help but this means quality can often dip. If you do decide to seek external help then remember the cheapest way is never the best way. An effective lead generation strategy can't be done for free. You need personnel, tools and sometimes the help of experts to guide your hand. This is why monitoring ROI is so important. Investments must be made but they have to be intelligent.
Only 22% of businesses polled in a recent report, use a lead generation partner, whilst for companies defined as lead generation leaders, this number rose to 35%. They can assist in areas such as analytics, lead scoring and content production.
60% of businesses said they're going to increase their spending on online lead generation. But doing this in an informed way is the key to maximising your ROI and increase the number of quality leads that are generated for your business.
Conclusion
Take inspiration from each of the pillars and apply them to your business. This framework has been created to guide you but is relaxed enough for you to apply your take on it. Develop a strategy using SMART goals, create and distribute useful content using appropriate channels, equip team members with software that improves their relationship with customers, establish alignment between your marketing and sales teams, use data to inform your future practices and invest in high-value areas to increase your ROI.
If you take care to respect each pillar, you'll quickly see an increase in both the quality and quantity of the leads you generate and convert.
About Insynth
At Insynth we deliver a predictable flow of leads, customers, and specifications for building product brands through our inbound marketing approach, proven to reach a technically demanding audience.
We use the latest marketing techniques such as construction inbound marketing, to equip building product companies to grow sustainability in this era of digital transformation.
As the only HubSpot certified agency to major in construction marketing. We have a proven formula of bringing a variety of functionalities together including CRM Implementation, Web Design, Sales Automation, SEO, and Email Marketing to achieve your ultimate aim: Growing your business and gaining new specifiers and customers.