2022 has come with an undeniable trend: the way we do things has changed and, more importantly, has not stopped changing. As a result, the construction industry is witnessing an unprecedented transformation. And revolution, indeed, comes through education.
Powered by the sector's digitalisation, construction marketing has also had to catch up. These new trends ask for innovation in how we communicate and make sure we reach the right people, with the right message, at the right time. As HubSpot partners, we understand inbound as the new way of driving digital interactions, prioritising personalisation, relevance, and value.
World Certification Week is a global, virtual, week-long certification marathon organised by HubSpot Academy for users to invest time on their personal development and support education around the world. For each certification completed between the 9th and 13th of May, HubSpot will donate £3.58 (up to £39,999) to different education-focused charities.
HubSpot's World Certification Week has been an outstanding success for the last two years, with almost £36,000 having been raised. First introduced and founded by HubSpot as World Certification Day in 2020, the event grew to become week-long in 2021 and is available to participants globally. If you want to fast forward and check the certifications that are most likely to satisfy your curiosity, check the topics below.
HubSpot and Education
"People need more than just the education. They need to use their education and drive real value from it. We need to help people find employment. We need to enable people to learn from one another. We need to build these bridges for people to help them connect"
From its creation, HubSpot Academy aimed to answer the most common pain points and frustrations of marketers and evolved into an easily accessible, on-demand and all-encompassing learning platform. When Mark Kilens joined HubSpot in 2010, he made the decision to turn the brand into a reference marketing strategy platform.
As the company grew, it was clear that the user needed to have a more centric role and that it was the platforms task to empower those users. Power, according to Kilens, came through accessible education. HubSpot Academy prioritised delivering compelling and focused certifications that aimed to provide extensive and specialised bite-sized knowledge, facilitating its consumption.
The training is aimed at marketing professionals who want to refresh their knowledge, content creators, inbound specialists and marketing students. It's a clear chance for marketing and non-marketing professionals learn about a variety of industry topics, connect with fellow learners, and grow by dedicating time to your professional development!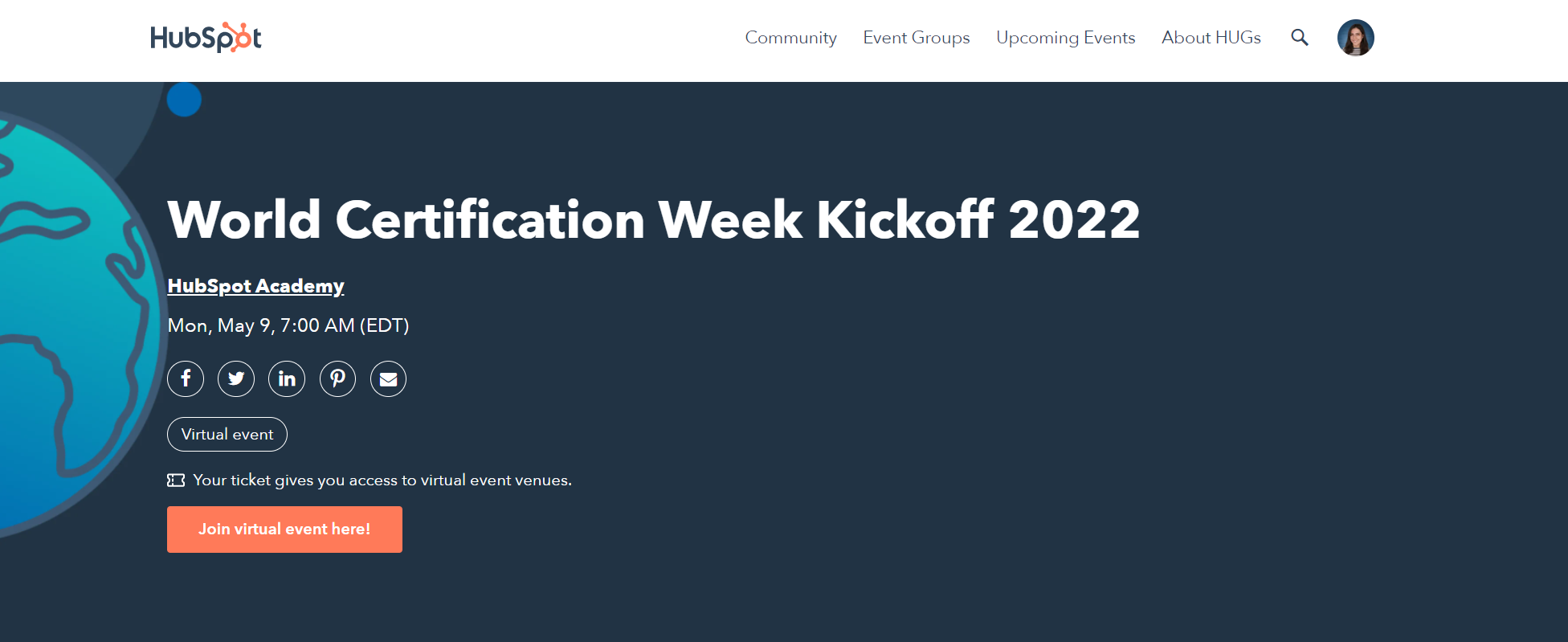 In order to take the learning experience to the next level, HubSpot is also offering live events throughout the World Certification Week, like last year, HubSpot will offer virtual events leading up to and during World Certification Week. This is meant to provide additional opportunities for education, networking, and support!
Among the events lined up, we strongly encourage you to join the main kick-off event on Monday, May 9, 2022, where HubSpot leaders, top Solution partners and marketing educators will share their thoughts on the future of digital workforce and the top skills needed to succeed. The event promises to cover a wide range of topics from what to expect from the World Certification Week to the huge benefits of encouraging professional development and ongoing education within teams.
How to Take Part
Create or sign in to your HubSpot Academy account
HubSpot Academy has seen an increase in the people joining the platform and learning through video lessons. In fact, most people report feeling more attracted to content that is delivered visually. All HubSpot users have the ability to take part in the HubSpot Academy World Certification Week but, if you are not yet a HubSpot users, it is never too late to sign up for free.
Let's do it step-by-step...
Create your account

or sign in to your existing HubSpot Academy account.
Invite your team and see how much money you can raise together by completing

certifications

during World Certification Week.

Head to the HubSpot Community and join the World Certification Week group hangout. Meet your fellow learners, post your tips, ideas, and questions, sign up for events, and more!
It's that easy!
Remember, you can create an account in HubSpot Academy and start exploring the content available in the platform at no cost.
So, what are you waiting for?
Keep in mind that only certification exams passed between May 9th-13th will count towards the donation to the selected charity. Once completed, HubSpot will provide you with a downloadable PDF certificate that can be shared on social media with the hashtag #worldcertificationweek.
Start Learning
HubSpot Academy has over 20 certifications to choose from. The content on HubSpot Academy can be found classified through different criteria. All users can sort the information by difficulty or duration, as well as by content type. HubSpot also allows users to search by certification type, making it easier for those users who are in search of certifications to improve their CV or, in this case, support an educational charity.
As explained by Dharmesh Shah, co-founder and CTO of HubSpot,
"Since the start of the pandemic, businesses have had to adjust to match the needs of customers. Similarly, many people are thinking differently about their professional development and growth. Our World Certification Week helps learners reflect on where they are in their careers and identify the tools and skills that will help them grow better"
If after reading all this information you are tempted to get HubSpot certified, but you are questioning yourself, keep in mind that it is only when stepping out of our comfort zone and engaging in something that we are not sure about that we will be able to discover new and exciting things. Allow yourself to be inspired and learn about new ways in which you can see your dream business grow.
You might be unsure of where to start but, do not worry! We got you covered!
If you are interested in HubSpot's marketing features,
Inbound Marketing Certification (5 hours), where you will learn

inbound marketing techniques

that range from content creation to social promotion to converting and nurturing leads and beyond. By the end of this certification course, you'll be well on your way to building your inbound marketing strategy
Email Marketing (3 hours), will allow you to master the fundamentals of email marketing. Learn how to build an email marketing strategy that is human and helpful and builds trust with your contacts, while applying what you learn with HubSpot's free email marketing tool
Contextual Marketing (2 hours), will help you learn how to create a website experience tailored to your visitors' needs and preferences. The content in this certification is closely tied to who your contacts are and how they're segmented. By the end of this course, you will know how to create

content tailored

to each stage of the

buyer's journey

.
If you want some extra resources on marketing, you can also check out our guide "The Essential Guide to Content Marketing For Construction", where we comprehensively evaluate content marketing, ordering insightful chapters into digestible chunks for building product businesses to action with minimal effort.
If you are interested in HubSpot's sales features,
Sales Enablement (4 hours), will teach you how to develop a

marketing-driven sales enablement strategy

.

This course was designed with marketing managers in mind, but other marketers, as well as sales leaders, can benefit from learning the principles involved in this approach to sales enablement.
Inbound Sales (2 hours), will help you identify the best contacts to reach out to, connect with and earn the attention of your most promising leads, and run sales calls and presentations that drive results. Learn how to identify new prospects, connect with them, explore their needs, and advise them on a path forward!
Frictionless Sales (1 hour), will show you how to use the frictionless selling framework so that your team can spend more time selling. If you want to help your sales team grow better, you need to find ways to remove friction. For this, discover how to align your team with your target buyer and how to transform your team through a culture of learning!
If you want some extra resources on marketing, you can also check out our guide "7 Pillars of Lead Generation", where we provide you with a plan to provide your building material business with a steady stream of new leads to grow your business and increase profitability.
If you are interested in HubSpot's service and operations features,
Revenue Operations (RevOps) (5 hours) will give you a solid foundation to build on. It's full of actionable advice from current RevOps professionals who will teach you what revenue operations is and everything you need to know to excel at it. By the end of this course, you'll know enough to be able to get started and

make a real impact

at your company
HubSpot Reporting (3 hours) will help you learn how to incorporate

data driven decision-making

at your organization with the use of the HubSpot reporting tools! For this, you will be taught about data literacy, and HubSpot reporting tools across the CRM, Marketing Hub, CMS Hub, Sales Hub, and Service Hub.
If you are interested in HubSpot's CRM features...
HubSpot Marketing Software (3 hours), will equip you with the fundamental understanding you need to do marketing well using HubSpot.

o do inbound marketing well, you need to start your journey with the marketing software the right way.

HubSpot Sales Software (1 hour), HubSpot Sales Software Certification demonstrates your ability to execute an inbound sales process using HubSpot CRM
and Sales Hub. It is made up of 3 lessons. At the end of each class, you'll be given practical exercises so you can immediately apply what you learn
HubSpot Service Software (2 hours), Service Hub Software Certification demonstrates your ability to execute an inbound service strategy using HubSpot's
Service Hub. This certification course consists of six lessons that discuss customer journey mapping, and HubSpot tools such as help desk, knowledge base, and customer feedback
HubSpot CMS for Marketers (2 hours), will teach you how to

create a high-performing website. Through this course, you will learn how to design and create a user-friendly, high-performing website with CMS Hub, optimize your website and content strategy for search engines, and track your site's performance over time, and leverage the power of the HubSpot CRM with your CMS to personalize your website experience
If you want some extra resources on marketing, you can also check out our "CRM: The Beginners Guide For Your Building Product Business" which will guide you through the intricate details which determine whether a CRM could be right for your business, along with detailing the range of CRMs that are available for small, medium and large businesses.
Giving through Learning
As a key difference from previous editions, the 2022 World Certification Week will raise funds for more than one education charity, including Teach for All, Laboratoria, Halogen Foundation, and the Clontarf Foundation. Depending on the region from which the user is taking part in the World Certification Week, HubSpot will donate to region-specific charities.
Teach for All
Teach For All is committed to ensuring that all children have the access to quality education. Following this aim, Teach For All established the Global Girls' Education Initiative to support educators in addressing the barriers that keep girls from having learning opportunities. Since its launch in 2008, the network has expanded to more than 50 countries.
Laboratoria
Laboratoria is a charity based in Latin America and devoted to empowering women to access a better future through a transformative career in technology. Since its launch in Peru, in 2014, Laboratoria has expanded to Chile, Mexico, Brazil and Colombia. They have trained more than 2,400 women, placing 85% of them in technology jobs in Latin America and beyond.
Halogen Foundation
Halogen Foundation is an Institution of a Public Character (IPC) charity based in Singapore that, through leadership and entrepreneurship, helps young people coming from challenging backgrounds and in need of financial assistance channel their potential and contribute positively to society. Since 2003, they have helped almost 10,000 people grow their professional career.
Clontarf Foundation
Clontarf Foundation is a charity based in Australia and focused on young Aboriginal and Torres Strait Islander men, aiming to improve their employment prospects through education, discipline, life skills, and self-esteem. Founded in 2000, the Foundation operates 138 academies and supports more than 10,000 participants with the support of over 520 dedicated staff members.
How Does HubSpot Certifications Help Construction Professionals?
Construction is one of the fastest-changing sectors due to the exponential rate at which technology is advancing. Construction businesses are digital and creative environments full of opportunities and widening your knowledge on the software available can help you become aware of the diversity within the construction sector.
Despite all being aware of its importance, CPD can sometimes be overlooked. Lack of CPD can not only prevent people from being up to date with the latest news of the sector, but it can also undermine their confidence and hinder their performance. HubSpot is aware of this rapid evolution and tries to reflect the speed at which marketing is changing by constantly releasing new features.
As HubSpot partners, we encourage construction professionals looking to effectively leverage marketing, sales, service, and IT teams together to consider this efficient and user-friendly CRM platform to support the growth of their company.
In the same way, we understand that time is of the essence in the construction industry, and we publish a monthly recap of all HubSpot updates within the month so keeping track of the newest technologies and being aware of the most recent marketing strategy hacks is easier and more straightforward than ever for busy building product professionals. You can find a round-up of 2021 here!
About Insynth
At Insynth we deliver a predictable flow of leads, customers, and specifications for building product brands through our inbound marketing approach, proven to reach a technically demanding audience.
We use the latest marketing techniques such as construction inbound marketing, to equip building product companies to grow sustainability in this era of digital transformation.
As the only HubSpot certified agency to major in construction marketing. We have a proven formula of bringing a variety of functionalities together including CRM Implementation, Web Design, Sales Automation, SEO, and Email Marketing to achieve your ultimate aim: Growing your business and gaining new specifiers and customers.