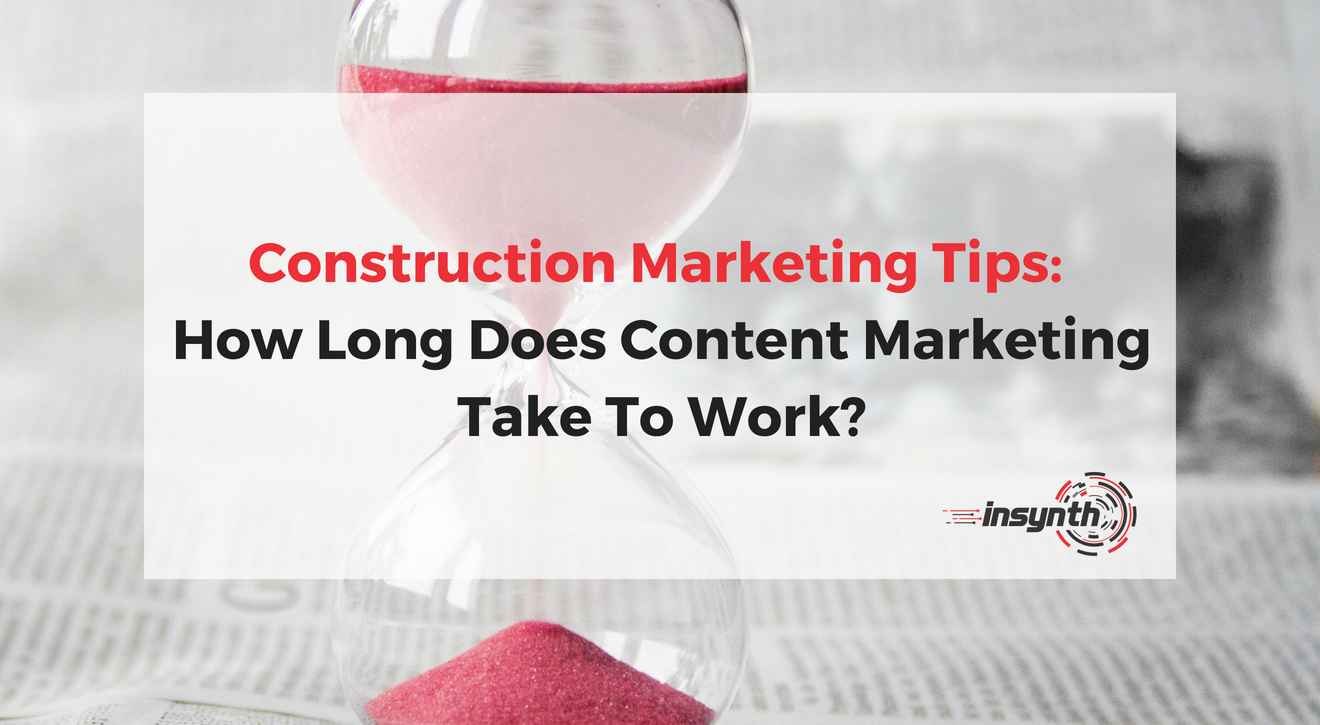 A common question that we get when discussing inbound marketing with potential construction clients is "how long does content marketing take to work?".
There are a number of factors at play, but we'll give you some insight into how long it takes and when you can start to see results.
3 Key Factors In Content Marketing Success
With recent research by the Content Marketing Institute finding that content marketing costs 62% less than traditional outbound marketing and generates 3x as many leads, you can see why so many businesses are turning to this strategy to fuel their future success.
It's crucial that you get the basics right though, or it could fall short of your expectations. Here are 3 of the key pillars of content marketing success.
Quality
The quality of your blogs is vital to your success with content marketing. Not only should your content be useful to your reader, it should also be well written and search engine friendly.
Think about your reader as you are writing. Is your article easy to read? Is your spelling and grammar correct? Is there a good flow to your writing? Get someone to check what you write before you publish, and welcome constructive criticism.
Using standard SEO techniques will send the right signals about quality, but other signals are important too, such as bounce rate, time on page by readers and their next action.
The Google algorithm is getting smarter at understanding whether a page has answered a user's question and will rank accordingly.
Frequency
How much is too much? Well, content marketing world beaters, such as HubSpot, blog several times a day. Their content competes at the top of search for every keyword and topic they target. It's no surprise that HubSpot get over 5 million visitors to their site every month.
For us mere mortals, try to at least post on your blog 2-3 times per week. Be consistent with this frequency and people will get used to your work. Too often, we see blogs that are updated sporadically and infrequently. This is a recipe for failure.
Promotion & Outreach
Make sure that you promote your articles on social media and to your own subscriber list by email.
Use outreach, such as getting colleagues and friends to share your posts and sending relevant pieces to trade journals, local press and industry blogs. Not only will it reach a wider audience, but the backlinks you get will also boost the page authority of your post, helping its organic rankings.
If you really want to amplify your post, why not use some pay-per-click advertising - make sure that you have strong calls-to-action in your piece though to convert this costly traffic into leads.
Patience Is A Virtue
So, you're writing quality, SEO friendly posts 2 to 3 times per week and circulating your work far and wide via social media and offline outreach. Now what?
Well it takes a bit of time for everything to click into place. Keep a track on Google Analytics of your organic search traffic and referrals via social media. This should start to increase within the first month of kicking off your content marketing strategy.
Within the first 2-3 months you should expect to start getting a steady stream of leads from your output, which should then pick up pace after 6-9 months.
After 12 months, you should really be able to see and feel a tangible impact on your business. You may want to start to ease off on your traditional marketing activity as you can prove that it is less effective than inbound and content marketing.
After 24 months, you should be asking yourself why you didn't do this years ago!
What If Something Isn't Right?
The road to success has many potholes. It wouldn't be a surprise if things didn't work out like this if you didn't carefully monitor your results.
Check page visits at least weekly to see which ones are popular; try to understand what is working on these pages, and adapt your less popular pages to include some of the successful factors.
Through trial and error, A/B testing and employing the methodologies of continuous improvement, you will be able to spot positive and negative factors in your work and over time perfect your winning formula.
Need A Hand?
Content Marketing isn't a strategy to be toyed with for a few weeks and then discarded because it isn't working.
A successful approach takes time, effort, resources and expertise.
The results can transform a business and accelerate its growth, so if you're considering content marketing for your business, why not work with the Insynth Content Marketing Experts to help you formulate your strategy and make it a big success for you.
About Insynth

Insynth Marketing is a leading UK construction marketing consultancy based in Shifnal in the West Midlands. Insynth employ the latest inbound marketing techniques such as construction inbound marketing, to help building product manufacturers grow their businesses by aggressively driving sales lead generation activity.

As the only HubSpot certified agency to major on construction marketing, we bring together construction marketing strategy, digital strategy, website design, SEO, content marketing, email marketing, sales automation, marketing automation and HubSpot CRM implementation to produce successful campaigns and great results for our clients.