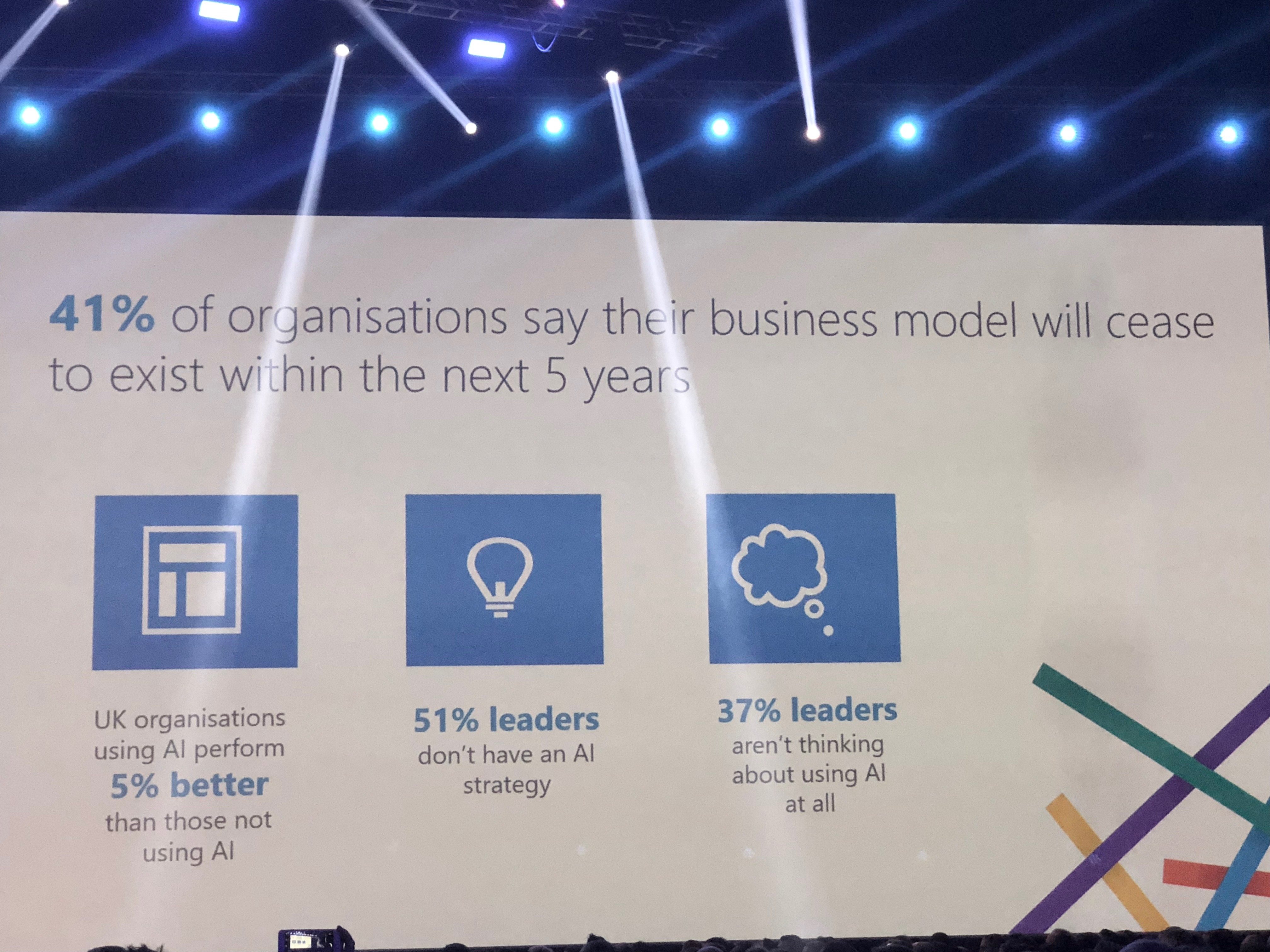 Kicking off this year's Microsoft Future Decoded event in London is Cindy Rose.
Cindy is the CEO of Microsoft UK. The event takes place at the ExCel Exhibition Centre at the Victoria Docks in London. The two day event covers a range of technological topics from A.I. to using the cloud and building trust around it.
Read on to find out what Cindy's keynote speech was all about...
A.I. In The Everyday
We're using AI everyday already without realising it. Some examples are:
Speech search

Google maps

SAT NAV
It's starting to appear in more imaginative places to, such as online quotation systems to improve customer choice and provide a quicker and better service for consumers.
The Benefit of A.I.
The big benefit of A.I. is that it has the power to process complex data far faster than people. It provides deeper insights and help in our decision-making processes.
There are 2.5 quintillion bites of data being created daily, and this number is growing. Data is being created all the time.
As a result, A.I. is now essential for processing these volumes of data and providing information and insights to help us make better business decisions around it.
A.I. will power the next wave of digital transformation.
Planning on how you can adopt A.I. into your business strategy will enable you to improve your value proposition, increase productivity for employees and improve the customer experience.
All of this creates real competitive advantage for your business. It also makes your offer more robust and drives growth by improving the way you interact with your customers through quotes, order processing, customer service, etc.
The Future of A.I.
There is considerable scare mongering in the news regarding A.I; we often see horror stories predicting massive job losses.
While this is certainly a concern, it's predicted to add £10tn to global economic output and £230bn to the UK economy to by 2030.
It's also estimated that 65% of graduates will work in jobs that don't exist yet; building digital skills must be a priority for everyone.
The new Microsoft A.I. Academy is launched to build skills for business leaders to help to create an A.I. enabled workforce, with a target of 500,000 people trained in the relevant skill sets. This should help to mitigate the perceived threat of new technology.
Embracing A.I.
The time to embrace A.I. in your organisation is right now.
41% of business leaders believe their current business model won't fit in 5 years, but fewer than 50% of businesses have an AI strategy to address this now.
You can read 'Maximising the A.I. opportunity' for more information here!
Conclusion
Now is the time to begin or accelerate you're A.I. journey.
The longer you wait, the further ahead your competitors will get and the more of a struggle it will be to catch up and stay relevant.
Adopting A.I. will give you a competitive advantage, help you serve your market in better and more profitable ways, improving your brand and driving business growth.
To learn more about how you can adopt A.I into your business processes, get in touch for a free consultation!

About Insynth
Insynth Marketing is a leading UK construction marketing consultancy based in Shifnal in the West Midlands. Insynth employ the latest inbound marketing techniques such as construction inbound marketing, to help building product manufacturers grow their businesses by aggressively driving sales lead generation activity.
As the only HubSpot certified agency to major on construction marketing, we bring together construction marketing strategy, digital strategy, website design, SEO, content marketing, email marketing, sales automation, marketing automation and HubSpot CRM implementation to produce successful campaigns and great results for our clients.
Book Your Free Consultation Today