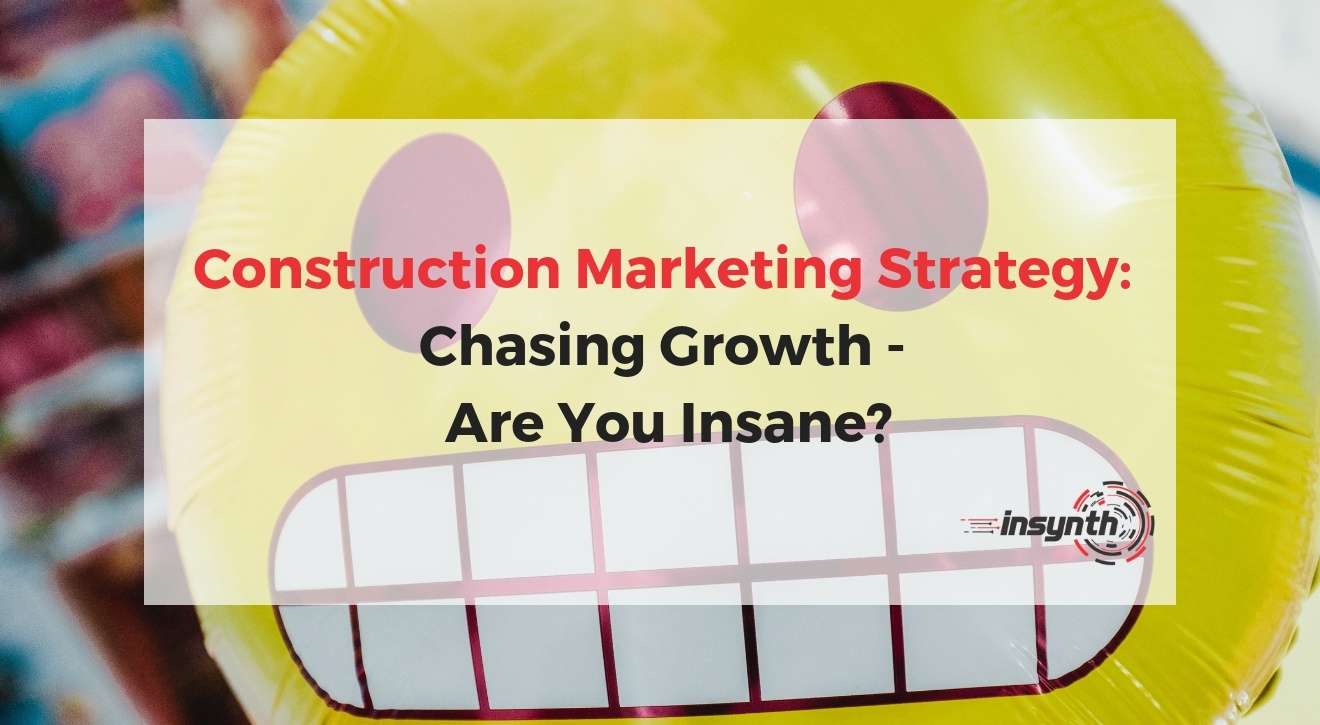 Growth. It's compelling, alluring and addictive. It's also tough.
It's getting harder to generate more leads, win more customers, up-sell, cross-sell, increase market share and make more profit using the tactics that were so successful just a few short years ago.
It was Einstein who famously said, "insanity is doing the same thing over and over again and expecting different results".
So, is your reluctance to alter your approach, tactics and mindset in your quest for increased growth madness?
What Needs To Change?
We talk to business owners, sales directors and marketing directors on a regular basis. All too often they are finding growth incredibly tough.
Sales growth is flatlining, margins are getting squeezed, crappy exchange rates are driving up costs, and the bottom line is looking pretty sick. They are under pressure from investors, the board and other stakeholders.
All too often, they're culturally and economically invested in a sales-led approach, with a large and costly sales force and a marketing team that is best described as sales support.
With such tight margins, making the wrong call in realigning your sales and marketing resource is scary. However, fear will only hold back the inevitable – digital transformation of your sales and marketing strategy.
Unfortunately, this model is becoming obsolete as the internet has empowered buyers. Years ago, if a buyer needed information, they would call you up and you would get your rep in to see them and sell your solution.
Why Is Growth Getting Tougher?
Today, buyers will go to Google first, explore and research their options, check out reviews and costs and pretty much make up their mind on what product to specify or purchase, only then are they likely to reach out to sales, to make the purchase.
Recent research from Gartner predicts that by 2020 customers will manage 85% of their relationship with a business without talking to a human being.
So sales reps as a front line are more often than not being bypassed. And before you say your product is technical and needs face to face, there's probably someone developing an online solution to do this.
So if you get frustrated that your sales teams struggle to get appointments, then telling them to make more phone calls or drop by onto building sites won't move the dial.
Times have changed dramatically from 15 – 20 years ago when we were starting in sales and marketing, and those tactics worked. It's time to take stock, understand how our customers want to be served in 2019 and beyond, and adapt our approach to meet their expectations.
How Can We Grow Better?
Within the next five years, customer-centric building product companies will gain a significant competitive advantage by adopting customer experience strategies, marketing integration, social media and leveraging customer data and information.
Enlightened and progressive businesses are currently realigning their sales and marketing expenditure with the realities of this shift in buyer behaviour.
They are using the insights they gain from analysing customer data to mould and shape their sales and marketing strategies to build more profitable customer relationships.
Significantly more budget is being allocated into marketing to drive prospecting, outreach, lead generation and lead nurturing (or development) via strategies such as content marketing, inbound marketing and e-commerce.
Improving customer experience at every touchpoint is now a priority for businesses that realise that buyers expect answers and help 'on-demand'. Resources are being used to become the most helpful businesses in their sector, removing friction from potential customers interaction with them.
With the typical cost of a technical sales person, including salary, car, fuel and expenses now reaching around £70k per year, it makes sense to invest in sales and marketing automation technology that can consistently and instantaneously manage leads, nurture them and pass high scoring enquiries to sales to close.
It can be a tough call, but if your competitors steal a march on you, then you will be facing a real uphill battle.
Conclusion
Executing a plan to digitally transform and improve your sales and marketing processes has never been easier, cost-effective or business critical. Do you want to be the Netflix of your sector or the Blockbuster?
Insynth is uniquely positioned as a business that understands the day to day challenges of sales and marketing in the building products sector and has digitally transformed our processes and are helping other progressive companies to make this cultural and strategic shift.
Book a free consultation to learn how you can improve your lead generation, customer acquisition, deepen your client engagement and gain a competitive advantage in your space by adopting the latest sales and marketing automation technology.
About Insynth
Insynth Marketing is a leading construction growth agency based in Shifnal in the West Midlands. Insynth partner with ambitious building product companies in the UK who want to grow their business by at least 10% year on year.
As the only HubSpot certified agency to focus on construction marketing, we bring together digital strategy, website design, SEO, content marketing, email marketing, sales automation, marketing automation and CRM implementation to;
generate more sales ready leads,
increase customer acquisition,
improve client engagement, and
deliver long term competitive advantage.
To find out how we can help your business grow book your free consultation today