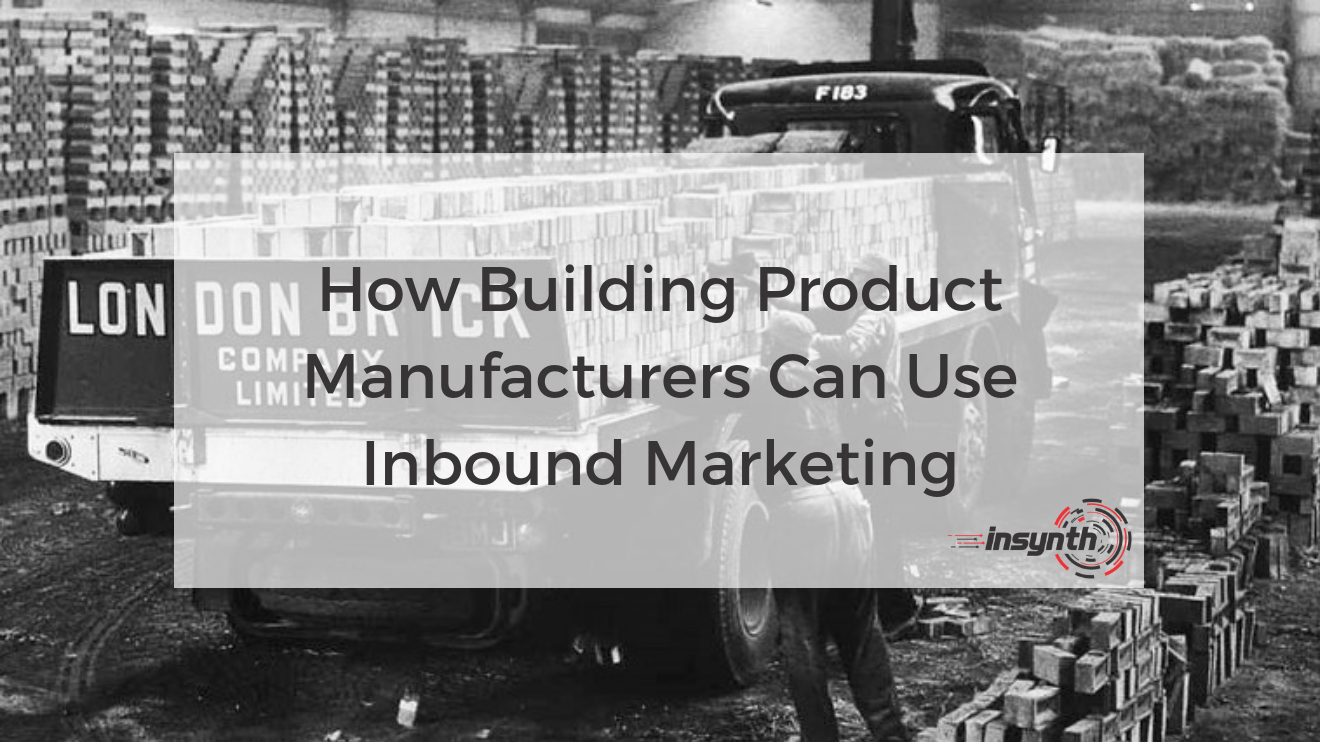 When it comes to marketing, building product manufacturers are a very specialist group.
Your route to market is more complex than typical B2B companies, thanks to the roles of the project, specifiers and multiple tenderers for the same project.
Each group has different challenges and information needs and often want to consume your information in different formats too.
In your sector, Inbound Marketing should be a highly effective strategy for engaging with all of the key decision makers and influencers in a personalised and cost-effective manner.
So, What Is Inbound Marketing?
In one sentence, inbound marketing is about engaging with your customers on their terms by attracting an audience, rather than bombarding them with sales and marketing messages.
The Inbound Marketing methodology uses two key elements to align your business with the way Specifiers and Contractors research the products and services that they are considering buying and using.
Firstly, Content. Producing high quality, educational content such as web pages, blog articles, videos and social media messages is essential. A steady stream of unbiased, informative content will build trust and if well written and optimized for search, will improve your rankings and visibility on Google.
Now, you will get found by your potential customers when they are looking for the products and services you provide. This is important as research indicates that as few as 19% of B2B buyers contact supplier salespeople for advice and that as much of 80% of the buyer journey is now carried out online.
The way people buy has changed. If you do not evolve to this new dynamic it will have a negative impact on your sales and your bottom line, and could even wreck your business.
Now a start-up business can quickly be battling it out, toe-to-toe, with long-established multi-nationals in terms of audience share on the internet. Success is no longer dictated by advertising spend, it is driven by engagement. The better you reflect your audience's needs, the more successful you will be.
This is where the second element comes into force, Context. If you understand the problems and issues your ideal customer faces, and address these challenges with content produced to help solve their issues, they will begin to trust you and want to work with you to solve their problems.
Think about calculators, case studies, specification downloads, Technical Literature, CAD drawings, BIM Models, installation videos, etc. Inbound Marketing for Building Products is a natural fit. Your decision makers and influencers are hungry for information, and you are perfectly poised to meet this need.
You become the go-to Company in your space because you are the most helpful and solutions orientated.
So, in a nutshell, Inbound is a philosophy adopted by those who understand that freely providing helpful content that prospects need, on-demand, is more profitable than traditional methods that interrupt your potential customer to tell them what you want to sell to them.
The great news is that the Inbound approach is proven to be cost-effective and a long-term solution, but it also produces better and more traceable ROI on your sales and marketing activity.
Align this marketing approach with your sales process, and you can really drive your business growth and achieve your professional and personal goals quicker.
Aggregated Lead Growth From Weekly Blogging
A key element of the Inbound method is the regular and consistent production of content on your blog or website.
Starting from humble beginnings, the first few blogs will generate some traffic to your site and hopefully the odd lead. However, Google will soon notice that you are regularly adding new content to your site which will improve the indexing of your site and lead to a greater authority.
Sites with higher authority rank better, and so your content will soon start to appear higher in Google, generating more traffic and leads. It is not uncommon for lead volume to grow 3x, 4x or more.
Finding Your Perfect Marketing Partner
When looking for your Marketing Partner in the Building Products sector, it can be difficult to find an agency that understands the specific challenges and dynamics the complex specification and distribution channels pose.
Treating a Building Products manufacturer just like any other B2B client would be dangerous, and inevitably lead to poor delivery.
You need a partner that has successfully worked in the industry and understands the different needs of all of the parties along the buying journey.
Different contexts exist for Architects, as they do for M&E Engineers, as they do for the QS or the Installer. Yet each has a vital role to play in ensuring your product is used.
With Insynth's experience in the sector, you can be assured that you are working with experts who can help you integrate the Inbound methodology into your business to drive growth and better performance.
If you would like to find out how Insynth can help you start your Inbound Marketing journey, why don't you talk to us.
About Insynth
Insynth Marketing is a leading UK construction marketing consultancy based in Shifnal in the West Midlands. Insynth employ the latest inbound marketing techniques to help building product manufacturers grow their businesses by aggressively driving sales lead generation activity.
As the only HubSpot certified agency to major on construction marketing, we bring together digital strategy, website design, SEO, content marketing, email marketing, sales automation, marketing automation and CRM implementation to produce successful campaigns and great results for our clients.