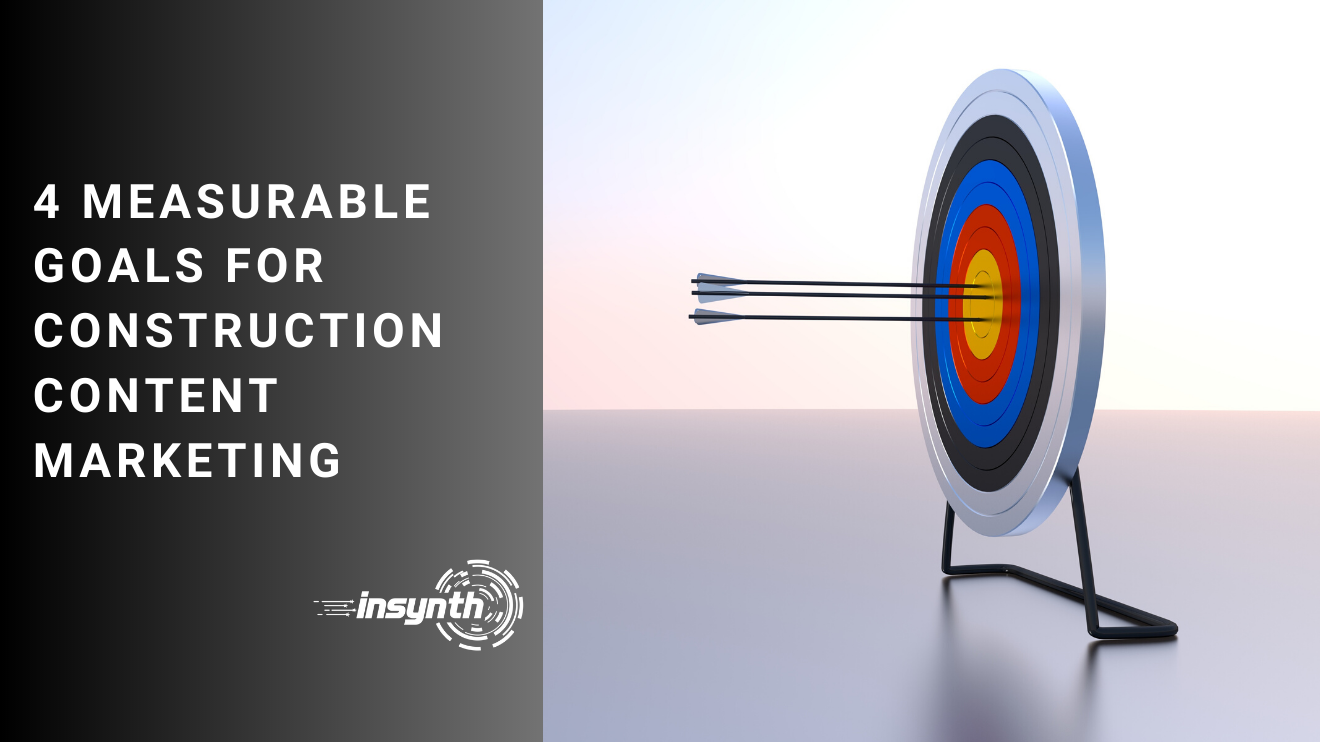 Have you ever wondered why content marketing works so well for some construction/building products companies, whilst failing miserably for others?
You might be one of those companies who has hired a team of exceptional writers yet aren't seeing the ROI that you needed or expected.
If you've read any of our previous blogs, you'll have no doubt stumbled across the phrase, 'content is king'.
Well, I've been thinking about this recently, and I've come to the conclusion that the phrase isn't entirely true.
Content all by itself (even excellent content) is just content.
It may be entertaining. It may be educational. But it won't transform your business or get you where you need to go.
Until you add one thing:
Business goals.
It's true: content marketing is a meaningless exercise without clearly defined (and measurable) goals.
This post aims to identify and define those goals, ensuring that you receive valuable ROI, allowing you to confidently say,
'Content is king'.
The Business Purpose Of Content
By definition, content is,
"…a strategic marketing approach focused on creating and distributing valuable, relevant, and consistent content to attract and retain a clearly-defined audience — and, ultimately, to drive profitable customer action". Source.
Let's be honest; businesses care about two key things,
Sales and;
Savings
So, when setting goals, choose ones that support those two things and you'll have no problem communicating your content marketing team's contribution to the business goals.
Below, we'll cover some goals to consider.
Goal #1: Subscribers
Setting 'building a subscriber base' as a goal is ideal if your business wants to
a) penetrate a new market,
b) compete with a high-profile market leader
c) or to simply begin your journey into content marketing.
A subscriber list is a valuable asset as these are the people that have given you permission to communicate with them on a regular basis.
So, ensure that your 'sign up' form is made clear throughout your website, and don't hide it right at the bottom-as so many building product manufacturers seem to do.
To measure your progress, note the number of subscribers to your email and blog channels or the subscriber conversion rate compared with a general audience conversion rate.
If you follow Insynth's rules for effective blogging, you'll notice that we advocate the use of 'topic clusters.' These clusters inform your blogging strategy-and eventually-the downloadable piece of content at the end of it.
This informative, educational content can encourage prospects to make a download in return for even more contact details.
This is a great tool if your business sees content marketing as a tool for the sales team. An educational eBook about the solutions that you provide will help your sales team to find or qualify new prospects, or nurture leads through the funnel.
To measure this, ensure that you track form/landing page conversion rates, downloads and percentage of marketing-and sales-qualified leads.
When supporting sales with content, we recommend creating pieces that help specifiers choose your product or services. Case studies and testimonials from recent projects that you've been involved in will show architects and specifiers how you've solved problems similar to theirs.
This works great if your goal is to grow sales or open up new revenue streams.
To track this goal, measure your sales support through lead-to-customer conversion rates, effect on time to close new customers and revenue generated.
Goal #4: Customer Support And Loyalty
Are you spending too much time and money on support calls to customers?
Or do you struggle to secure repeat business?
Or, let's say, you want to focus on upselling products and services.
Content is a great way to reinforce the specifier's decision after the sale. We always talk of content as a 'top of the funnel' play, but there are cases when it's just as important once you've received specification or won the contract.
'How to' blog articles, aftercare advice and instructional videos are good examples here. They help make sure that the specifier gets value from the purchase, encouraging them to choose your products or services again.
To measure this, track the reduction in support calls, number of repeat customers, revenue from upselling and customer retention rate.
Why Traffic Is Missing from This List
One of the easiest measures of content marketing is your increase in traffic.
There's nothing better than seeing your traffic soar.
However, an increase in traffic should be seen as a by-product of great content, as opposed to a goal that's designed to directly lead to an increase in traffic.
Goals like this are considered to be 'vanity metrics' and don't always lead to profitable action. In fact, creating 'clickbait' will come off as spammy and will diminish the quality of the content.
So, keep in mind that content marketing for your construction/building products business is meant to educate, entertain, and provoke questions, leading specifiers to source your solutions.
How Can Insynth Help?
If you'd like any help with aligning business goals with content marketing, we have a range of resources that can help.
Firstly, make sure you download our ultimate guide to content marketing where you'll learn how to create content that is strategic, purposeful and measurable.
If you need any support, from blog workshops, to our Write Start Content Pack, don't hesitate to get in touch with one of our construction content marketing experts.
About Insynth
Insynth Marketing is a leading UK construction marketing agency based in Shifnal in the West Midlands.
They use the latest inbound marketing techniques such as construction inbound marketing, to support building product companies to grow their business by proactively driving sales lead generation activity.
As the only HubSpot certified agency to major on construction marketing, we bring together construction marketing strategy, digital strategy, website design, SEO, content marketing, email marketing, sales automation, marketing automation and HubSpot CRM implementation to produce successful campaigns and great results for our clients.