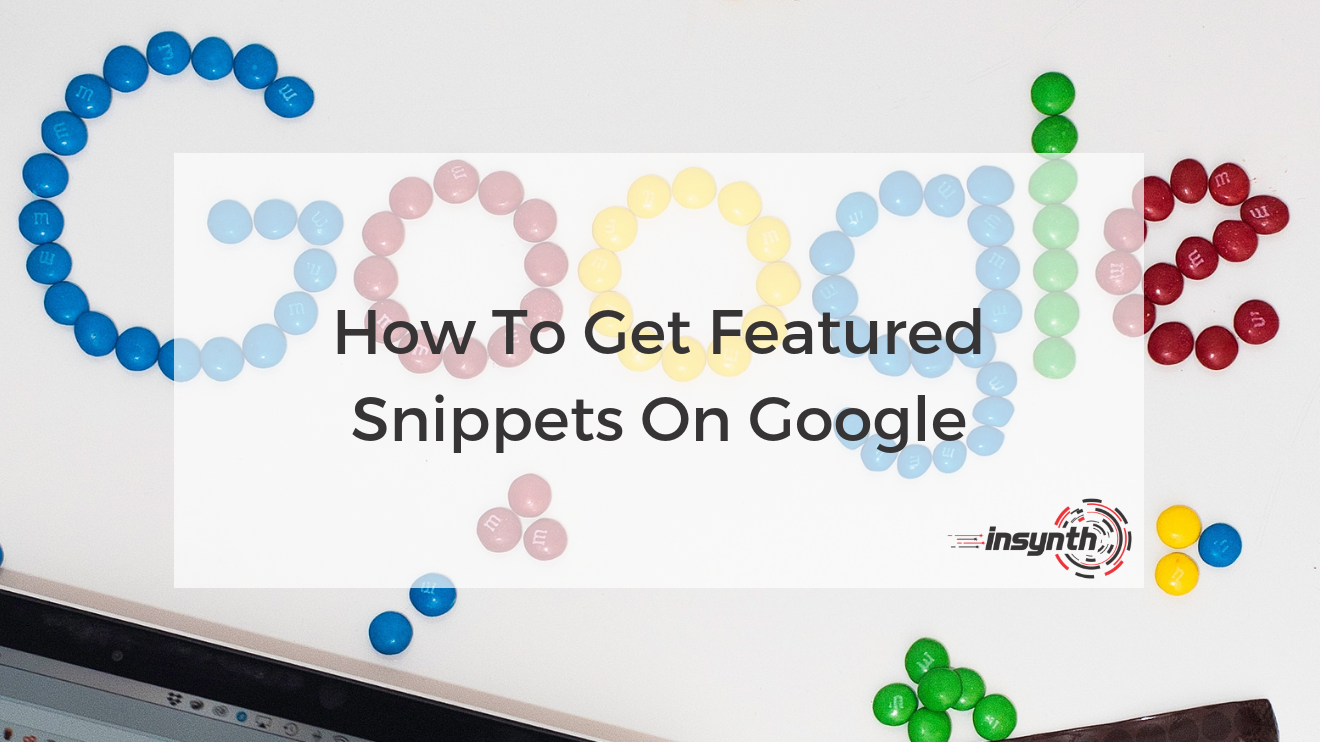 Impress your boss and your colleagues by getting 'position 0' on Google and winning the race for prestigious featured snippets in Google.
Here is a 6-step guide to how Insynth replaced the Construction Marketing Association on a prized snippet in just 10 days.
What is a Featured Snippet?
A Featured Snippet is the result that you get above the organic search results when a question-based query is being searched for. The snippet displays content from within one of the pages ranking on page one that directly answers the question searched for without the user having to visit the actual page.
Why Are They Great To Win?
They are shown to really boost click through rates (CTR) to your site.
You don't need to be number 1 in search to get one.
They stand out from other search results and maximise visibility of your brand.
You automatically generate kudos for your brand and are recognised as the authority on the subject matter compared to all of your competitors.
Follow this 6-step guide to winning your first featured snippet.
1. Keyword Research
According to a recent article by Moz, only around 15% of SERP results have snippets, so they are still fairly uncommon and because of their high click through rates, competition for them is high.
By using a systematic approach to discovering attainable featured snippets, you can create a plan to win those prized positions. Here is a great way to carry out that research.
Use software such as SEMRush to thoroughly research the keywords that you are ranking for, and those that your competitors are too.
SEMRush also identifies the keywords that have featured snippets - look out for the crown symbol. If you have built a list of keywords to track in SEMRush, you can filter by the SERP feature to make life easier.

Now look at stats such as estimated traffic and keyword difficulty. Identify the keywords that have good traffic levels, while having low keyword difficulty. This is the sweet spot, where competition is fairly low and return is healthy.
There are numerous studies that suggest that featured snippets are associated with long tail search results, which is exactly how a question is constructed.
To start, think of questions that you potential customers may ask at the awareness stage of the buyers journey. Ask your sales team of common questions that they get asked, or check with your technical department or customer service team.
Start by creating a blog post or web page specifically answering the question. Go into detail and make sure that the first or second paragraph answers a question that searchers are likely to use.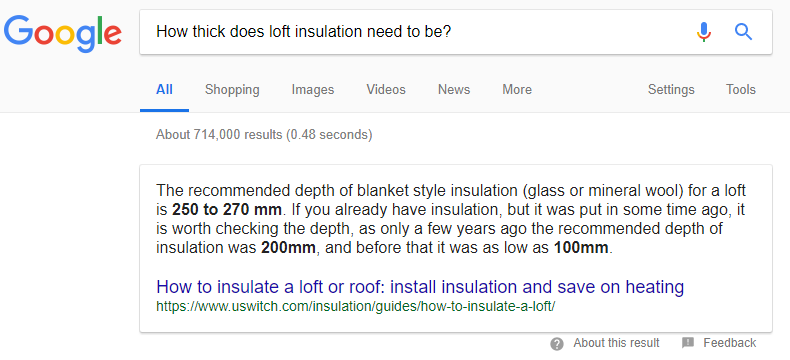 2. Optimise Your Page
Follow good SEO practice and make sure that your title, H1 tag and URL are constructed around the search term that you are trying to get the snippet for.
Imagine that you have been asked the question in person. Write what you would say in response, remembering to include the keywords in the sentence in a natural manner.
Now you need to go into detail. Your page should now be extremely authoritative, using tried and trusted SEO techniques such as using internal and external links, a sensible level of keyword use, whilst not 'stuffing', Alt-text on your images and anchor text.
Properly research the subject matter and construct an informative and educational article. Don't be tempted to copy or plagiarise work though. Take inspiration from other articles, but develop your own perspective, write the content yourself and try to write a more authoritative piece than the content you are competing with.
To maximise the result, you need to be thinking of producing a piece around the 2000-word mark. High ranking pieces tend to be longer and more in-depth, so this will be a massive signal to search engines that your piece is authoritative.
3. Create Topic Clusters
Now that you have your pillar content, you should identify if you have any other content that relates to it.
If so, review it and ensure that you have relevant links back to your main title.
If not, it is time to get writing again, producing shorter articles, 600-900 words, which focus on specific topics related to the main article.
These internal links give additional authority to the subject, which helps to boost your rankings.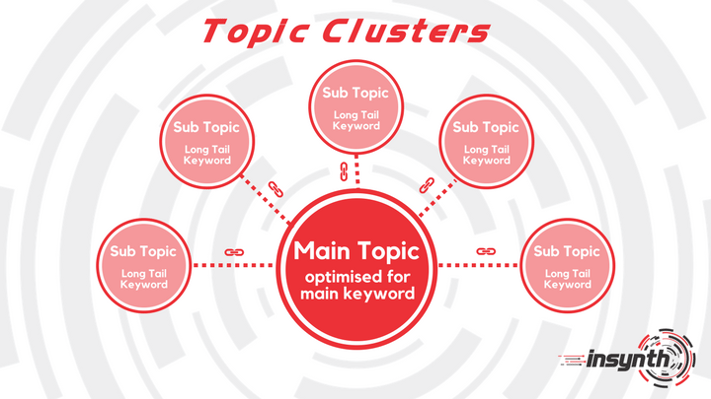 4. Obtain Backlinks
The hardest part of the process is to get good, relevant sites to link to your content.
Backlinks from trusted sites with high authority pass on some of their prestige to your content, giving a real boost in credibility and authority with search engines.
As it was once explained to me by a good friend, search is like being back at school. If the cool kids liked you then everyone else probably thought you were cool too. So, if a top site such as the BBC or Wall Street Journal links to your site, it will be far cooler for you than being linked to the website of a local free newspaper.
So you've got to work hard to beg, steal and borrow links from the most authoritative sites you can, and if you need to pay for great links then it could be a wise investment.
In construction marketing, sites such as Construct UK carry real authority, as do the building and architectural titles.
5. Promote Your Content
Don't forget to get your content promoted on social media and any other channels that you can. It's good to get real readers to your blog and into your site, but you may also pick up a few extra links, free and easy.
6. Keep Optimising
If you follow all of the above, then you have the best chance possible of getting one of those elusive and prized featured snippets.
If you are successful though, you cannot rest on your laurels. Search engine rules and algorithms change constantly, and your competitors will be trying to produce better content than you to claim the top spot. So, keep working on your content to ensure that it is up to date and maintaining its position.
Conclusion
The kudos and commercial benefits of gaining the featured snippets in your sector are immense.
Higher traffic, brand recognition, improved reputation and authority all make the investment in time well worth it.
So, don't hesitate and start your keyword research soon, find the gaps and target your first featured snippet within the next few weeks.
Please let us know if our advice has helped you claim the precious position '0'. If nothing else, it's all good SEO advice and will help to boost your rankings.
Alternatively, get in touch to see if we can help you with your keyword research and analysis and content delivery. We'll do all the heavy lifting, and you get all the glory!
For more construction marketing tips, sign up to our blog for weekly updates straight to your inbox.
About Insynth
Insynth Marketing is a leading UK construction marketing consultancy based in Shifnal in the West Midlands. Insynth employ the latest inbound marketing techniques to help building product manufacturers grow their businesses by aggressively driving sales lead generation activity.
As the only HubSpot certified agency to major on construction marketing, we bring together digital strategy, website design, SEO, content marketing, email marketing, sales automation, marketing automation and CRM implementation to produce successful campaigns and great results for our clients.