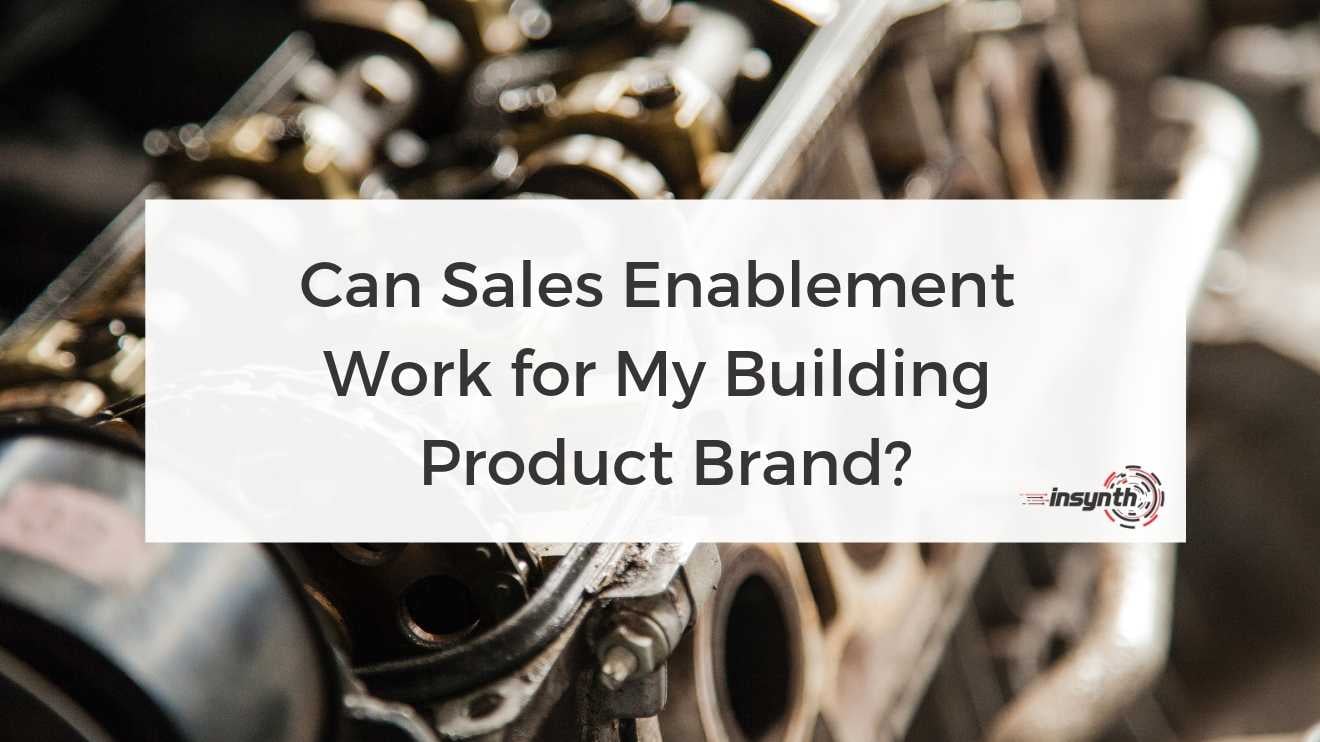 Targets, pipelines, prospecting, closure rates, deal sizes, the list goes on. Your sales team has a lot of things to think about throughout the sales process. Sales enablement can feel like it's adding to the overload of information, tactics and tools out there.
Fortunately, it's very simple. It's about making selling as easy as possible by providing salespeople with everything they need to move the sale forward.
Are customers frequently asking what similar projects you've worked on? Create a case studies section, by sector, on your website and now your sales team will now have a standardised document to share with customers.
Why Sales Enablement Is Necessary for Your Building Product Business
Sales enablement continues to grow traction with organisations each year. This is understandable as;
59% of companies with a defined sales enablement function surpassed revenue targets according to research by Forbes Insights.
Why sales enablement has become necessary for building and construction businesses:
1. Buyer behaviour has changed
"57% of the purchase decision is already complete before the customer even calls the supplier," (CEB). Architects, engineers and consultants want the right information at their fingertips 24/7. This is justified when a typical commercial building requires over 5,000 products to research and specify.
Selling needs to be more tailored to individual prospects' needs. To ensure this, you'll want your sales reps to know what the prospect has already consumed before the sales call.
2. Marketing has taken on sales quota
In modern businesses where sales enablement is in place, marketing and sales will have a joint revenue goal. Key performance indicators such as close-rates and leads to quotations are readily accessible in most CRMs, allowing teams to work backwards to calculate how many leads marketing needs to produce for sales. With this sort of data, revenue is now a lot more predictable.
3. To reduce sales team turnover
It's likely your sales reps will get discouraged if they fail when using old-school strategies like cold calling and pitching with the product first.
It costs businesses a lot of money to hire and train sales staff. Sales enablement helps them to increase their efficiency, and improve their close rates, morale and performance.
4. To accelerate sales cycles
Due to the nature of the building and construction industry, lengthy sales cycles are often inevitable. Sales is a marathon, not a sprint. Sales teams with, for instance, the latest performance data on your product will ensure your prospects move through the funnel swiftly.
Where Sales Enablement Fits into My Business
In construction marketing, we are able to categorise the buying journey of a specifier, engineer or consultant based on the activities they engage with.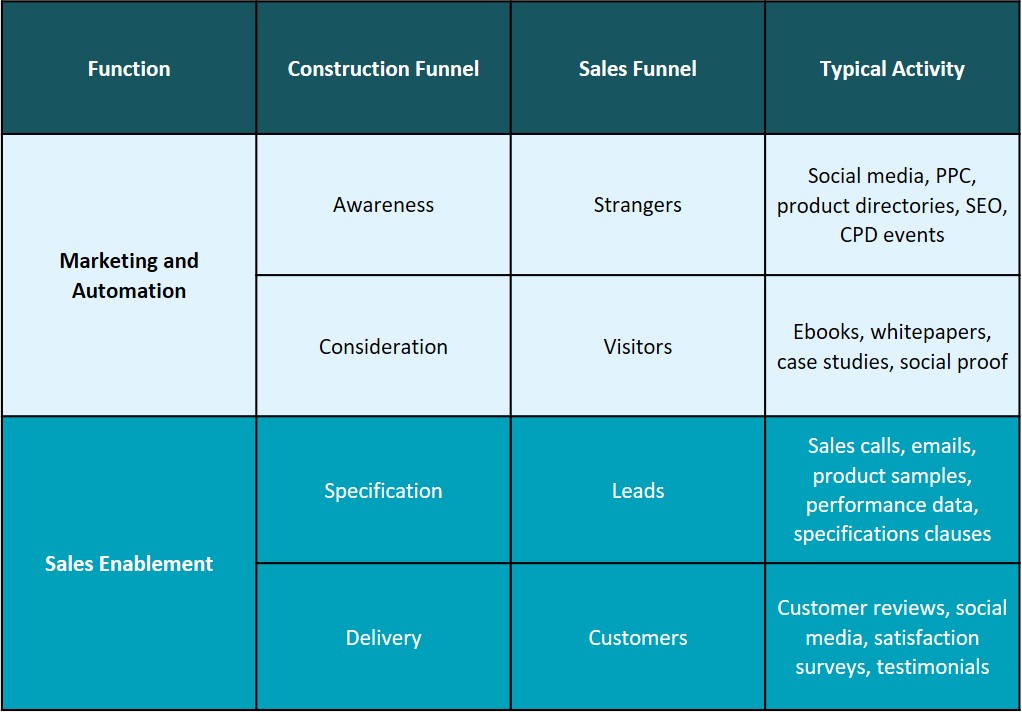 Sales enablement focuses on the second half of the table, providing sales with the information, tools and processes to move the sale forward and drive revenue for your business.
What Sales Enablement Might Look Like for Your Building Product Brand
By taking a look at a few examples of typical sales activities we can identify how sales enablement techniques may improve these activities.
Sales calls
Playbooks – using data from your CRM, you can find out your superstar sales reps for each stage of the buying process. From this, they can share best practices and you can create a playbook for your reps and new hires to benefit from.
Call recording – platforms like Gong analyse, record and transcribe your team's sales calls using artificial intelligence. These platforms give you actionable next steps based on tens of thousands of previously analysed calls.
Prospecting
Social listening – tools are available for your reps to listen for mentions of your industry and product which can then allow them to provide commentary and expertise. A common practice in social selling.
Sales asset management – whether it's on the cloud, using a dedicated piece of software or on your CRM. Ensuring your reps have access to up-to-date presentations, guides and other sales and marketing materials will help both your reps and the customer.
Conclusion
Sales enablement has become an essential component in ensuring sales success for modern businesses. While some of the practices such as creating playbooks, organising content and aligning sales and marketing may be familiar. Recognising sales enablement as a function adds accountability, structure and processes to practices that may have previously lacked ownership.
About Insynth
Insynth Marketing is a leading UK construction marketing agency based in Shifnal in the West Midlands.
They use the latest inbound marketing techniques such as construction inbound marketing, to support building product companies to grow their business by proactively driving sales lead generation activity.
As the only HubSpot certified agency to major on construction marketing, we bring together construction marketing strategy, digital strategy, website design, SEO, content marketing, email marketing, sales automation, marketing automation and HubSpot CRM implementation to produce successful campaigns and great results for our clients.