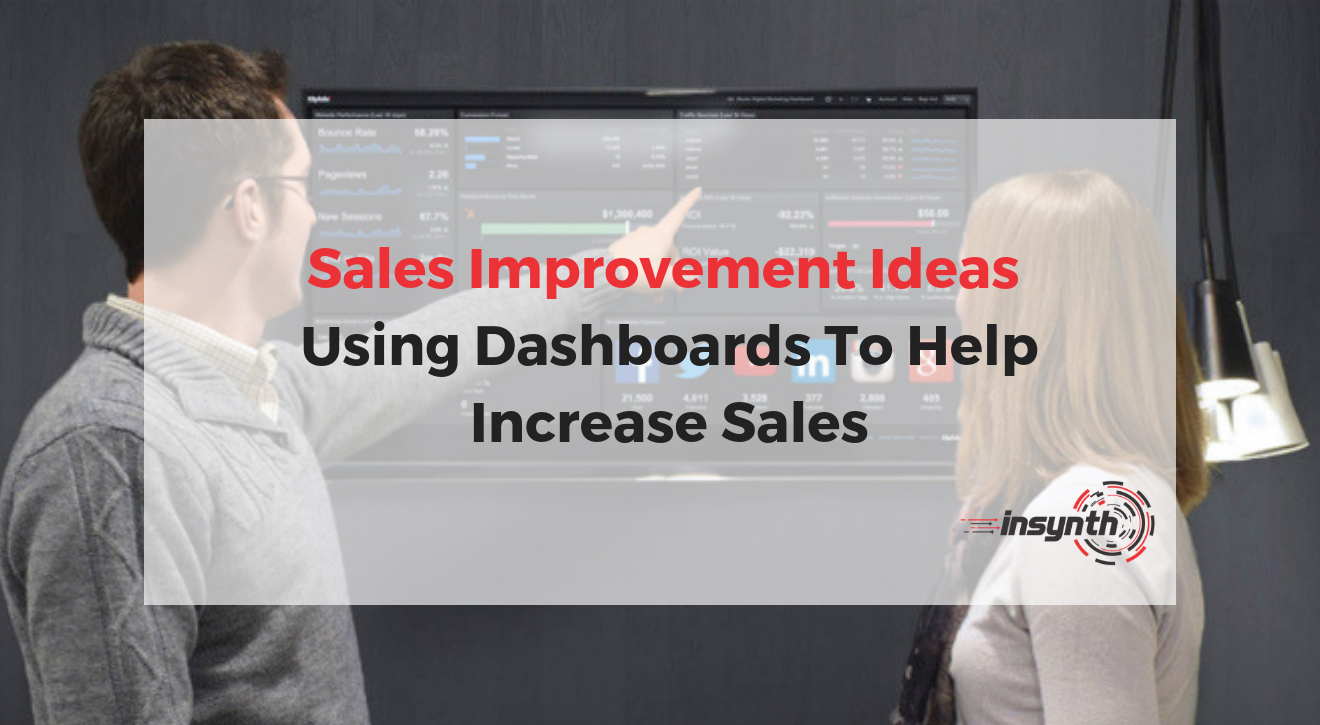 With an estimated 39% of sales people missing their targets every month, any tool that you can use to help your team succeed has to be seriously considered.
One key problem that many sales teams has is getting access to key information and knowing how they are doing hour by hour, day by day.
Using 'live' reporting on dashboards can fix this, increasing competition amongst the sales team, improving focus and raising team morale - all leading to an increase in sales. Learn more here.
Why We Need Metrics
Using metrics to monitor and target process performance improvement is a well-established management technique.
We all have goals, targets and KPI's to aim for, and often these metrics are what we as individuals and teams are benchmarked against.
If our sales target is being missed, then your manager may look at KPI's around phone calls made, meetings booked and call to meeting conversion to identify where your personal sales process may be struggling.
Managed in the right way, analysis around well thought out metrics can identify areas for improvement that can often be addressed through training and/or extra focus on the problem area.
Creating Competition
Nothing stokes the competitive spirit like league tables.
And nothing drives sales success than competition. Whether it's fighting it out with another manufacturer for an order or trying to beat your colleague to see who gets the highest sales this quarter or who reaches target first.
By providing 'live' reporting to your sales team, that they can access on their phones, tablet, laptop or via Data Walls in your office, you can increase the banter and cajoling amongst your team that can drive healthy competition.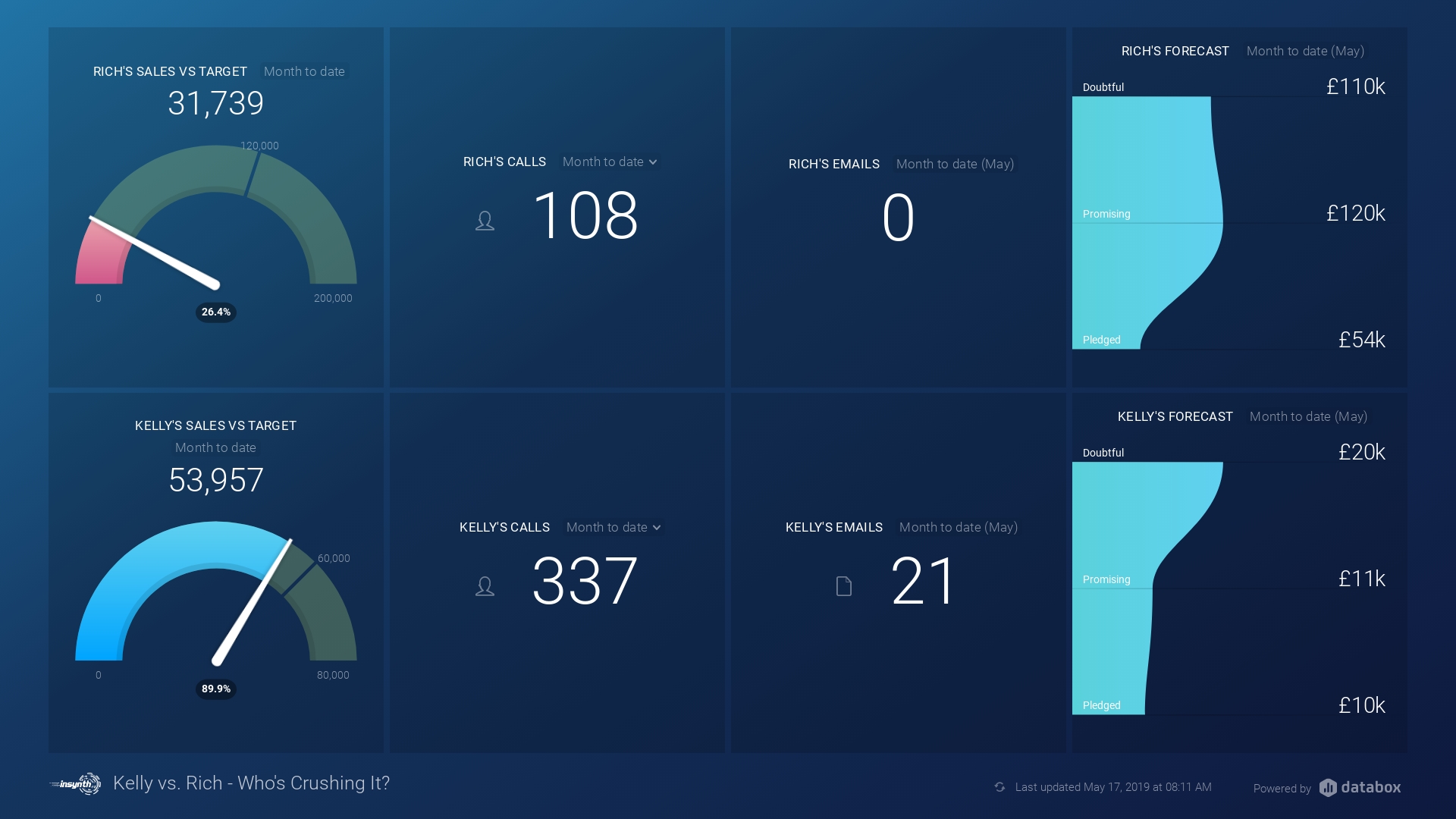 Creating Visibility
All good businesses are driven by data, and data is more abundant and widespread than ever before.
A common challenge that we see when talking to Sales Managers and Marketing Managers, is getting access to data, which can often come from various sources; CRM systems, MRP systems, spreadsheets, etc.
Once you have it, pulling the different pieces of information together to produce a meaningful set of tables and charts can be time consuming and complex. That's no surprise, you're skills are all about increasing revenue, you're not a business analyst.
But if your reports are supplied in writing or via email, their probably just glanced at and not looked at again.
By using a dashboard, you get a highly visual representation of all of the key data you need, creating that '360' vision of your business.
Use Your Time Better
Using Dashboards, you can leave all the grind of writing reports behind and focus on harnessing up to the minute data to address issues as they arise.
If a sales person is falling behind, you can see it in the first week of the month and address it.
If your leads or website traffic is down on last week, you can find out why straight away and do something about it.
If leads haven't been followed up, you can push your team to respond before you lose opportunities.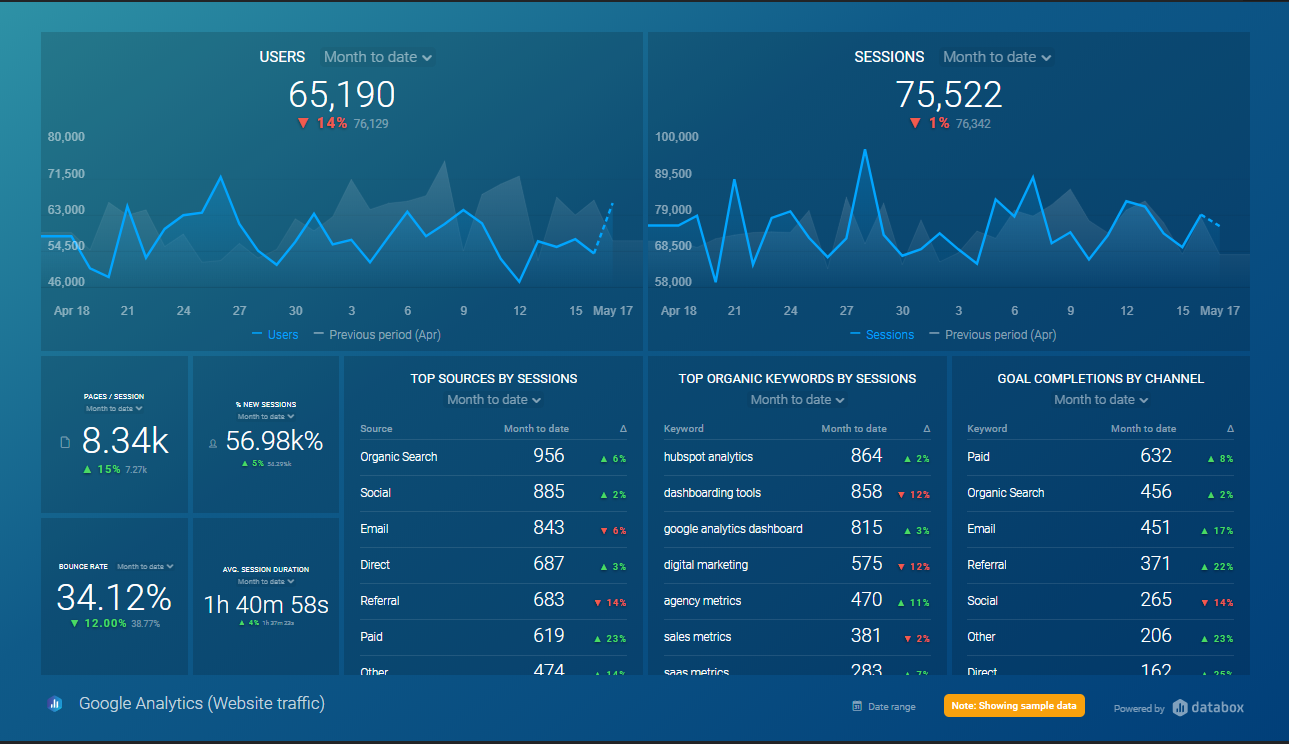 The Sales bounce
From our experience, when setting up data walls and dashboards for clients, we've heard back that there is far more focus on hitting targets in the office and around the team.
Anecdotally, we've been told that the mood in the office is heightened, especially when new orders are received and the dashboard is next refreshed and sales people can see their targets creeping ever closer.
One person commented that with improved visibility of performance it felt like everyone was in it together to hit target every month.
One business felt that it may have had an impact as much as 10% in terms of increased sales.
So, with this kind of impact on the ground, along with the management time it frees up and overall visibility of business performance provided, it just makes sense to get your dashboards set up.
Getting Your Dashboards Live
If you are interested in finding out how easy it could be to set up your dashboards, then Insynth Marketing could be a good fit for you.
As HubSpot and Databox certified partners, we have plenty of experience on setting up and rolling out dashboards, and can help you identify the more appropriate metrics to use and how (and where) to capture the data in the first place.
Get in touch today for a no obligation discussion about your dashboard requirements, to see if Insynth can help.
About Insynth
Insynth Marketing is a leading UK construction marketing agency based in Shifnal in the West Midlands.
They use the latest inbound marketing techniques such as construction inbound marketing, to support building product companies to grow their business by proactively driving sales lead generation activity.
As the only HubSpot certified agency to major on construction marketing, we bring together construction marketing strategy, digital strategy, website design, SEO, content marketing, email marketing, sales automation, marketing automation and HubSpot CRM implementation to produce successful campaigns and great results for our clients.