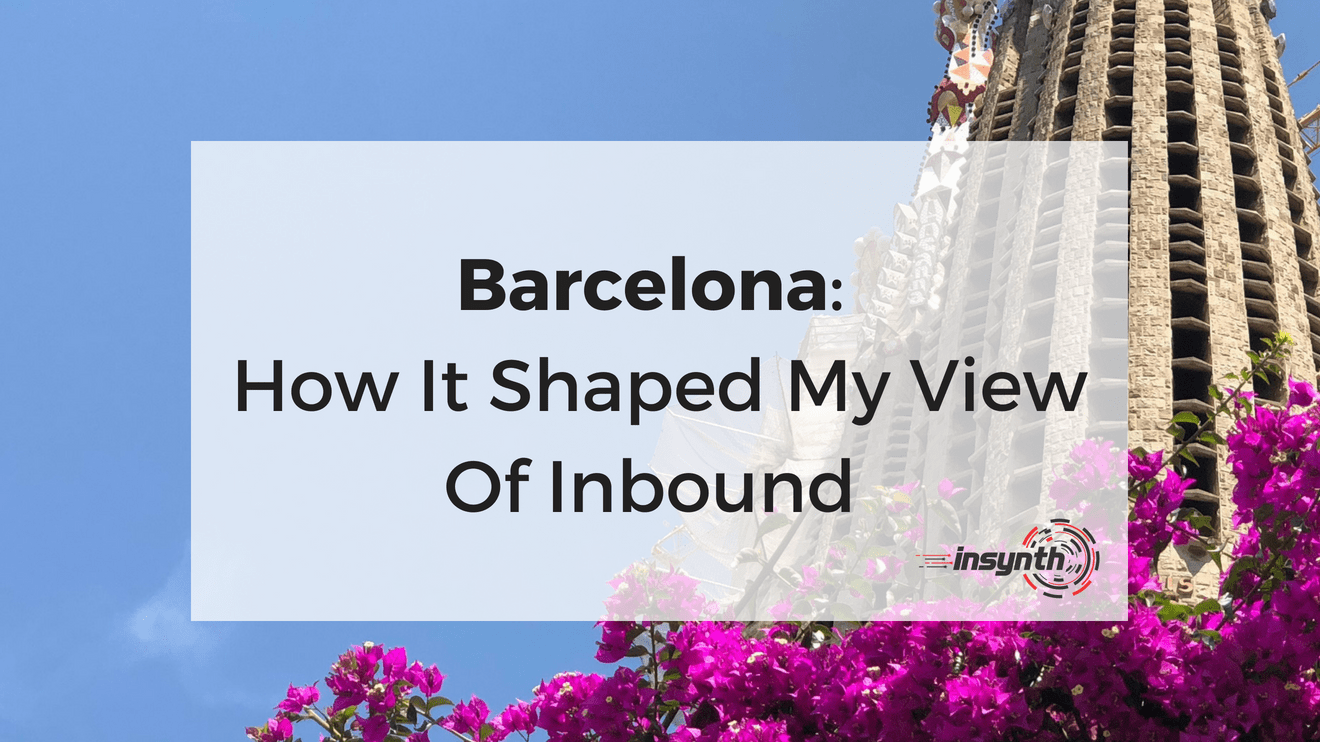 A last-minute decision to visit Barcelona was a wonderful surprise from my wife; we've been talking about it for 20 years! But with my Inbound mindset, it was more than the food, drink, architecture and culture that left an impression on me.
Here are a few of my experiences from the weekend and how my passion for Inbound was stoked again.
Communication
Sitting on the airport tarmac for 2 hours due to a check-in blunder from the ground staff is not the start you want to a weekend break. Checking boarding passes and several headcounts just added to the frustration. An aeroplane full of disgruntled passengers need to be managed and kept informed.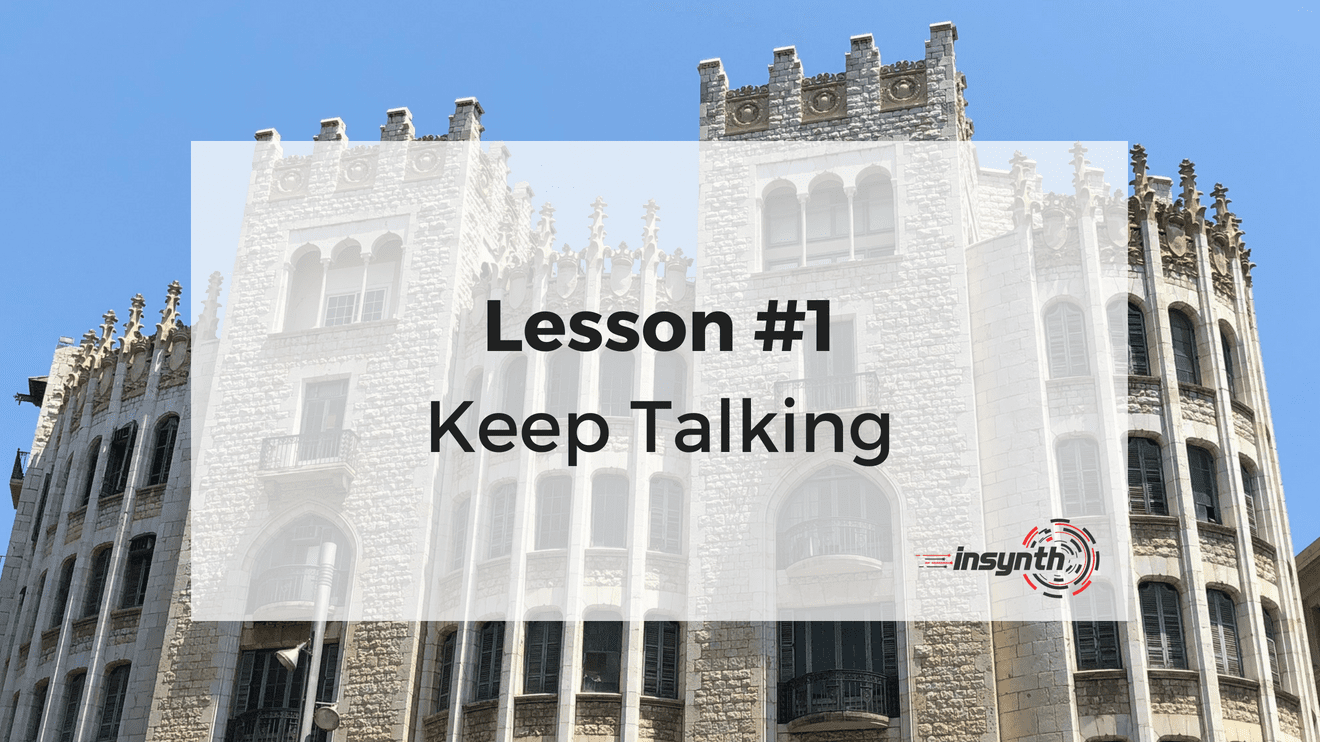 Lesson #1 – keep talking. Communication should always be at the heart of your marketing strategy. When things go wrong, don't go to ground. Keeping your customers informed of the problem, what's happening to put it right and timescales around the solution need to be communicated, regularly and honestly.
We all know that things go wrong sometimes – you want the professional and helpful way that you deal with the problem to be remembered, not the fact there was an issue in the first place.
Handled well, these challenges will help to build your brand and reputation, not damage it.
Ask Questions
If you want to know what your customers like and want, don't just assume. Ask them.
In the rooftop bar of the Almanac hotel, the DJ was creating a cool, chilled mood with Balearic lounge music. Chatting, he asked me what music I liked. Cheekily, I answered, Beastie Boys.
Imagine my delight when the intro to "Intergalactic" kicked in, and people got up to dance. A few minutes of craziness followed before the smoother tunes returned.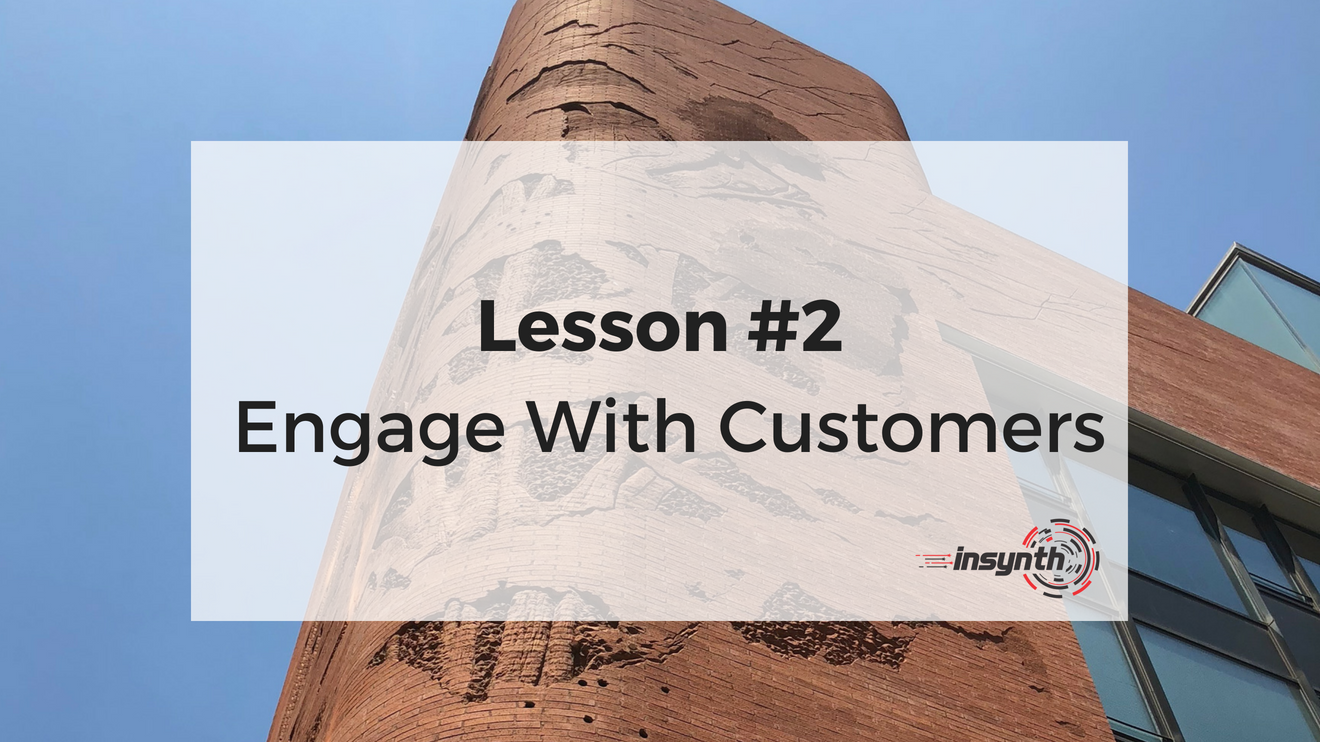 Lesson #2 - engage with your customers, talk to them, ask insightful questions and listen hard. By aligning and personalising your product and service, you will create powerful positive memories for your customers, building loyalty that competitors will struggle to break and creating an army of brand ambassadors.
Use Technology To Enable An Amazing Customer Experience
We entered our room at the swanky Almanac Hotel in central Barcelona. The young lady who escorted us demonstrated all of the latest technology that they had employed to make our stay more enjoyable.
A tablet to call room service, book a restaurant or check the weather forecast, a smartphone which used VoIP, allowing us to call anywhere in the world for free, a wall mounted console to control the lighting, temperature and curtains! We were impressed, and it made the whole experience of checking in more memorable.
Look at what this tech enables the hotel to do. They could use technology to drive out costs. Instead, they use it to free up their staff to look after customers in a better, personalised way; a relaxed team who are present and available to help, rather than harassed and trying to handle 2 or 3 jobs at the same time.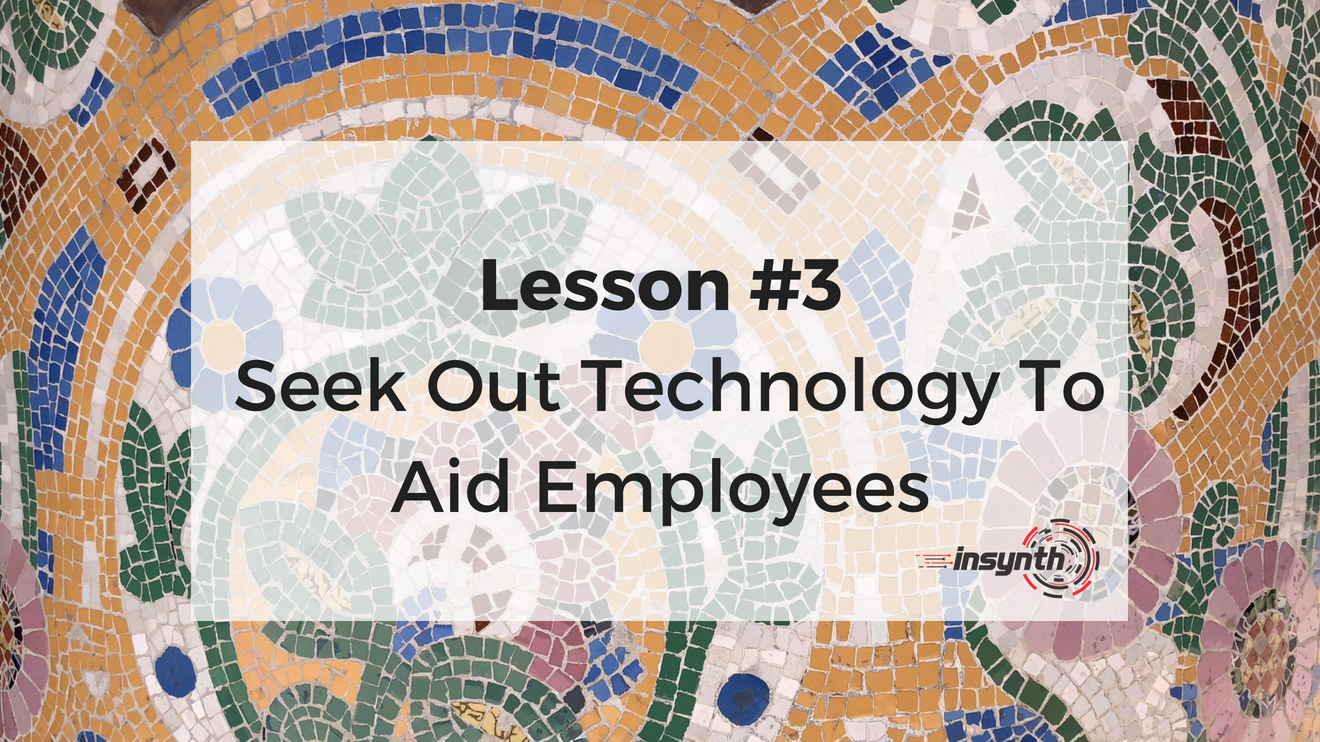 Lesson #3 - People buy from people – it's an old adage, but so true. Unfortunately, too often your staff are busy dealing with the mundane, repetitive tasks and the customer gets pushed to the back of the queue.
So, seek out the technology to help them in their role, automating the things that eat their time. Be transparent and ensure that tech won't be replacing people's jobs, be clear that it will be freeing them up to help your customers more.
This way you get a win-win, slicker, more efficient process and more personal experience for your customers. You can diagnose their problems, find the best solutions and be so helpful that your customer would never consider going anywhere else.
Always Be Helpful
Virginia, originally from Spain but now working in Dublin, is my dedicated support at HubSpot. When I asked to reschedule my fortnightly check in with her, I mentioned that it was because I was heading out to Barcelona.
You'd kind of expect a "have a great time" email in response, not a detailed itinerary of the best bars, restaurants, nightclubs and off-the-beaten-track sights. Everything that I needed to know about Barcelona was in this email, on my phone and constantly referred to during our trip.
An easy and creative way for HubSpot to be front of mind, even if subconsciously and linking their brand to this amazing weekend. Powerful stuff.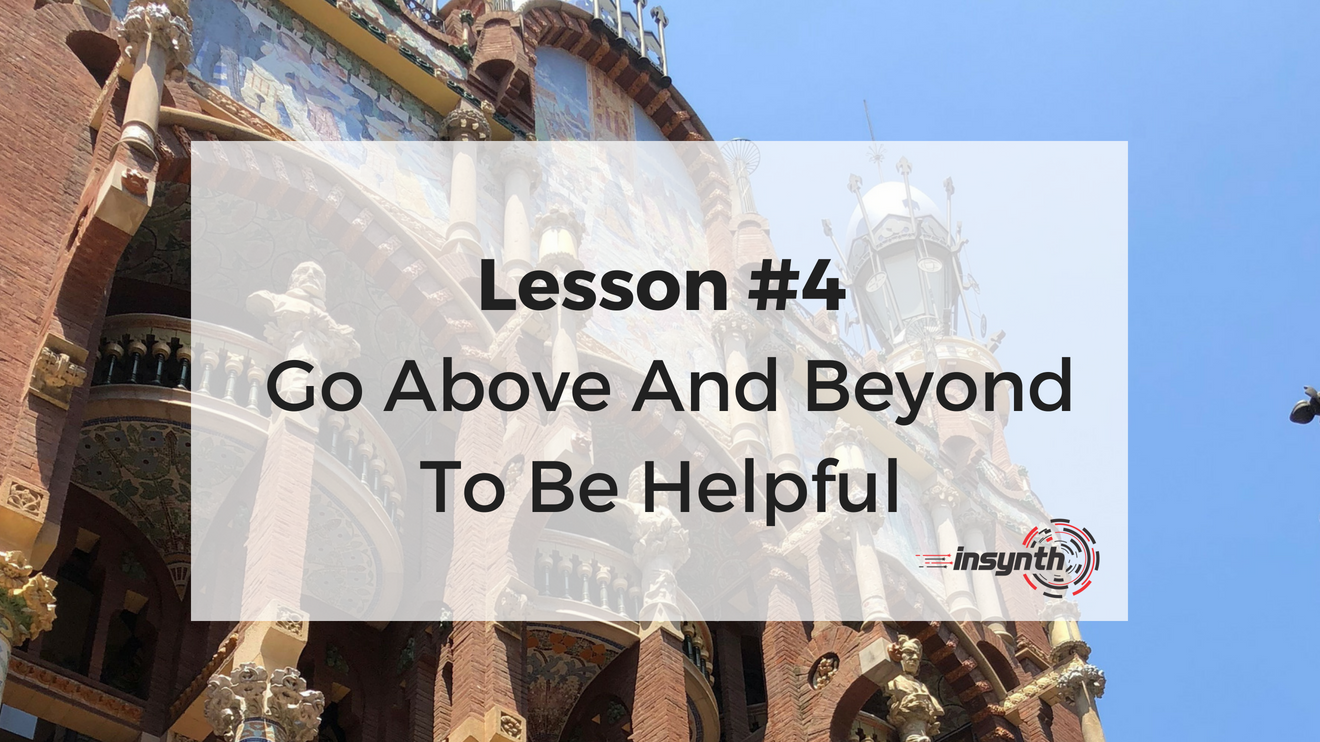 Lesson #4 - Going above and beyond to be helpful creates a deeper and valued customer relationship. Paying it forward like this will create customer delight, leading to word of mouth referrals - the most valued currency in building your brand.
Take Aways
We discovered that Barcelona is a fantastic city, with everything you could ask for in a short break.
Observing our 'customer experience' and linking it back to best practice with Inbound reinforced my firm belief that there will soon only be two types of businesses – successful ones that develop an Inbound culture and struggling businesses that follow outdated practices that are at odds with the new age where the buyer has control.
If you want to learn more about bringing Inbound to your organisation and gaining serious advantage over your competitors, book a discovery meeting with one of our certified Inbound experts.
How Can Insynth Help You Drive The Content Marketing Results That You Need?
When you sign up for Insynth's Inbound Starter Plan, you can trial inbound and world-class sales and marketing technology to gain traction with lead generation. For less than the cost of one ad placement, or a fraction of the cost of a trade show, you can generate more high-quality leads than both combined would have produced. For a small investment (not to mention our money back guarantee), Insynth will provide:
A 2000+ word, high authority, pillar post every quarter to form

basis

of a strategic topic cluster.
2 original technical blog posts of at least 500 words per month. The blog will be written exclusively for your business by our talented in-house content team and posted onto your website.
Promotion of your blog posts on key social media channels (LinkedIn, Twitter & Facebook).
Production of a quarterly Ebook or Whitepaper to drive lead generation.
Monthly Keyword Tracking and Reporting (up to 25 keywords).
Monthly review meeting.
About Insynth

Insynth Marketing is a leading UK construction marketing consultancy based in Shifnal in the West Midlands. Insynth employ the latest inbound marketing techniques to help building product manufacturers grow their businesses by aggressively driving sales lead generation activity.
As the only HubSpot certified agency to major on construction marketing, we bring together digital strategy, website design, SEO, content marketing, email marketing, sales automation, marketing automation and CRM implementation to produce successful campaigns and great results for our clients.
Book Your Free Consultation Today