Live From #INBOUND2021
Wow My First INBOUND.
When I first applied for my apprenticeship, I had no clue what 'inbound marketing' was let alone the methodology and benefits it had for businesses that adopted it. And now, four weeks into doing as much HubSpot training as my brain will allow... I'm still a complete newbie, I have attended one of the worlds biggest marketing events.
After looking at the agenda for the next three days, I was very intimidated by the number of technical terms and topics I still don't quite understand. And then I found my calling, video! More specifically, how to maximize video for your sales and marketing process.
Here is the rundown.
how to maximize video for your sales and marketing process
Our speaker for the session is Tyler Lessard, Chief Video Strategist at Vidyard and has eight years of experience working for the company. With a passion for storytelling and improving customer experience, I was immediately hooked!
He kicked off the session by explaining that we're already using video! In a post covid work, businesses have been using video for real-time conversations to connect and keep in contact with prospects and clients.
But there is so much we're missing out on!! Very few businesses know how to make and share professional videos to deliver their key messages across to prospects and clients. But fewer are doing it well.
In today's age, where digitalisation is ever-increasing, we can't afford to miss out on such an effective strategy.
The sTATS
72% of sales teams incorporating videos into their strategy reported a higher response rate from prospects and customers, and 24% said their response rates stayed the same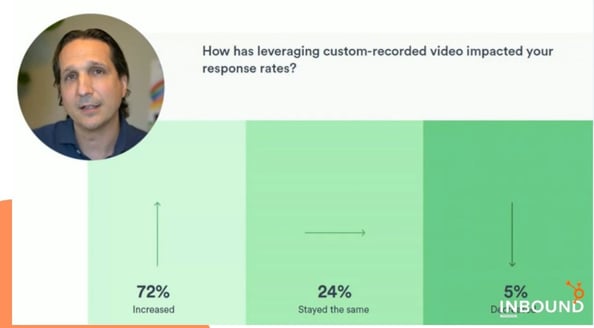 48% of teams said that their deal cycle shortened, as they could communicate with their customers more efficiently, compared to an all-text email.
When asked, 53% of teams said their close rates had increased after using video.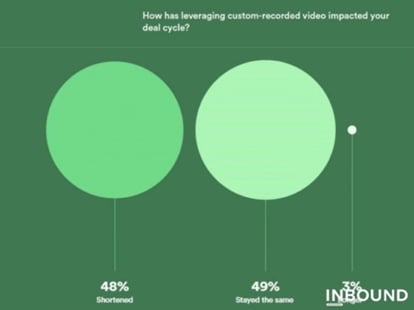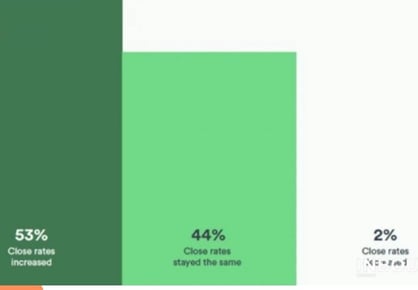 And whilst video has a misconception of being inefficient and time-consuming, 59% of teams said their overall productivity had increased due to shorter deal cycles by using video efficiently to sav

e time.
The STATS point out that using video in sales strategy has already significantly impacted business sales. So now we ask the question. How can we use video efficiently in our marketing strategy?
Here are 5 top tips To Optimise Video
1. Embrace video as a fundamental part of your strategy.
With those stats, you can't afford to fall behind and lose prospects and current customers. If you can't invest in a video source in-house, train your existing team or even yourself! Take the time to watch tutorials and be inspired by what's already out there.
2. Create authentic content
Most people see video as a flashy way to gain attention when really it could be your best attribute to your sales/marketing team. Videos don't have to be overproduced; all you need is a quality picture, good lighting, and a great personality to really amp up your messages. Customers want human content they can connect and relate to, not the next best blockbuster.
3. Communicate using video
Video can be used throughout your sales and marketing cycle, whether it's sending a video summary after a proposal or education videos on the services you want to provide. Video is one of the best ways to communicate key messages to your prospects and customers. Most people are likely to understand what you're talking about when they can see you, use graphics and screen recordings to your advantage and show.
4. Thumbnails are key
Thumbnails are the first visual your prospects and clients will see before clicking on any video. If your thumbnails aren't engaging, they won't be interested in watching. Tyler suggests looking at YouTube for inspiration and be curious. Ask yourself why these would attract views and apply those to your own process. Think about what would attract your audience into watching your video.
5. KISS
Tyler's acronym to close off the session; Keep It Short Seller, normally 'Keep It Simple, Stupid' but Tyler had a very unique spin to it.
The sweet spot for viewing time is 30-60 seconds; not only does this allow your prospects and customers to watch your videos in their own time, but it's also more efficient for both parties. As you move through your processes, you can begin making longer videos to answer any questions and go into detail with your clients if they require it.
Conclusion
Listening to Tyler's seminar bought back some familiarity as well as being helpful and informative. Coming from an arts background, it's interesting to see how much video is overlooked in the marketing world, but hopefully, things will change for the better. I can't wait to use all of Tyler knowledge in my own work!!
About Insynth
At Insynth we deliver a predictable flow of leads, customers, and specifications for building product brands through our inbound marketing approach, proven to reach a technically demanding audience.
We use the latest marketing techniques such as construction inbound marketing, to equip building product companies to grow sustainability in this era of digital transformation.
As the only HubSpot certified agency to major in construction marketing. We have a proven formula of bringing a variety of functionalities together including CRM Implementation, Web Design, Sales Automation, SEO, and Email Marketing to achieve your ultimate aim: Growing your business and gaining new specifiers and customers.