Live from #INBOUND 2021
In this session, Zoe Dayan the SEO manager and Yael Miller the Content Group Lead at Monday.com shared their journey with link building. They run through how they achieved successful backlinking in the last year, boosting project management tool, Mondays.com's rankings.
Read on to find out how they flipped link building's bad rep to supercharge their SEO strategy. Learn how to adapt their "move fast, optimise later" approach to any industry, identify SEO sinkholes, and harness quality tactics to improve your brand's credibility, visibility and search rankings.
What is Link Building?
Link building is getting other sites to link to your website in order to improve your ranking on Googles' first page organically.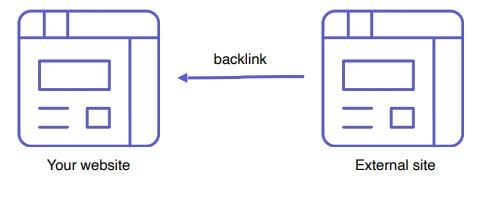 It isn't new, but there are a lot of opinions and even myths about how it works and what you need to know to carry it out. Zoe runs through common misconceptions around link building:
Link building doesn't work
Ranking on Google takes ages
You need to be an expert to do link building
High authority sites don't build links
Don't believe any of it.
Although backlinking isn't instant it can be done efficiently and you can rank within weeks for keywords. There are a lot of tools out there to support backlinking activities, including Ahrefs.
The less you know the more curious you'll be and you'll get that much further.
Monday's Original Link Building Formula
I admire a company like Monday being transparent with its journey. Even big companies get it wrong sometimes or need to take a step back to review how they can do better.
Monday has been open and honest in putting their hands up and saying "hey, we weren't doing it the best". By doing this, they have identified better ways to achieve links and shared them with us.


Renewed Strategy For A Scaling Team
Monday identified that they needed a new strategy for their backlinking. This included increasing content production and the quality of content they produced. People won't want to link back to content that is poorly written or not educational.
They also looked at the untapped potential of difficult keywords and how to maximise on those keywords that are super competitive. Finally, they looked at how they can respond effectively to Google's changing algorithm with in-house link building.


Link Building - The Workflow Today
Step 1 -Choose & Research Keywords
This is a mindset - Where are your customers? What are they searching for? What can you offer them?
Monday wanted to know what their money-making keywords were that closely aligned with their customers. They chose over 10 core keywords to ensure they weren't putting their eggs all in one basket. They then decided that they wanted to build 100% link goals and track them. Each keyword has a recommended set of backlinks you need to achieve to rank well.


Step 2 - Verify Content - What is Good SEO Content?
You need to be committed to high-quality content with a consistent writing style. The content also needs to provide value and not just be for "SEO" - the reader's experience should be prioritised.

Google's algorithm is providing good content - content that provides value. Make sure you're selling one consistent message that still happens to be optimised so people can find it.


Step 3 - Identify Backlink Websites:
This next step is all about relevancy. Trying to get backlinks from websites that aren't relevant in any way is a waste of time, regardless of their Domain Authority.
The content needs to be relevant to your industry and add value.


Step 4 - Find contact information
It sounds simple, but making sure you're reaching out to the right person is really important.
If you spend the time to reach out and create a message that then gets sent to the wrong person, it's a waste of time.
Zoe advises that if a website doesn't have help emails like info@ or sales@ then their websites are most probably set up for SEO and not for lead generation. If you can't find a personal email, then use the generic help emails as they should then forward it onto the right contact.

Step 5 - Write & Send Your Email Campaign
This is your opportunity to talk to these companies, most have never been contacted by your company before. This is your chance to make a good impression.
Monday's transparency shines through here where they share an email that was an 'Email Campaign Fail'. They found the most successful approach was to be upfront and honest that they were after a backlink. As part of that outreach, they include the relevant blog they are referring to that they think their audience would benefit from.
This was a huge turning point for Monday.com and their backlinks came streaming in month on month.
Don't rush sending out your emails. Make sure to properly vet the websites and the contact you are sending to. Spend time writing a compelling reach out email and ensure you are offering real value.

Step 6 - Answer opportunities and send link requests
Link building is time consuming so be super thoughtful about this and take the time to reach out properly. It's all about relevance.
Step 7 - Track Links Placements and Optimise!
This is then the time to review what worked well, and what wasn't as successful. Collating the data in a dashboard view can really help visualise the progress made and where the big wins were.
Monday shared their results over the last year: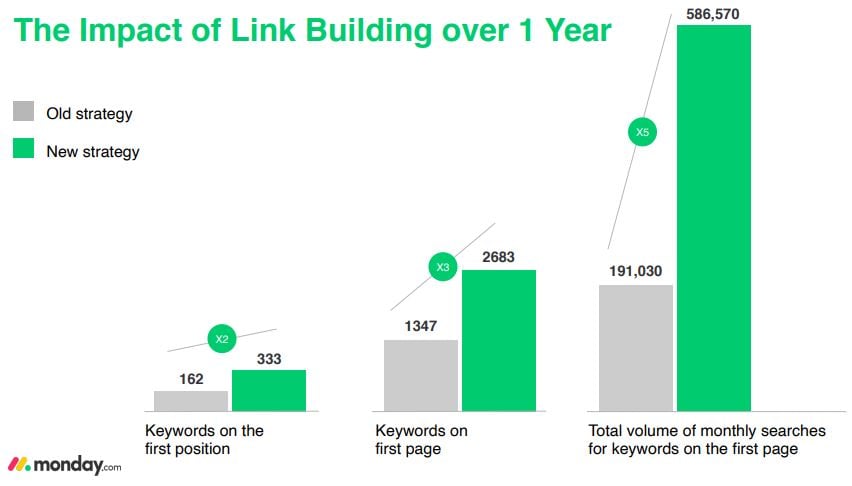 Session Round-Up
It's clear that you have to be committed to quality and having the right content is vital to your backlinking activities. Write it in a way that's engaging and skimmable - Google simply just wants to give them the information they're looking for.
It's a marathon, not a sprint! - it's not about getting to the first page of Google fastest, it's about getting to the top page of Google and staying there. It will take time but it will be worth it.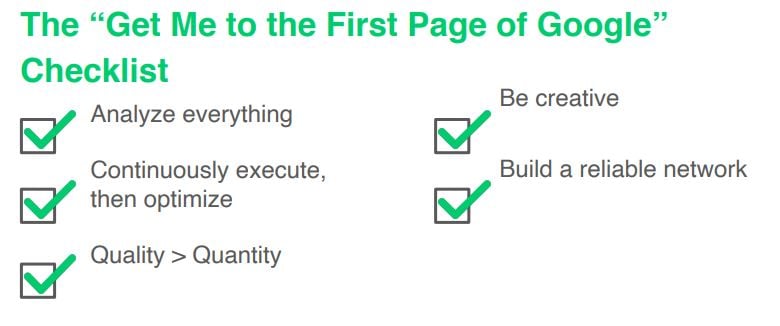 About Insynth
At Insynth we deliver a predictable flow of leads, customers, and specifications for building product brands through our inbound marketing approach, proven to reach a technically demanding audience.
We use the latest marketing techniques such as construction inbound marketing, to equip building product companies to grow sustainability in this era of digital transformation.
As the only HubSpot certified agency to major in construction marketing. We have a proven formula of bringing a variety of functionalities together including CRM Implementation, Web Design, Sales Automation, SEO, and Email Marketing to achieve your ultimate aim: Growing your business and gaining new specifiers and customers.