Live From #INBOUND2021

For over a decade, SEO experts have relied on strategies like on-page optimization, blogging and email outreach for links.
But, in 2021, these techniques are losing their effectiveness because they rely on coordination with a web developer, big content budgets, and spammy email outreach.
Fortunately, there's a better way to grow organic traffic: purpose-driven SEO!
Here's a recap of the session by SEO expert Dale Bertrand. Dale delves into a step-by-step playbook on how to apply this effective new strategy for your building product business's website to generate high-quality organic visitors.
Here's the run-down…
SEO IS HARD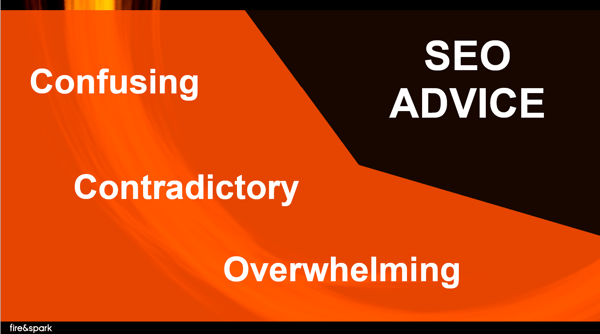 SEO can be confusing, contradictory, and overwhelming. And you can fail when you're trying too much, you don't know where to focus and you have too much content.
Here are 3 quick tips…
Don't Stretch Your Resources Too Thin
There are many SEO platforms out there to help you excel within your SEO strategy. Take a look at Moz, Semrush and Ahrefs and find a platform that works for you.
Brands that resonate with online consumers crush SEO
Find A Strategy That Works
Find a software and SEO approach that works for you and double down.
Here, you'll need to know your keywords, write high-quality content, don't overlook page titles and improve your user experience.
Focus On Content And Authority Building
Winning SEO strategies focus on content and authority building. Google's AI is looking for brands that are gaining momentum. So your building product business will need to gain traction when creating/optimising content and gaining authority via backlinking.
Google's Shift To AI Algorithms
Google has shifted from rules-based algorithms to AI-based algorithms.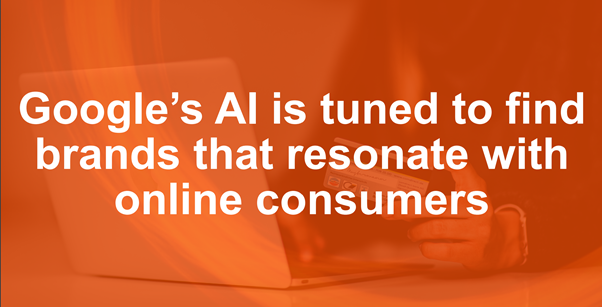 Google is basically training the AI by feeding it with some sample websites that they've rated highly.
But Google's engineers don't exactly know how Google is making any one particular ranking decision. That's because it's the AI that's making directly decisions rather than rules-based algorithms.
This means when we're doing SEO we need to speak to where the shift is going. Google is getting really good at showing us brands that we expect to see, so you'll need to look at what pages are ranking well to gain inspiration for your SEO strategy.
But keep in mind that Google is also surfacing brands that are building momentum. Here's how you can build momentum: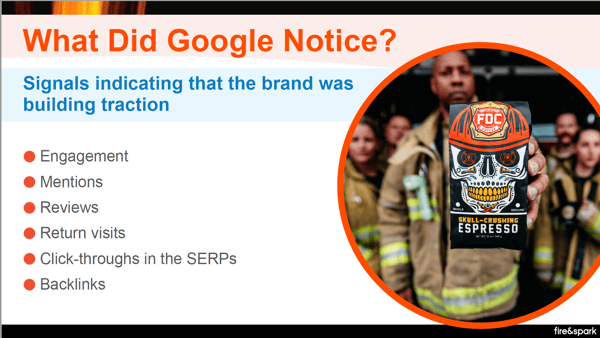 Keyword Visibility
Keyword visibility is just making sure that you research your keyword and that you've got the right keyword included throughout your pages.
It also makes sure you've created whatever new content you need to create to have content that's targeting your keywords.
Authority Building
Google looks at authority based on:
Content (relevance)
Links (external citation authority)
Google must first scan and analyse your page's content and other elements. Google then associates relevant subjects with the page as a result of this.
The on-page evaluation used to end there, but now Google can examine a page's language, structure, and other elements to decide things like how comprehensively a page tackles a topic and how beneficial it would be to a visitor.
After the search engine recognises your page and adds it to it's index, it looks for external signals to validate and assess the page's level of authority for any particular topic.
That's the green building making sure we have content that's demonstrating engagement and using one of our purpose-driven approaches.
Now, when we're doing this purpose-driven SEO with the authority first approach, there are just three main ways that we do it.
You can do this with a mission-driven approach, product-driven and story-driven approach.
Mission-Driven Approach
Content strategy needs to be rethought in the context of mission-driven marketing.
Before contemplating keyword targets, it demands that every piece of content you create supports your purpose.
Getting back to our company's roots is the goal of mission-driven content marketing... as well as developing content that stems from the heart of your company. It's all about producing valuable material.
Content that helps to achieve something more than vanity metrics like website traffic.
Content that advocates your mission.
Product-Driven Approach
While you should emphasise your building product's primary benefits and features on its product pages, don't stop there. For boosting visitors to your website, product page SEO is a goldmine.
Your product pages are the ideal place to use SEO keywords, phrases, and tactics to boost your Google search rating.
Focus on optimising your product pages to excel in your SEO strategy.
Story-Driven Approach
Fairy tales are great examples of how to tell a good story. They have an exciting beginning, a compelling plot, and a dramatic conclusion.
Though the story's precise aspects may change, the underlying structure remains the same: everything was fine until something horrible happened, then the problem was fixed and everything was fine once more.
That's what we need to be able to transfer into SEO - the more we can tell our SEO story, the more people will be interested.
How To Craft A Good SEO Story
Know who you're talking to. Think about what your building product target audience is interested in.
Speak their language and simplify your findings to simply the information.
Pick Strong Characters. Concentrate on the key performance indicators (KPIs) that your audience cares about and eliminate extraneous details that will be missed.
It's pointless to overwhelm your target audience with data if you can't connect it all in a meaningful way.
Build A Well-Defined Plot. Have a strong beginning, an interesting middle, and a thrilling end.
Deliver an engaging storyline to give your SEO a purpose.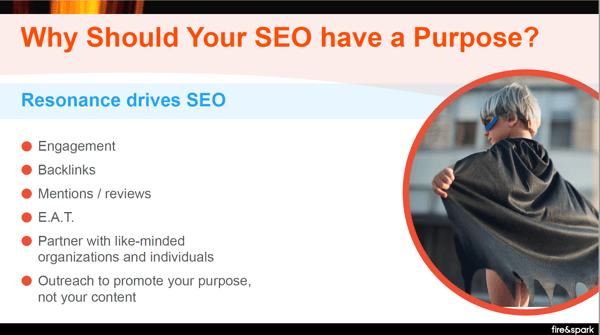 Conclusion
As we all know, SEO is constantly changing. Building product business owners and marketers must change quickly, but it is still possible to provide your website with a competitive advantage.
Keep up with technical advancements and the influence of things like backlinks, site speed, and schema by devoting time to the fundamentals of good quality content creation.
There's a lot to think about, but keep in mind that you don't have to become the best SEO expert in the construction industry overnight.
If you put in the time to apply this modern SEO strategy, you'll notice a significant improvement in your website's click-through rates, engagement, and, of course, rankings.
About Insynth
At Insynth we deliver a predictable flow of leads, customers, and specifications for building product brands through our inbound marketing approach, proven to reach a technically demanding audience.
We use the latest marketing techniques such as construction inbound marketing, to equip building product companies to grow sustainability in this era of digital transformation.
As the only HubSpot certified agency to major in construction marketing. We have a proven formula of bringing a variety of functionalities together including CRM Implementation, Web Design, Sales Automation, SEO, and Email Marketing to achieve your ultimate aim: Growing your business and gaining new specifiers and customers.