Digital twins, virtual reality and augmented reality. These might seem like terms plucked from the latest Ridley Scott flick, but in the space of a decade, they have gone from something of a science fictional pipedream to part of everyday life.
With technology continuing to accelerate, it's only a matter of time before these new developments become part of the construction industry, helping your business create a digital twin, grow and stand out against your competitors.
But what are the ways that your construction product business can take advantage of this futuristic approach?
This article explores VR and AR in more detail, looking at how the advancement in the technology has aided its use in a wide range of fields, before analysing how it can be used in the construction industry.

Discussing the idea of a 'digital twin', we'll also discover the possibilities and what that means for your building products.
What is VR & AR?
Virtual reality (VR) is a technology that fully immerses your vision into a 3D realised world, usually through the use of a headset and computer. It can provide a 1:1 scale of whatever you can imagine, offering a full 360-degree video for you to interact with and take a tour of.
While it's prevalent in the video game industry, offering gamers an entirely new and more immersive experience, it's becoming more and more common in other industries, too.
Used in sport and entertainment, VR gives users the ability to attend live events from the comfort of their own homes. 90% of educators also agree that VR is an effective way of creating a more engaged and personal learning experience in more educational settings.
Augmented reality (AR) on the other hand, blurs the lines between reality and virtual reality.
Best described as superimposing digital content into a real-world environment, like VR, AR is extremely common in the video game industry but is also in the wider world with a reported 0.81 billion AR users recorded this year alone.
So, with the world slowly shifting towards an 'alternative reality,' now's the time to jump on board and start promoting your construction products in an entirely new way.
The Changing Face of VR In Construction
It's not too controversial to say that construction is somewhat behind the trend and slow to adopt the latest technologies.
You only have to see a report from 2020, that perfectly captures the internal battle that construction faces. Although 72% of construction businesses prioritise digital transformation, a third spend less than 3% on these new approaches.
It's similar to the dilemma we've found in our own studies at UK Construction Week, where 75% of exhibitors will be prioritising digital marketing, despite also considering exhibitions an essential part of their budgets.
The latest equipment and technology are essential for the construction industry to thrive like it always has. You only have to compare construction projects today with those of 10 or even 20 years ago to see technological developments in the sector.
Reports suggest that those businesses using excel in 2000 would have been seen as innovative, and likewise with the wide use of smartphones from around the mid-2000's communication was streamlined, changing the face of construction businesses.
And that's innovation without mentioning the efficiency and technological advancements of machinery and vehicles in the sector. How far behind would construction be without these advancements?
Considering that, it's important to look forward to what the next technological steps are. With VR and AR becoming so important in the wider world, it's only a matter of time before your construction product business can take full advantage.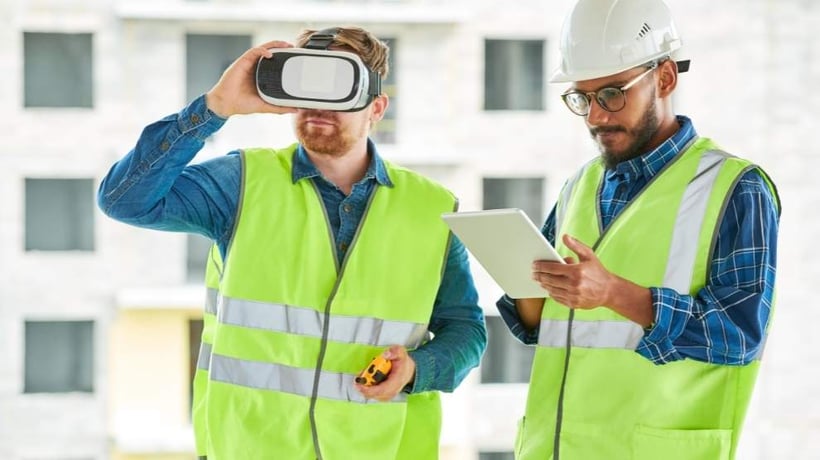 Creating A Digital Twin Of Your Building Products
You don't have to look too far to see that VR and AR are set to be the next technological boom.
Earlier this month, Unity Technologies, the parent company of free-to-use development software Unity, announced that they had purchased Weta Digital for $1.6 billion.
For those that aren't in the know, Weta Digital, founded by film-maker Peter Jackson, was the company behind the special effects of the Lord of The Rings trilogy and innovated much of the technology used throughout the film and gaming sectors today.
Although they are no immediate plans to focus on VR and AR, this now means that Unity owns a large percentage of the special effects technology pie, software that is free to use and renowned for being easy to develop.
So, what does this mean for your construction materials?
The answer is creating a digital twin of your products and/or projects for you to demonstrate the capabilities of what you can offer architects and specifiers. There's nothing quite like visualising your products in a lifelike, 1:1 recreation of a project and this is exactly what a 'digital twin' is.
What these digital twins allow is for your customers' to fully experience your products and everything they can offer, without having to leave their office. Viewing your product in a fully rendered virtual reality, with the performance data enables the single best form of data analysis, something that brochures, meetings and sales calls can't do.
Imagine you're a manufacturer of a new type of brick. It's built using recycled material but is even stronger and more durable than traditional bricks. While you have comprehensive literature and performance tables, it's hard to get across the actual performance and aesthetics of this unique construction product.
Now imagine you have a digital twin of it and its uses. Your customer can simply put on a headset and be taken from your sales office, zoom call or exhibition stand and be face to face with a 3D building manufactured from your product.
Undergoing 'virtual' stress tests, and witnessing how it looks with different windows, and doors, or with different light settings at different times of the day is an experience that can't be competed with.
Is your customer experience to this standard? With the use of virtual reality, and making the sales process far easier, it certainly can be.
Conclusion
Keeping on top of the latest innovations and trends is essential for your construction product business to grow, and we've seen that despite the industry being slow to adopt technology, it is essential for growth.
Virtual and augmented reality is the next technological leap, you only have to look at the developments over the past few years and understand where it's being used to realise that the construction industry is the perfect fit.
With the 5G networks slowly rolling out, it's going to make the use of these technologies more and more standard, helping your business grow.
Imagine being able to hand your customers a headset with a fully rendered version of your product for them to inspect in all circumstances and how much of a difference that could make to the sales journey?
With your content marketing helping you grow your business and get more leads, it only makes sense to develop the way you interact with these people, truly accelerating the direction your business can go in.
About Insynth
At Insynth we deliver a predictable flow of leads, customers, and specifications for building product brands through our inbound marketing approach, proven to reach a technically demanding audience.
We use the latest marketing techniques such as construction inbound marketing, to equip building product companies to grow sustainability in this era of digital transformation.
As the only HubSpot certified agency to major in construction marketing. We have a proven formula of bringing a variety of functionalities together including CRM Implementation, Web Design, Sales Automation, SEO, and Email Marketing to achieve your ultimate aim: Growing your business and gaining new specifiers and customers.