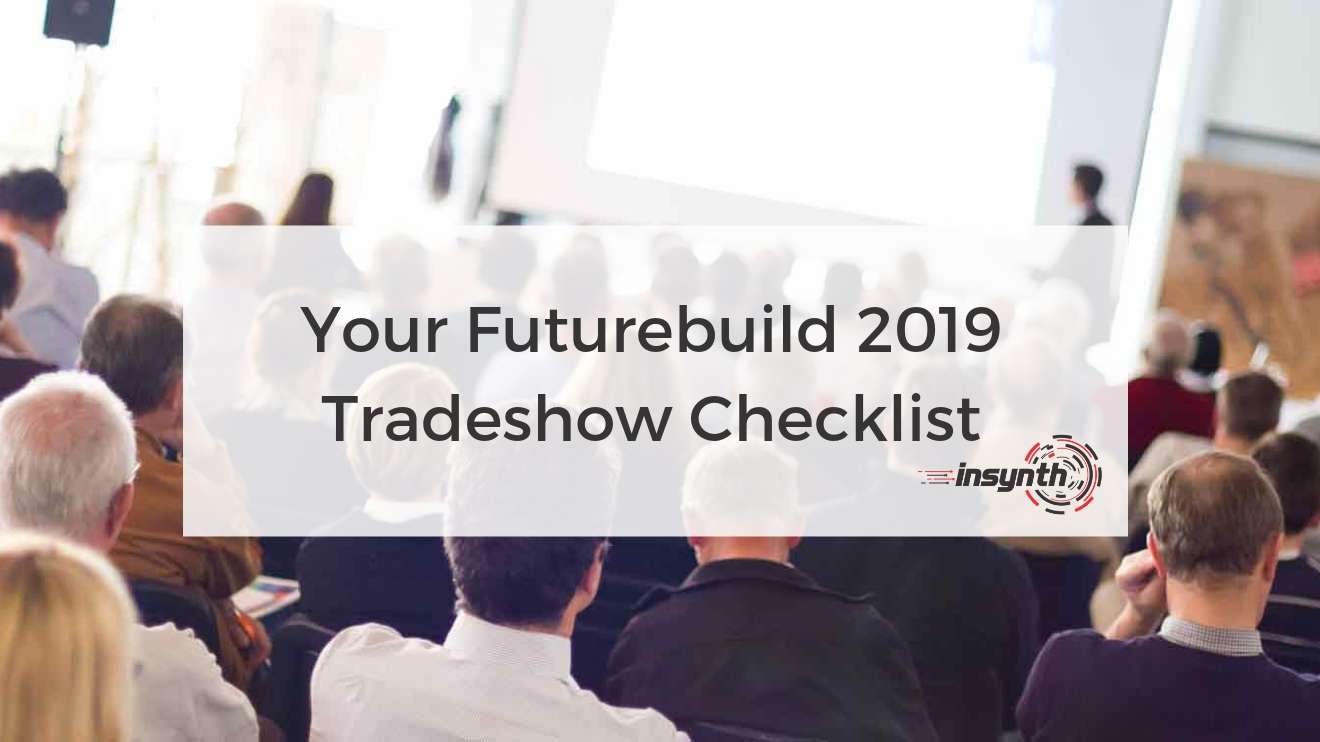 Attracting over 26,000 visitors and 500 exhibitors, Futurebuild 2019 in London is a much-anticipated event for the construction industry.
Now everyone says that trade shows don't work, nobody goes, you never get any leads. These are all outputs from poor inputs - i.e. lazy marketing, where the same approach and tactics are used today as they were 20 years ago. We've created a construction marketing checklist to ensure you get the ROI for your building product company from Futurebuild in 2019.
2019's Must Do Building Product Trade Shows
How Can You Convert Your Building Product Stand Visitors Into Sales Leads?
It is estimated that over 70% of leads from trade shows and exhibitions never get followed up. The majority of those that are pursued are not contacted for over two weeks after the show.
You'll need to have a clear plan before Futurebuild on how you'll manage the leads you generate.

Leaving it as an afterthought will mean that all that hard work and money is likely to be a wasted and you will struggle to justify trade show attendance in the future.
5 Steps To Maximise Your Chance To Turn Futurebuild 2019 Into A Sales Lead Generator
1) Prepare Your Communications
One recent example of this, was a free sample of a promotional item given to me in exchange for entering my name, email address and company name onto a form on an iPad.
Within two minutes I'd received a thank you email, a sample price of the products I was interested in and a mocked-up image of the item with my company logo overlaid. Wow, my opinion of Flashbay went through the roof within seconds.
Have you created thank-you emails and workflows?
Are follow up tasks assigned in advance across your sales team, perhaps they need more nurturing from marketing first?
2) Set Up A Landing Page Specific To The Event.
Be mindful that people don't want to be overwhelmed with marketing emails of no value. Instead, provide a reason for them to give you their email address with a competition or an industry report.
Ask yourself, why should someone give you their details?
Have you created a landing page to track conversion from the event?
3) Schedule Meetings
For many this may be the only chance to meet key decision makers in your prospect's company.
Have you organised meetings with prospects?
Is this the first time your prospects will see your product in person?
4) Research
It's likely you'll have competition there, this is your chance to showcase how well your product solves the problem it is intended for.
Do you know who's attending from the companies you are interested in?
Have you made contact with potential prospects before the show?
5) CRM
A successful expo can easily overwhelm a sales team. Imagine several hundred leads all landing on your desk at once!
By using marketing automation techniques, leads can be automatically processed and sent follow up emails and additional content to establish which prospects are engaging with you now and are most likely to be ready to buy.
How are you going to nurture your leads from the event?
Have you set-up your CRM system so that you can track your return on investment from the show?

When Does Futurebuild Start?
Futurebuild runs over 3 days at London's ExCel convention centre.

5th March 2019: 10 – 18:00
6th March 2019: 10 – 18:00
7th March 2019: 10 – 16:00
Want The Full Checklist?
If you're looking to get more out of your trade shows, we've created a printable building product trade show checklist for your sales and marketing teams.

If you're looking for more free resources, check out our downloads page here.