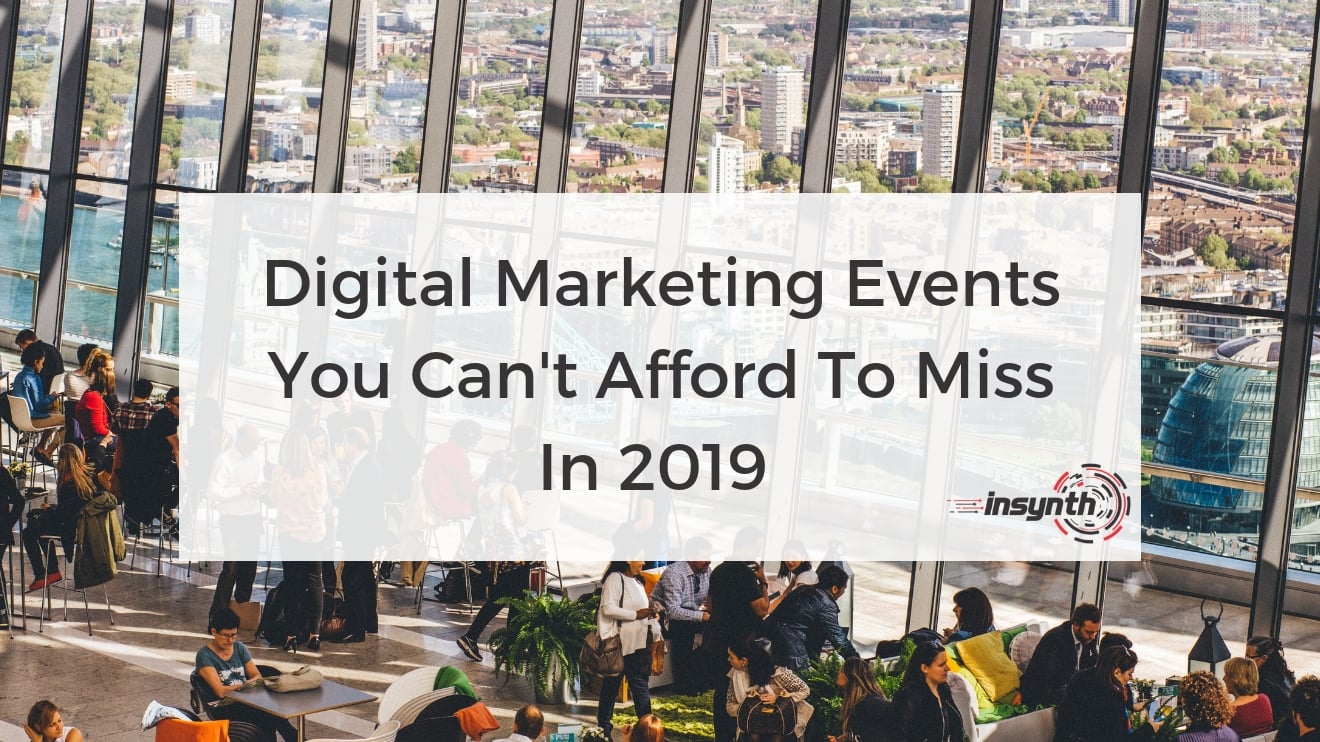 The Insynth team love to attend digital marketing events. We're lucky enough to attend quite a few over the year, even heading out to the States to pick up on the latest insights into how to improve construction marketing in the UK.
It's the best way to stay ahead in the ever-changing marketing industry. We meet with fellow industry professionals, share our knowledge and get inspired by exciting new ideas.
We've created a list of marketing conferences that focus on a wide range of topics from SEO, to social media to content marketing and everything in-between. Maybe have a chat with your boss, convince them to let you go, and we might see you at one of these events this year.
We've also managed to bag you a few discount codes to tempt you!
Winter 2019
Superweek
This conference is a unique, annual gathering of digital marketing professionals, analysts and thought leaders of the measurement industry. The programme covers a lot in the full week, allowing you to attend which days you think will be the most beneficial to you. It heavily covers digital analytics, touching on Google images and GDPR.
When: January 28th – February 1st 2019
Where: Hungary.
Cost: 1 day pass €310 - full 5 day pass €1500
Who for?: If you're a hardcore analytics enthusiast then this is for you. Located in the Alpes this event has a bonfire every evening! Still not sure? Check out there 30 minute documentary from 2018.
YoastCon
An SEO orientated event, this 2 day event includes workshops for you to get involved in as gaining knowledge from speakers. Take home the knowledge you need to get better rankings on your site.
When: February 7th – 8th 2019
Where: Nijmegen, Netherlands.
Cost: €499 for both days or €299 for one.
Who for?: The SEO crazed. With SEO being the only focus for this event it gets covered in great depth and detail.
3XE Conversion
A conversion marketing and eCommerce conference. 3XE also host 3XE UX (16th May 2019) and 3XE Search (17th October 2019). UX focuses on user experience and design thinking. Whereas Search focuses on search marketing, SEO and SEM. The tickets for UX will be released in February and Search in May.
When: February 14th 2019
Where: Dublin, Ireland.
Cost: €245 - €495 – 10% Discount when you use the code 'insynth'
Who for?: If you run an eCommerce website, 3XE are the people to learn from. Attending are speakers from Google and Snapchat. There are also workshops available to help apply everything you've learnt to your own business.
Traffic and Conversion Summit
The largest marketing event in North America, Traffic and Conversion Summit has over 80 speakers with over 6000 attendees. Focusing purely on traffic and conversion this event is 3 full days of pure content. There's also a welcome party.
When: February 25th – 27th 2019
Where: San Diego, CA.
Cost: $1,995 - $2,595 depending how soon you book.
Who for?: If you're serious about understanding and learning about conversion then this is the event for you. Or if you just want to go to San Diego, it's a pretty good reason to go.
https://www.trafficandconversionsummit.com/
Marketing Show North
This free event has become the biggest ever gathering of marketing companies, vendors and suppliers held outside of London. Embracing the media, creative, digital and marketing communities. It features tech innovation demonstrations, workshops, conferences and seminars designed to inspire and motivate. Previously known as Prolific North Live.
When: February 27th – 28th 2019
Where: Manchester, England.
Cost: Free
Who for?: The creative, open minded marketers interested in innovation. If you've not been to a marketing event before this is a good one to start with.
https://marketingshownorth.co.uk/
Spring 2019
B2B Marketing Expo
Connecting the most proactive marketing professionals with the tools, techniques and innovations they need to be at the forefront of the ever-evolving world of marketing. With 200 free masterclasses, 500 seminars and keynote speakers this event is a must for 2019.
When: March 27th – 28th 2019
Where: London, England.
Cost: Free
Who for?: The tech savvy, forward thinking marketers. Specifically how technology can benefit B2B companies through analytics, cloud computing and future tech solutions.
http://www.b2bmarketingexpo.co.uk/
Ungagged
A 2 day SEO and digital marketing conference with a one day masterclass. Previous attendees consist of American Express, Sainsbury's, TripAdvisor, LinkedIn, SEMrush, Trivago and many more. This unrecorded event thrives on providing intermediate and advanced marketers methods they can implement back at work.
When: April 1st - 3rd 2019
Where: London, England.
Cost: £699 for conference. Additional £599 for masterclass of choice.
Who for?: If you want raw, uncensored content then this edgy unconvention is for you. Speakers are unrestricted, meaning no fluff just actionable methods on what actually works for them.
Brighton SEO
A huge, twice-yearly search marketing conference and training event. This event was free but due to the high demand tickets went very quickly. You can still attend the event by purchasing tickets.
When: April 11th & 12th 2019 & September 12th & 13th 2019.
Where: Brighton, England.
Cost: Free initially – Now £125 for conference only or £600 for conference & training.
Who for?: As the name suggests, SEO fanatics! This specific event includes conferences and training with in-depth talks from the experts.
Social Day
Designed to facilitate a higher level of discussion around social media marketing. This event sparks debates on hot industry topics, gaining valuable peer to peer views. The topics they cover have been carefully researched to help give marketers from brands and agencies alike the edge over the competition.
When: May 1st – 3rd 2019
Where: London, England.
Cost: Ranging from £250 - £400 depending how soon you book.
Who for?: Specifically people who already work in social media. This is not a beginners event for Social Media but for those wanting to improve their current strategies. This event focuses on different platforms, recent crisis's and case studies and how to deal with them.
Summer 2019
MozCon
A 3 day, one track conference covering SEO, growth marketing, analytics, content marketing and mobile landscape. Connect with the MozCon community of industry leaders, chat with speakers and Moz staff.
When: July 15th – 17th 2019
Where: Seattle, WA.
Cost: $999 - $1499
Who for?: Serious about SEO, and you've got some budget to head out to Seattle, then this is the one for you. Rub shoulders with the thought leaders in this space and grab a coffee from one of the famous Seattle coffee shops.
Learn Inbound
Bringing together the brightest minds in the digital marketing industry to share tips, tactics and strategies in SEO, PPC, CRO, analytics, PR, content marketing and growth marketing. It's an annual two-day conference welcoming 20 industry leaders to share their knowledge and insights.
When: August 15th – 16th 2019
Where: The Mansion House, Dublin, Ireland.
Cost: €149 or €125 when purchasing more than one ticket.
Who for?: If SEO, PPC, CRO, PR and content marketing are your thing then this is for you. Combining all aspects of inbound marketing.
https://learninbound.com/events/
Autumn 2019
INBOUND
One of the biggest events of the year, with 4 days of non-stop learning. Over 24,000 people attended in 2018. Inbound is one of the fastest-growing business events in the world because of its unmissable content. Previous speakers have varied from John Cena to Michelle Obama.
When: September 3rd – 6th 2019
Where: Boston, America.
Cost: Range from $99 - $1599
Who for?: For the beginners and for the professionals. This is perfect for anyone who wants to not just learn about inbound marketing but how to increase sales, and improve digital content.
Festival Of Marketing
2018's event featured headliners that truly raised the bar. To name a few, Louis Theroux, Gabby Logan, Dr Pixie Mckenna and Rebecca Holman all spoke. It's a great opportunity for ambitious marketers to discover, learn, celebrate and shape the future together.
When: October 10th – 11th 2019
Where: Tobacco Dock, London, England.
Cost: Ranging from £795 - £1095
Who for?: The open minded marketers hungry to learn more, immerse yourself in marketing and supercharge your plans to drive greater efficiency. Collaborate and learn from your peers who are facing similar challenges.
https://www.festivalofmarketing.com/
MarTechFest
This event focuses on the 4 P's of martech; planning, people, platform and process. It's a one day event held at Hawker House, a unique quirky venue packed with bars, street food, pool tables and more. If you fancy a change from your standard marketing conference held at a hotel, then this is for you.
When: October 30th 2019
Where: London, England.
Cost: £495 – Exclusive 10% off code when tickets are released, check back for code!
Who for?: Those who need additional structure to their marketing techniques. This event is the quirkiest of them all due to the venue, creating a fun networking opportunity.
https://www.martechalliance.com/festival
Conclusion
With so many events on it's worth researching the agendas for each ones. Some cover a variety of topics and others focus on one topic very heavily. Talk to other people about events they have attended and make a judgement on whether it is beneficial to you and your company. Never attended a marketing event before? Try one of the free ones first.
Our mantra is 'never stop learning', which is why we find conferences like these so invaluable. We live blog from all of the events we attend, so if you can't go yourself, the next best thing is to subscribe to our blog to get the latest news straight to your inbox.