The much-anticipated annual Construction Marketing Awards (CMA) honour how construction businesses, agencies and individuals differentiate themselves, achieve tremendous results, and adapt to dynamic needs throughout the built environment. Participants are encouraged to emphasise how they are reimagining their business models and processes while delivering superior customer experiences.
The event took place last week (Thursday, 2nd December) at the Hilton Bankside Hotel in London, which was well-attended with hundreds of attendees.
Today, we are pleased to announce that we have won two awards at the 2021 Construction Marketing Awards at our first-ever time applying.
The Winners
1) Best Professional Services Marketing Campaign: Sound Zero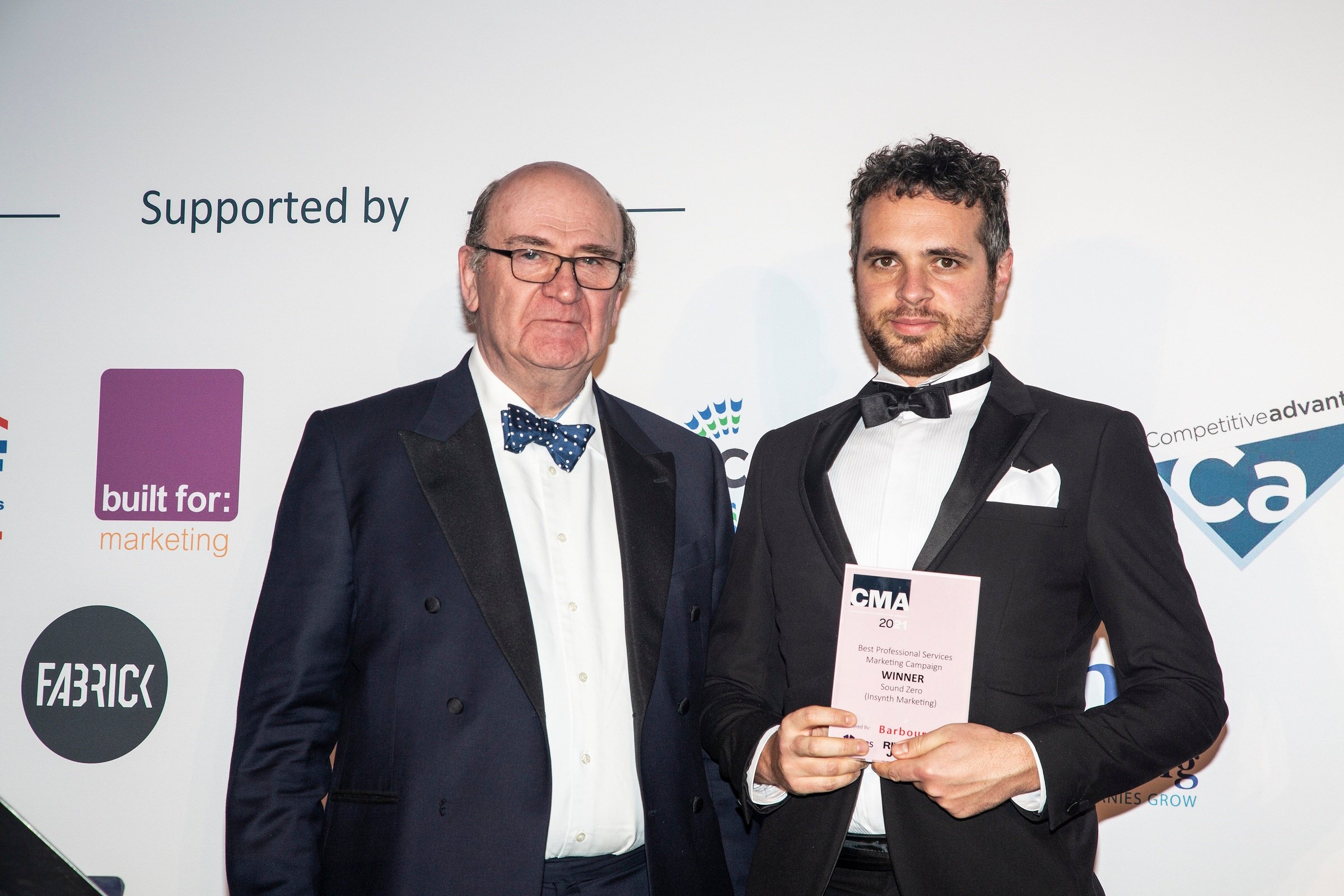 The Best Professional Services Marketing Campaign award looks for excellence in clear organisational marketing objectives, innovative and creatively designed communications, and most importantly that the objectives were measurably achieved (or exceeded).
It is a pleasure to announce Sound Zero as the winner of this award.
When Sound Zero first got in touch with Insynth in May of 2019, the London-based duo was still in their infancy – having started their fledgling business venture in the November of the previous year. With a Domain Authority of zero and no online presence, the design-led acoustic specialists reached out to Insynth in hopes of building their brand awareness organically.

After an initial visit down to the team's premises in the outskirts of London, Insynth CEO Leigh Simpson suggested that a strategic content marketing strategy that focussed on a critical topic would be the most effective way to boost Sound Zero's online presence and help grow their traffic. This led to a series of blog posts and an eBook which centred around improving office acoustics and Sound Zero's search rankings with staggering results.
Sound Zero now dominate on search engine results pages for their targetted keywords and having worked with some of the worlds largest companies such as Universal Music Group, Facebook, and Stella McCartney they have gone from strength to strength.
2) Emerging Talent - Emerging Agency Star of the Year: Dorian Wallace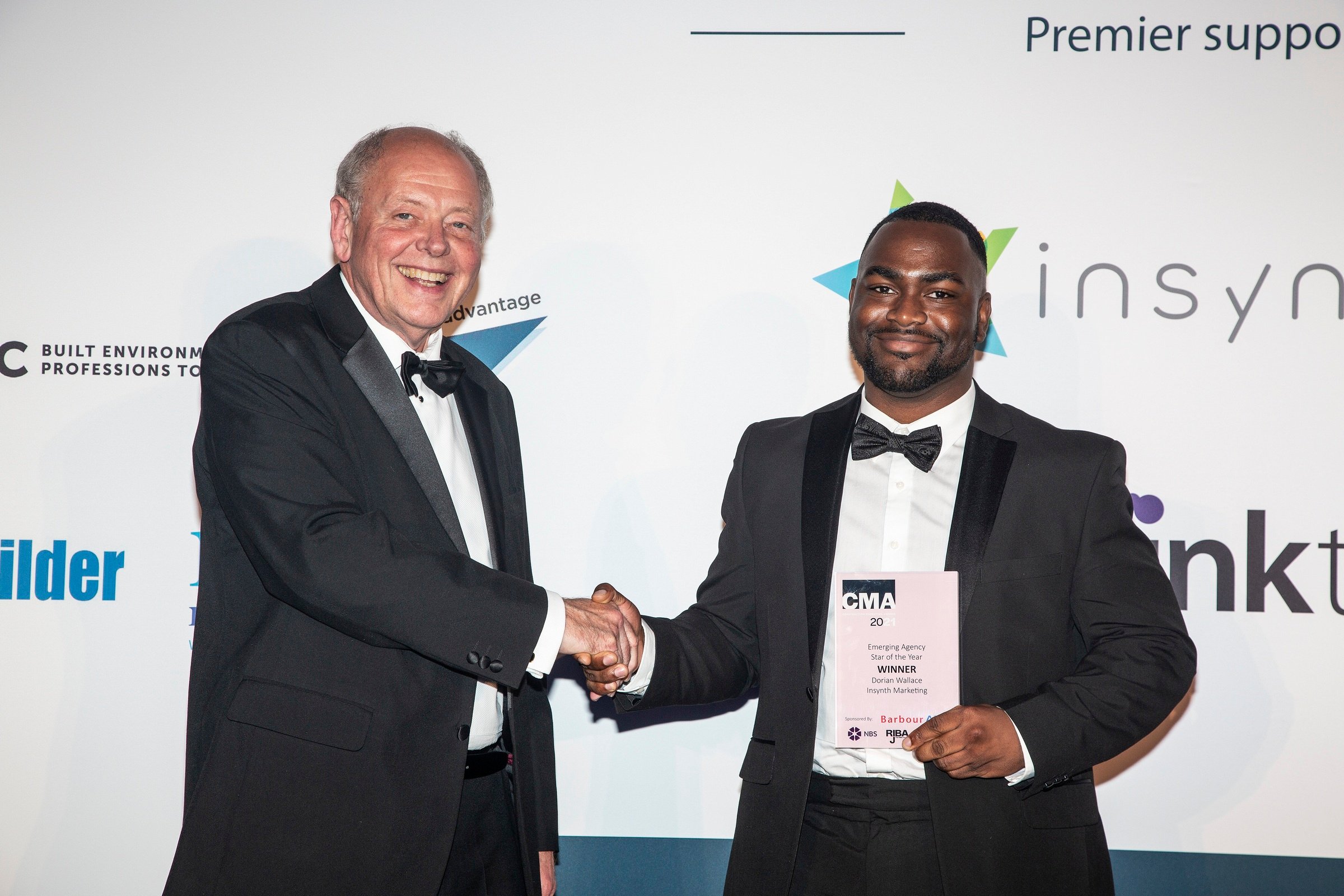 We are stoked to announce that our Marketing Manager Dorian Wallace scooped the Emerging Agency Star of the Year award.
Inbound Marketing Consultant Ainhoa Rodriguez-Muguruza said "the scope and precision of Dorian's services to Insynth Marketing, its clients, and the wider construction industry is astonishing. His exceptional leadership and creative qualities, demonstrated through his contributions to the rebrand of Insynth, the restructure of their sales process, and his commitment to staff development has distinguished him among his peers."

Being often the first point of contact clients have with Insynth, Dorian strives to direct the client towards the most appropriate solution and ensures that clients are in the best position to achieve the growth they are aiming for. With that in mind, he has dedicated the past months to rethinking and restructuring the customer journey of Insynth's prospects, guaranteeing an excellent end-to-end experience, as well as an effective prospect qualification when leads are handed over to sales. The power of marketing within the construction industry is ever-growing, and so is Dorian's expertise.
We would like to thank everyone who participated or helped with this year's awards our team who helped put the applications together to the people behind the scenes who made the CMAs a huge success, who at times go noticed and uncelebrated. So let us do that for you. Ross Sturley, Chris Ashworth and Sarah Dorgan were instrumental in the 2021 Construction Marketing Awards, putting on an exquisite event that recorded record submissions. It none only shows the growth in construction marketing but also the impeccable standard that has come to be expected from the Construction Marketing Awards.
We look forward to celebrating our Insynthers and customers' continued success, recognising the great work all our winners have achieved and we'll see you all next year!